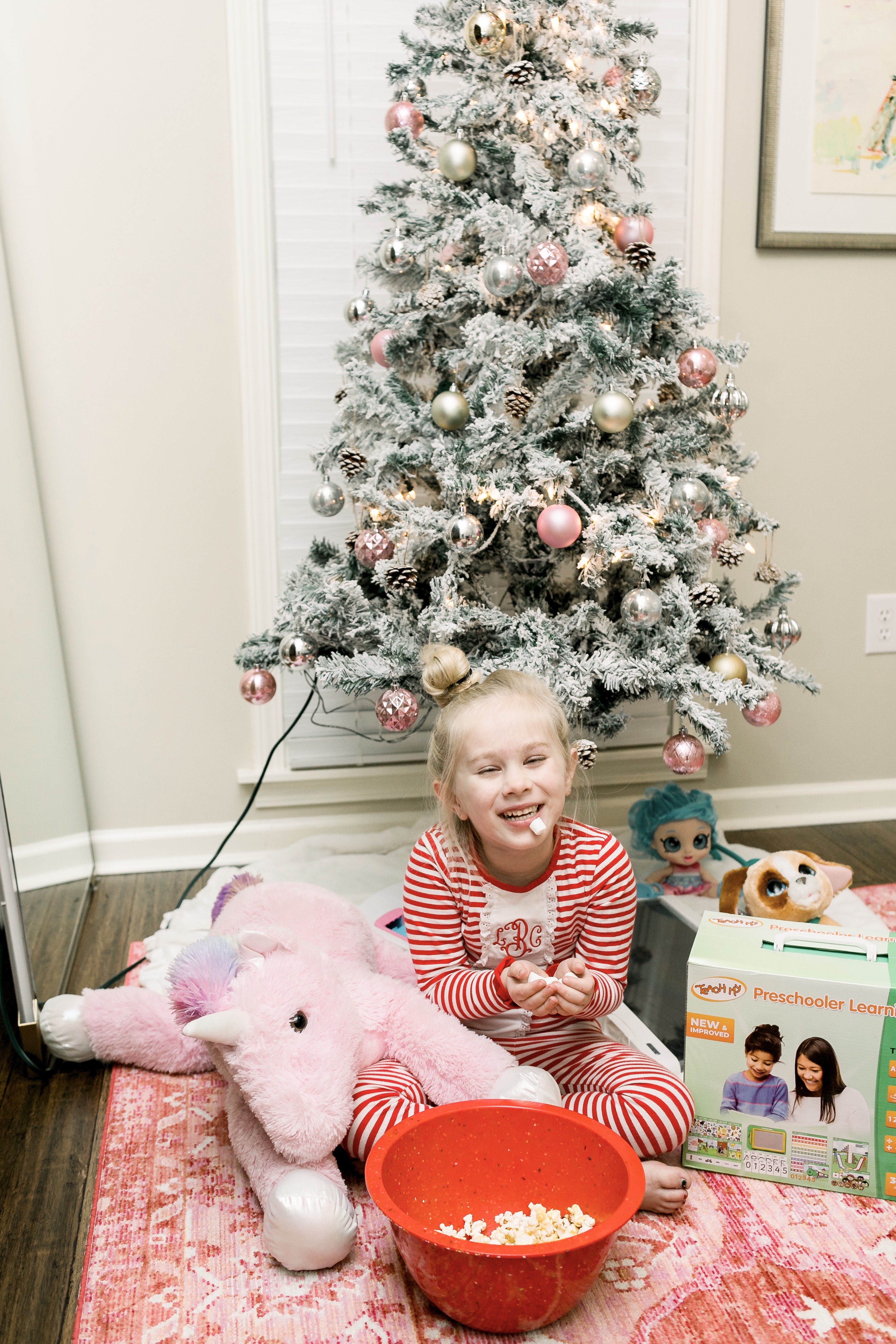 SHOP THESE BEST TOYS FOR PRESCHOOLERS:
Happy Friday y'all! With the holidays in full swing, I'm excited to be sharing another gift guide today… and this one is Leighton approved! I'm sharing 10 of the best toys for preschoolers to buy for Christmas this year.
From educational to creative to imaginative, I've got a great variety of toys that will help your children learn, be prepared for school, expand their imagination and creativity and help comfort them so they can expand on their independence as they head off to school soon. Many of those toys Leighton just recently got this year, and the other few are on her wish list. What toys are on your kids wish list this year?
Best Educational Toys for Preschoolers:
1.) Teach My Preschooler Learning Kit – if you have a child starting school soon, this is the perfect gift to get them excited about learning! Teach My Preschooler is the award winning, all-in-one learning kit designed for preschoolers ages 3+. Screen-free, the kit contains unique and coordinated tools to teach reading, printing, numbers and math.
From readers and a magic drawing board to flashcards, posters and counters, the kit is full of learning toys to give your mini scholar a head start. Teach My Preschooler promotes kindergarten readiness, fine motor skills, hand eye coordination, parent-child interaction and self-esteem in just 20 minutes a day! Not only is it educational, Leighton has LOVED this kit and thinks she is just playing too. This kit makes learning fun!
2.) Dig it Up Shimmer Dinosaurs – Leighton loves dinosaurs and glitter! 12 shimmering glittery dinosaurs hide within 12 magical eggs, just waiting to be discovered. Once excavation is complete, learn about each unique dinosaur using the exploration guide. Then soak the clay eggs in water and carefully chisel away the sedimentary material to reveal the shimmery dinosaur inside. It's perfect for the girly girl history lover.
3.) Learning Resources Coding Critters – These playful puppy pets bring early STEM concepts to preschool learning through 100% screen-free coding. Kids code along with their new pets' storybook adventure, and help Ranger have a playtime they'll never forget! Each storybook coding challenge unfolds in the Coding critters' Fun pet playset. You can also activate play mode and your child can learn to take care of these cute little pets.
4.) Crayola Ultimate Light Board – Leighton just got this for her birthday, and loves to play with it at night. Before she goes to bed, she loves to color as it relaxes her. It comes with different color markers to draw with, and then you can can even turn the board on and it glows. Let your artistic skills shine and then illuminate to show off your work of art.
Best Creative Toys for Preschoolers:
5.) Wizmo Spindippity – I cannot wait to see Leighton's face when she sees this gift on Christmas morning! She absolutely loves art and creating anything colorful, fun and pretty!
Mix colors and glitter and hit the spin lever to make your own modern art pieces with the power of centrifugal force. Squirt bottles make adding the paint to your spin art easy and the spinner's high sides help keep messes at a minimum. Express creativity while practicing color mixing and fine motor skills to make unique paintings that your children will love to display!
6. ) Educational Insights Playfoam – Let your child express themselves with this fun playfoam. They can squish it to create their next masterpiece, then just squash it back down, and start all over again. Playfoam never dries out so the creativity never ends, and the secret no-stick formula means you can take it anywhere for creative fun on the go! It's perfect for those long car rides too!
Best Imaginative Toys for Preschoolers:
7.) Barbie Dreamplane Set – This Gift is definitely for the Barbie lovers out there. Leighton absolutely loves Barbie and airplanes. This is another fun accessory for her to use with her Barbies, and it will also be great to travel with and keep everything contained inside for travel. Let their imagination run wild as they play on the airplane with Barbie and her friends.
8.) furReal Walkalots – If your preschooler loves dogs, these are perfect for him or her! You will love seeing their imagination run wild as they go on little adventures and "walk" their little pets around the house. The neat thing about furReal Walkalots is that they have a connectible system that allows you to connect Big Wags and Lil' Wags to each other and "walk" several pups at once. Leighton loves going on "walks" with her pups, and these would be a perfect Christmas gift!
9.) Kindi Kids Snack Time Friends Dolls & Refrigerator – If you have a preschooler heading to school soon, you will love these dolls! They are a back-to-school essential for kids and parents. Kindi Kids are going to be the ones to hold your child's hand as they begin their journey into the world of imagination and never-ending learning and potential! They help curb nerves as they learn and explore on their first day of school. Leighton loves playing with her dolls and her little fridge and playing "school" with them.
10.) Candylocks Scented Collectible Surprise Doll – This doll is sure to be one of Leighton's favorites this year! It has 15 inches of scented colored hair that looks like cotton candy. Those are all right up Leighton's alley! Kids can brush and style the super soft hair however they would like, and Leighton just loves doing hair at this age. This will be a great stocking stuffer