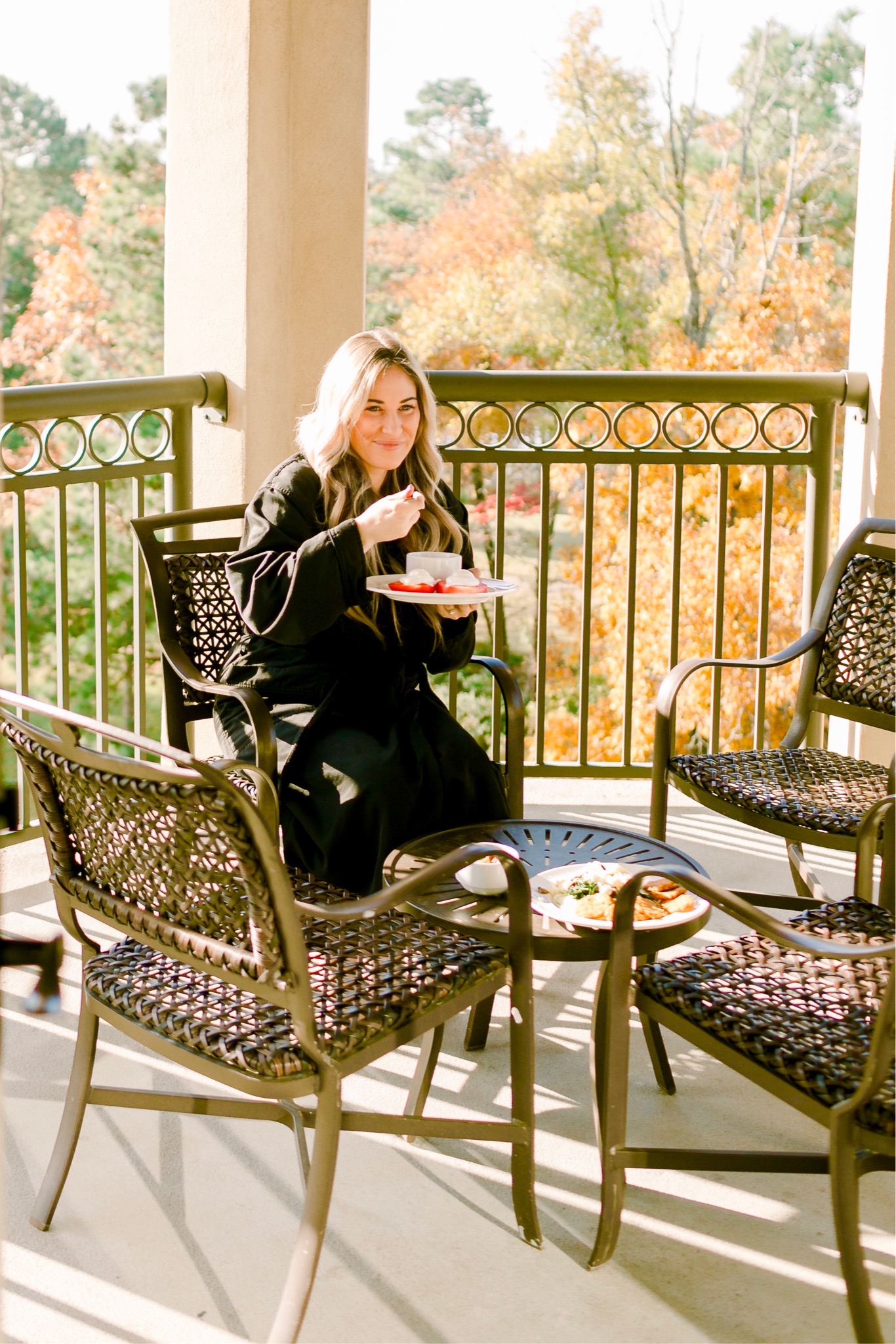 SHOP MY BIRMINGHAM AL LOOK:

Leighton and I just got back from another trip to Birmingham, Alabama, and though we were only there for a day, I feel like we really squeezed in a lot of stuff and had a great, fun filled trip! We got to meet up with blog bestie Heather from My Life Well Loved, have a spa day, celebrate her birthday, eat, workout some and then roll down the hill with Leighton lol!
It was in the 70s that day, and it was just the perfect fall day to be outside and enjoy a little vacation day. I was here this same time of the year last year, and it seems that it has become a tradition now to visit heather in the summer and fall, so I wanted share some of my favorite spots to visit in Birmingham while there in the fall.
The Best Things to Do in Birmingham AL this Fall:
In case you didn't know, Birmingham is full of gorgeous trees and gorgeous rolling hills. This is what makes them the perfect spot to do some hiking! Matt and I did some hiking at Ruffner Mountain, and it was honestly some of the most gorgeous hikes we've been on with all the beautiful tree tunnels surrounding us. And the fall foliage is just gorgeous this time of year~
This was my second massage at this spa, and it is still ranks in the top 5 best massages I've ever had. The spa area is so relaxing and inviting, and the masseuses are always so great at tailoring the massage to your needs. My back has been hurting, and they went above and beyond to make sure they tackled that area and the pressure was just right. I just sit in there in the hot tub in the spa area all day after getting a massage!
Do a little shopping, eating and movie watching here. They have everything you could want at this mall, including some of my favorite stores like Altar'd State!
With beautiful gardens to explore, events to attend and gardening classes to be a part of, you have to add the botanical gardens to your list. Whenever Leighton and I travel, we always try to visit botanical gardens because she loves running around outdoors, looking at flowers and learning. It's a great way to enjoy the outdoors and really see what that city has to offer without spending much money too.
From bands like Sister Hazel and Koe Wetzel, this cool restaurant and music venue has a pretty diverse lineup of bands so you're sure to find something you love!
The Best Places to Eat in Birmingham AL this Fall
From chicken & waffles to your favorite brunch cocktails, you will love this place! It is SO good, and they have a location in Birmingham and Homewood. Trust me, add this to your breakfast or brunch list!
If you're in the mood for Mexican food, you'll definitely want to try El Barrio out. They have some amazing food, good drinks and a warm and inviting atmosphere with a great bar. Mexican food in Birmingham doesn't get much better than this!
If you're looking for some great Italian at a nice date night restaurant, look no further. From pasta to steak and seafood to wine, they have such a great menu of hearty Italian favorites. And they even have a great little wine bar walk-in area if you decide to go last minute.
The Best Places to Drink in Birmingham AL this Fall
If you're looking for mixed drinks, this is your place. They have a casual atmosphere, an outdoor patio and some great drinks. They also have food and are within walking distance to some other great restaurants and bars in case you want to do a little exploring.
The Best Places to Stay in Birmingham AL this Fall
I first stayed at this gorgeous hotel last summer, and I was impressed from the first moment I drove up. The outside of the hotel is just gorgeous and situated in the Alabama hills with stunning views of the hills, trees and the 5th longest golf course in the world. If you love the outdoors, good food and a gorgeous room with patio views of the golf course and hills, this hotel is definitely for you.
From the moment you walk in, the lobby is so pretty, warm and inviting. It has a cozy fireplace, a coffee shop, JT's Lounge, The Clubhouse Restaurant and Brock's. I've eaten at all their restaurants and have been so impressed every time! They also have a huge, gorgeous patio that overlooks the beautiful fall foliage at their restaurant, and it was the perfect spot for us to enjoy lunch. They even made Leighton a strawberry lemonade, and she loved it! We had room service for breakfast (perfect with a 5 year old), and she loved the pancakes and fruit.
We had a one bedroom suite, and it was perfect for me and Leighton to have plenty of room to stretch out. The living area, the bathroom and the bedroom were all huge with so much room! And we had a big corner patio that overlooked the pretty view that was perfect to use while eating breakfast. No matter what time of year you're visiting, there is SO much to do at this hotel. And I've stayed at several hotels in the area, and this is still hands down my favorite. A bonus is that they are always so kid friendly, and Leighton loves it there!
Whether you're taking the family, having a couple's getaway or a girls' weekend, Renaissance Ross Bridge is the perfect destination for your next fall trip!
What about you? Have you been to Birmingham? What are your favorite places to visit while there?