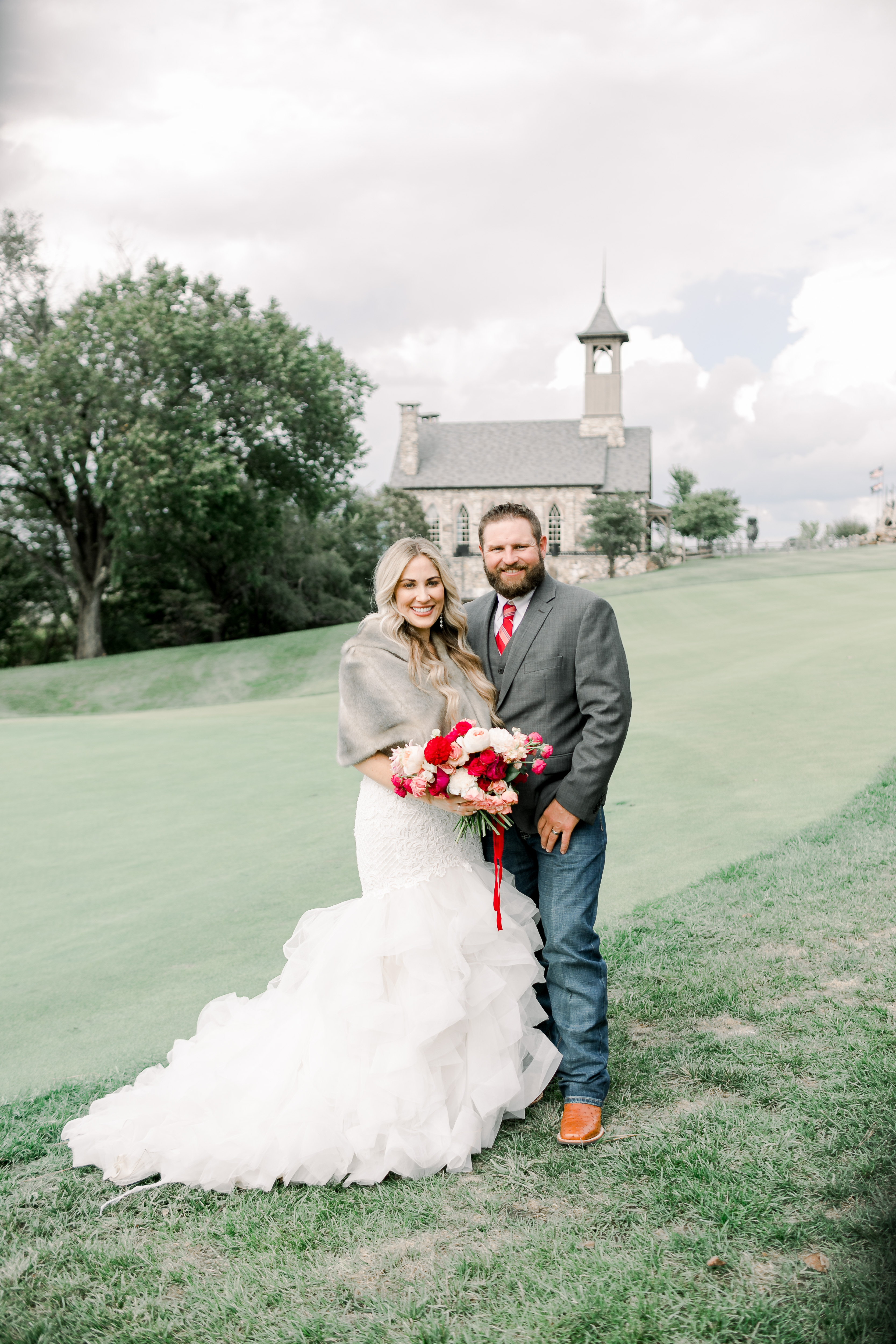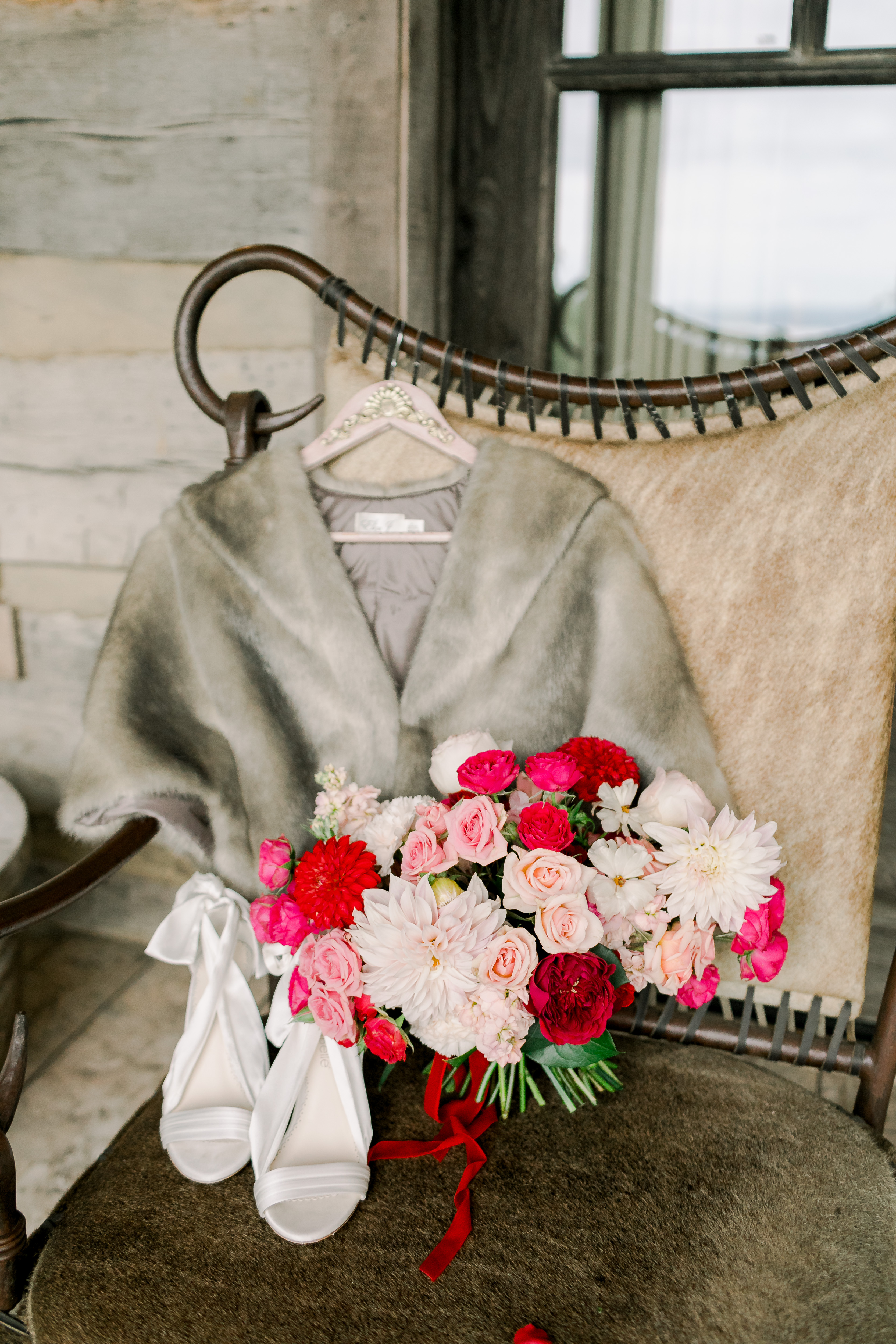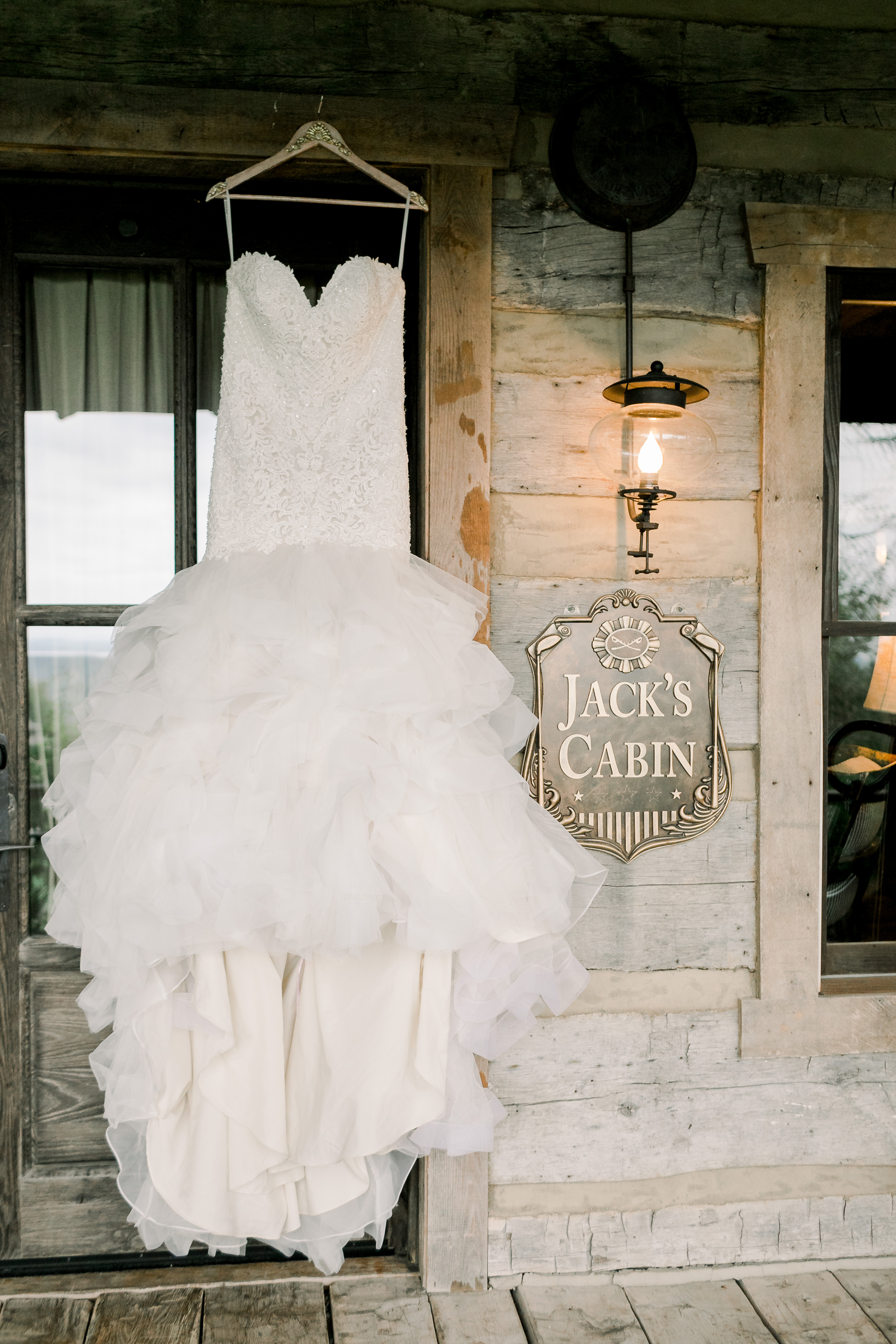 Y'all have been excitedly waiting for this post almost as much as I have been! And I'm not going to lie, I was impatiently waiting. Lol! My photographer, Mary Kate, can attest to that. = ) Now that Matt and I have been married for a little over a month, we have spent some time rehashing the day, talking about the parts we loved about our rustic fall wedding, parts we extra loved and everything in between.
I finally got our pictures back from my photographer, Mary Kate, and I am so excited to share them with y'all today! I also can't wait for y'all to see some of the little details and touches that helped make this day really special to both of us. There are SO many pictures, so I've decided to break this post up into 2 and will be sharing the second post next week that will go into detail a little more about all the rustic fall wedding touches we decorated with for the wedding and ceremony.
Rustic Fall Wedding at Big Cedar Lodge
For those who don't know, we had our ceremony and reception at Big Cedar Lodge in Branson, Missouri. This place is gorgeous y'all. We first starting going there together last year, and it has been such a fun and special place to visit. And this summer, we finally got to take our girls there, and it was such an awesome birthday trip for us. Big Cedar Lodge has mountains, lakes, beautiful golf courses and waterfalls and caverns. We both love the outdoors so much that we knew this would be the perfect spot for our rustic fall wedding! Plus, it was within driving distance from my family in Tennessee and Matt in Oklahoma along with all his family in Texas and Missouri.
Even though we decided to have a destination wedding in Missouri, it was important to me to use vendors that I knew and loved in the Memphis area. It was nice since everything was nearby for me to pick out all the details during the planning phase. We had to transport our cakes, flowers, decorations, etc, but I was happy that they were local so I knew that I could trust them.
Rustic Fall Wedding: the Ceremony
The ceremony took place at the gorgeous little Garden Chapel on Big Cedar Lodge's property. It is a sweet little white chapel on a hill looking out over the Ozark Mountains. The view is absolutely gorgeous, and I couldn't have asked for a better or more beautiful location to get married! The front of the chapel has floor to ceiling windows so the backdrop to our ceremony was the outdoors.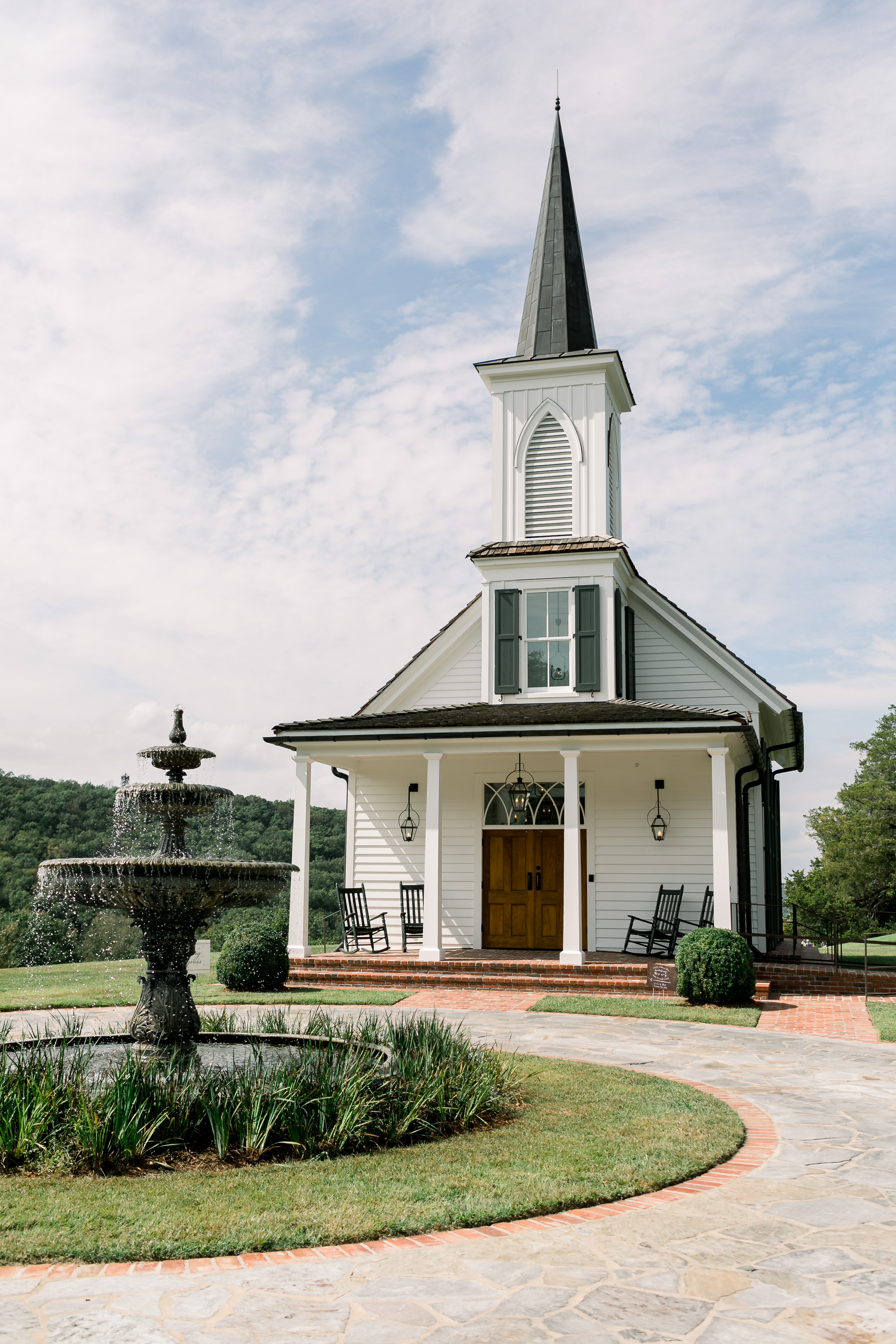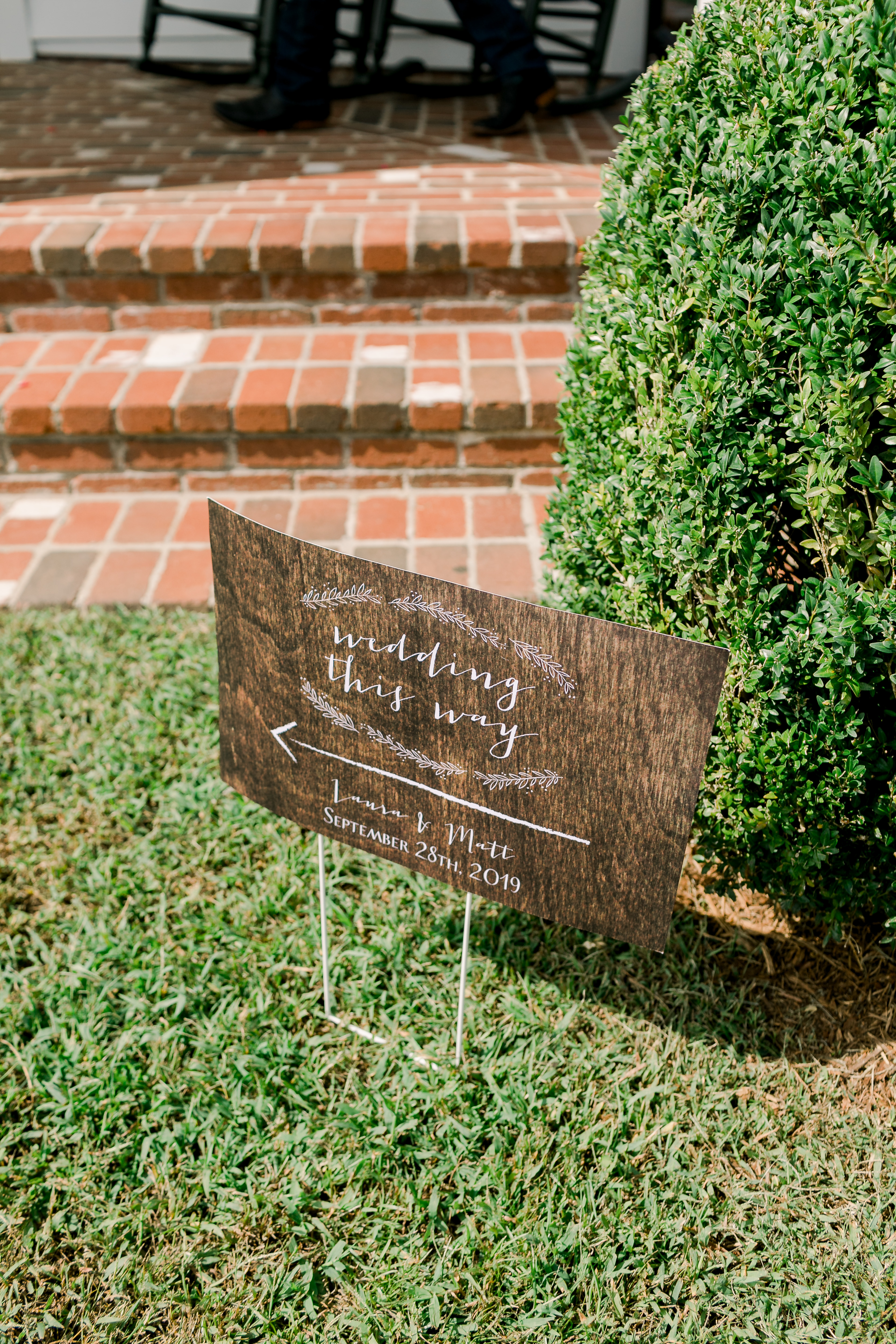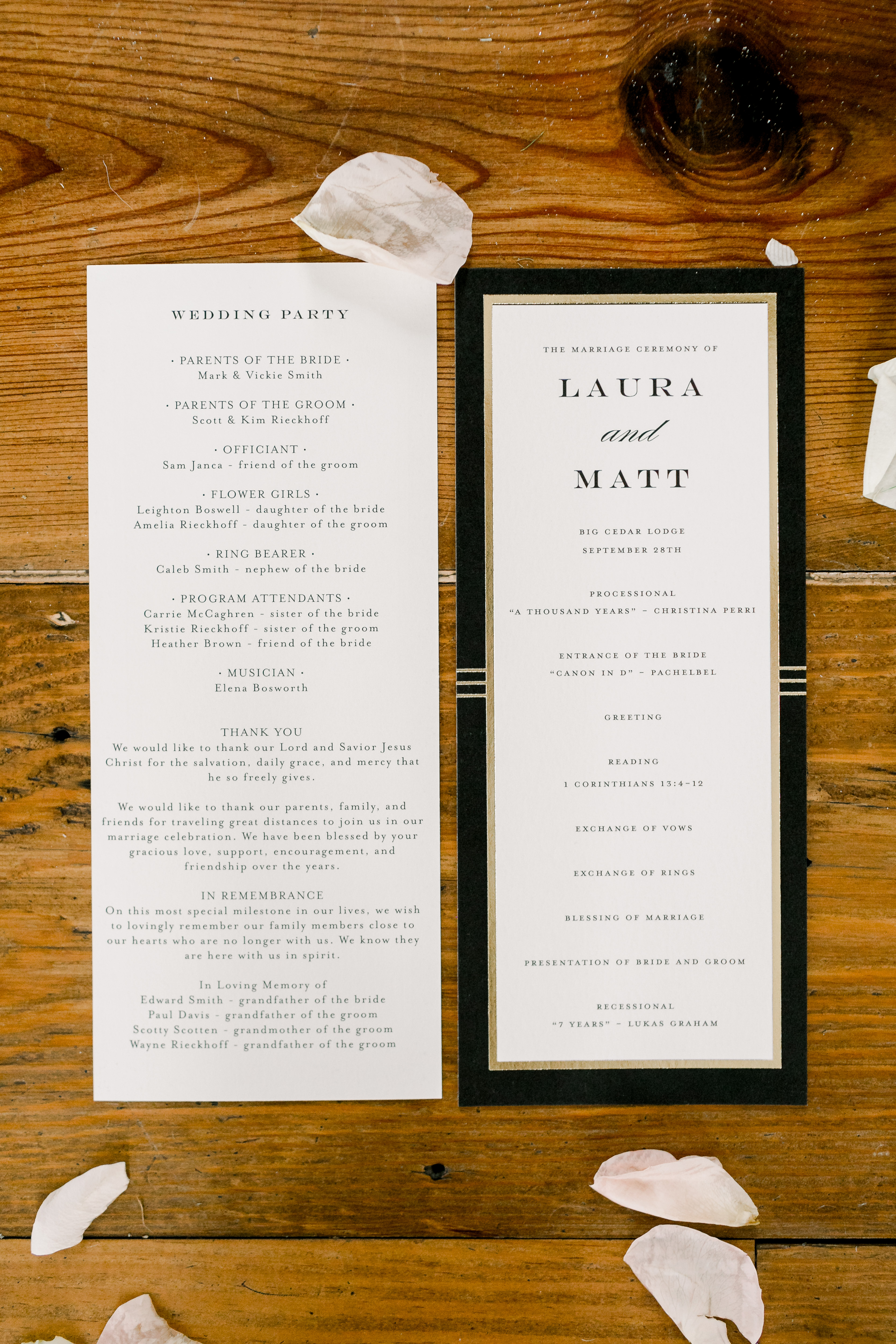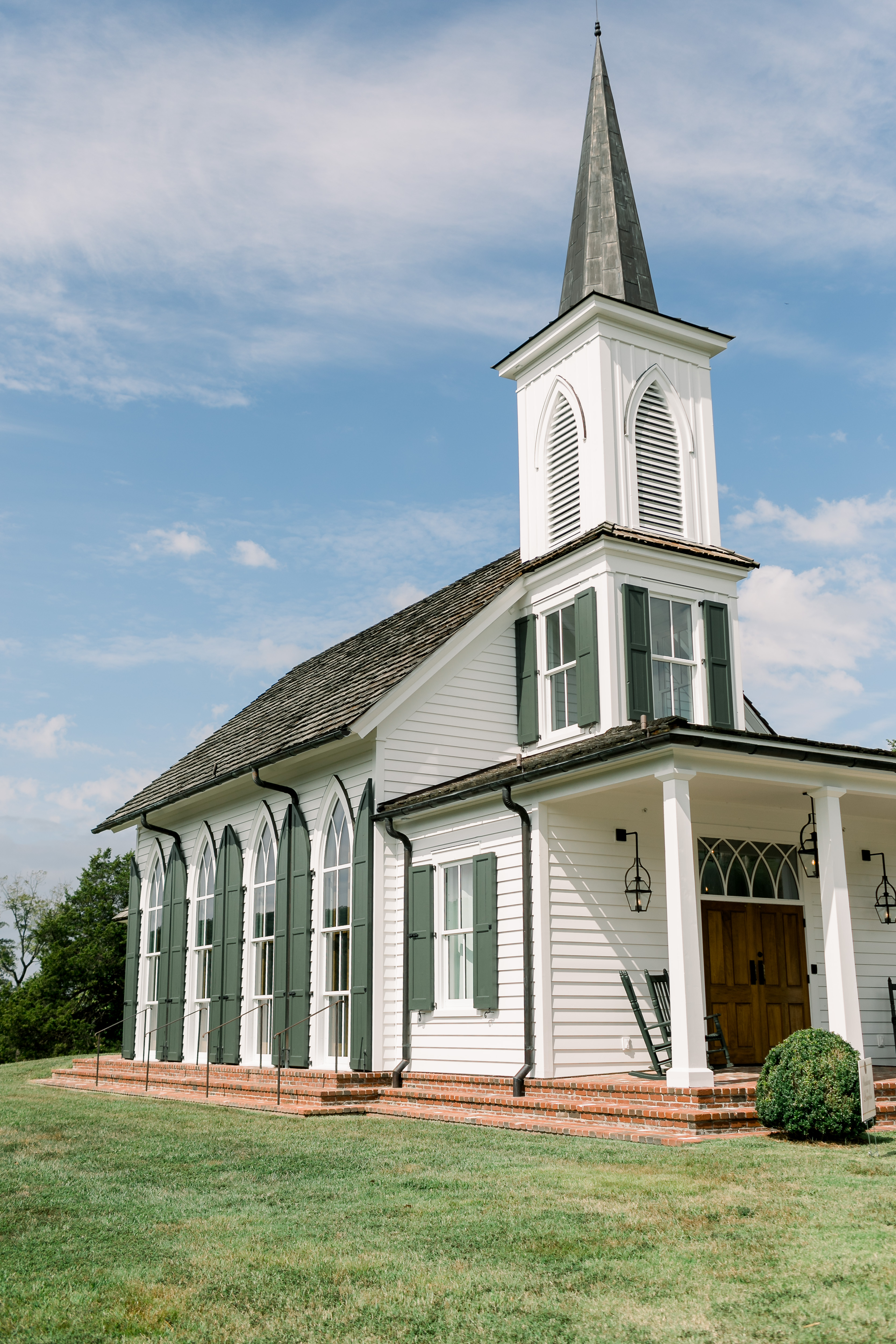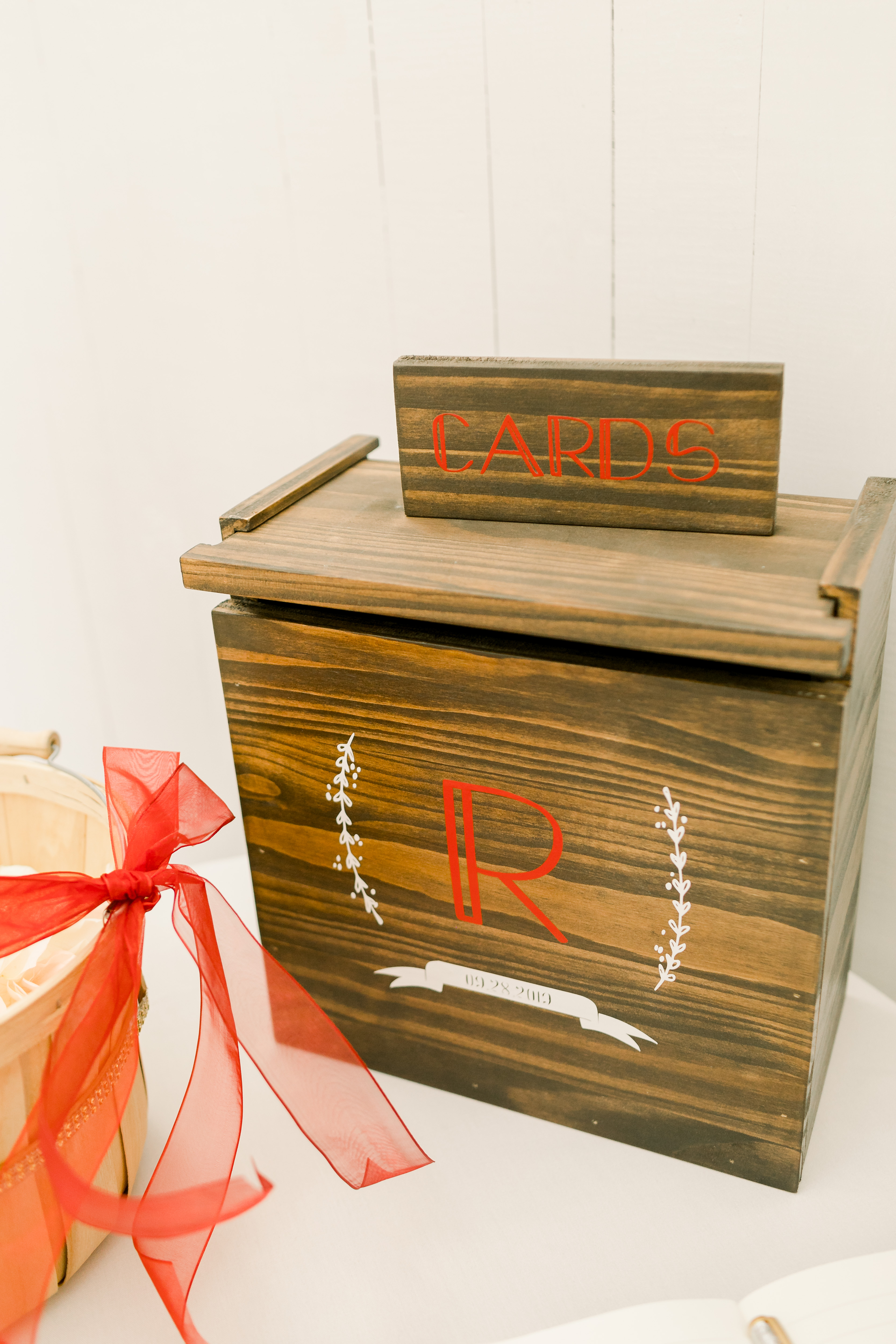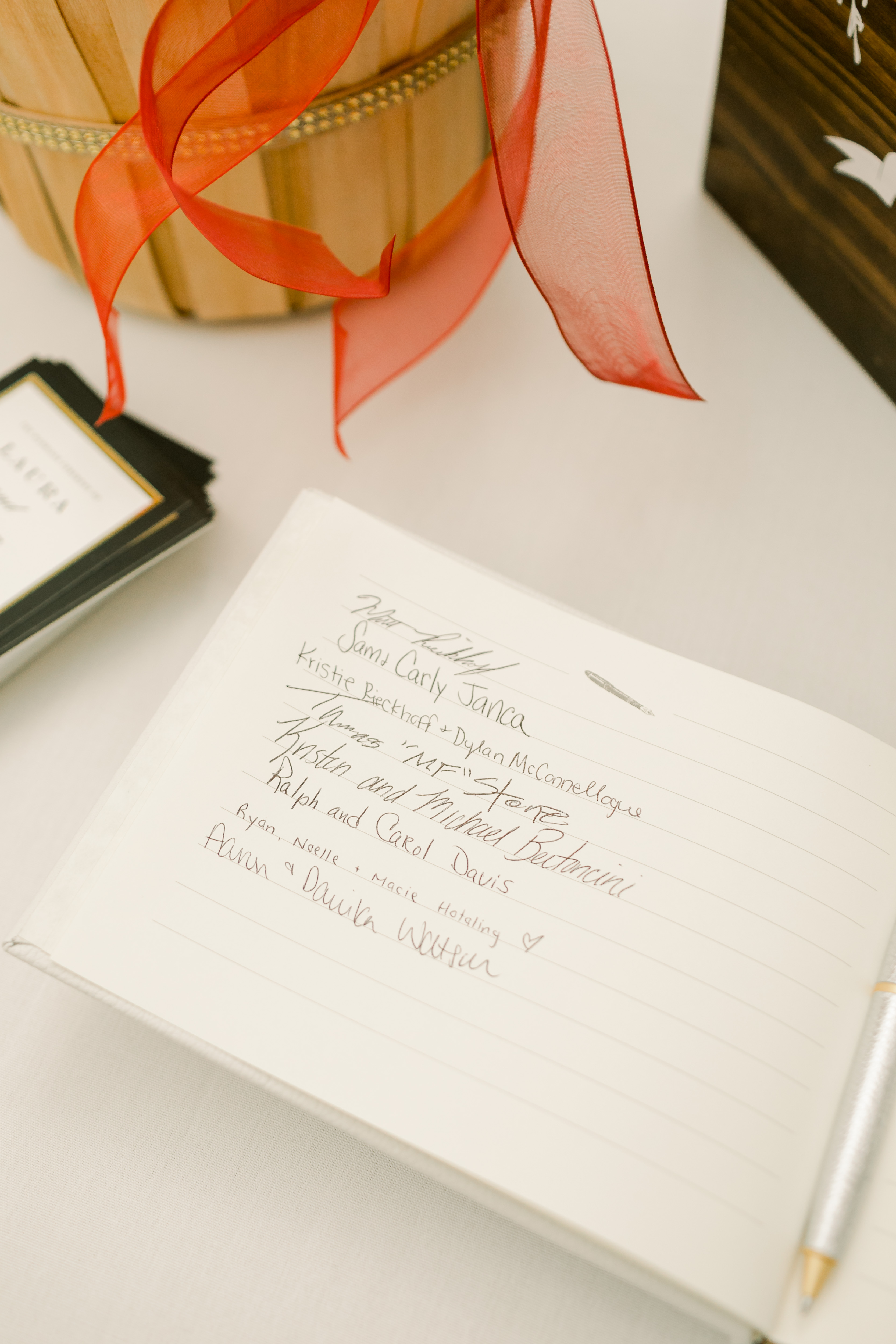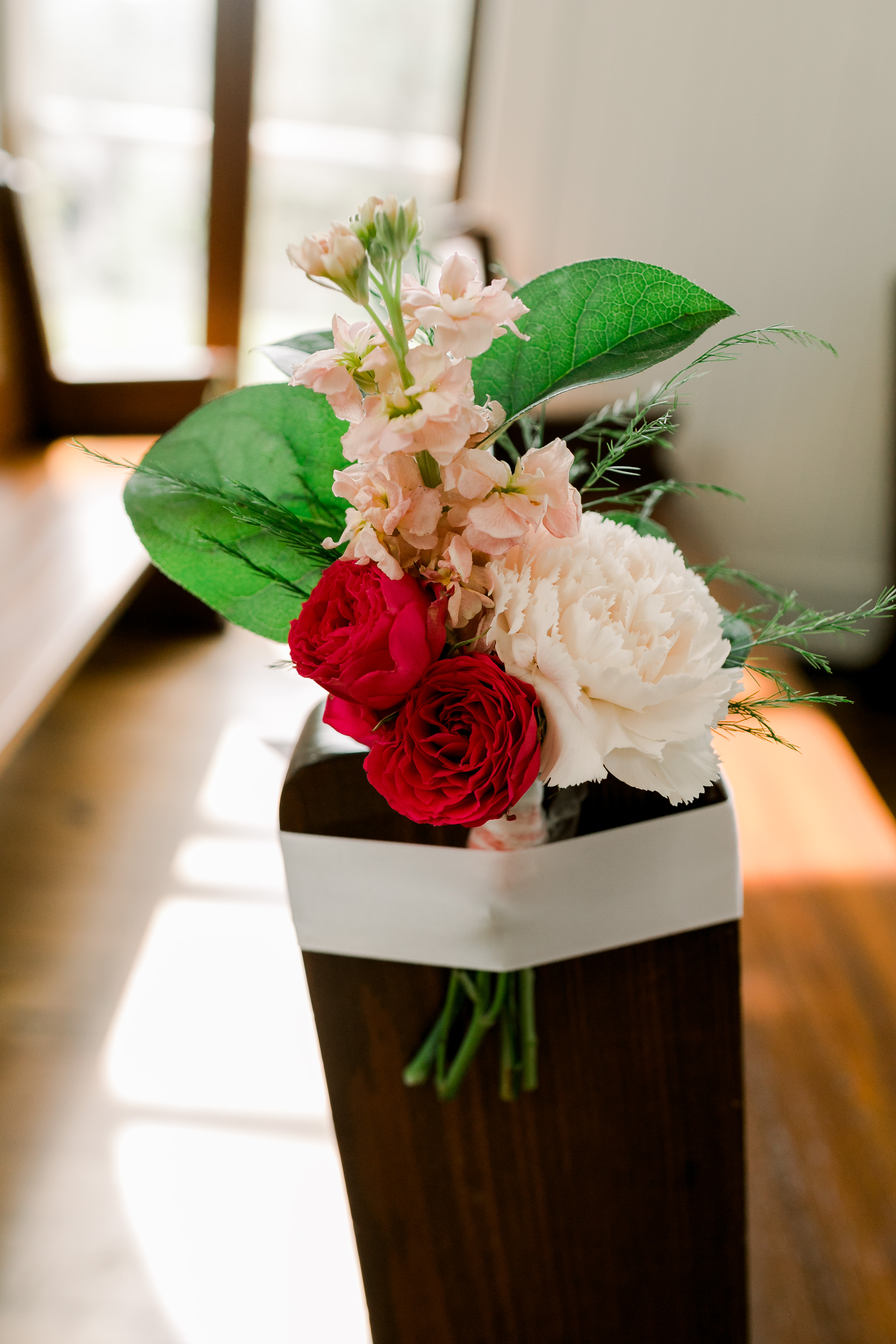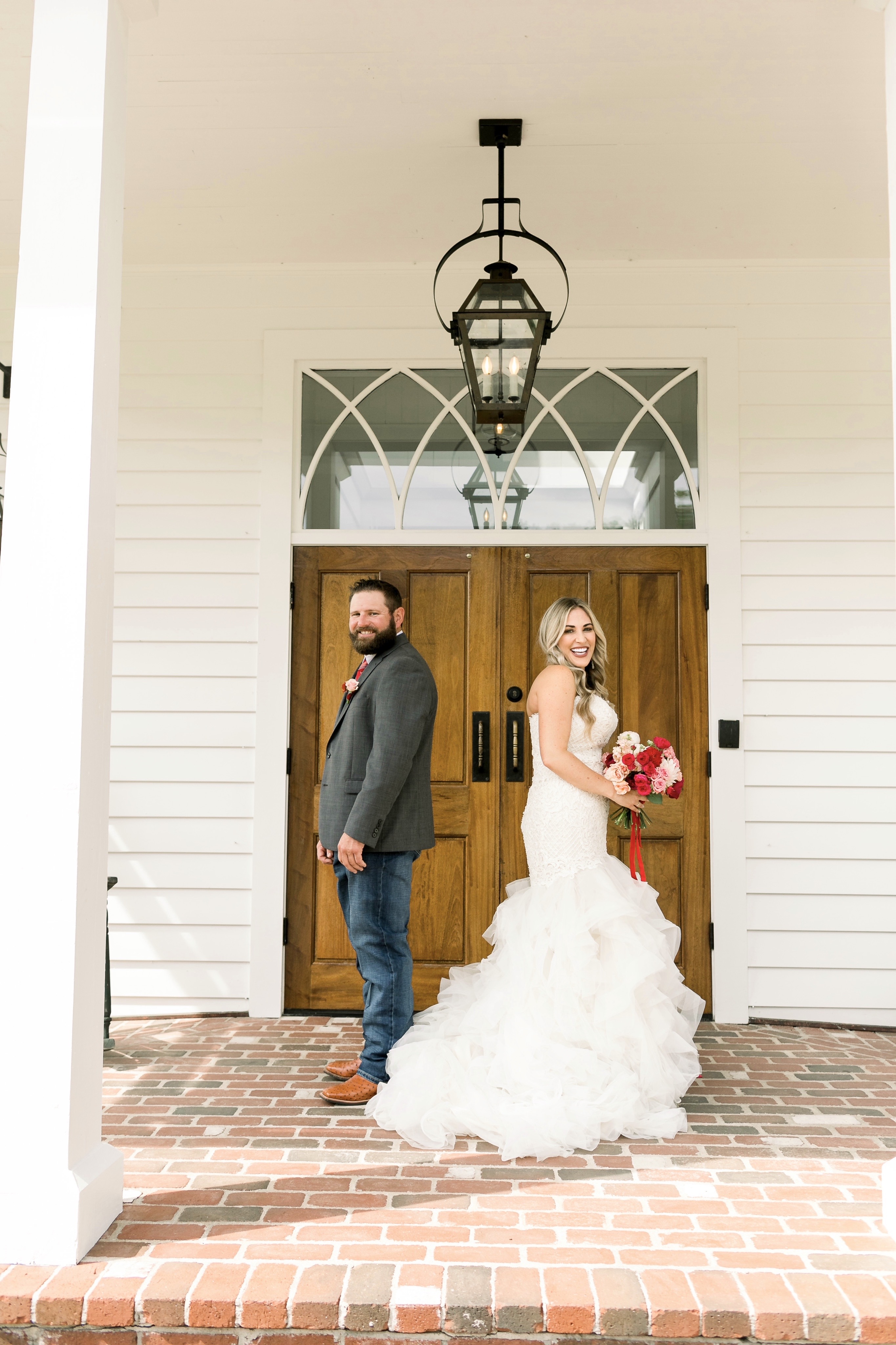 Rustic Fall Wedding: Flower Girls
Matt and I both wanted our girls to be a special part of our special day, so they were both our flower girls! They were the prettiest little flower girls too! When I first started looking for dresses for the girls, I immediately knew I wanted to get them from Kid's Dream. They have such great quality dresses for flower girls and special events, and Leighton has been wearing them for years for weddings and Mother's Day and Easter. We are always impressed with the quality and the pretty colors and designs they have in stock.
The girls' flower girl dresses are actually the first thing we picked out! We had no idea what colors we wanted to go with for the wedding. Since it was in September, we felt like we could go with a summer or fall theme. When I saw this layered mesh princess style dress from Kid's Dream in blush pink, we decided that blush pink just had to be one of the wedding colors.
Leighton's dress fit absolutely perfect! We tried on Amelia's dress and had to get it taken in just a bit since she's short (and Leighton is tall!) When we got it back, it was perfect! And I think the blush pink color is SO pretty on both of them! It really stands out against that pretty white background of the church. For their shoes, I fell in love with these gorgeous ballerina shoes. My wedding shoes had ribbon ties on them also, so I thought it was just perfect for them to have ribbon tie flats. After we picked out the flower girl dresses from Kid's Dream, it was time to pick out our other wedding colors.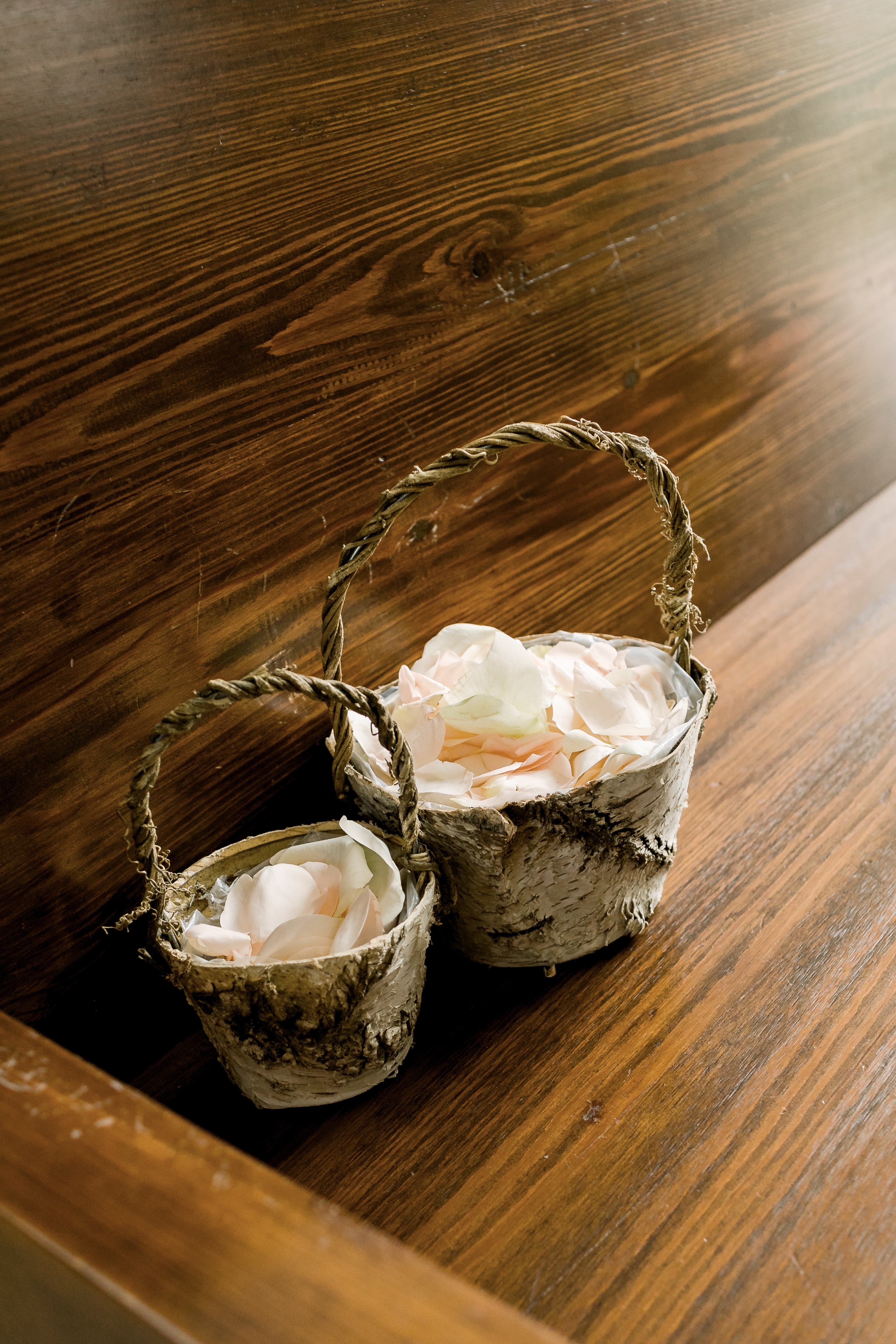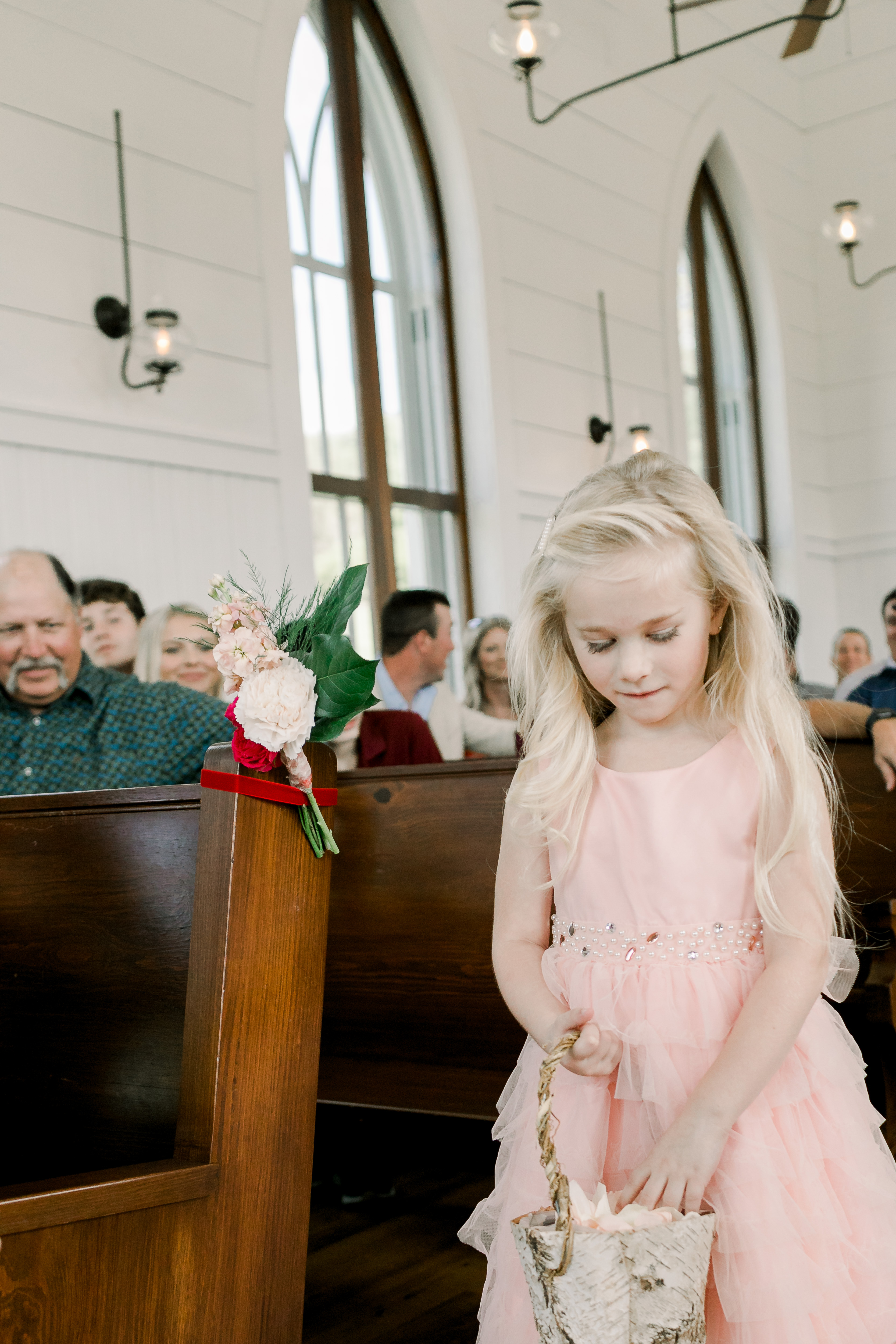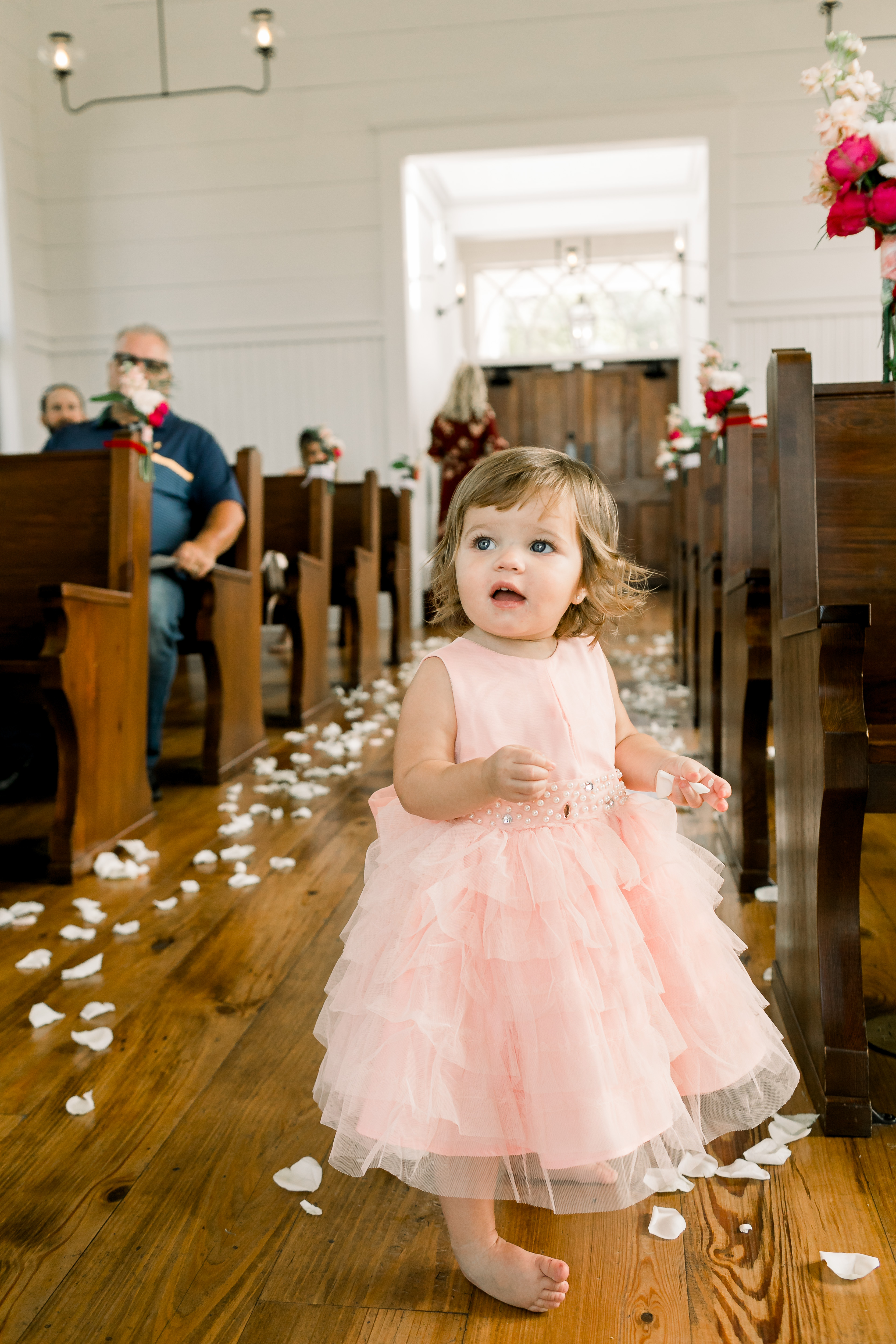 Since red is Matt's favorite color, we decided to use red as another accent color. I think it paired so perfectly with the blush pink. Matt's tie was red and striped and such a pretty and classic print and color. I ordered 2 and had one taken in for my nephew Caleb, the ring bearer. The ties had the pretty same shade of blush pink in them. We tied in all these pretty colors with my gorgeous bouquet from EH Blooms in Collierville, TN.
Since Matt is from Texas, of course he just had to wear his Ariat cowboy boots with starched jeans and a jacket and vest. I personally loved it! I think it made such a unique touch and made for such an elegant but low-key, rustic wedding. We wanted easy. If it was too difficult or too much of a fuss, we didn't want it! In our 30's, we know how important the significance of the wedding ceremony is, not the things surrounding it.
For my dress, I immediately knew I wanted a mermaid style dress. I wanted it to be simple up top, but make a statement with a gorgeous tulle skirt and train. I actually picked the first dress I saw in the store. I knew it was the one. It was also the first one I tried on. I tried on wedding dresses on my lunch break and didn't want to fuss with trying on countless dresses for hours when I already knew what I wanted.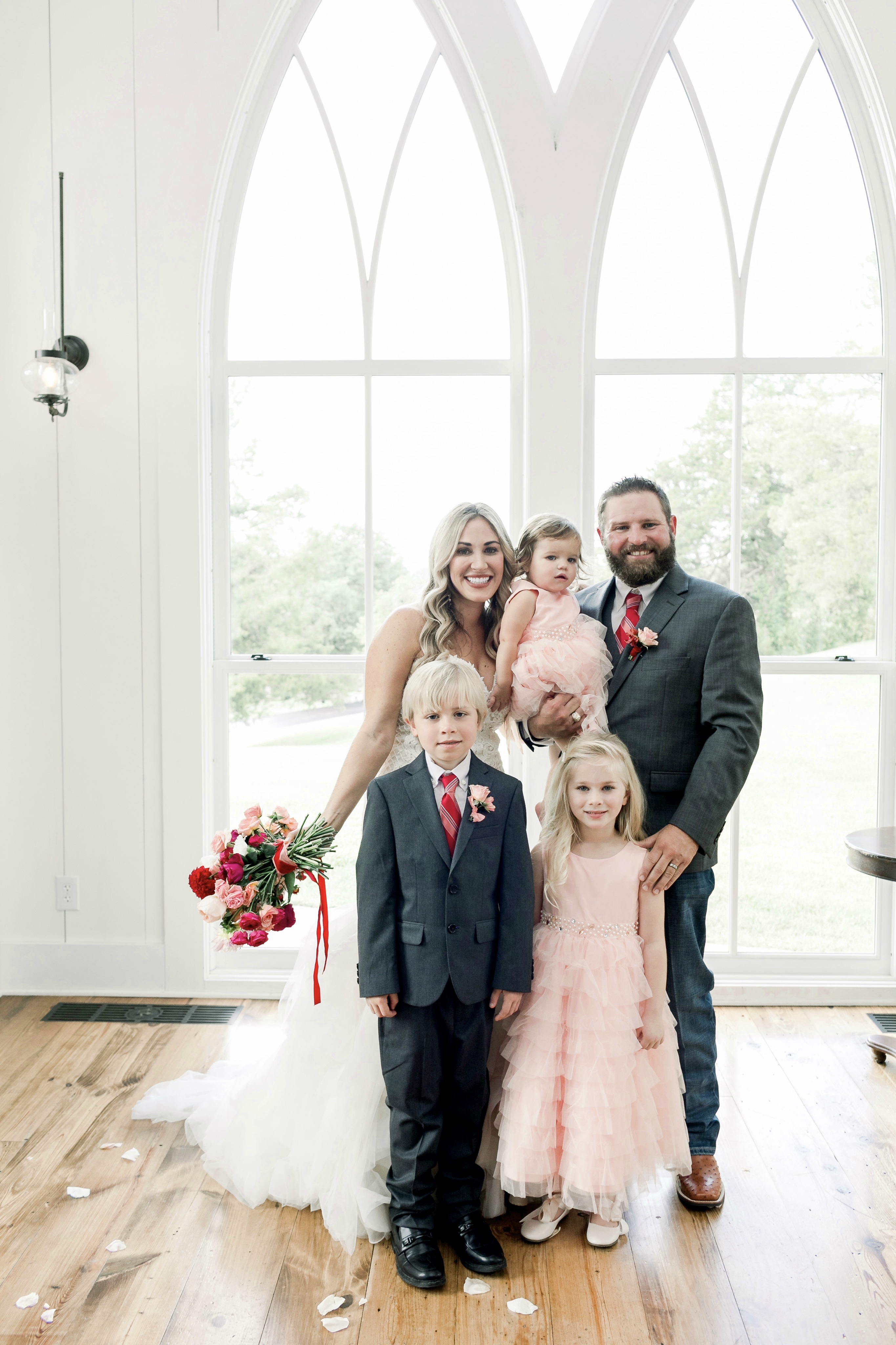 For our ceremony, we decided to have a cellist. I wanted something classic and unique and ended up finding an amazingly talented cellist in the area. She played so many gorgeous songs, and I could have just listed to the music for hours. We chose a mixture of classics, a little Elvis and some more modern wedding songs too.
During the ceremony, we had my dear friend Heather from My Life Well Loved read a passage from the Bible, 1 Corinthians 13 which says "Love is patient, love is kind. It does not envy, it does not boast, it is not proud. It is not rude, it is not self-seeking, it is not easily angered, it keeps no record of wrongs. Love does not delight in evil but rejoices with the truth."
I know so many use this bible verse during their wedding, and I understand why. Love is about putting other people first. It may not always be easy; it may not always be what we want to do, but it is what God wants us to do. One of the best pieces of wedding advice we have gotten so far is to ask our spouse each day what is something we can do for them that day to make their day easier or better. It almost seems too easy, but yet, it's something I think so many of us never think about. I want to challenge myself to think like this every day for my marriage.
Matt's good friend, Sam, officiated our wedding. He did an amazing job, and we get to attend he and his fiancé's wedding in Lake Tahoe next year. He helped us so much the day of the wedding, and I don't think anyone could have done a better job. I know it meant a lot to Matt to get to have one of his good friends there too.
Despite us having a destination wedding and everyone having to drive with a few people having to fly, we packed the chapel full almost at capacity with about 80 people. It was a perfect day to us. Our wedding was such a beautiful way to bring together the idea of family and friends joining as one on our big day!
Like others who have a second wedding, we contemplated getting married at the courthouse or going straight to our honeymoon and getting married there. But, we feel like next to putting each other first, our family is a huge priority to us. We wanted everyone to be there with us to celebrate. And with Matt's family being in different states, we knew this would be one of our only opportunities to get everyone together. We honestly wouldn't trade that day for anything.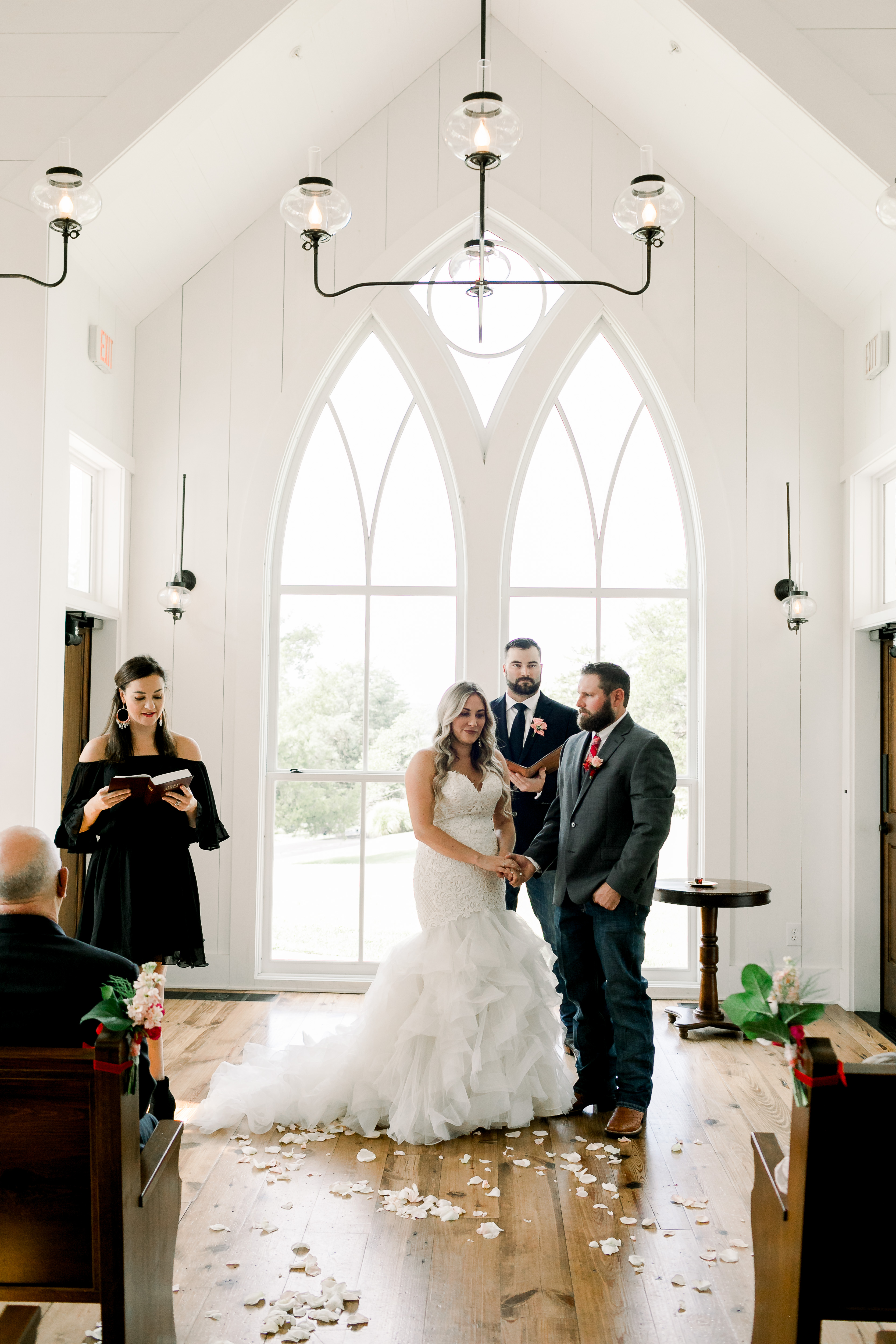 My absolute favorite part of the rustic fall wedding day was saying our own vows. We each wrote what we wanted to say to each other, and it was just so special to hear what he felt from the heart and for him to hear how I felt too. It was an experience that I do not regret in the least!
If you are considering writing your own vows, I highly recommend it! We are framing them, and we also had mine printed on wood and framed and hung in our master bedroom to always remember the vows we made before the Lord to each other.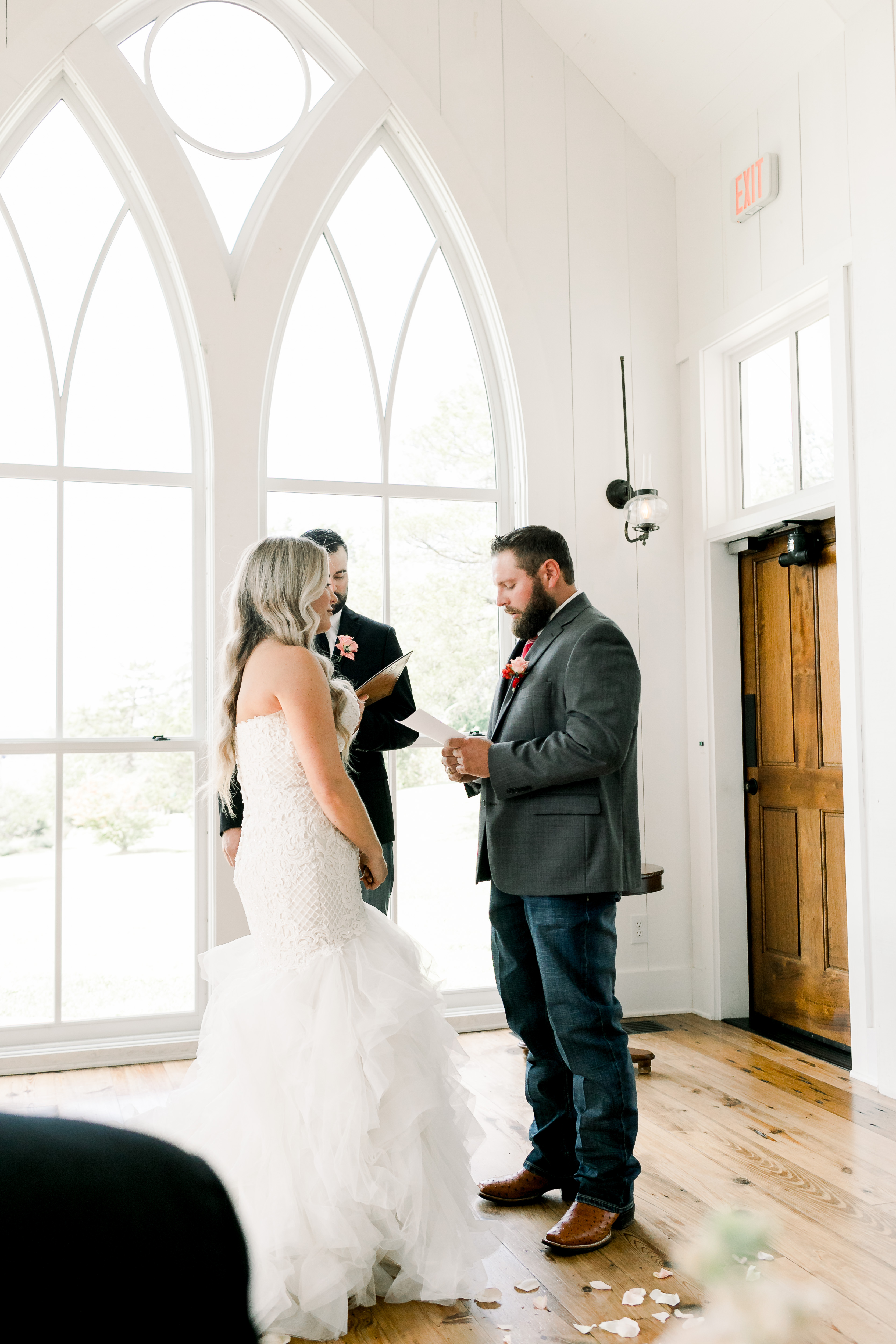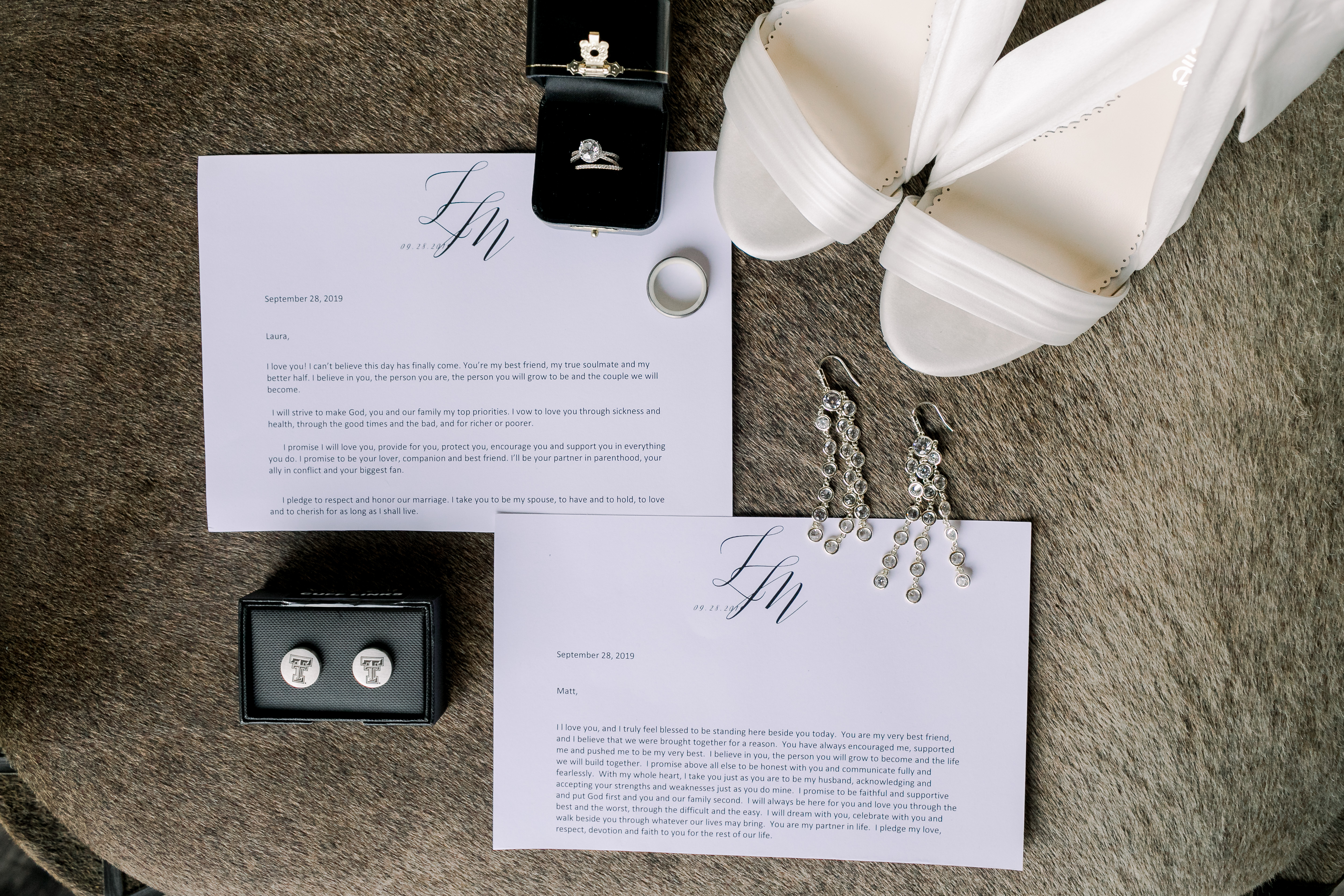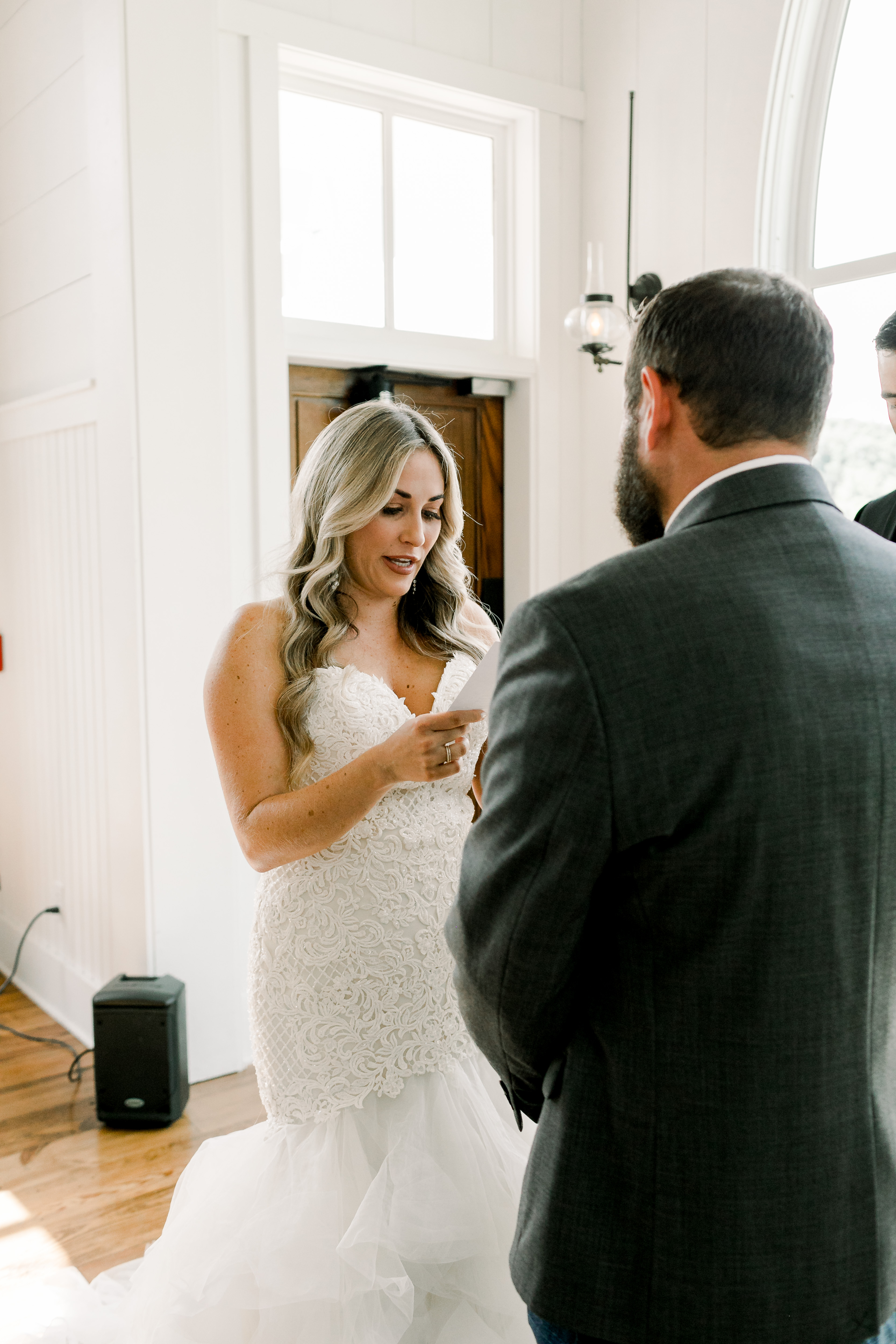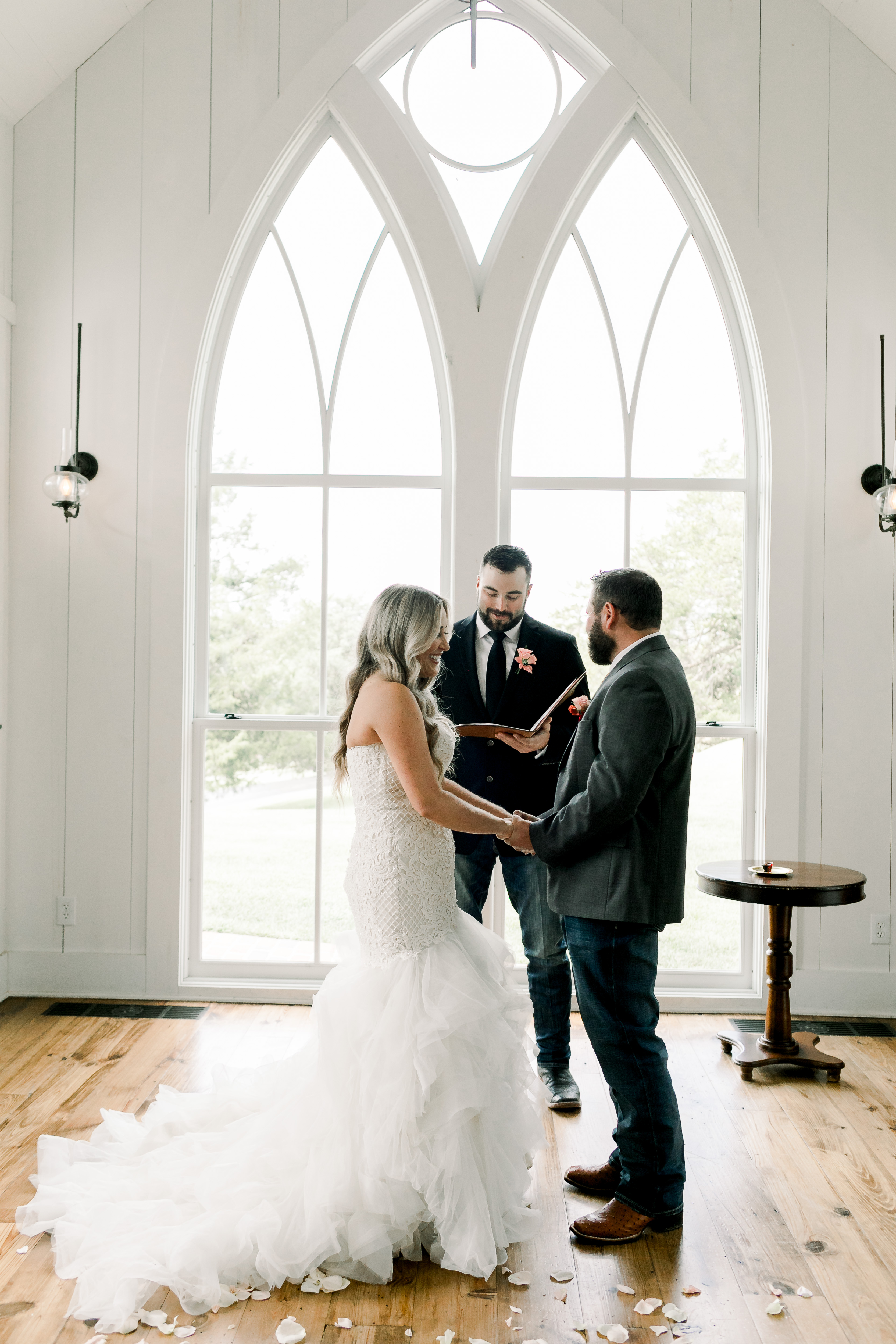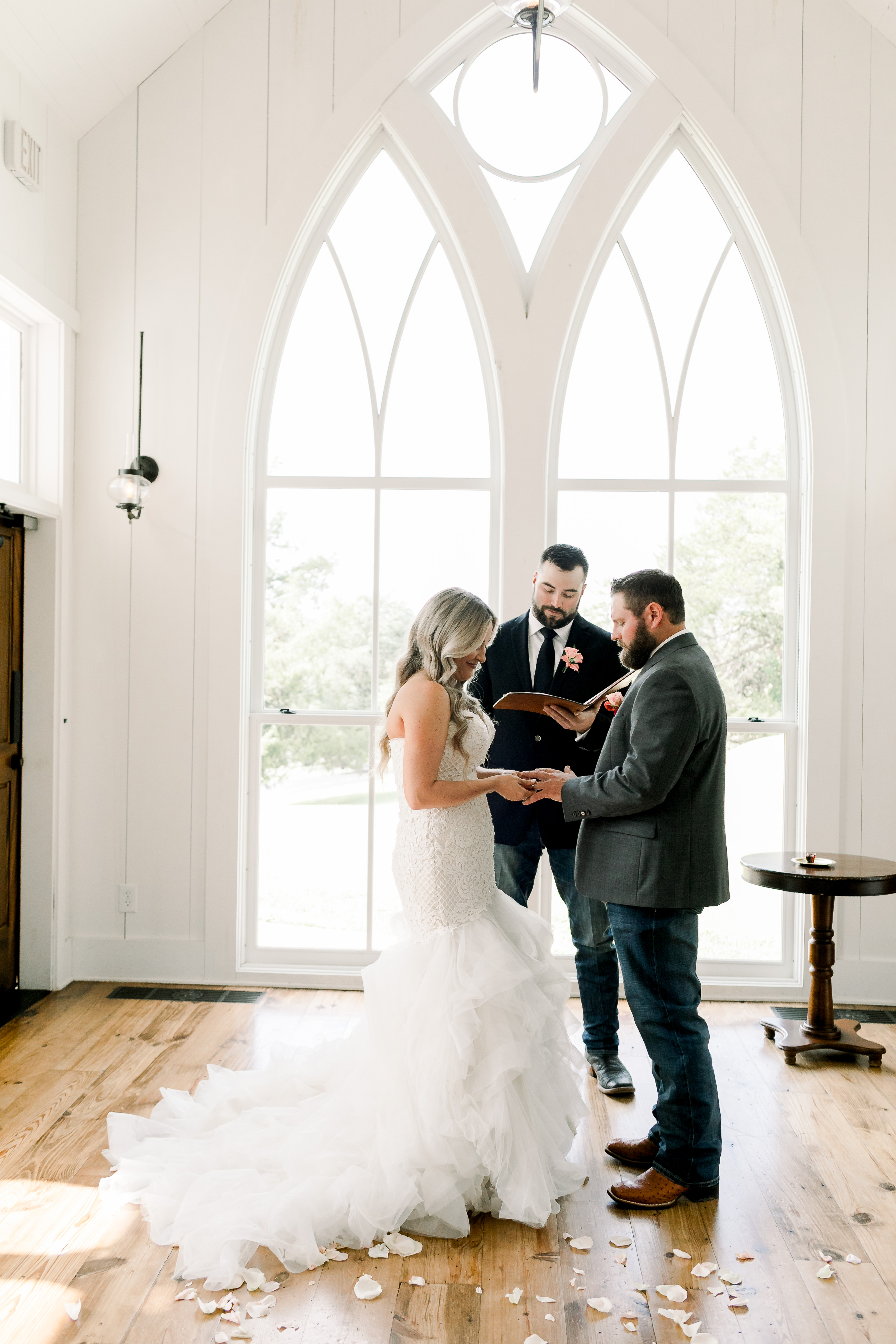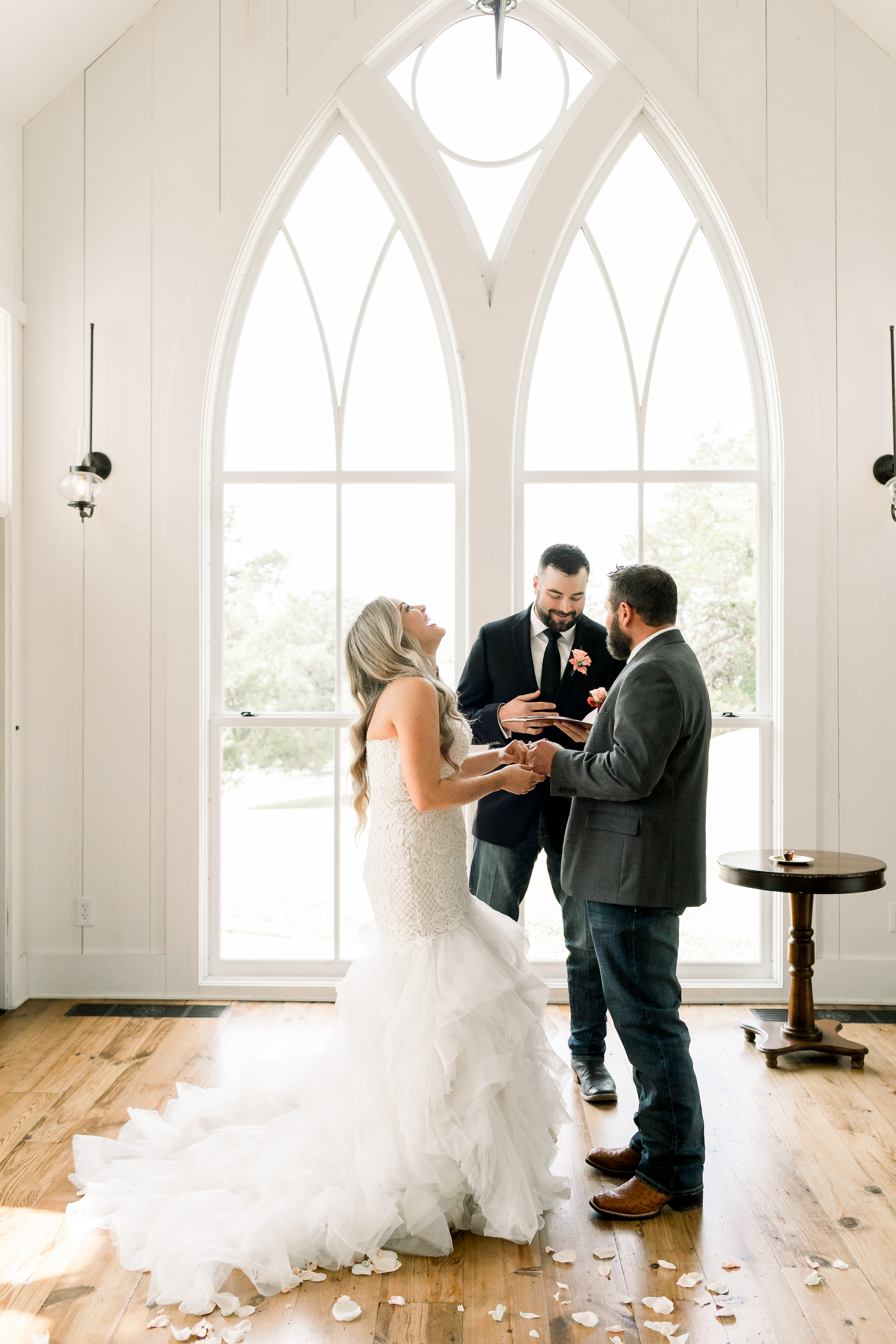 Another really special part of our ceremony was the Lord's Supper (or Communion.) Matt and I are both non-denominational and just recently found our church home together in Collierville. We also did pre-marital counseling together over several months before our wedding, so our faith was something that was really important to us.
We decided to make the Lord's Supper a part of our special day since it would be one of the first things we did together as a married couple. That meant a lot to us, and we wanted to set a strong foundation for our marriage. It was such a special moment for us, and we also had the bread and wine at the reception for others who wanted to partake in the Lord's Supper as well. We thought about unity ceremonies for a long time before making a decision. There were so many amazing ones that we loved, but after hearing about the Lord's Supper, we knew it was the perfect one for us during our ceremony.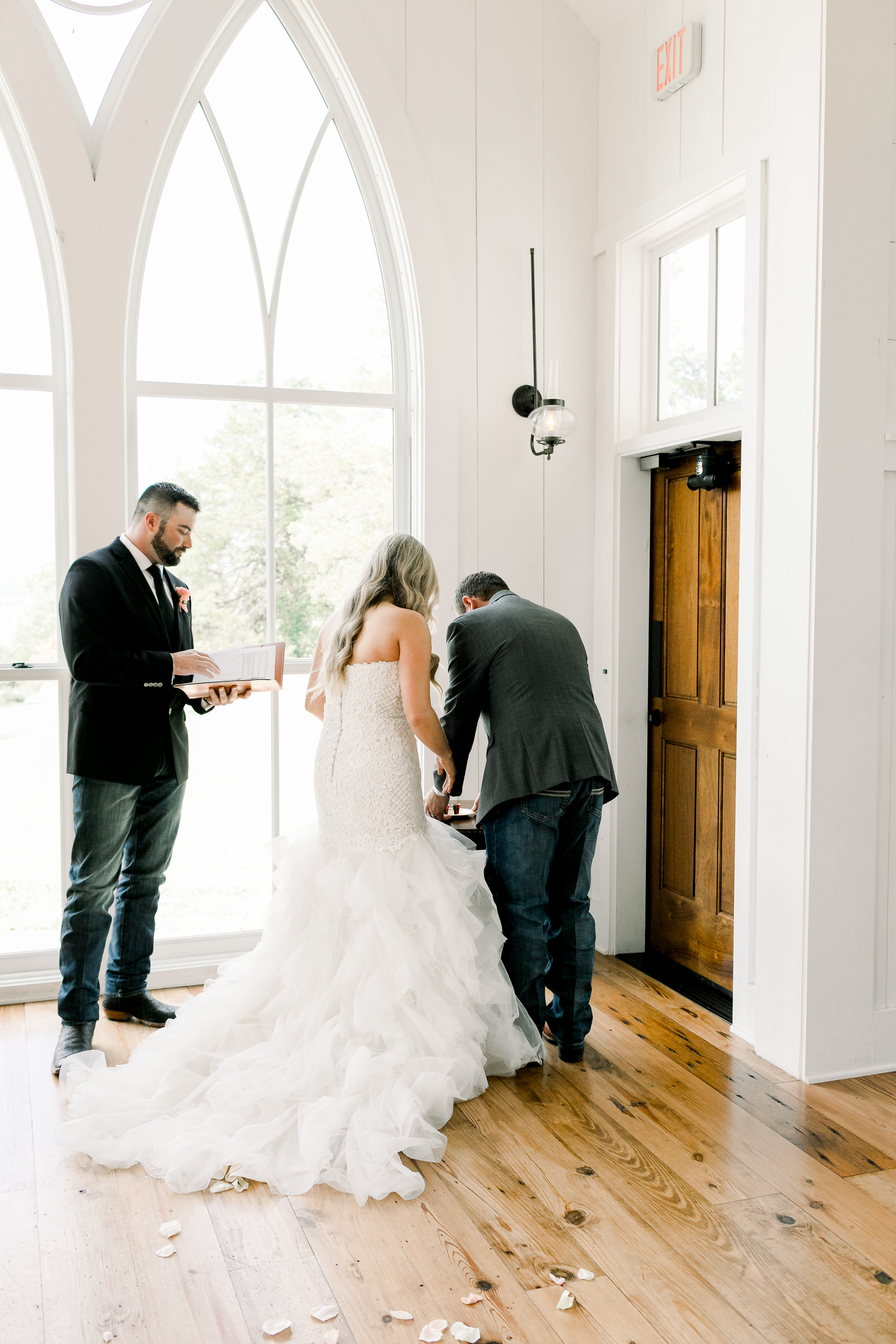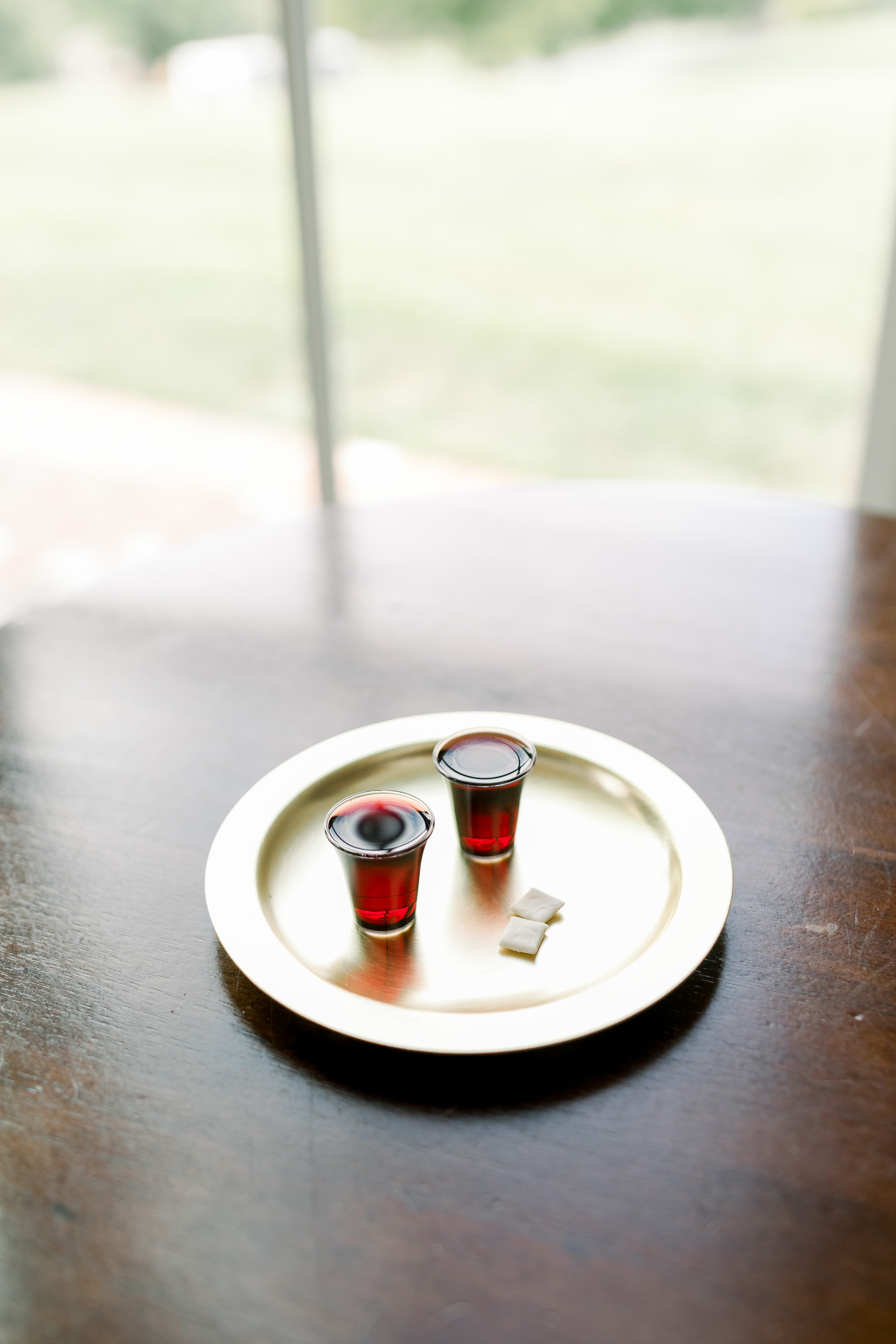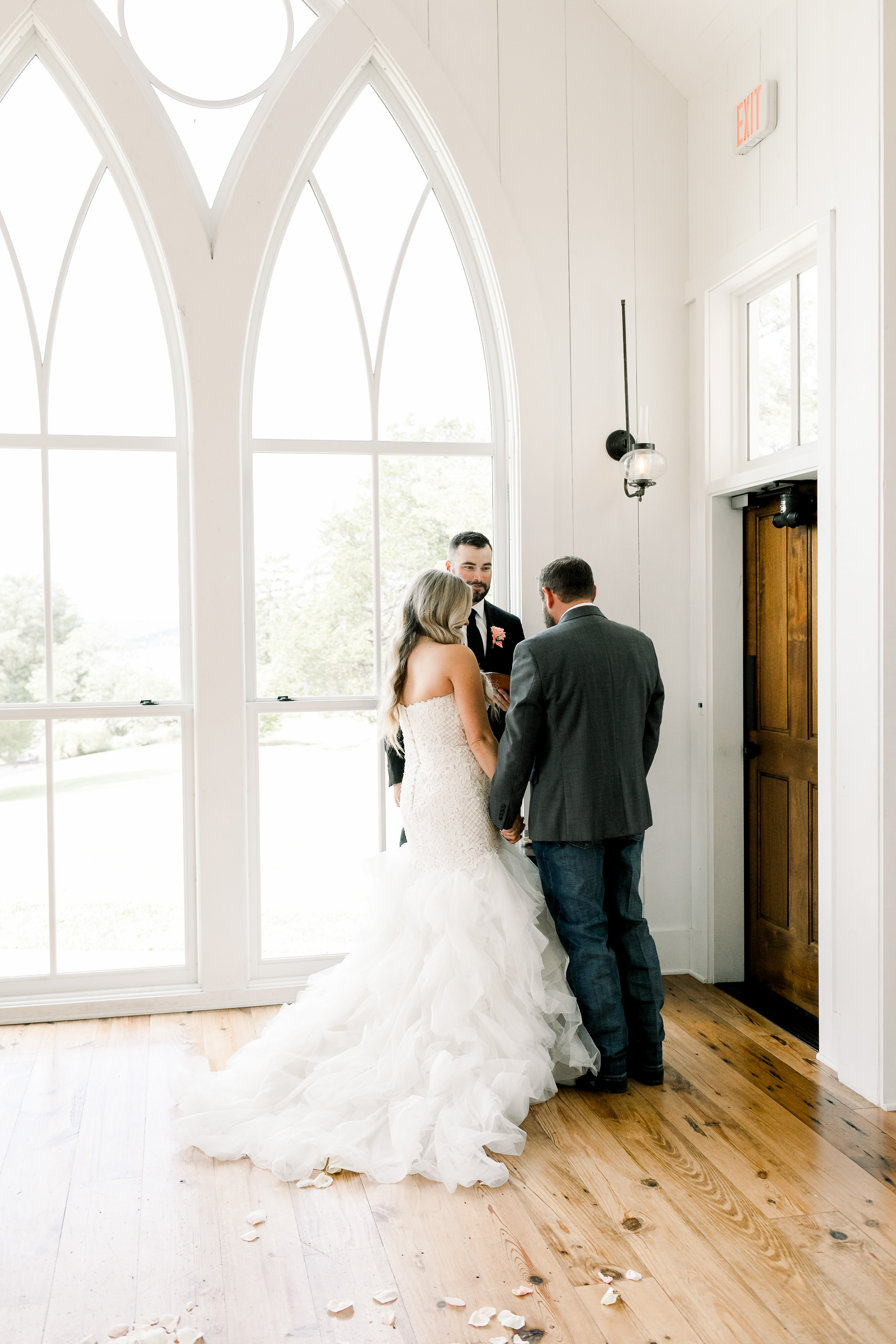 I almost feel like we blinked our eyes, and our entire wedding day came and went. I knew it would fly by; we both did. We tried our best to be present all day long and really soak in the moments together and with friends and family before it was only just a memory. I think we did a pretty good job of living in the moment and really taking it all in, and I am SO happy that I have all of these amazing pictures to remind me of the most special time in our lives.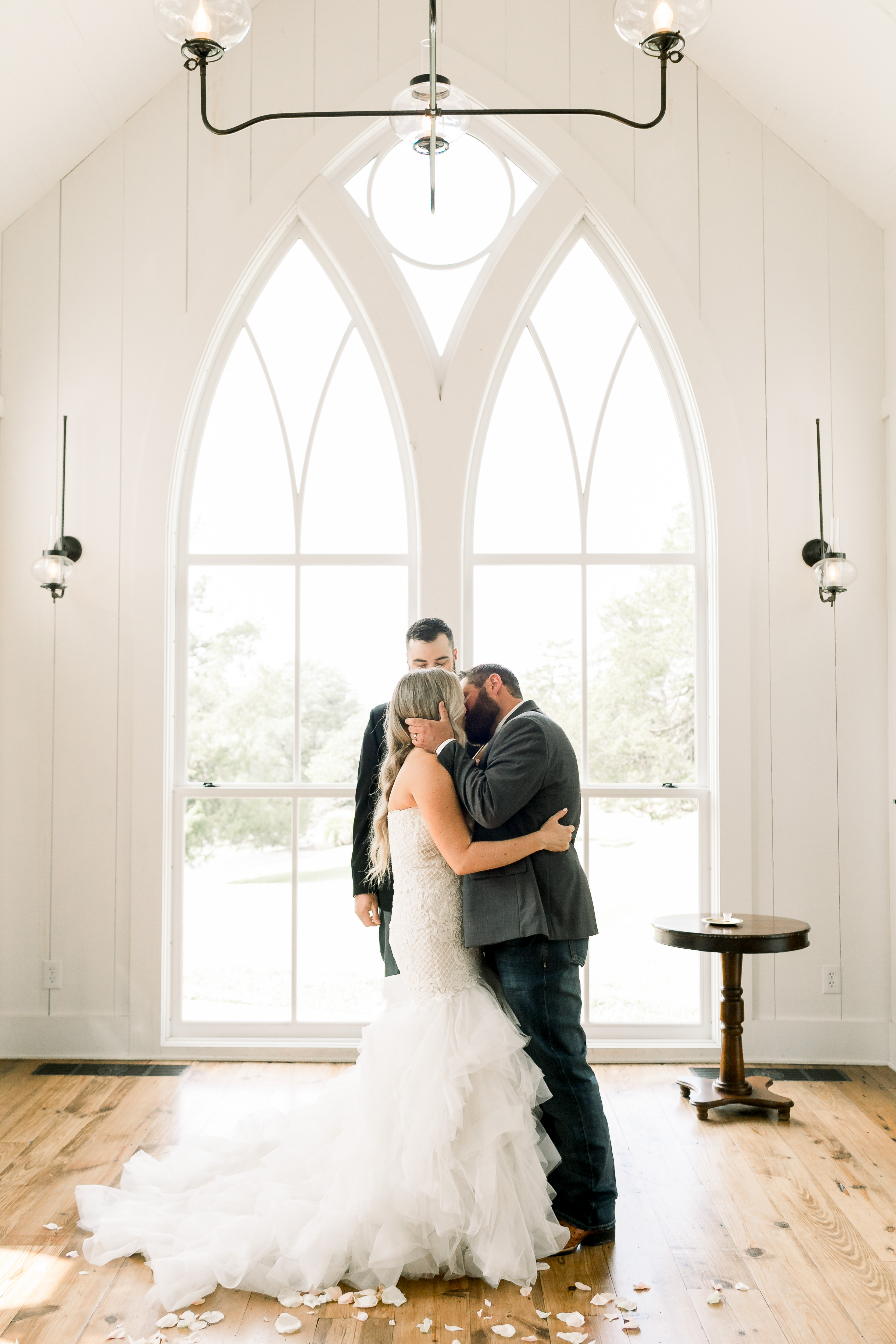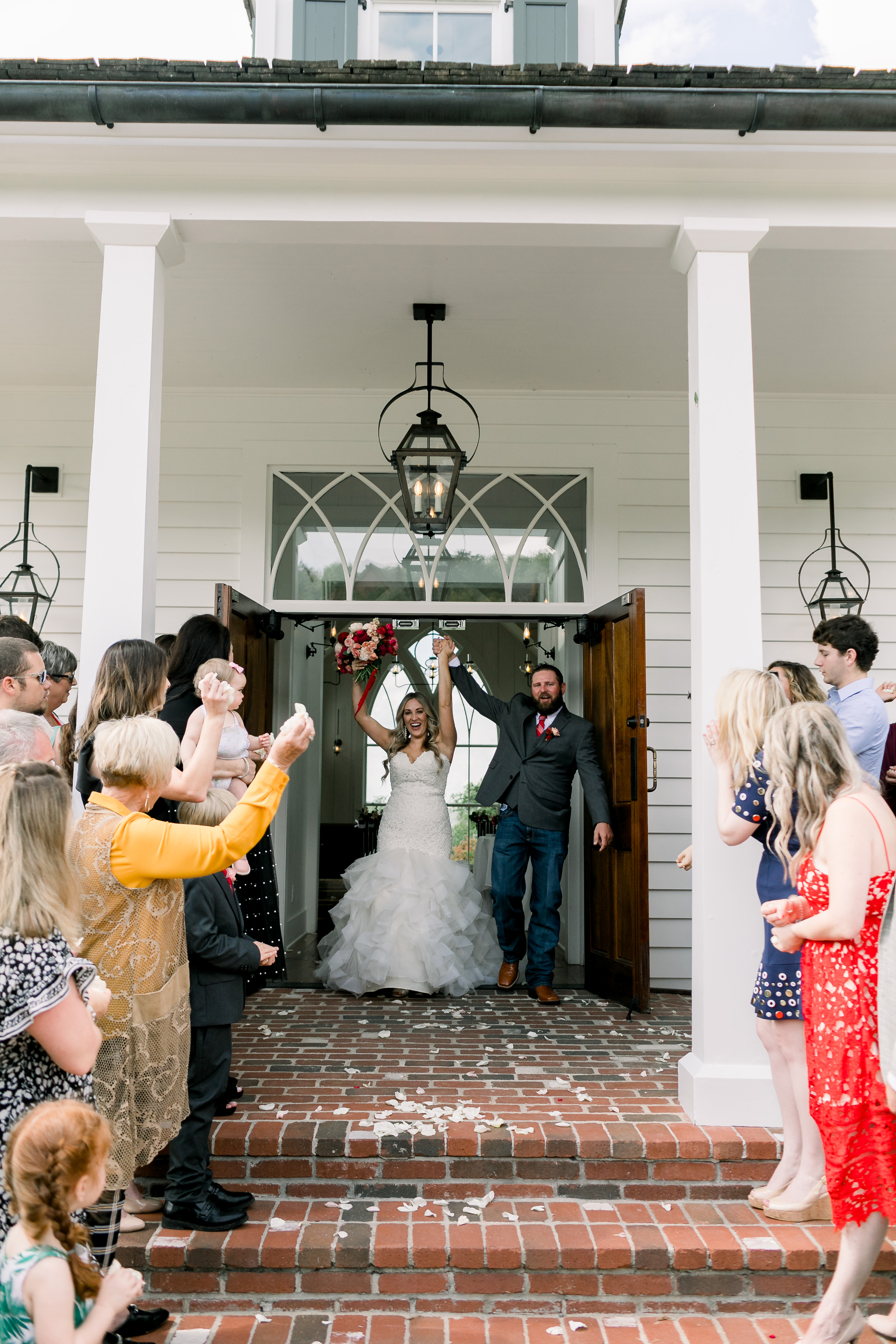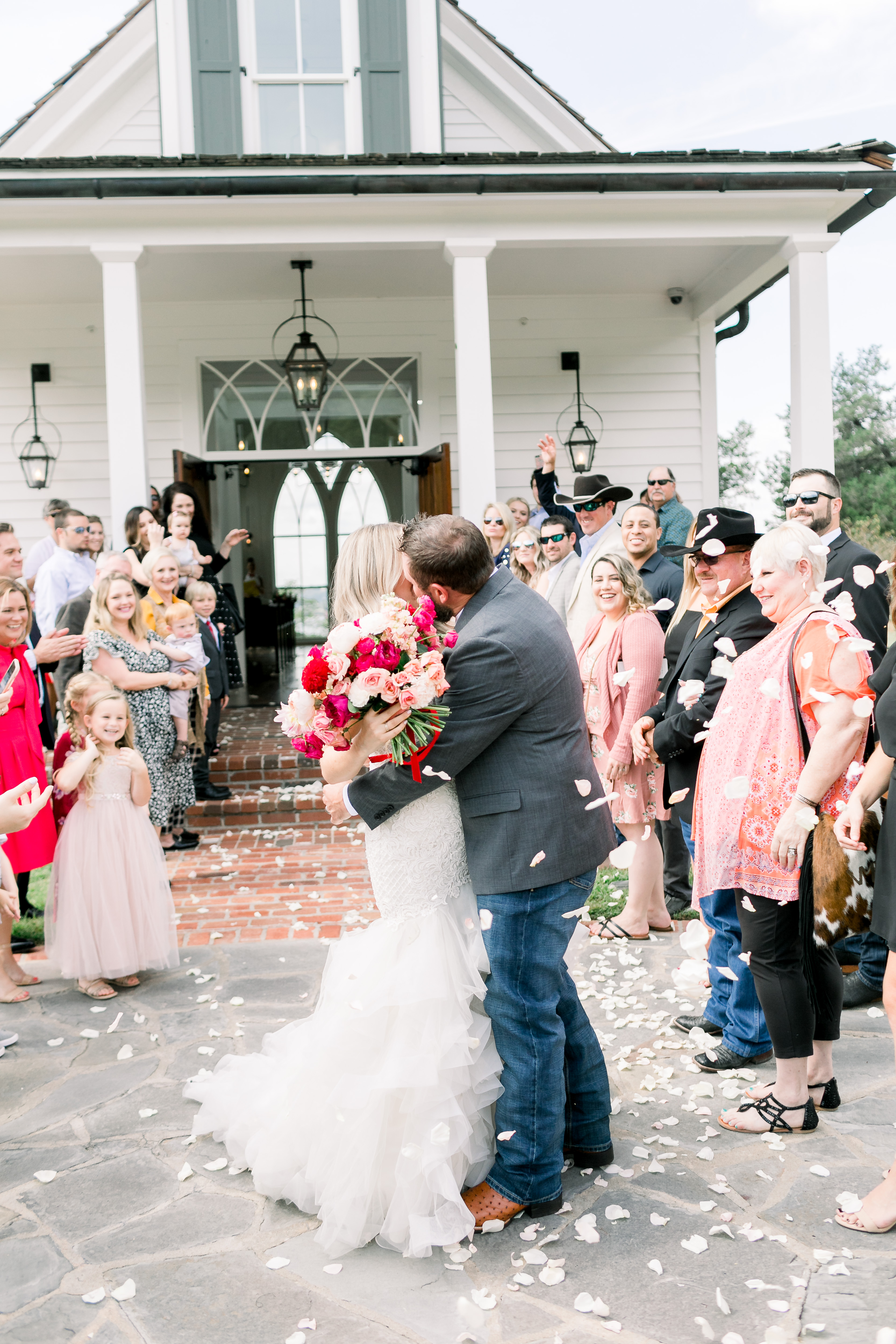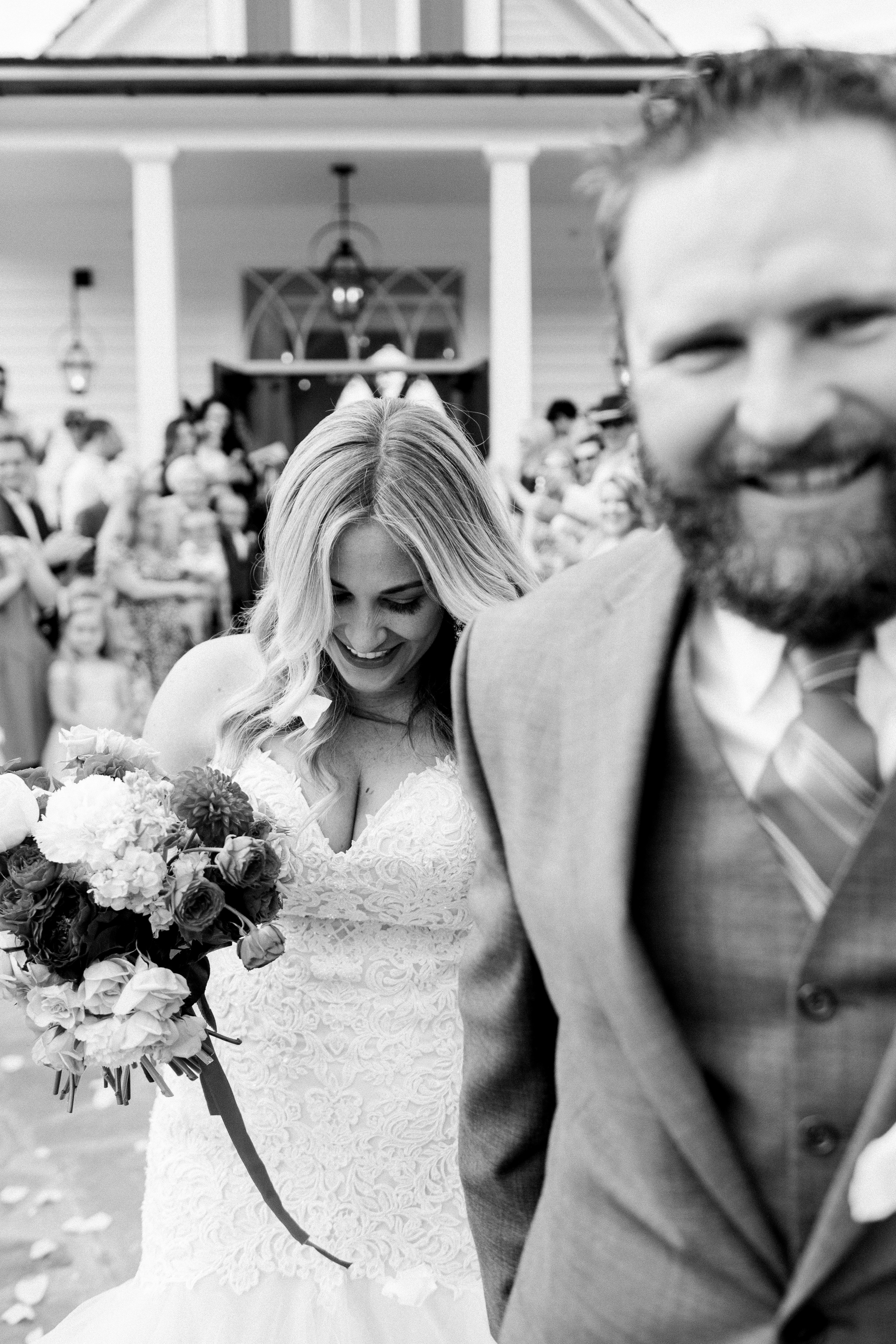 Rustic Fall Wedding: the Reception
For our reception, we had a BBQ at the Governor's Suite at Big Cedar Lodge. The suite was 2 stories and was huge! It had a rustic cabin in the mountains feel, and it was the perfect place for a reception. Especially since it had animal mounts inside; Matt was sold on that. = )
The low key BBQ reception was the perfect gathering of family and friends and really rounded off our day so perfectly. Stay tuned for an entire post dedicated to all the little details at our reception in my second post coming up this month.
We had a 2 hour break between the wedding ceremony and the reception, and I highly recommend it when you're planning your wedding. It gave us some time to get some pictures without feeling too rushed as we headed back to our cabin. And then we had a free hour to celebrate with some champagne and sit on the porch together just taking in the amazing view.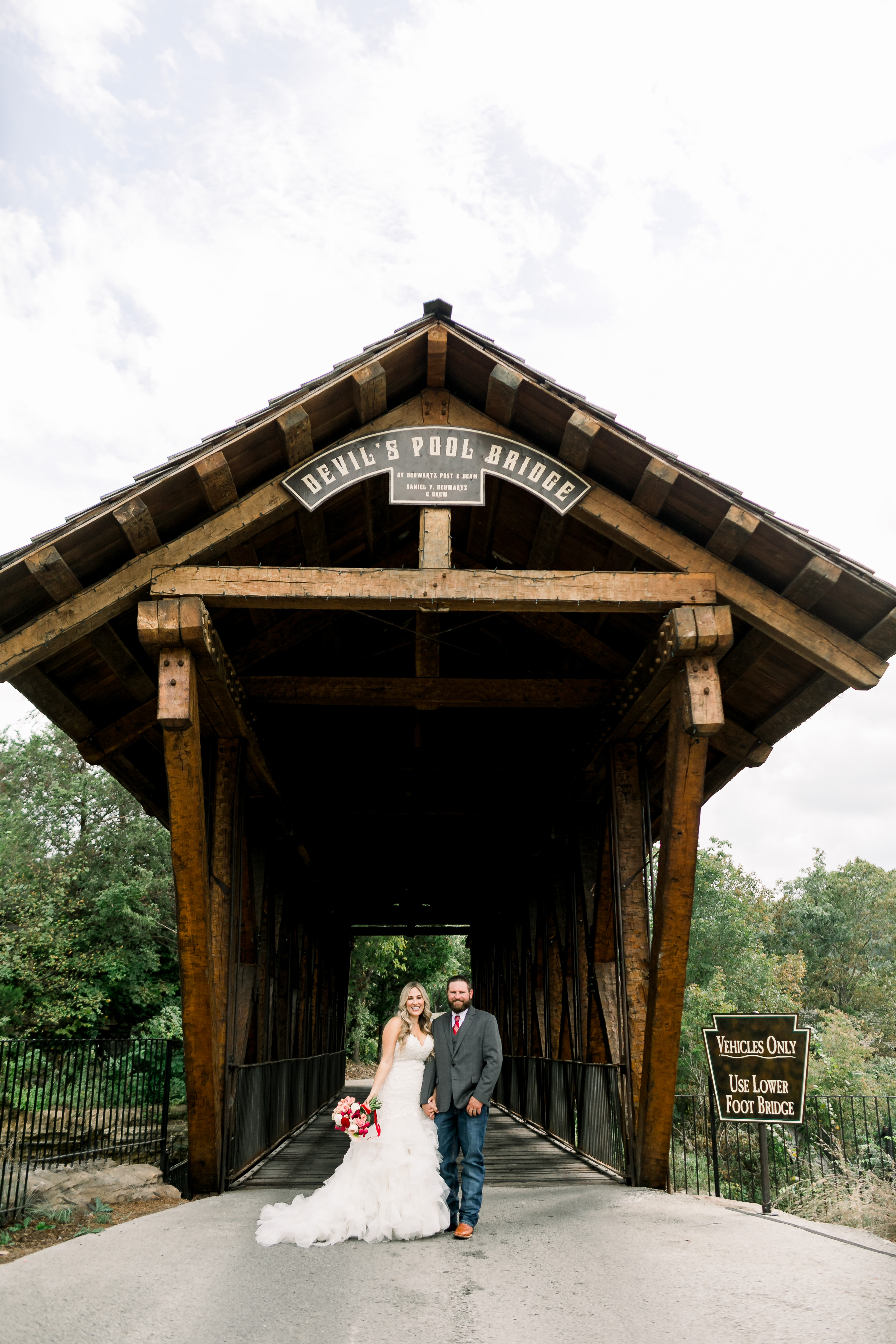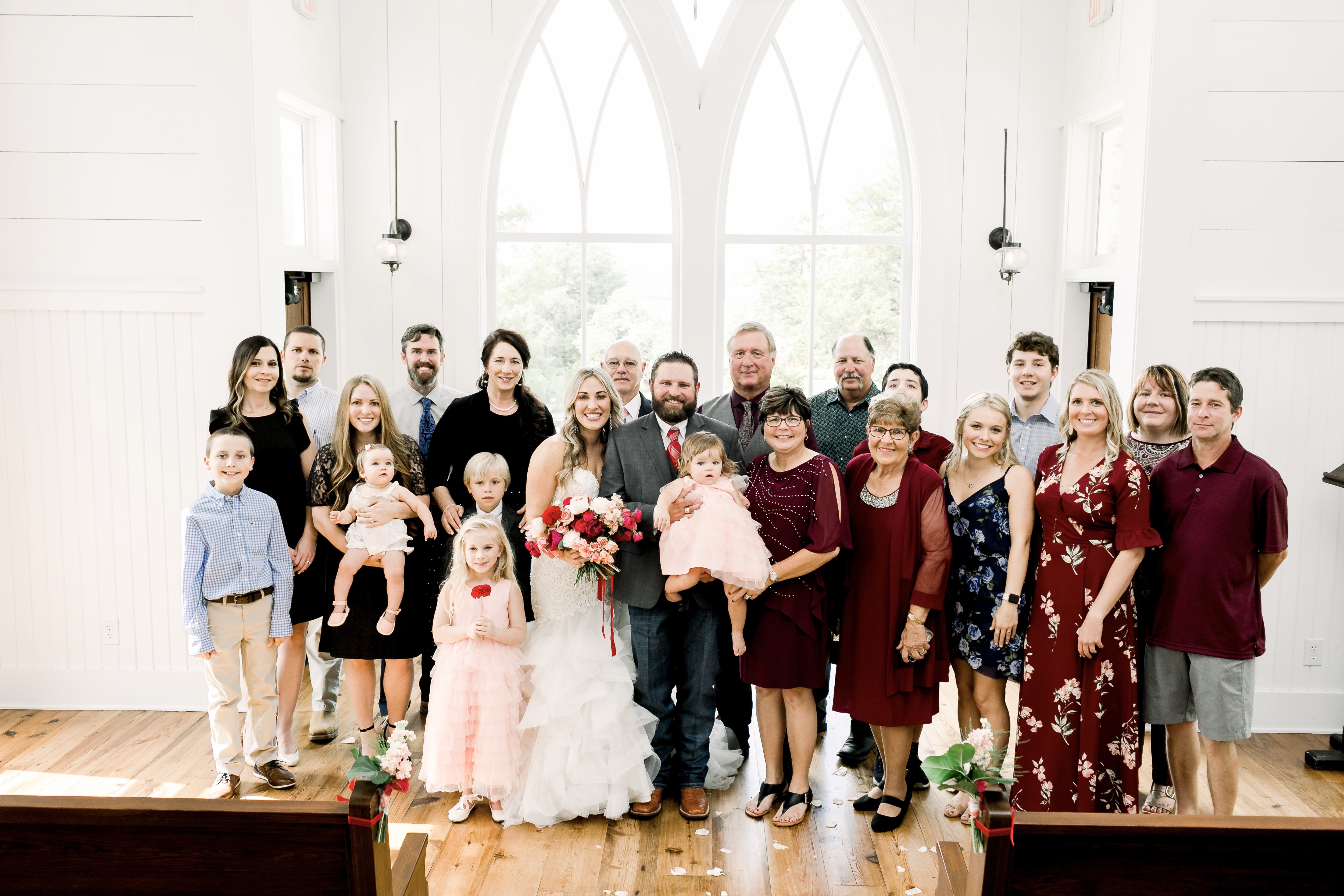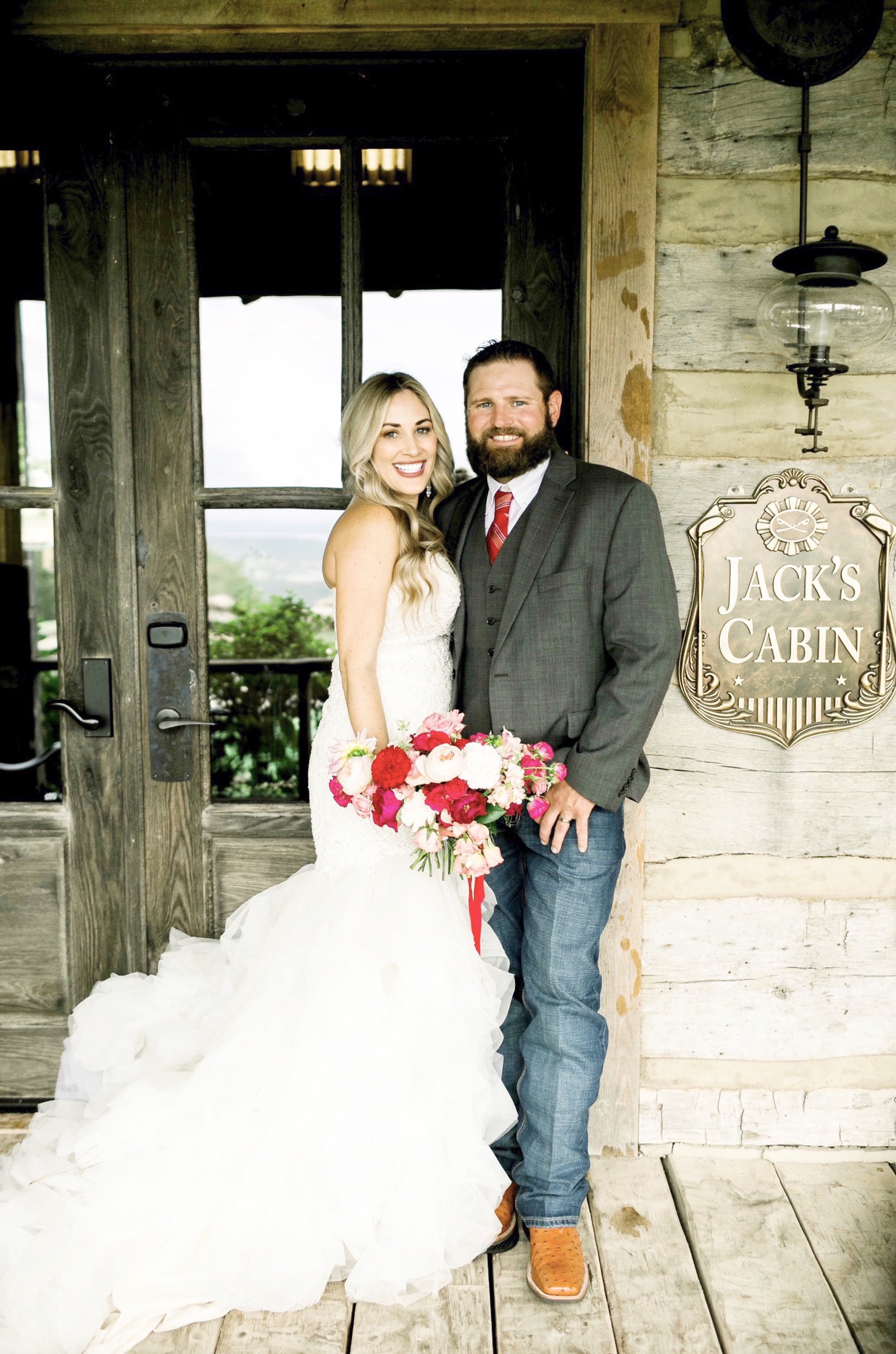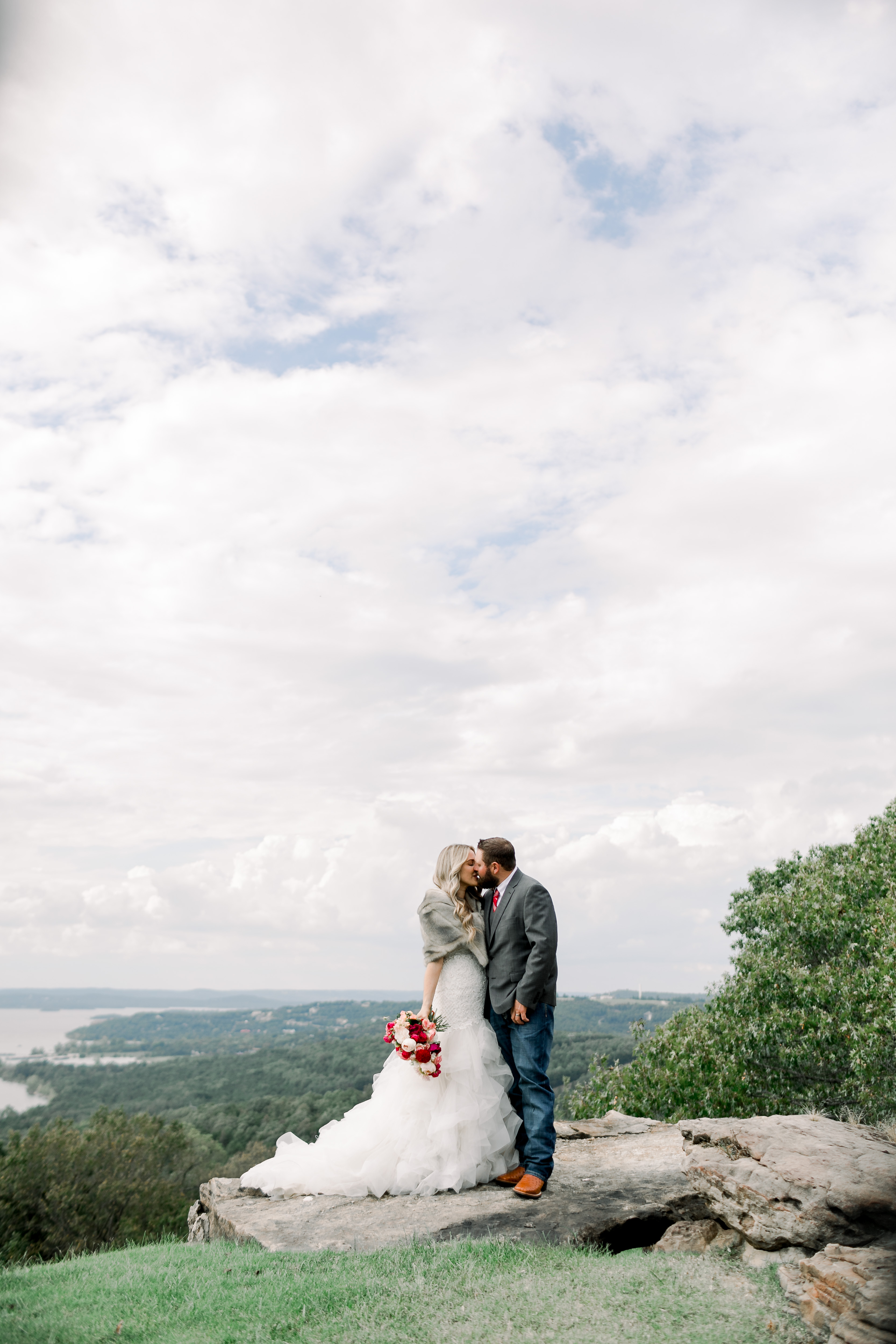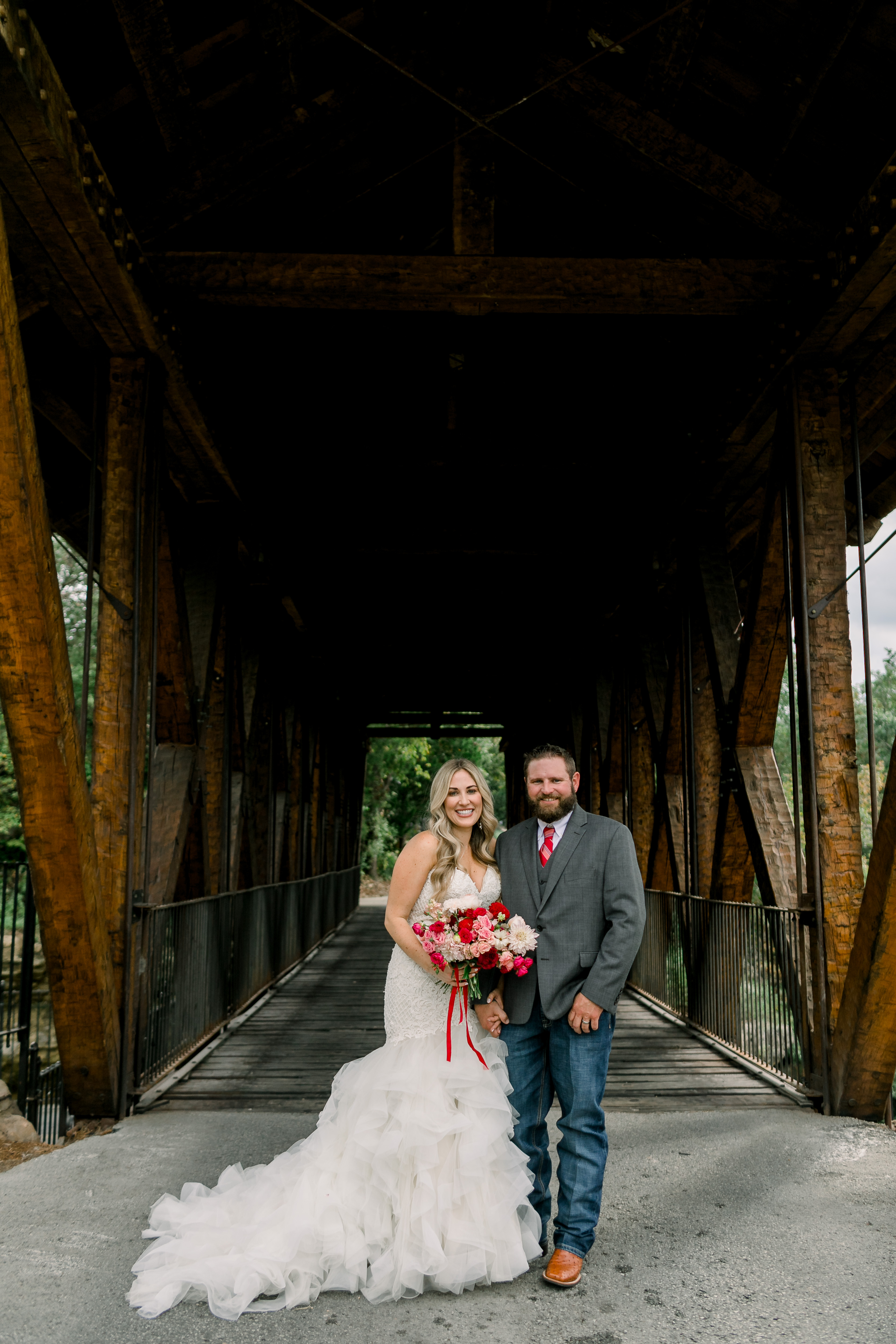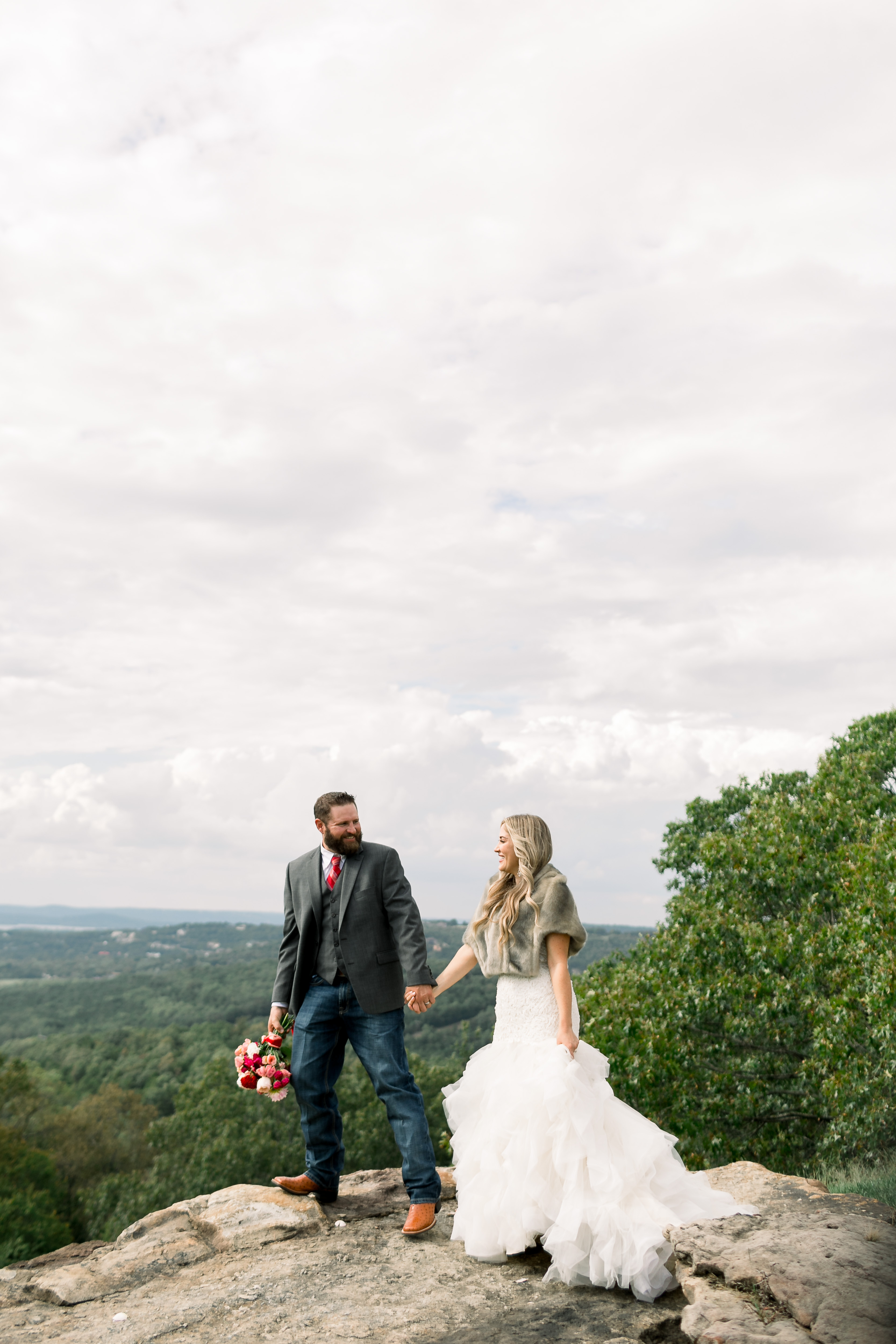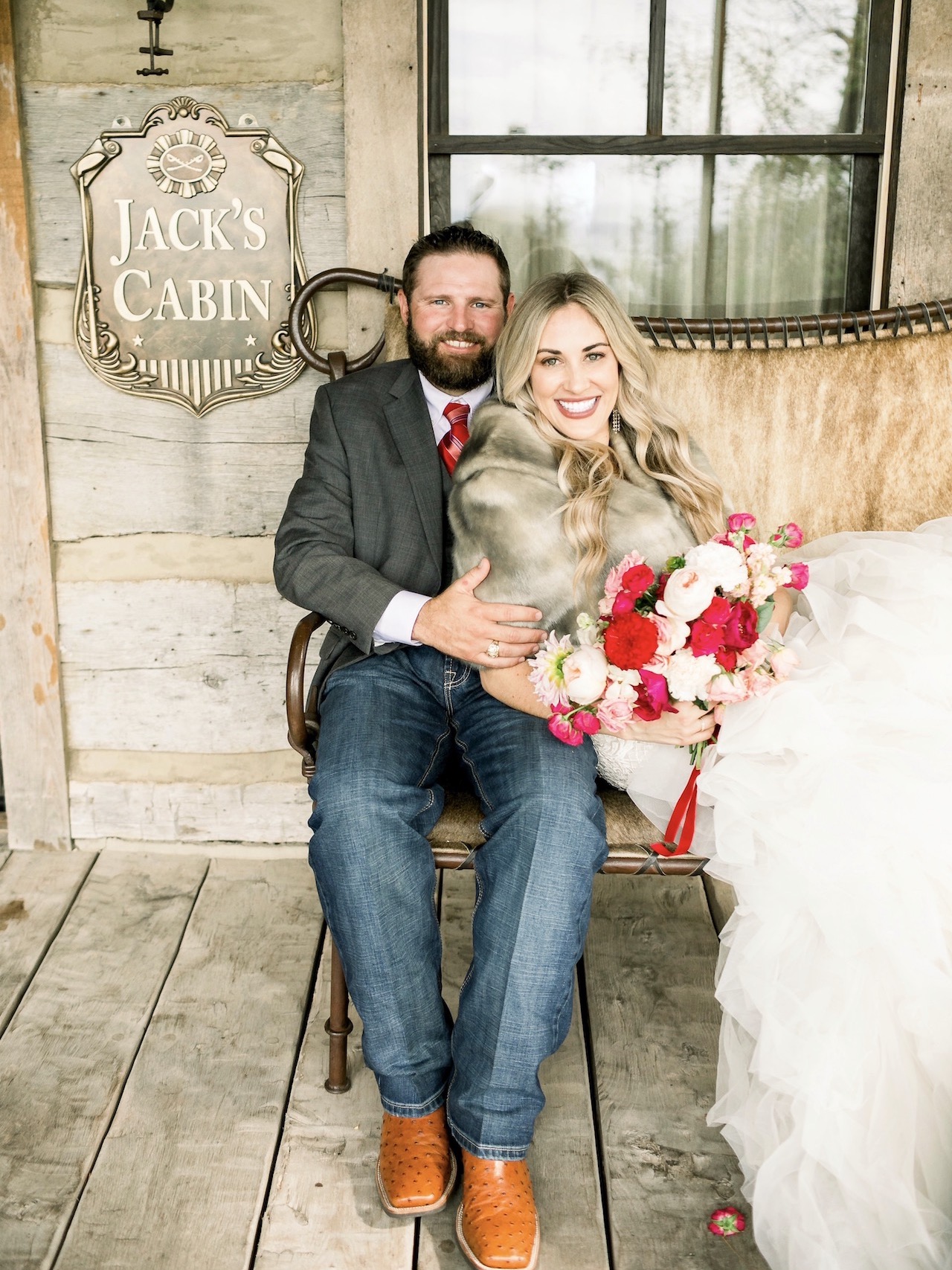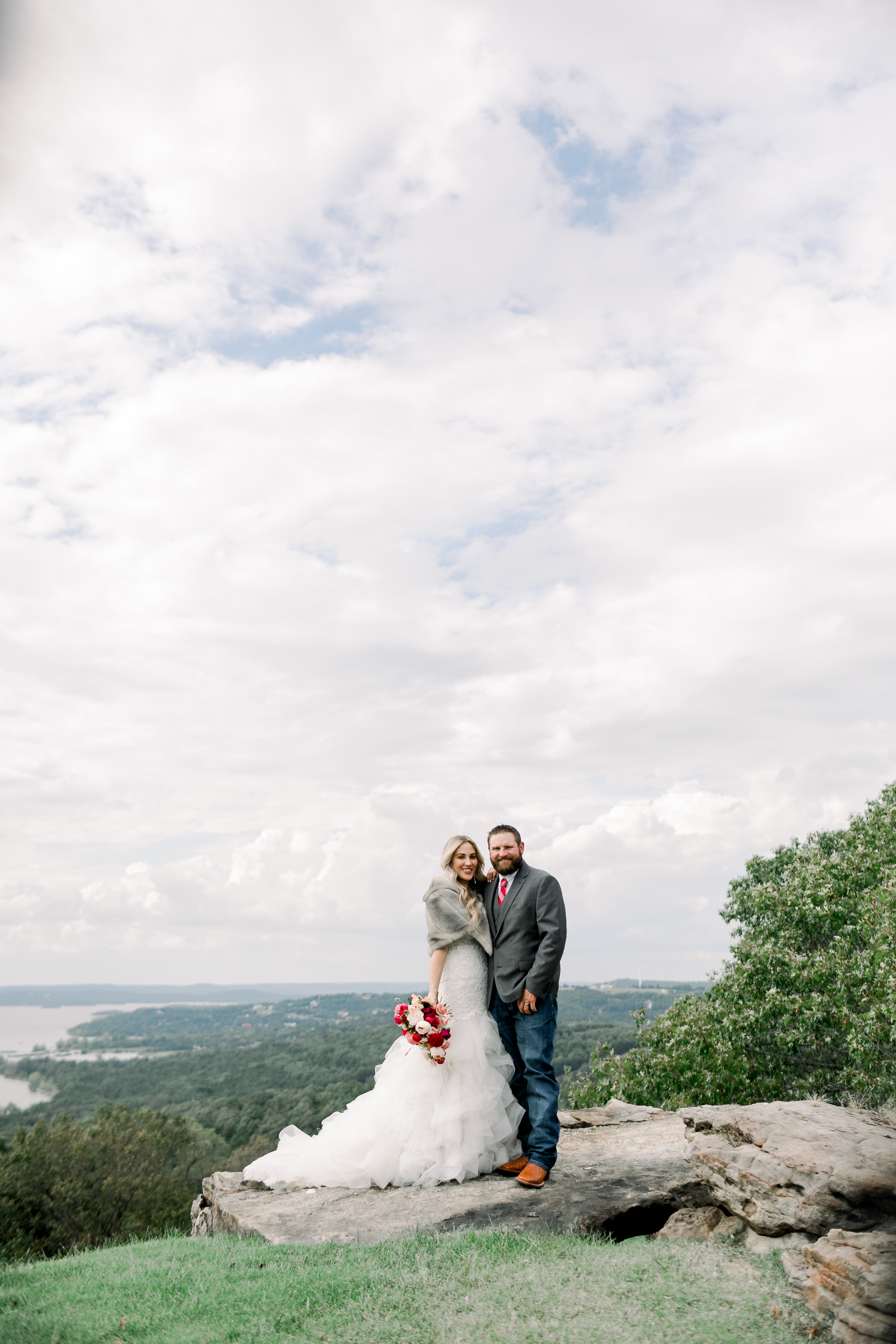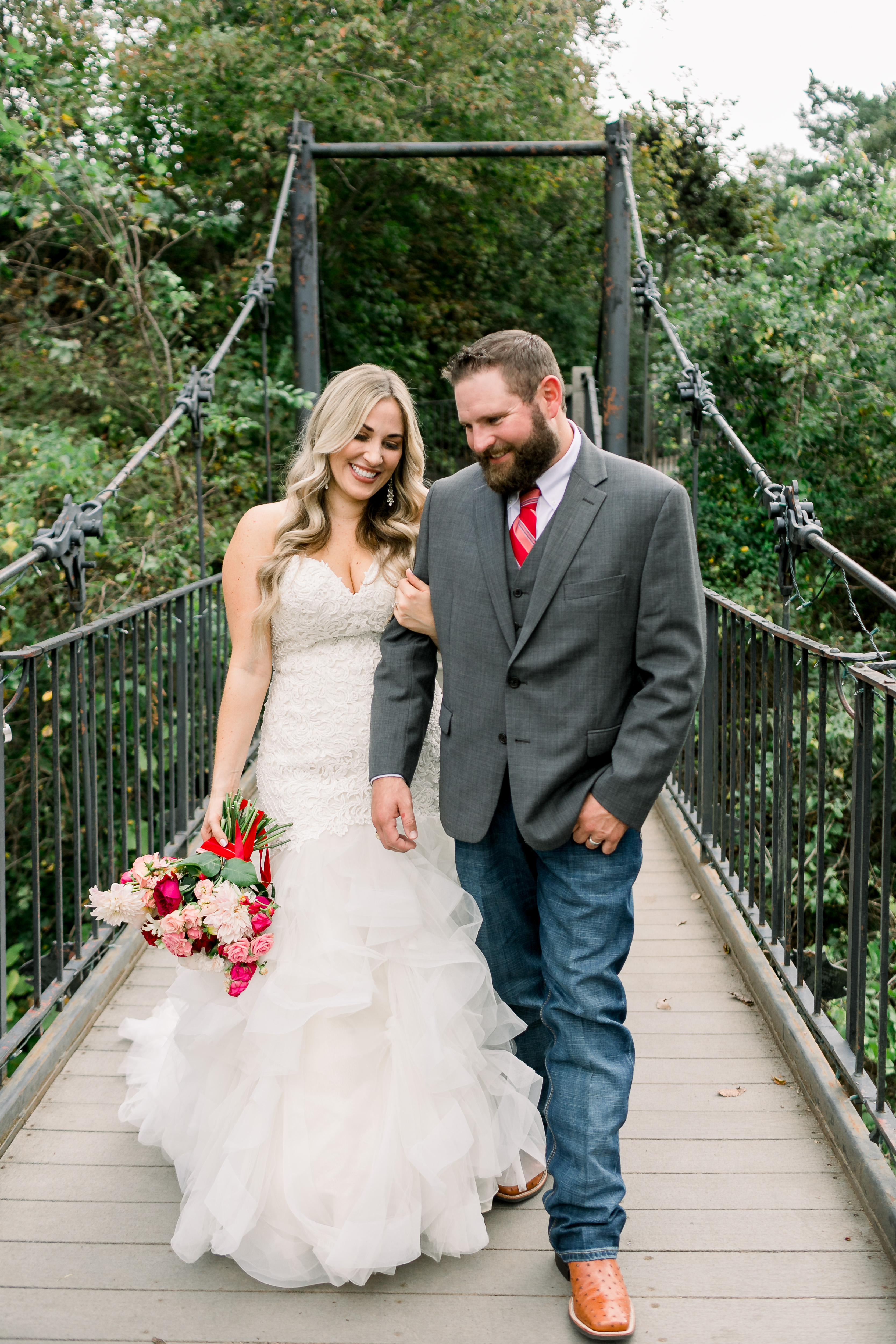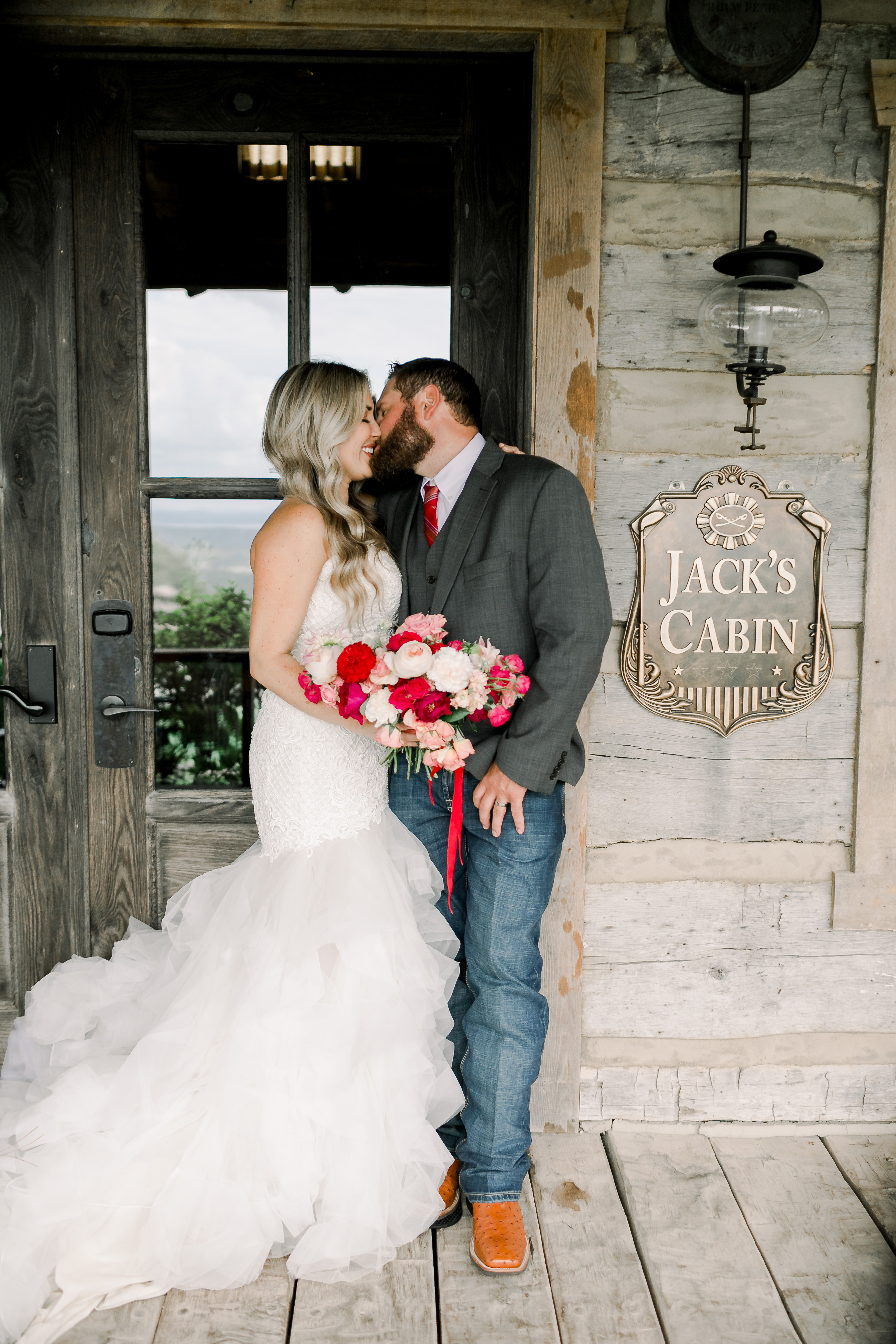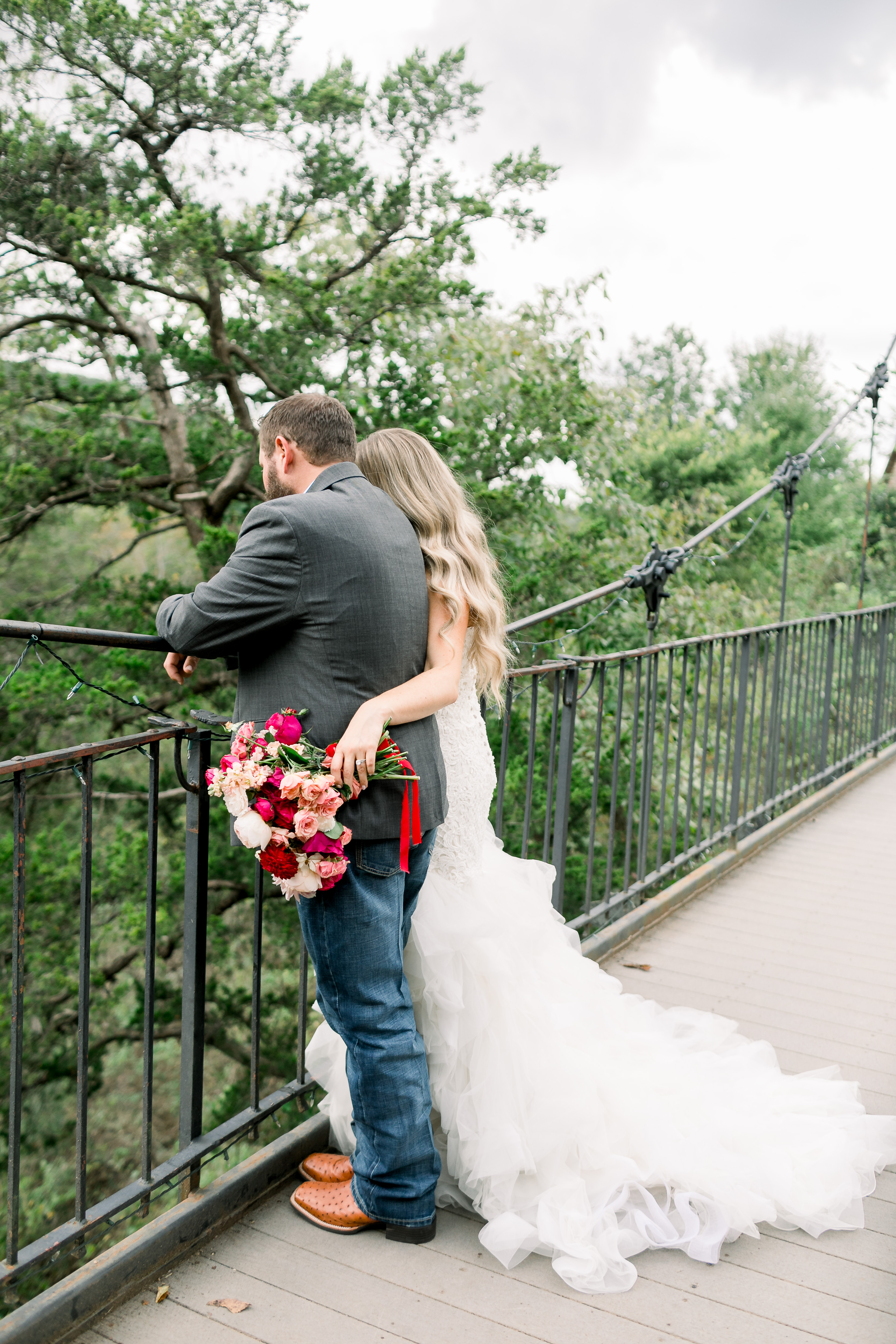 We only had a 6 month engagement, so I knew I had to get started on the wedding planning asap back in March. Luckily I knew some great companies and had some great friends and family members who were able to help too. I had everything booked and planned within a month, and then had all the final touches ordered and ready to go over the next month and was able to relax.
The best piece of advice I can give is to think about you and your fiance. What do you like to do? what places do you like to visit? What is "your thing?" Once you decide on that, that will help you to decide on where you want to have your wedding and all the little details that go along with it. Choose things that are special to both of you.
Once you know where you want to have your wedding, plan early. Venues do book up. Use a checklist to make sure you're not forgetting anything or hire a wedding planner. Enlist friends too as they may have some great ideas you didn't think of.
And once the big day gets here, it's time to relax. I know what you're thinking…you've put so much work and planning into this, you can't stop now. Trust me, things will go wrong on your wedding day. It doesn't matter. As long as you and your fiance end the day being married and a stronger couple than before, I think that is all that really matters. Just don't forget to stop and enjoy the moment because they all go by way too quickly. Thanks for reading along today on our wedding day post. It means so much to me! Leave me a comment and let me know some of your favorite wedding day details. = )
RUSTIC FALL WEDDING RESOURCES:
Resort – Big Cedar Lodge
Venue – Garden Chapel at Big Cedar Lodge
Photography – Mary Kate Steele Photography
Dress – The Barefoot Bride
Bride's Heels – Bella Belle
Bride's Boots – Ariat
Bride's Faux Fur Capelet – Eliza J
Bride's Earrings – Kendra Scott
Bride's Bracelet – Kendra Scott
Bride's Wedding Rings – Quenan's
Groom's Vest & Jacket – Lauren Ralph Lauren
Groom & Ring Bearer's Tie – Brook's Brothers
Groom's Boots – Ariat
Groom's Wedding Band – Staghead Designs
Flower Girls Dresses – Kid's Dream
Flower Girls Baskets – The Bashful Bride
Card Box – Wedding Woodworks
Wedding Programs – Minted
Guest Book – GiGi New York
Pen – GiGi New York
Wedding Sign – Kate Aspen
Florist – EH Blooms