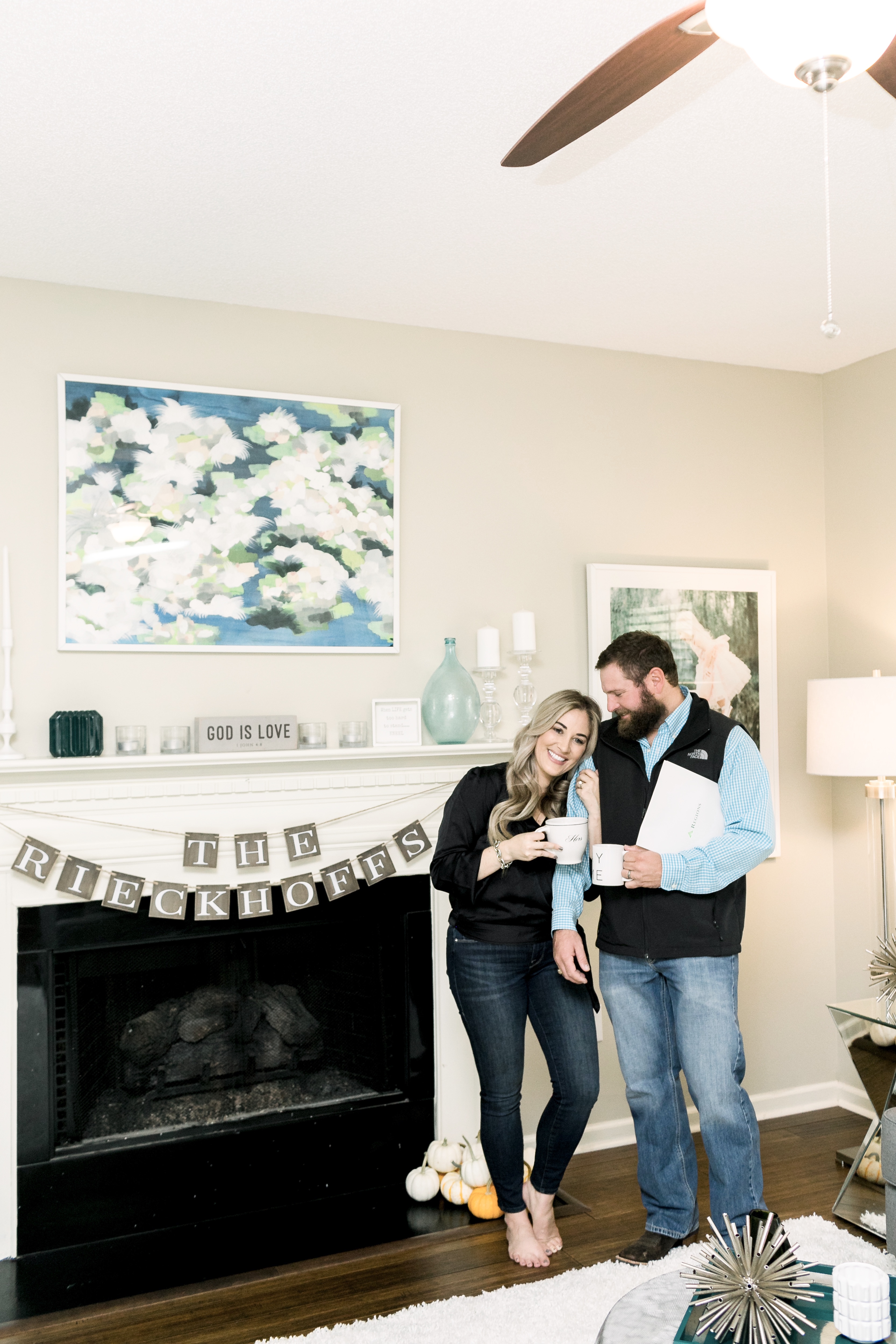 So I think that as adults, we often don't talk enough about where we bank, why we bank there and why we love it. I don't know about you, but I've been banking with the same bank for the last 18 years! And now that Matt and I just got married, we have been talking a lot about combining our finances, how to do it and where to do it together.
It's important to trust the bank you are using. I mean, these people are handling nearly all your money, so 100% trust is crucial. But it's also important to find a bank that is convenient and has some great options for your investments. Personally, I bank with Regions Bank, and I can't imagine doing business with anyone else. I have absolute confidence that my money is being handled with the utmost respect for me and my business, and that is a really important to me and Matt.
Whether you just got married or you've been married for years, sooner rather than later is always a great time to have the money talk. That includes combining your finances, setting goals and making sure you're on the same page. Below, I'm sharing some of my favorite ways to do just that.
Ways To Help Combine Finances
Make a Plan
So often, couples don't make any plans for their financial futures. They don't set any finance goals or talk about spending, budgeting, etc. To help alleviate potential future arguments, talk now about those things so that each person has a clear expectation and vision for what your joint financial future looks like. When you're working toward a goal together, you can get there a little easier! And to accomplish a joint goal, you must make sure you have the same expectations.
Establish a Budget
After you make sure you are on the same page with your financial goals, making a budget together is the essential next step. Make sure you know how much you spend on groceries, bills, gas, and "fun", and be sure to include how much you want to put in savings each month or each paycheck. When you and your spouse both know how much y'all are spending (and saving), it can help to take some stress off of each other!
Manage Finances Together
Managing finances can be a super stressful and taxing chore, so don't just put all the responsibility on one person in the relationship. When it's not something you're managing together, it can feel like there's a lot of pressure on just one of you to make everything run smoothly. When you manage them together, it keeps you both accountable and ensures you both know what's going on. I definitely suggest making a spreadsheet to help manage it all and keep everything in one location.
Pick a Bank That is Convenient
With Matt and I being long distance, choosing a bank that is convenient for both of us was absolutely essential! We needed to pick a bank that would easily allow us to manage our finances a branch or online. Because I am already a customer, Regions Bank was a really clear choice since there are convenient locations across several different states that we both travel to often.
Reasons to Love the Convenience of Regions Bank
24 Hour ATMs
As a mama, we have all been in the situation where we need cash for something in the morning. It's 10PM, and you've been running around all night getting stuff done, and you just need to run to the ATM for cash. Often, ATMs are closed when you need them in a pinch. Regions has your back on this! With 24-hour ATMs, you can get cash just when you need it. And they have so many different ATM locations that you can usually always find one nearby using the Regions Mobile Banking app!
Mobile & Online Banking
It seems like nowadays everyone is so busy with life! We all have a million things going on at once and finding time to get to the bank can be hard. Luckily, Regions mobile and online banking changes that! You can do just about everything you need to right from your phone or on your desktop. The convenience and peace of mind this brings is crucial for anyone on the go!
With mobile and online banking, you can check your balance, transfer money from one account to another, wire money to someone, pay bills, deposit checks (this is my favorite feature!) and more! The ability to have all these options at your fingertips is just unbeatable. This is especially helpful when we are traveling or if Matt doesn't have a Regions location near him, we can easily deposit checks right from our phones in the app. It takes just seconds!
Another really cool feature that Regions has on their online banking is the ability to view and track your spending all right there! You can easily see where your money is going, and reevaluate as needed when things crop up in the budget.
Location Options
I'm sure many of you know that for now, Matt and I are in a long-distance relationship. Thankfully, Regions Bank has tons of locations around the country, so combining our finances into a joint account and banking in our respective homes still works for us! He can even easily set up automatic deposit, so he doesn't need to go by the branch often. Regions is very family-friendly in this way, so that even if families have to be apart, their finances can be managed worry-free.
Regions Bank has approximately 1,427 branches and 1,989 ATMS across the South, Midwest and Texas. And in case that wasn't enough, they just opened a new location in Arlington, TN. Arlington is only 20 minutes from me, and it's great to know that when I'm in that area, I'll have another branch option near me.
High-Tech Options
I've visited some of the Regions newer branch locations, including Arlington, and they have some really neat and advanced features and services. Video Banking ATMs link you to a live banker that can answer questions, provide assistance and more via two-way video…how cool?!
For these and many other reasons, I have loved banking with Regions Bank. What bank do y'all utilize? What do you love about them? Have you combined your finances? What are some of your best tips?
If you live in the Arlington area, make sure to stop by the Arlington branch Grand Opening event on Saturday, December 7th from 9:00 a.m.-1:00 p.m.!
4900 Milton Wilson Boulevard Arlington, TN 38002