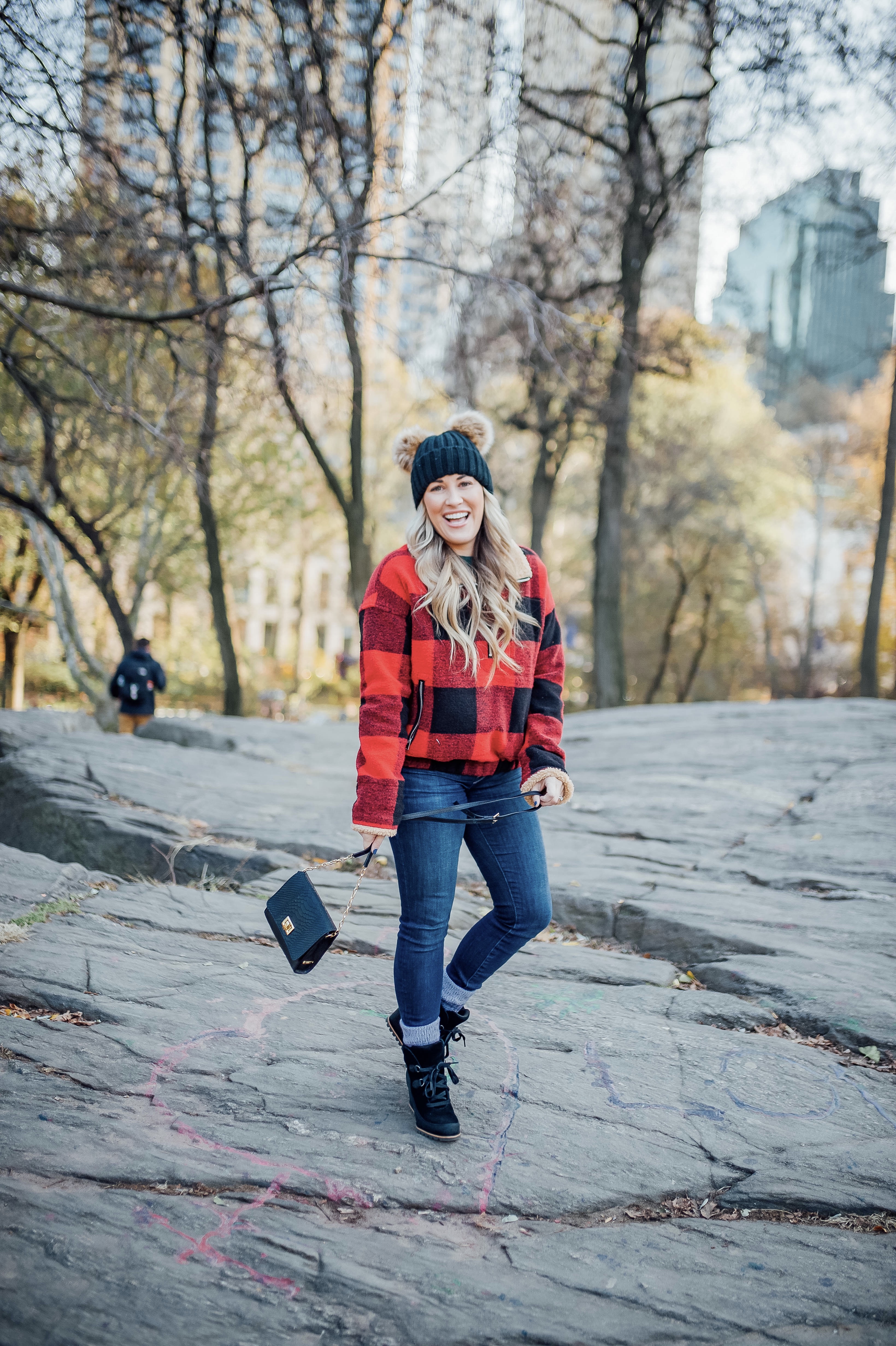 SHOP MY NEW YORK LOOK:

Well, it's another trip to New York City in the books again! And this time, it was Matt's first trip there! We tried to do our best to plan a variety of some of our favorite things to do in the city to show, and I think we succeeded. The trees were changing colors and Central Park was just gorgeous this time of year, so of course we had to snap lots of pictures!
I can't believe it's already been a month since we were there! I'm sharing my favorite 12 things to do in New York City in Winter below. If you've been before, let me know some of your favorites too so I can add them to my list last year. = )
Best Things to Do in New York in the Winter:
Where to Stay in New York :
Dream Midtown. This was my third time to stay at the Dream Midtown. It is one of my favorites in town. It is in such a great location, the rooms are decent sized and so nice. The rooftop terrace is amazing and the bar across for the lobby has great drinks! From the vibe to the service, I highly recommend this hotel.
Where to Eat in New York:
Best Bagel & Coffee. There are so many great bagel shops in New York, but this one is my favorite! I had to get to usual order, salmon and cream cheese on a bagel. It was SO good! Another favorite is the cinnamon raisin with cinnamon, walnut & raisin cream cheese spread on it.
Patsy's. Patsy's is another tradition that we have to do each year! To me, this is the best Italian food in town. I am obsessed with the butternut squash pasta. It is SO good, and I can't help but get it every year. Make reservations!
Rosie O'Grady's. This was a first this year, and I am so happy we stumbled upon it! It was just right down the road within walking distance from our hotel too. It is an Irish pub, but it feels like so much more to me! We had steak and seafood and all just raved about how good it was all night! Make reservations!
What to Do in New York:
Go for a walk in Central Park. And make sure to grab some hot chocolate and a cookie at Tavern on the Green. You can literally walk around here for hours taking in the beautiful sites, go for a boat ride or even take a carriage ride or go for a run. This is where we spend the majority of our time in NY each year.
Get a great view of the Statue of Liberty at Battery Park. Next year we plan to actually take a ride out to your the statue up close and personal, but if you're short on time this park will give you a great view! You can also see it pretty well from the Brooklyn Bridge.
Walk across the Brooklyn Bridge. This is another favorite on our list each year. Put on some comfy walking shoes and go for a walk across the bridge and back. It is so cool to see, and it has such a great view! Bonus, while you're in Brooklyn, grab some great pizza!
See the Christmas tree at Rockefeller Center. We also going before the tree lighting, but we always get to see the Christmas tree here after it's been delivered which is pretty cool too. Whether it's lit or not, definitely visit Rockefeller Center to see the tree!
Try out a variety of food at The Todd English Food Hall in the Plaza. There are SO many different food choices…and I'm talking about pretty much any type of food or dessert you can imagine. You can try it all right here in one place! And we are obsessed with Pizza Rollio and eat there every year too!
Go by Radio City Music Hall and see the Rockettes while you're there. This was my first time to see them in New York, and I was so impressed. The show was even better than I ever imagined. And Radio City Music Hall is even just a sight itself with its beautiful chandeliers and charm. Matt said his favorite thing was the show!
Visit Grand Central Station and take a subway ride while you're there. It won't take much time out of your day, and it's a must do. They also have some great food there like bagels and desserts, yum!
9/11 Ground Zero Tour and Museum Visit – We have done this tour 2 years in a row now, and I HIGHLY recommend it. It really paints a picture (as much as you can) of that day, what happened and how so many of the people involved felt and the timeline of it all. They do a really good job telling of the stories of so many people involved and memorializing them.