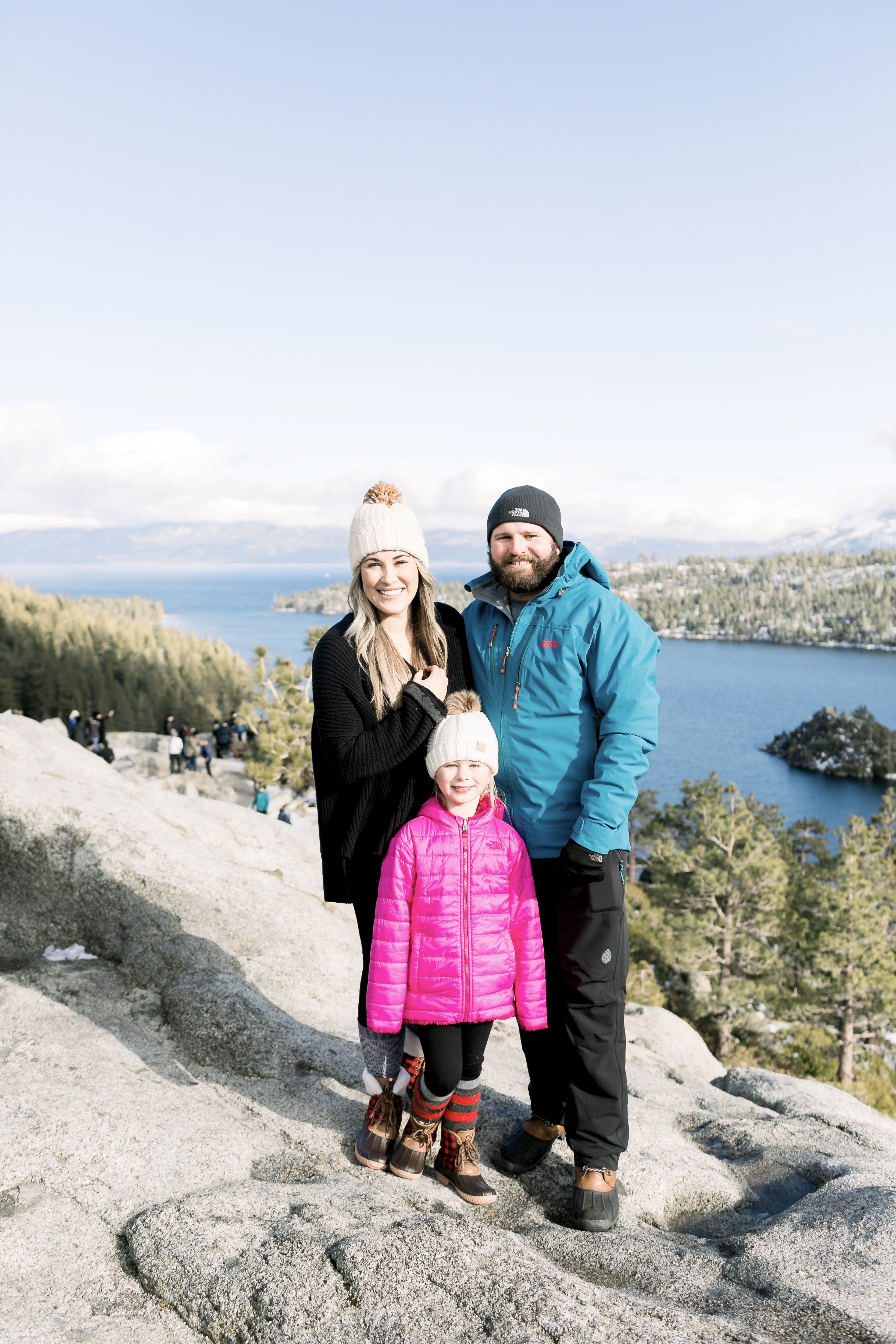 SHOP OUR LAKE TAHOE WINTER LOOKS:

If y'all keep up with us over on Instagram, you know that we have been doing a lot of skiing this winter! We were recently in Lake Tahoe between Christmas and New Year, and we had snow much fun! 😉 We had Leighton the week after Christmas and a wedding in Lake Tahoe, so we made a fun little family trip out of it!
We had lots of fresh snow to ski, stayed in a great location in a cabin, and today I'm sharing all the best things to do if you're planning a trip to Lake Tahoe too any time soon (and I'd highly recommend it because it is fabulous!)
Things to Do in Lake Tahoe in Winter: Where To Stay
Incline Village, NV
We decided to stay in Incline Village. There are SO many different areas of Lake Tahoe, but after researching it and following recommendations, we thought North Lake Tahoe was the nicest. The wedding was in Incline Village too, so it was super convenient!
My photographer, Mary Kate and her family joined us for our trip. We wanted to make sure we had plenty of space for the kids to run around and to ensure we could get some great photos. (#bloggerlife) We went with a cabin that I was able to find using Vacasa. If you've never used the site before, try it out! It's like Air BnB and so amazing! This is our second time staying with them, and we have had great experiences both times!
Matt and I are staying at the Hyatt in North Lake Tahoe in September, and y'all this hotel is absolutely gorgeous! I cannot say enough good things about it, and I know y'all will take one look at it and just swoon! The fire place in the area is so cozy, and they have a great bar, restaurant, casino and spa inside as well.
Things to Do in Lake Tahoe in Winter: Where To Eat
This homey burger joint is a popular spot for both locals and tourists, and there's good reason. The burgers are so tasty and unique. Their menu is pretty stream-line. Burger, veggie burger, double burger. And some specials. They had a Nashville hot chicken sandwich too that I just had to get.
The chicken sandwich was good, but I still think the burgers are hands down the best! Add on a side of fries (hello garlic fries!) or a side salad, and this meal is done. Leighton was obsessed with the fries! It's just the thing after a long day out in the cold! Get there early because it's small, and it gets packed at lunch and dinner!
Caliente is a casual, friendly place that serves the most delicious Southwest dishes you've ever had. Their prices are affordable and the menu is pretty diverse, which means your whole family will be happy! And for the adults? You won't want to miss the list of tequila, margaritas and other specialty cocktails to warm you up after a cold day on the slopes!
We ate here for the rehearsal dinner, and it was SO good! I loved the spicy salsa, and the tacos were amazing! And honestly, every drink they made from the bar was SO good! We had the best New Year's Eve there!
Things to Do in Lake Tahoe in Winter: Best Places To Go For Drinks
Base Camp is located right at Heavenly Village so it's super easy to get to if you're already there skiing! They've got a really large selection of draft beers, specialty beers in both bottles and cans, some fabulous wines and a full bar. Aside from the amazing pizza they make right there on-sight, head here to take a break from skiing and grab a drink.
We did some fun shopping in Heavenly Village, and Matt and Ben popped in while we finished up with some girl time. I've heard they also have great pizza, so make sure to grab some while you're there and then do a little more shopping lol!
A newer establishment to Lake Tahoe, Truckee Brewing Company is a really cool and unique place to take a break or unwind after a day on the slopes and hang out with friends, fellow skiers and locals. It's super laid-back and relaxed and a great place to let loose! We had multiple recommendations to come here and can't wait to try it out next time!
Things to Do in Lake Tahoe in Winter: Where To Ski
Squaw Valley / Alpine Meadows is located in South Lake Tahoe and was the host of the 1960 Winter Olympics! Consisting of 2 mountains and 6,000 acres of skiable area, you surely won't be bored! They are over 65% beginner and intermediate slopes so all level abilities are welcome. This is the best place to ski in Lake Tahoe, so you have to add it to your list!
Heavenly Resort is sort of an all-encompassing place! You can ski, shop, enjoy great food and drinks and more. It's got just about everything you could need all in one place, making it an ideal spot to take your whole family for a day of fun! Leighton and Mark even rode the Ferris wheel while we were there and had a blast!
For more than 50 years, Diamond Peak has been a laid-back, family-friendly ski area that is constantly seeking to improve and grow it's already amazing resort. Everyone can find something they love at Diamond! Leighton took her first ski school class there and absolutely loved it! The prices were a little more affordable and honestly, the staff was so nice and friendly all day long.
Things to Do in Lake Tahoe in Winter: Where To Shop
This little village is located at the base of the Heavenly Mountain Resort gondola. It's your place to go for all the latest trends for dining, shopping and entertainment. It's got some of the very best shopping (Matt found an amazing Patagonia pullover there!) and quite a few of Lake Tahoe's top-rated restaurants. I told you Heavenly was the place to go for everything! 😉
I honestly cannot believe we waited so long to finally cross Lake Tahoe off our bucket list. The wedding was gorgeous, and I am SO glad we got to be there for that, and it gave us a great chance to get to explore such a beautiful place. We drove completely around Lake Tahoe twice – from north to south and then back to north. It was completely worth those couple hours. Make sure you stop at Emerald Bay also – as it has the most gorgeous views (the top photo), and Incline Village was my second favorite place for views, and Kings Beach in California was my third favorite with their fun beach and pretty piers.
I am already counting down until this September when we go back for our 1 year wedding anniversary. If you've ever been to Lake Tahoe and have some favorite spots to visit, leave them in the comments below so we can add them to our list!