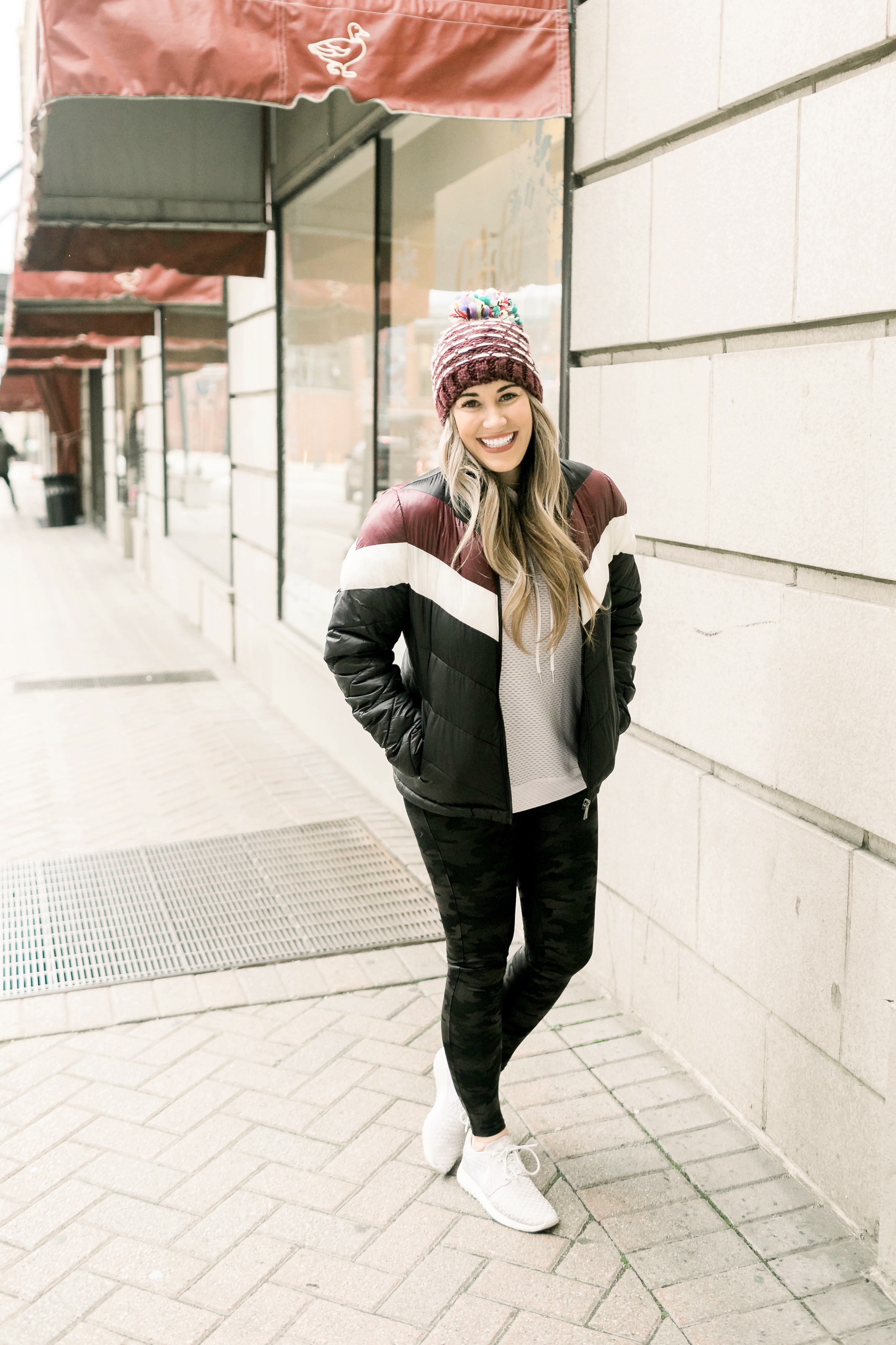 SHOP MY CUTE WINTER LOOK:

Happy New Year, y'all! I know that many of you (like me and probably everyone else!) have the goal this year to get healthier, eat better, create healthy habits, etc. I am teaming up with My Life Well Loved, Happily Hughes and Life Lutzurious to share some healthy eating tips and workouts this month and am so excited! You can head over to our Holiday Honey Hustle Facebook group to keep up with all we are doing post-HHHC. Check out all the details on Whole30 and FASTer Way to Fat Loss!
To start things off right, I am starting the Whole30 program this month. Matt and I had been following Paleo in the summer and fall, so that will help me ease right into Whole30, I think. If you're interested in the Whole30 program and want to do it with me, I've created a sort of starter-guide for those of you that might be newbies Whole30!
What is the Whole30 Program?
Whole30 is a 30-day cleaning eating plan. It is meant to be a plan that cleans up your diet by cutting out certain foods. Whole30 is hugely beneficial if you're trying to clean things up, cut things out and start fresh with a great meal plan. But y'all, I'm not going to lie…it's HARD!
What do I have to cut out on the Whole30 Program?
No sugar or natural or artificial sweeteners. This means no maple syrup too!
No alcohol.
No smoking.
No grains.
No beans or legumes.
No soy.
No dairy.
No processed additives.
No processed snacks or treats.
So what CAN I eat on the Whole30 Program?
Meat
Poultry
Fish
Fruits
Veggies
Fats
You can also have coffee! We all know coffee is a MUST to survive and when you're cutting out basically ALL the other good things you often crave, coffee will save your life haha!
The Whole30 Benefits are Worth It!
Weight loss
You can often see improved health conditions. If you're prone to headaches, many people don't have them as frequently or even at all while on Whole30!
Improved digestion
Clearer skin
Better energy levels
Less cravings for artificial or processed foods!
Improved sleep
Better workouts
Learn what and how foods effect the way you feel
Want to try the Whole30Program out? Here are my best tips:
Do Whole30 with a friend, group of girlfriends or a spouse. Everyone is held accountable and you're doing something great for your body all together!
Make a plan and stick to it! Plan your meals, pack your lunches, just try to plan ahead for any bumps in the road that might make it hard for you to stay strong!
Try out new Whole30 recipes. For me, half the fun of a lifestyle change is looking up new recipes and hyping myself up to try them out!
Remember it's not a lifetime, the Whole30 Program is only 30 days! A month is really not as long as it sounds and you CAN do it!
Keep it simple! Don't try to over do it with crazy, elaborate meals, meal plans and snacks. Trying to make things to complicated will only lessen the likelihood of your success. Keep meals and snacks easy to set yourself up to do well!
Give yourself GRACE! It is HARD, y'all! You may slip up. You may accidentally eat something that isn't Whole30 approved. It's not the end of the world. Don't give up if you make a mistake. It's a learning curve and you will learn it. You can do this!
I'm going to be doing the Whole30 program right along with y'all, so be sure to come over to my Instagram to keep up with my meals and snacks, ask questions, tag me in your meals and snacks, and let me be a resource for you if you need one! And make sure you check out Heather, Jess and Lindsey to learn more about Whole30 or even Faster Way to Fat Loss!