This Valentines Day night in post is sponsored by Babbleboxx, but all opinions are 100% my own. Thanks for helping me to support the brands I love.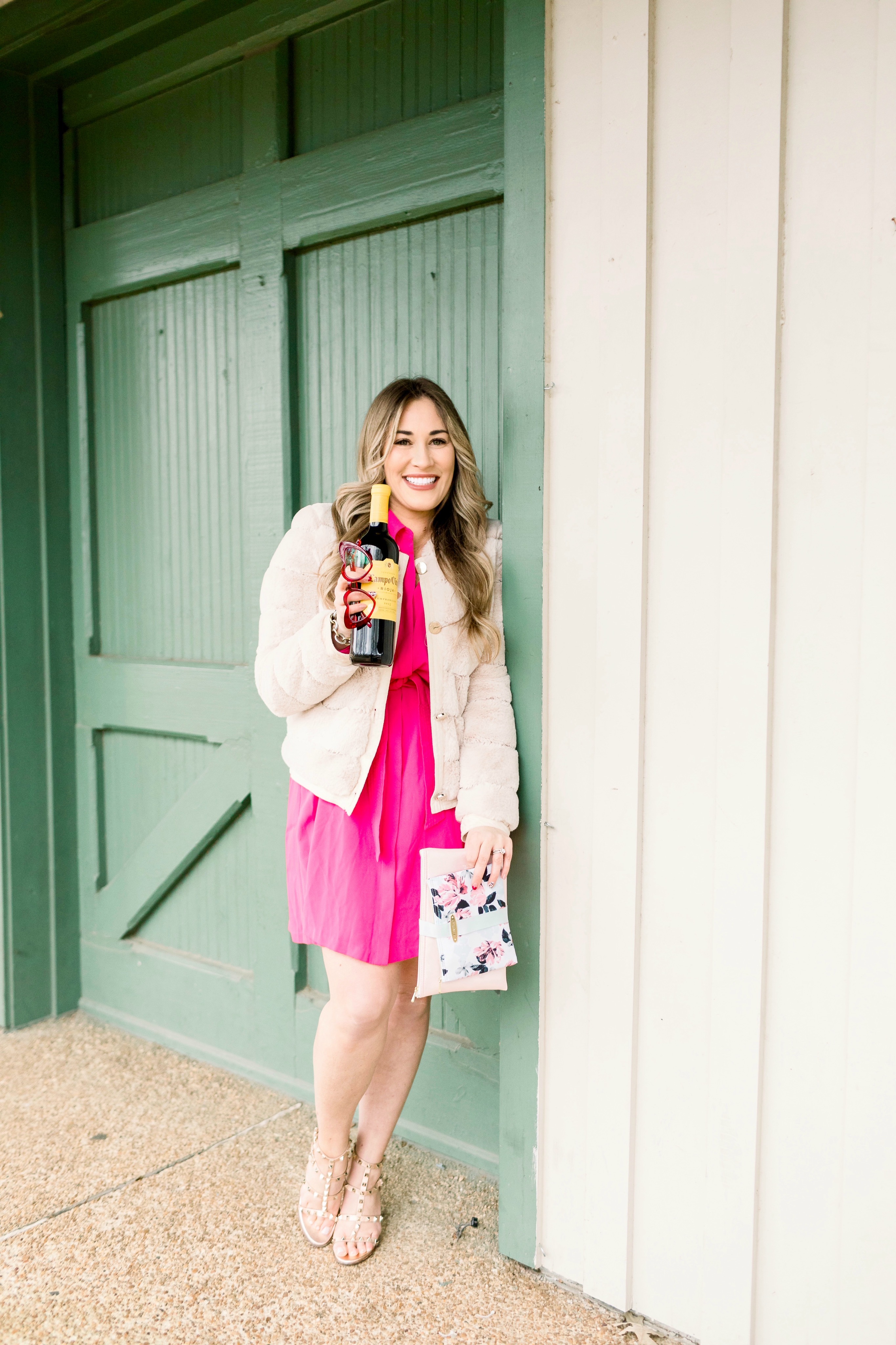 Valentine's Day is THIS WEEK, y'all! It's extra special this year because Valentine's Day falls on a Friday so y'all can celebrate your love all weekend long! Matt and I have some really fun plans to go out but this weekend, we also have plans to spend a special Valentines Day night in. We are so excited about our first Valentine's together as a married couple!
Today, I have teamed up with Babbleboxx to share some tips for the perfect Valentine's Day date night in!
How to Spend the Perfect Valentines Day Night In:
Get dressed up as if you were going out.

Put on your favorite date night outfit, pick the most gorgeous necklace you own. My current favorite is this beautiful, simple little Moissanite one from Charles & Colvard and pull out your makeup bag to make sure you have everything you need for the finishing touches on your look! I have been loving Ellen Tracy and their cruelty-free makeup! You can shop Ellen Tracy makeup at TJ Maxx, Marshalls, Ross and Burlington stores. A fun little accessory that I'm adding to my look for our date night are these heart-shaped glasses from Zenni! Take care of your eyes with these blue blocker lenses!
• Special Offers from Charles & Colvard:
Save on Valentine's Day gifts (no code needed!) with up to 20% off bridal jewelry and 15% off fine jewelry* through Thursday, February 13th at 11:59pm PT 
*Discount not valid on Signature Collection, New Arrivals, loose gemstones, past purchases or with any other offers. Expires 2/13/2019 at 11:59pm PT 
Save an additional 14% on pieces in our Brilliant Savings category! Discount applied in cart.
Buy a nice bottle of wine:

Matt and I have been loving this bottle of Campo Viejo! It is a Tempranillo, and it was SO good! We love a good red, and it has such a smooth taste. This is a wine that is perfect with pasta, poultry and fresh light cheeses, grilled chicken, and even some small bites like light cheese or grilled vegetables.
Cook Dinner together and don't forget the dessert!

Cooking is a favorite activity that Matt and I try to do together as often as we can. We are both pretty busy, and with two girls running around, sometimes it can be tough. But, especially on holidays (and a romantic one like Valentine's Day) we try to make it a priority! And we definitely don't forget to make the chocolate covered strawberries.

Try something different after dinner together.

With Valentine's Day falling on a Friday, it's the perfect time to take the weekend to try something new. There are so many fun games out there that are perfect for two and worth trying out! You could try a new card game, watch a new movie together or even go for a walk together after dinner.
The point for your Valentines Day night in is to get out of your normal routine. That means no doing laundry or cleaning, no working on your laptop and trying to stay off your phone and just spend some time talking and catching up on our day, your week and maybe even your goals together. Just enjoy each other!
Some food for thought for this week ahead while you prepare for Valentine's Day:
At church, we are currently in a sermon series called "The Relationship Challenge." We are taking a hard look at various relationships, and yesterday, our preacher gave us a couple of action steps for the week.
Write a letter of appreciation to the person you love (could be a spouse, a boyfriend/girlfriend, fiance) to let them know how much you love them. Let them know that you appreciate everything they do for you. It could be something as mundane as doing the dishes or throwing laundry into the washing machine. But sometimes, those little things are nice to recognize.
Second, ask your special someone "How can I help you feel loved this week?" and then do that thing for them. It's amazing how just hearing what your spouse or loved one needs from you and then following through with it can really bring something special to your day or week.
I hope that these tips have helped y'all to get ready for your special Valentin's Day date night in! What is your favorite way to spend a date night in? Let me know in the comments below!