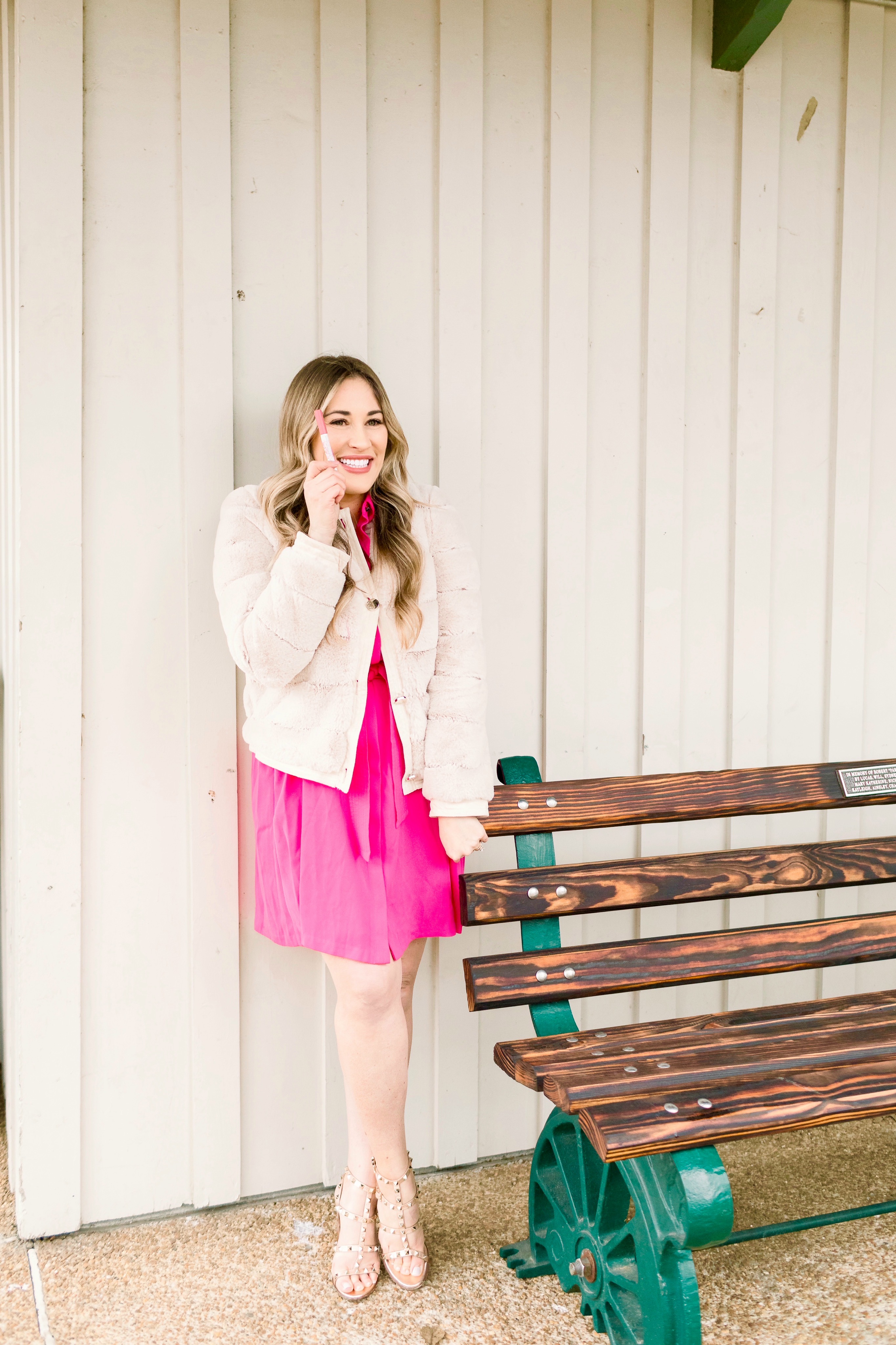 SHOP MY FAVORITE VALENTINE'S DAY LIPSTICK COLORS & LOOK:

With Valentine's coming up next week, I thought it was the perfect time to share some of my favorite new lip colors. There are SO many new kinds (matte, glossy, pencil, creamy, stick, nude, etc.), and if you're anything like me, Valentine's Day is a great way to update your look without having to spend a ton of money! And especially on date night for Valentine's!
I am sharing 8 pretty Valentine's Day lipstick colors below, all from a variety of 4 different brands. I can't help but always lean towards a pretty, neutral dusty rose or a darker hue of that shade in plum. So I'm sharing different shades of those colors that are my personal favorite and look good on practically everyone! I also threw in a pretty red because…. well, it's V Day! Everyone needs to try out a bold red lip every once in a while!
8 Pretty Valentine's Day Lipstick Colors:
1.) IT Cosmetics Pillow Lips Cream Lipstick in Wistful
2.) IT Cosmetics Pillow lIps Cream Lipstick in Humble
3.) MAC Cosmetics Liptensity Lipstick in Claretcast
4.) MAC Cosmetics Lipstick in Russian Red
5.) MAC Cosmetics Lipstick in Whirl
6.) Lancome Color Design Lipstick in Edgy
7.) Physician's Formula ROSÉ Kiss All Day Glossy Lip Color in Blushing Mauve
8.) Physician's Formula ROSÉ Kiss All Day Glossy Lip Color in Blind Date
If you're looking for nude with a deeper hue, 2 and 5 are your best bet. For red, I highly recommend 4. If a deep plum if your thing, 3 and 6 are my favorites! And for top favorites – a dusty rose color. This is always my go to! 1, 7 and 8 will fit the bill perfectly for that. This shade never goes out of style, and it never feels like you're trying to hard. I wear it to work, out and everywhere in between!
Two of my personal favorite Valentine's Day lipstick colors are the new Physician's Formula ROSÉ Kiss All Day Glossy Lip Colors. They are sticks, but are so creamy and glossy! I love the way the look and feel, and they won't dry or flake off. And I love that they aren't matte. I have SO many matte colors already, I was ready for something with a little shine to it for V Day. But if you're a matte fan, they carry them in velvet too, woohoo!
What are your favorite lip colors for winter heading into spring this year? Let me know in a comment below!