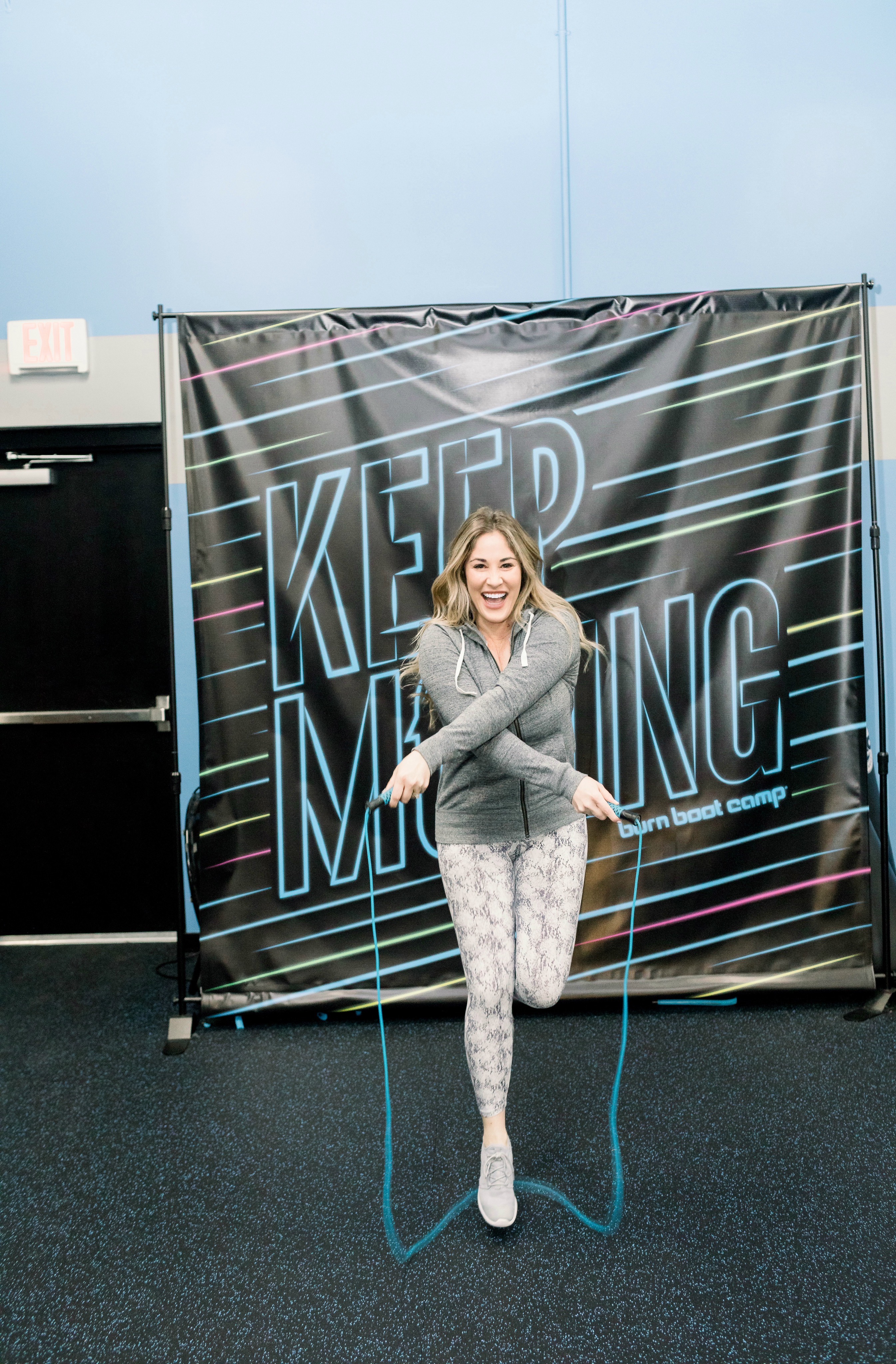 SHOP MY WORKOUT LOOK:

Burn Boot Camp Review:
I have been hearing such great things for the last couple years about a bootcamp studio that opened right by my office in Collierville…so I FINALLY had to try it out! We all know how hard it is to get motivated to start working out. SO HARD! We are all so busy, and no one wants to drive all the way to the gym to force ourselves to work out while giving up timing with our kids.
But Burn Boot Camp helps with all that. I love that they are in such a great location in Collierville (and a large number of other cities too!) Did you know that your membership actually works at any Burn Boot Camp location too? Classes are only 45 minutes, and most of them come with childcare included. I took Leighton a couple of times, and she loved it just as much as me. They had a separate room next-door for all the kids to play, and I could even see Leighton through the door while I worked out or easily peak in and check on her.
It's also SO important to remember that we have to do things for ourselves too. For our health. If we want to do good for our children, we need to be healthy, and we need to teach them that being healthy is an important part of life. I remember working out with my mom some when I was little, and I think it's important to show them at a young age that it's good to stay active and to make your health a priority.
I definitely don't want Leighton worrying about her looks and her body size, but I DO want her to know that being active and healthy is a great part of taking care of yourself and your health and should be a part of your daily routine. We should teach health, not body size. And Leighton seeing me working out is a great thing in my opinion.
Burn Boot Camp has several different memberships from unlimited classes 5 times to a week, to ones that come with the childcare included. They also have focus meetings with your trainer, and they even offer camps for kids. There is sure to be a perfect membership for everyone, and it's a cost that should be a priority – your health.
I love that every night I went, the class was different. We were usually split into 5 large groups or paired up with another person and went around to different stations doing different workouts from burpees, to jump roping to crunches to curls. Every night is different, and you won't get bored! They also alternate muscle groups every day.
The second week, I worked so hard (and it had been SO long since I had been in the gym), that my ab muscles hurt for a week! Bootcamp definitely gives you a good, full body workout. And all the women in there kept me so motivated to keep going. The trainers are wonderful at giving you many different modifications for each exercise in case you can't do something. You can easily work at your own level or your own pace.
We are full swing into home building right now, and that has been taking up most of my time the last couple weeks, but I will definitely be back at Burn Boot Camp soon. Trust me, you will never regret working out and doing something good for your health! And when you go here, you can get your 2 first weeks at Burn Boot Camp for free.
What about you? Have you tried out a Burn Boot Camp yet? What are your favorite types of workouts?