This is a sponsored post written by me on behalf of Viactiv Calcium Soft Chews. All opinions are 100% mine.
5 Pregnancy Essentials You Need to Buy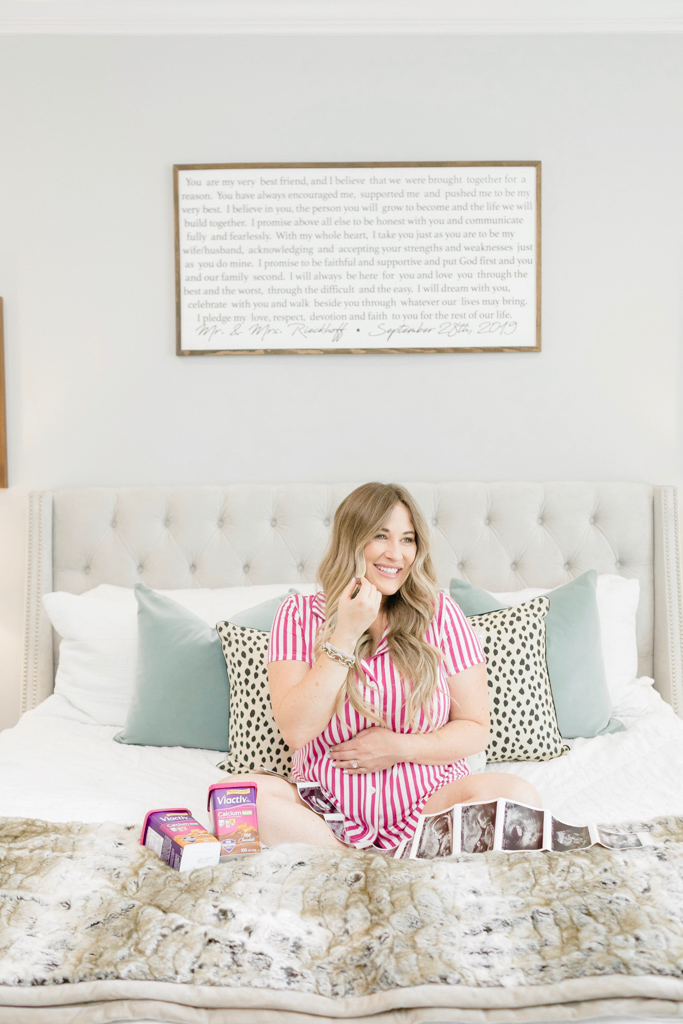 So, here's a crazy fact…I am half-way through my pregnancy. I still feel like I just found out I was pregnant and now here we are, half-way there! It is absolutely crazy how quickly time flies by with these things. I can't wait to meet my sweet boy but since this will likely be our last baby, I kind of want to slow this pregnancy down just a bit!
Something I've been getting some questions on over on Instagram from y'all, is about pregnancy essentials. I know when I was first pregnant with Leighton (my first baby!), I asked all of my mama friends about pregnancy essentials because I just didn't know!
Today, I thought it would be fun to share some of my best pregnancy essentials that I couldn't live without!
An insulated water bottle – As pregnant women, we need to make sure we are drinking plenty of water! If you're pregnant in the summer, make sure you get a bottle that is well-insulated to keep your water nice and cold! My very favorite bottle is this one right here!
A good belly oil or cream – For lots of us, stretch marks are sort of inevitable. Genetics play a big role in them but that doesn't mean using a belly oil or cream is a bad idea. Personally, I love using belly cream right after a shower. I've added it into my skincare routine. It's been such a great little time of self-care for me that I have really been enjoying.
Comfy shoes that offer good support – If you can find something that is slip on, that's even better haha! You get to a certain point in pregnancy where comfort is an absolute MUST.
Journal – When I was pregnant with Leighton, I wish I had kept a journal so I could remember all those smaller parts of pregnancy that you don't want to forget. Pregnancy is such a short, precious time and writing down all those little memories will be so fun to look back on when your pregnancy is over. This journal is one of my very favorites for recording every aspect of pregnancy.
The right vitamins to help support your baby and yourself – Getting the daily recommended dose of calcium can be tough. But for pregnant women, it's crucial! Calcium helps a growing baby build a healthy heart, as well as strong teeth, bones, muscles and nerves. My favorite way to get in that recommended dose of calcium is with Viactiv Calcium Soft Chews. They have a super yummy flavor (milk chocolate or caramel!) which makes them easy to take. Each soft chew contains 650 mg of calcium plus, 500 IU of vitamin D, and 40 mcg of vitamin K. These soft chews not only help your growing baby but they also help to strengthen and protect your bones during pregnancy and beyond! The best part? You can pick these up at your local Target! Check out Viactiv on Facebook and Instagram to learn more about why us pregnant ladies love them! Please talk with your doctor before taking any supplements. This post is not intended to address or diagnose any medical conditions. These statements have not been evaluated by the Food and Drug Administration. These products are not intended to diagnose, treat, cure or prevent any disease.
This is certainly not an end-all, be-all list of essentials but it's a solid place to start! I would love to hear more about the essentials that y'all have to have during pregnancy!