This is a sponsored post written by me on behalf of the Pigeon Forge Department of Tourism. All opinions are my own. Thanks for helping me support the brands I love. For more information on Pigeon Forge, visit their official website here.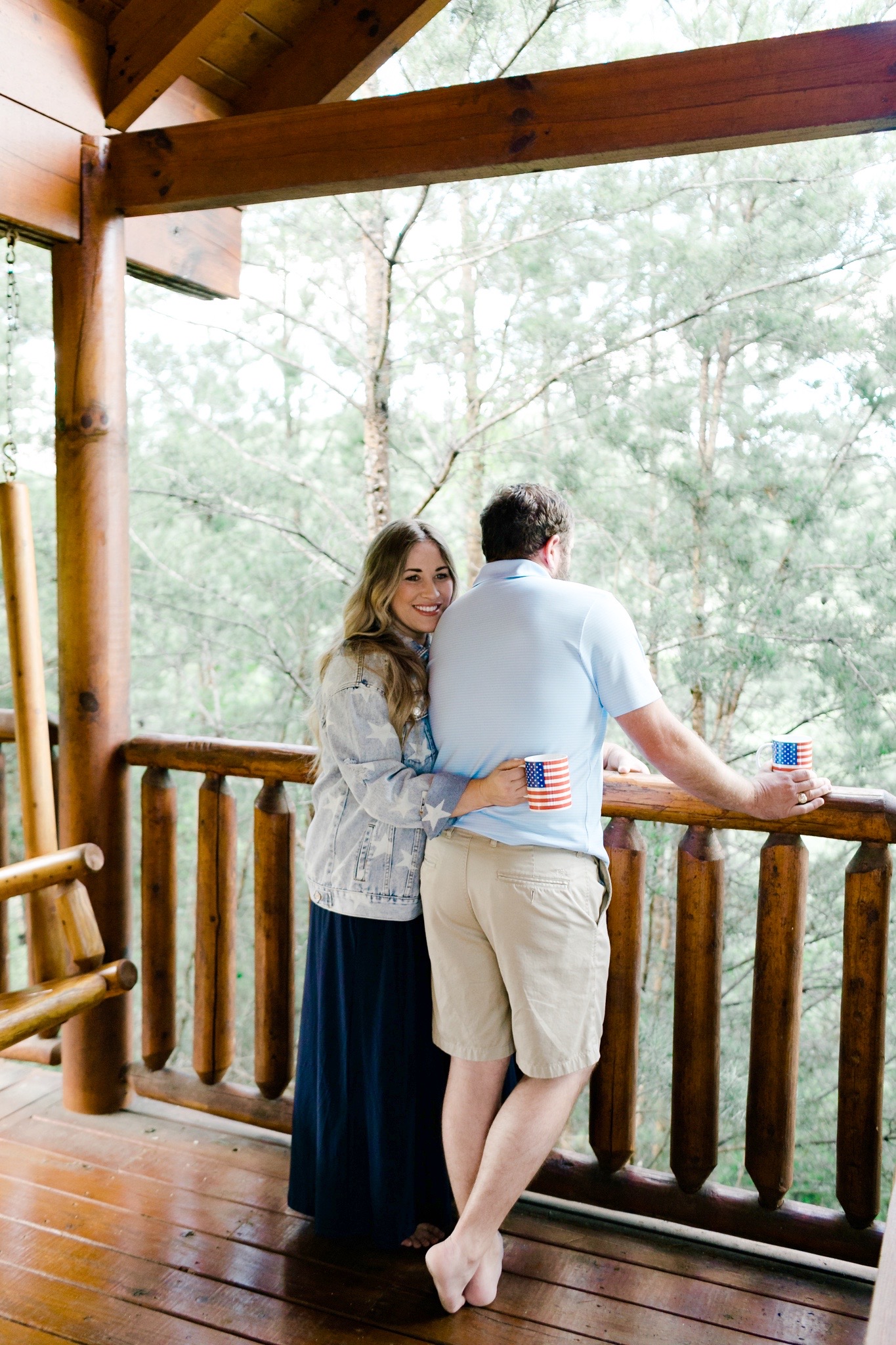 Recently, we took a little road trip out of the hustle and bustle of the Memphis suburbs to the foothills of the Great Smoky Mountains. We went just before the 4th of July and I feel like there's no better way to really appreciate our beautiful country than by taking in all of its scenery!
If you've never been to Pigeon Forge, it is absolutely breathtaking. It's the perfect little town, full of beautiful views, wildlife and lots to do. For us Tennessee locals, this super drivable destination (only about 6 hours!) was the perfect place to get away!
We had so much fun while we were in Pigeon Forge and I have been dying to share all the details with y'all! I did want to note that due to COVID-19, if you're traveling right now, check with the respective attractions and businesses for an update on their operational updates and protocol.
5 Places You Have to Visit in Pigeon Forge, TN
1.) Eagles Ridge
Our cabin at Eagles Ridge was absolutely gorgeous. It was the perfect location and offered us such a relaxing escape. It had this gorgeous wrap-around porch that gave us great views of the mountains that were just unbeatable. Matt loved that we had a grill and a full kitchen so we could cookout. We enjoyed our morning coffee out here while taking in the mountain views. I couldn't imagine staying anywhere else!
2.) Pirates Voyage
What a fun way to enjoy a meal, y'all! Pirates Voyage is a high-energy, family-friendly and action-packed show that takes the audience on a fun journey with Blackbeard and his quartermaster, Calico Jack. I won't spoil all the details but this was such a cool experience that the entire family will love! On top of being an amazing show, the food was excellent and our service was great!
Prior to entering the show, everyone had to have their temperature checked, and they had to wear a mask. Once inside, a mask had to be worn at all times except when seated and eating. All of the seating was very spread out, and the staff wore masks as well. Even the performers wore masks to protect themselves and others.
3.) Rafting in the Smokies
Okay, y'all…I had never done anything like this before! We floated down the lower section of the Big Pigeon River, which has class I and II rapids (this is the "scenic family" boat trip so it was gentle enough for me being pregnant!) The section of the river we were on was scenic and casual but still exciting enough that it was a super fun activity!
4.) Rocky Top Coaster
Rock Top Mountain Coaster is the longest coaster in Eastern Tennessee. The coaster is about a 9 minute ride from top to bottom and it's full of twists, turns, tunnels and more! This coaster has something for everyone whether that be speed or more of a slower pace!
5.) Great Smoky Mountains National Park and Cades Cove
This national park straddles the border between North Carolina and Tennessee and is world renowned for its diverse plant and animal life. Fun fact: Great Smoky Mountains National Park is the country's most visited national park!
While we were there, we also made sure to visit Cades Cove. Cades Cove was previously a full town where loads of families lived! Now, it's a really cool place to see some historic cabins, churches and a grist mill. In the 1940's Cades Cove was deemed a historic area and now, it's maintained to look like it did in its early days!
We had so much fun in Pigeon Forge and we're already thinking ahead to a bigger, family trip with the girls and our extended families. Pigeon Forge is a much different part of Tennessee than Memphis and the fact that it's only 6 hours away seems unbelievable!
There are so many family-friendly activities that every age can enjoy and it's the perfect place for a relaxing family vacation!