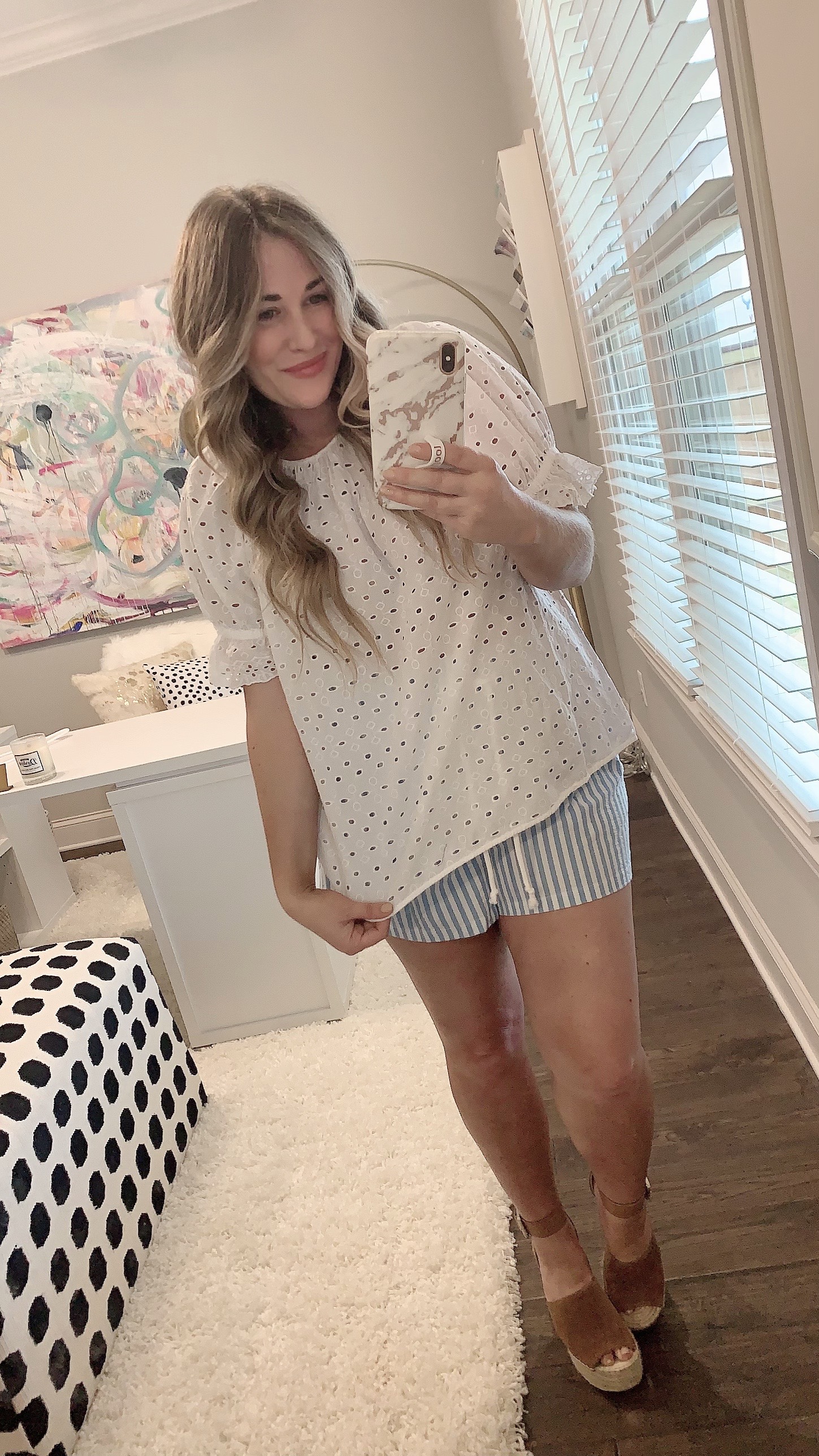 SHOP MY TARGET TRY ON:

You probably remember this pretty dress from my birthday post last week. I loved it so much (and so did most of y'all over on IG stories) that I just had to share it over here today too. It's also less than $25, and some prints are on sale. I am rounding up 4 new favorite summer outfits from Target today.
The best thing is you can mix and match some of them. This top looks just as great with with the shorts from outfit 1 as it does from outfit 3. And this denim jacket is a great classic piece you'll use for years to come! It would love great with all 4 outfits. I even threw it on with the dress at the end so you could see how great it really pulls an outfit together and completes the look.
TARGET TRY ON HAUL
Target Outfit 1:
I LOVE this pretty eyelet top! It is so versatile and could go with so many pieces. You can even dress it up with a skirt for work. It also comes in 3 pretty colors. Both pieces are a size medium and run true to size. I probably could have even with with a small still in the shorts. They have pleating and pockets and a drawstring waist.
Target Outfit 2:
My dress is a medium and does run just a little oversized in my opinion. I could have easily sized down. It comes in several colors, but I LOVE the coral and the fun drop waist!
Target Outfit 3:
I sized up in a large in the shirt since it had buttons. I've learned over the years that I typically need to size up in button downs because of my chest. The large size was perfect. There was plenty of extra bump room. I am obsessed with these shorts. They are so soft and comfy, are less than $20 and come in 4 colors.
Target Outfit 4:
This striped cotton dress is so comfy! It is a size medium, and I love the mauve colored stripes. This dress runs true to size, and honestly is a little more form fitting than what I would typically wear.
For the last picture where I threw on the denim jacket, I am wearing a size medium. The jacket fits true to size, and I love the lighter wash with the fraying on the bottom. So, which look is your favorite? Have you been loving Target's fashion lately?