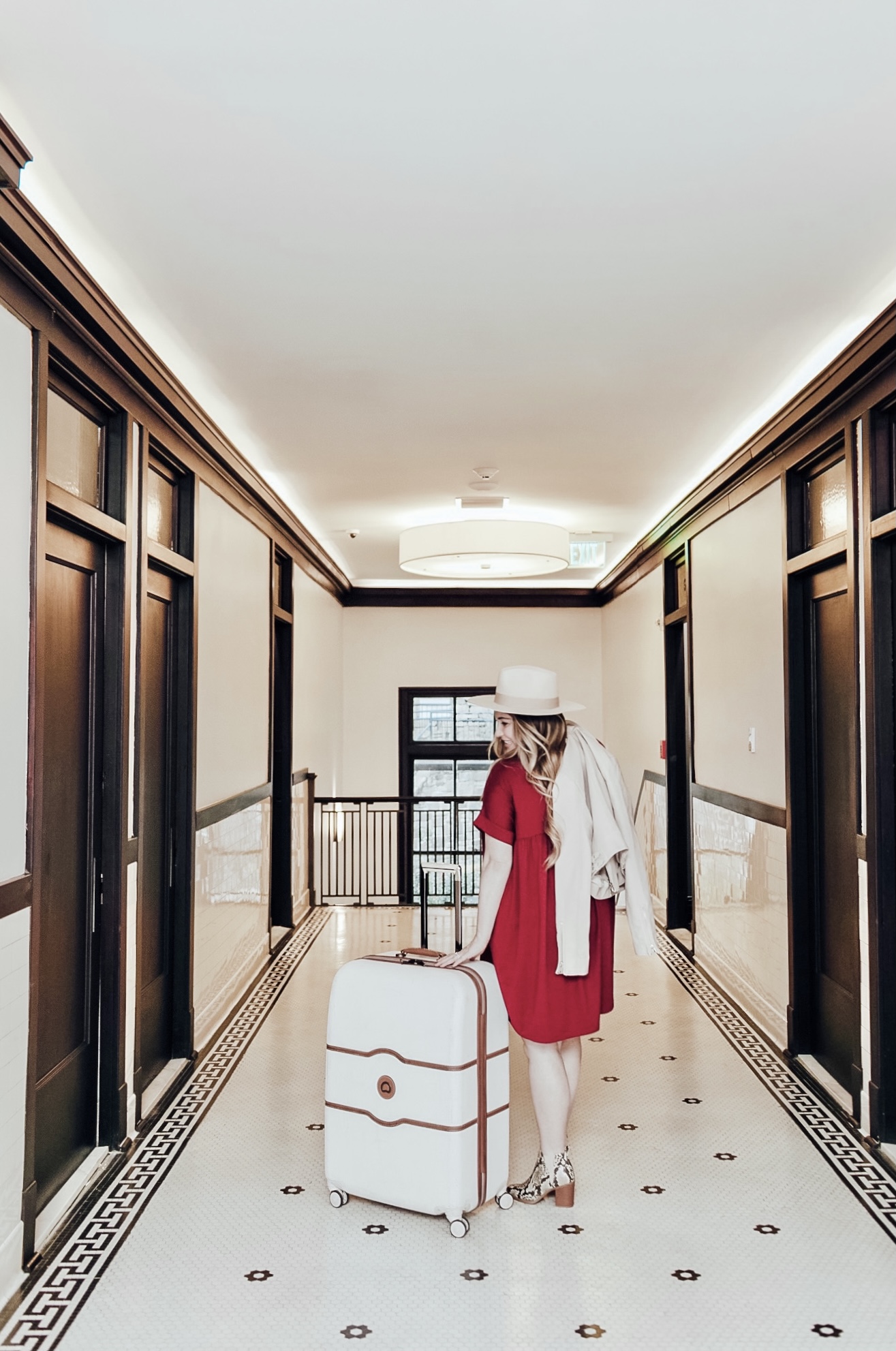 SHOP MY HOT SPRINGS AR LOOK:

I can't believe it's already been 3 weeks since I had a short little weekend trip to Hot Springs AR. It's only a 3 hour drive for us from Memphis, so it was the perfect place to visit that wasn't too far from home since baby Grayson could be here any week now!
Matt and I had an anniversary trip planned together that week, but with the pregnancy, we made a last minute change to not go. He went on a guy's trip, and Mary Kate and I went on a girls' trip. Honestly, we had the best time, the weather was perfect, and now Matt and I can take a little trip after baby gets here.
Seriously… we could not have picked a better time to go. The temperature was 70, there was a nice breeze, and the leaves were changing colors in the Ouachita National Forest there in Hot Springs. It was absolutely perfect!
Matt hasn't been to Hot Springs in years, so we are already planning a quick little spring trip back next year! If you're looking for a place with beautiful views, lots of things to do outdoors and lots of great food and shopping, you'll definitely want to check out my top 10 favorites below.
10 Things to Do in Hot Springs AR in the Fall:
This was my first time staying at this hotel in Hot Springs, and I can tell you for sure that we will be staying there again! It's in the perfect part of town and is close to everything. It is located in the heart of downtown and literally just right around the corner from the national park, the Mountain Tower, tons of great hiking, and some great restaurants and bars for food, coffee and drinks.
Both of our rooms were so spacious and had a beautiful view of Bathhouse Row across from our hotel. You have to wear masks in the lobby, restaurant and bar and any other public places in Hot Springs. Valet was still open at the hotel. The halls had beautiful tile floors, and the rooms were updated and had a historic meets loft feel to them.
We did a little light hiking, but I honestly can't wait to come back next year and add more to my list to see some of the springs and waterfalls.
3.) Take in the view at the Mountain Tower.
Take an elevator straight to the top of the tower to take in the views of the national forest. The leaves are changing right now, and it is SO pretty up there! This was one of our favorite things that we did on our trip. You just can't beat the views!
This was one of those things on my list that was EVEN BETTER than I even imagined. I have been to several gardens on trips before, so I didn't think anything out of the ordinary about visiting another one. I was wrong! Wow, the entire grounds were stunning. I mean…do you see those bridges and lines of mums below?
The gardens houses Anthony's Chapel, and you just have to see this gorgeous chapel in person. There was a wedding about to start when we were there, and goodness, it was the perfect place for a wedding. They also have a treehouse that is so cool! You can see pictures below, but trust me, you just have to see it for yourself in person!
Whether you're in the mood for a PSL, a mocha or just a coffee, they have some amazing drinks! And their menu is just as impressive. I loved their yogurt, granola and fruit, and their bagels are so good too! Stop by for breakfast before you head out for a hike!
I didn't get to partake on this trip, but I can't wait to take Matt here next year when we go back. They use all thermal spring water and are the first brewery to be located in a national park!
There are 8 bathhouses lining the street, with one of them being Bathhouse Brewery that is now a brewery. Some are open to tour, while others are still operating. Make sure to make you a spa appointment while in town!
8.) Grab pizza for lunch at Deluca's.
One of the very best pizza spots in town, and you'll have a great view of downtown and the strip.
9.) Visit the Rooftop Bar for dinner and drinks.
Not only does it have great views of downtown and the national forest, but they have some amazing food and drinks. With the temperature being so perfect right now, you'll want to sit outdoors and enjoy dinner and drinks on the roof.
This local water bottling company is located right in the heart of Hot Springs! We had complimentary bottles in our hotel room, and honestly, that was the best tasting water I have ever had! It is from the local springs. It is so good, and you can visit their visitor center and museum and even stock up on some bottled water for yourself.
Overall, we had the best trip, and it was much needed! Fall is my favorite time of year, and with not being able to travel anymore at 35 weeks, I was itching a few weeks ago to take a short little getaway to experience a little fall weather. It was so worth it!
What about you? Have you ever been to Hot Springs in the Fall? What is your favorite thing to do there?