This Dollar General Halloween shopping post is sponsored by Dollar General, but all opinions are 100% my own. Thanks for helping me to support the brands I love.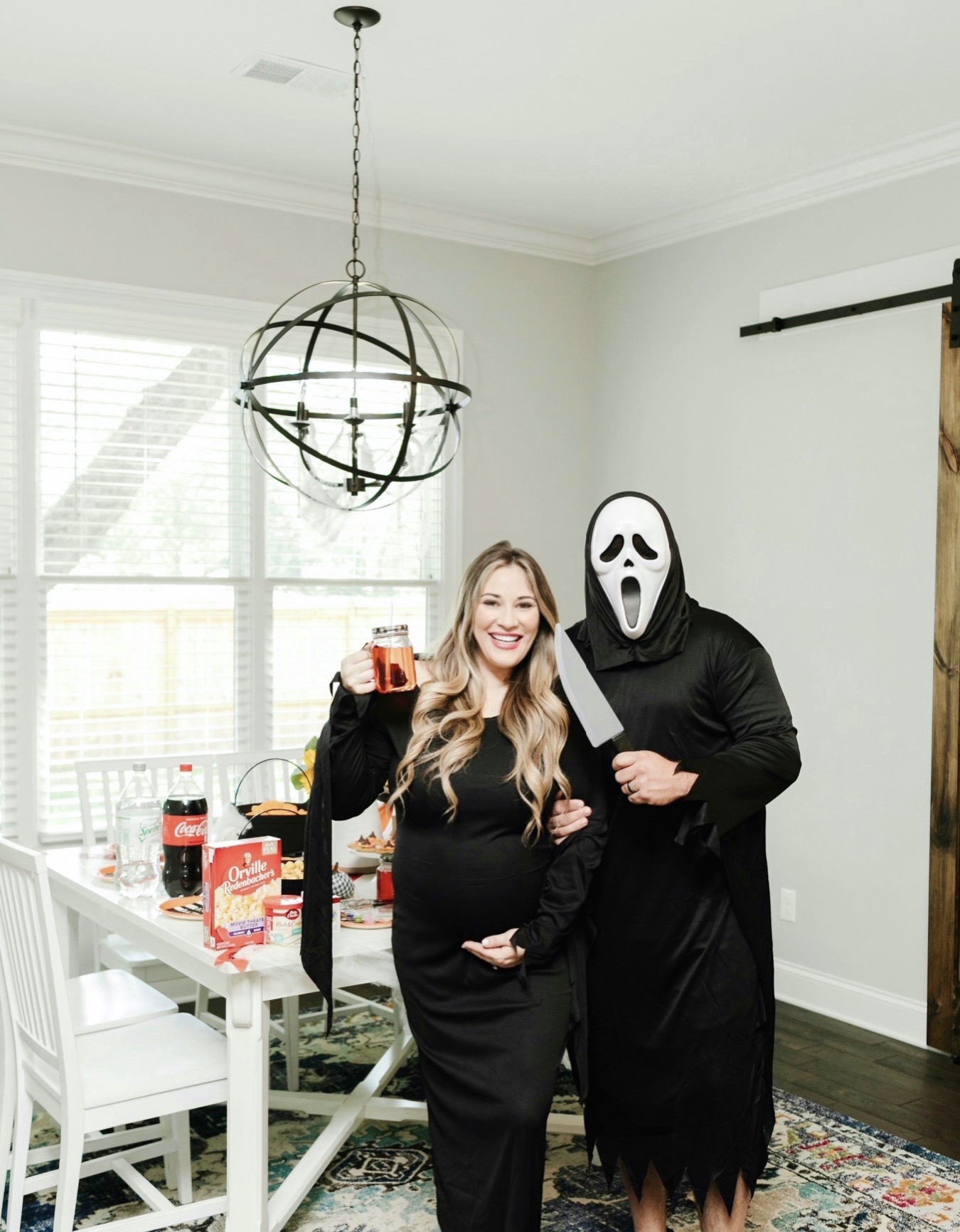 Anyone else ready to eat, drink and be scary?! I have always loved the fall and Halloween. I've only grown to love it more since having kids! For us, we love that it's just such a fun, laidback holiday where the kids get to just be kids and have some fun! Halloween is also just such an easy and fun holiday to decorate and plan for!
Dollar General Halloween Shopping Favorites
One of our favorite things to do to prepare for the new season, and for Halloween is to decorate, of course! And if y'all have been around for any amount of time, you know that we LOVE Dollar General! It's our go-to for most things, but especially for special occasions and seasonal stuff. Dollar General has everything you could need for a quick little party, last-minute decorating, seasonal crafts and more.
Matt and I decided to put together a quick little impromptu party for the girls. We ran to our local Dollar General to pick up everything we needed. We were able to get snacks, candy, drinks, crafts, décor, even costumes…everything we needed and then some! Plus, we did it all for great prices! Since we shopped on a Saturday, we were able to save even more. Each Saturday, DG has a $5 off $25 digital coupon on their app. If you're looking for more ways to save at DG, download the app and check out their digital coupons and offers! We got so many great deals on lots of name brand stuff. We scored a variety bag of candy that included pieces like Hershey's candy and Reese's cups!
Some of our favorite family activities include doing simple little crafts and baking together.  We were able to find some really cute little crafts for them to do.  Dollar General has their own line of DG Crafts that I highly suggest checking out.  There's so many different things to do, and appropriate for all different ages. When it came to food and drinks, we couldn't resist doing some fun little baking and made witch hat peanut butter cookies and an orange punch!
Halloween Treat Ideas:
Witch Hat Peanut Butter Cookies
Ingredient List:
Peanut Butter Cookie Mix ( I used Betty Crocker.)
Frosting (I used Betty Crocker Cream Cheese Frosting.)
Sprinkles (you can get just purple or green, but I used rainbow colors.)
Food Coloring (I used orange.)
Hershey's Kisses
Directions:
Cook peanut butter cookies as package instructs.
Mix orange (purple or green would be cute too) food coloring with icing. Use a plastic bag with small hole cut out of the end to apply icing onto tops of cookies or you can smear it on with a small knife.
Apply sprinkles on top of the icing.
Press a Hershey's kiss onto the middle of the cookie.
Enjoy your tummy witch hat cookies! 🧙‍♀️
Candy Corn Punch (non-alcoholic version)
Ingredients & Directions:
1/3 Fanta Orange Drink
1/3 Pineapple Juice
Add whipped cream and candy corn for kids!
Spooky Halloween Cocktail (alcoholic version)
Ingredients & Directions:
1 can of Fanta Orange Drink
1.5oz of Vodka
Add red food coloring for blood effect if you want.
Top with lemon or lime zest or fake eyeballs for a fun festive drink!
Oh my gosh, the cookies turned out SO good! They're definitely in my top list of cookies to bake now. The peanut butter and chocolate combo was so good, and Leighton loved the fun punch! It was no surprise that we were able to find all the supplies we needed to make the cookies (and these were totally mama and kid-approved…we may or may not have eaten all of them).
If y'all are looking to decorate for fall, prep for Halloween, or anything in between, Dollar General is the place to go! You can find absolutely everything you need (and who doesn't love one-stop shopping?), for the very best prices. There are lots of ways to save at Dollar General but the deals are already frighteningly good as is 😉
Have y'all started decorating for fall or preparing for Halloween yet? What plans do you have for the holiday this year? Let me know all the fun things you've got going on!