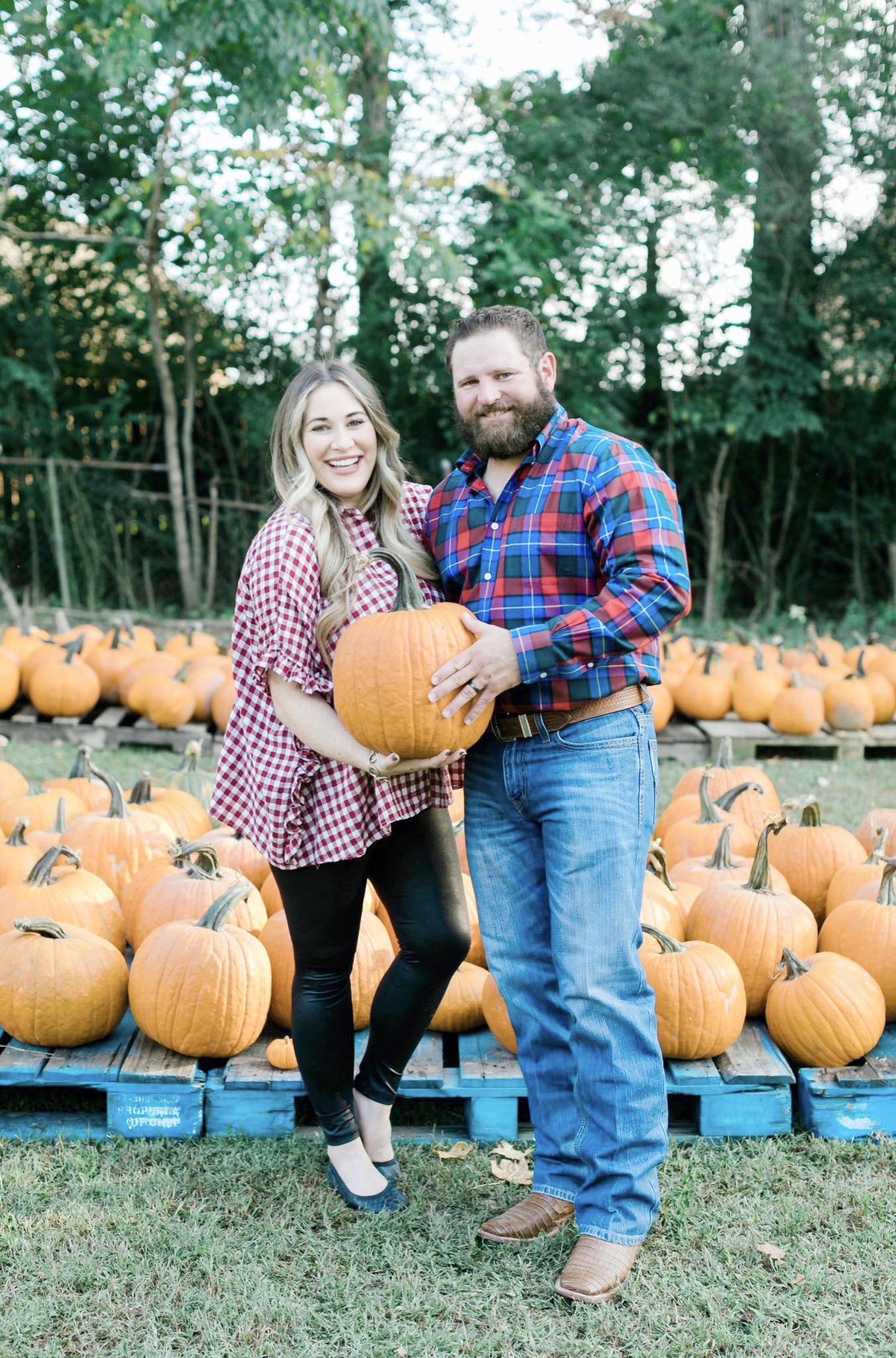 SHOP OUR FALL LOOKS:

It's the most wonderful time of the year! Yes, I know that song is actually about Christmas, but for me, I feel like October November and December are the best as fall and Halloween just runs right into Thanksgiving and Christmas. No matter which Holiday you love the most, the good news is that they are all just right around the corner!
The weather is finally cooling down, and I think most everyone is ready to get outdoors and start getting in the festive holiday mood. I am rounding up 10 of our absolute favorite things to do in the Memphis area in the fall for the holidays. Most of them are outdoors, but a few are located indoors. When you're indoors, masks will have to be worn, but most places are only allowing a limited number of people to each place or event.
10 Things to Do in Memphis this Fall:
1.) Visit a pumpkin patch.
We LOVE Priddy Farms, and they have added so much more this year. They have more inflatable bounce houses. They had added slides. They have a Noah's ark, swings and sandbox. There is a concession stand, and they even added a small petting zoo. If you go on school days or closer to mealtime, it isn't nearly as crowded. It is all outdoors though, so it's pretty easy to spread out and socially distance.
We visited last week for Twilight Thursday and had dinner outdoors at the food trucks. Picnic tables were spread out, we could tour the gardens, and all the food was so good. It was perfect, and it wasn't crowded at all that night. They also have their Fall Plant Sale going on right now and Holiday Wonders coming up in November.
Zootoberfest and Zoo Boo are both coming up and are so much fun for the entire family! It's all outdoors, so it makes it so much easier to socially distance.
They have some great exhibits right now, but they also are having Halloween movies on the weekends outdoors on the lawn. All of these movies are adult movies that are shown outside, but they have kid's movies indoors and are limiting the number of tickets sold.
They're having a hallowed history small walking tour on Halloween, but they also have several other history tours. You can even do self-guided. The Halloween tour is for adults only, but kids can join in on the history tours.
6.) Do a little holiday shopping at Holiday Market this year.
We go to this event each year as it is some of the best shopping! There are so many different vendors all located in the Agricenter. You can do all your holiday decorating and shopping all in one place! Masks are required indoors at public spaces.
You'll find both kids' movies and adults' movies several nights a week in Germantown. It's all outdoors on the lawn, so it's super easy to spread out!
8.) Visit Graceland for the Holidays.
Graceland is open right now to limited numbers, and in November they will have their annual lighting ceremony. It is always such ha pretty sight to see that you won't want to miss. Masks are required indoors at public spaces.
9.) Get in the holiday spirit at Peabody Memphis.
Memphis' super family friendly hotel, they always have a huge, gorgeous Christmas tree in the lobby across from the fountain each year. It is great for a quick family photo, and you can also lets the kids have some hot chocolate while they look at the pretty sights and you get some sweet treats. Masks are required indoors in public spaces.
The elevator and observation deck is open, so you can check out some of the best views Memphis has to offer. They also usually have a gorgeous Christmas tree in the lobby of the hotel and store, and Santa makes an appearance in November and December. It's not fall and the holidays without swinging by the Pyramid each year.
Which will you be adding to your calendar this fall? What are your favorite things to do in Memphis in Fall? Let me know in a comment below!