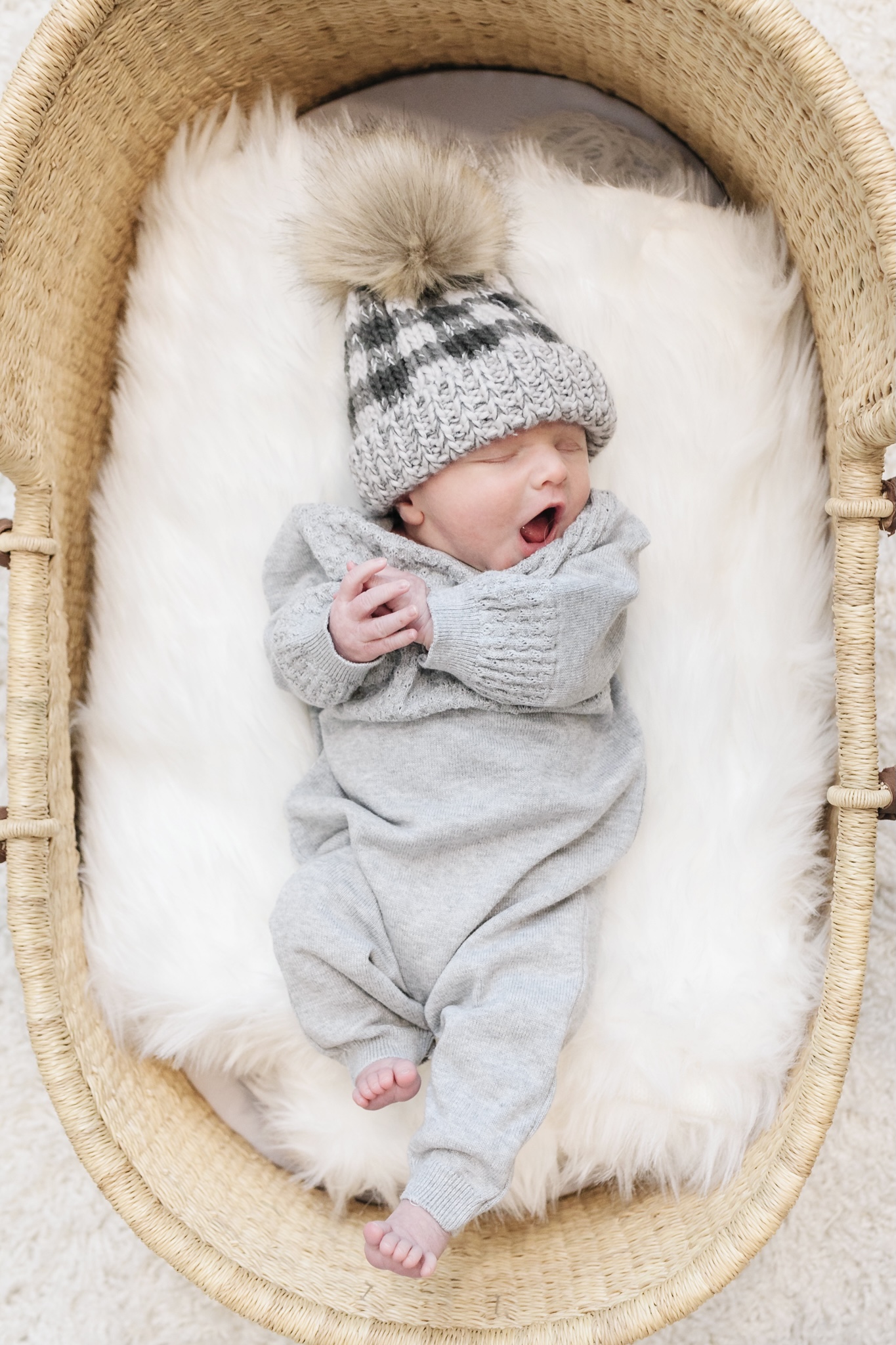 SHOP GRAYSON'S MOSES BASKET:

I seriously cannot believe that baby Grayson has already been here for over a month! In some ways, it seems like yesterday that I was still pregnant, and in other ways, it seems like it was so long ago! Either way, I am SO glad he is here, and I am back to feeling somewhat better and more normal.
GRAYSON'S BIRTH STORY:
We were scheduled for an induction on November 14 at 5:00am. Of course I was much too excited, nervous and uncomfortable to sleep the night before. I really tried to get some rest though because I knew that once I got to the hospital, it would be exhausting and I probably wouldn't sleep for days afterwards in the hospital (or when I got home.) = )
I remember being so big and uncomfortable the entire drive to the hospital and once we got there too. I was SO ready for baby Grayson to be here. Due to my high blood pressure at my appointment 2 days earlier and my polyhydramnios, they decided to induce me instead of wait another 5 days to see if he came on his own on my due date.
I had been dilated for over a month and 50% effaced. When we got to the hospital early that morning, I was still 2cm dilated. I was excited and feeling good, but as I had been induced before with Leighton also, I knew it would probably be a long day. With Leighton I wasn't dilated at all though, so I had a feeling this time it would go just a tad bit faster.
They started the pitocin at 6:30am. At that point, I was having contractions every 2 to 4 minutes. They were bearable, and I was still feeling pretty good. Honestly they still felt about the same as the Braxton Hicks had for the last couple months. By 10:00am I was dilated 3cm, and they decided to go ahead and break my water. The morning was going a little slow, but I was trying to just enjoy the quiet, slow moments at that point. By noon I was dilated to 4cm and they decided to go ahead and get ready to give me an epidural soon.
At 1:15pm I got my epidural. It went smoothly and quickly and didn't really hurt or bother me. After that they upped the pitocin a little more, and shortly after I was dilated 5cm and 100% effaced. At this point, I was still feeling pretty good. I was feeling contractions still, but not as much because of the epidural.
I was progressing, but slowly. Still must faster than with Leighton though. I expected I would be there close to 24 hours, so I was in no rush. = ) At this point hey laid me on my side to help baby drop some. By 6:00pm I was dilated 7cm.
This was when I started feeling sick. I started sweating and vomiting and feeling nauseous. I expected this too as I felt the same way with Leighton and vomited quite a bit in labor with her. They gave me some medicine to help with the nausea, and I started feeling better a couple hours later.
By 8:00pm I had finally reached 10cm. Woohoo! I was so excited! I knew this meant the end was somewhat nearing. What I didn't know though was that baby was still too high for me to start pushing. This is where my labor was really different from when I had Leighton.
When I had Leighton, everything was pretty similar. I progressed slowly. I felt good until I started vomiting. And I was in labor for about a day. But with Leighton when I reached 10cm, they had me start pushing. And that pushing lasted for over 2 hours. It ended with a beautiful baby…and a 4th degree laceration.
What differed this time was my new doctor had me sit up after I reached 10cm for a couple hours to help let baby drop. I felt pretty good, so I was just laying and waiting at that point. The difference this made was that once I started pushing, baby came MUCH quicker, and I only ended up with a 1st degree laceration. I would have taken this delivery over my first any day!
At 10:30pm they said that the baby had dropped enough for me to start pushing. The pushing part went MUCH smoother than last time. They gave me my epidural much later so it hadn't worn off yet. I pushed for less time. And the pain wasn't nearly as bad this time. Not to mention, my doctor this time was so helpful telling me what to do, and Matt was such a great help. Basically everything went smoother this time.
And then only 19 hours later…we had a baby! Grayson Wayne Rieckhoff was born at 11:20pm weighing 7lbs 13oz and measuring 20.75 inches long. He had blonde hair, eyebrows and eyelashes and was just the sweetest thing!
Like Leighton, he was born in the wee hours of the night/morning. I was so excited that I couldn't sleep for the next 2 days in the hospital, but I feel like it just prepared me for life with a newborn again. = )
He has honestly been a pretty content, happy, good little sleeper for the most part. Aside from the occasional day where he has gas or is overly exhausted and doesn't get his nap on time. I can definitely say so far he is our easiest baby, woohoo! After such a rough pregnancy, I'm glad he's such an easy baby lol! We feel so lucky to complete our family with our sweet baby boy.