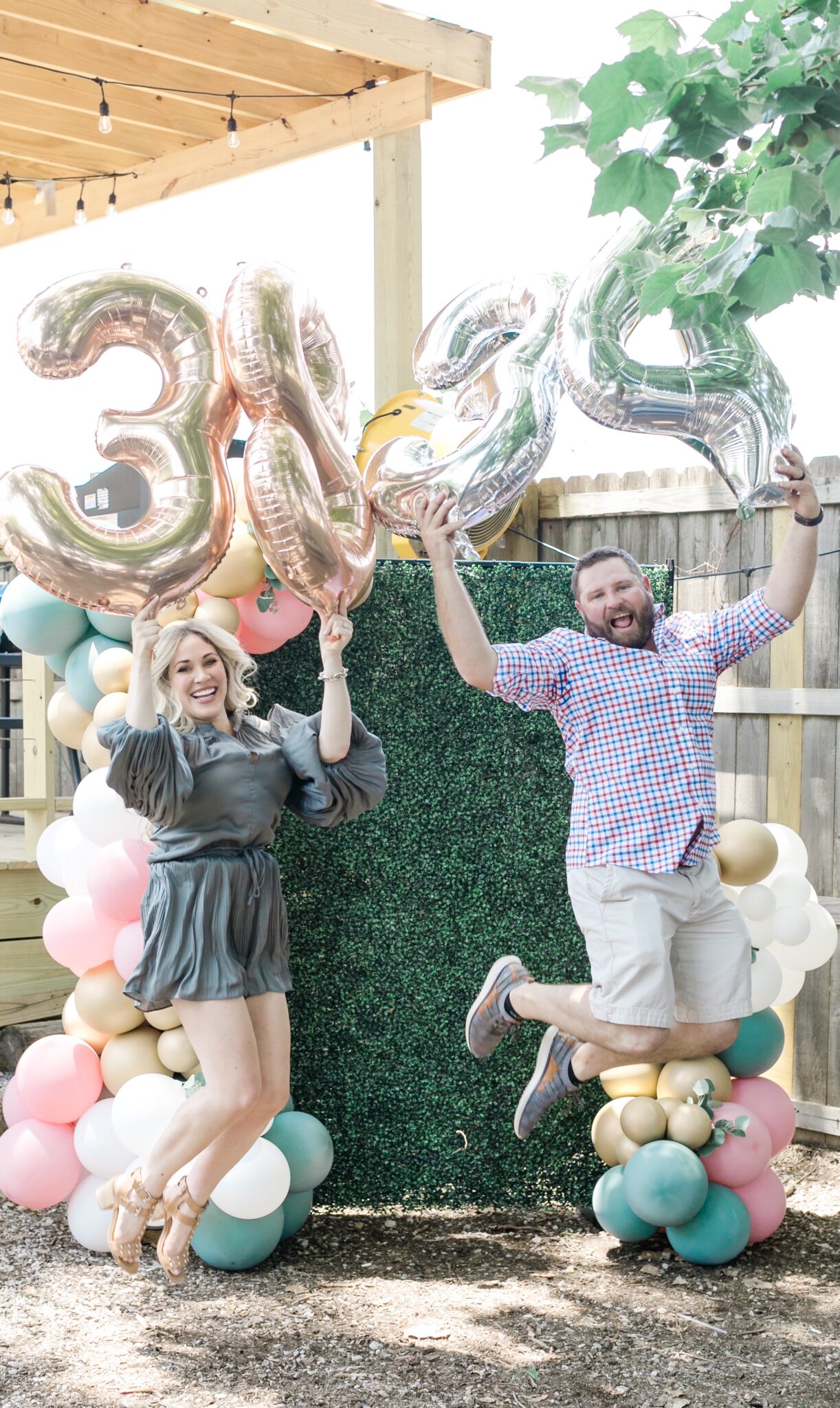 This is 38! Okay, well…technically I won't be 38 until tomorrow. But Matt and I have birthdays super close to one another (his was June 18), so we usually try to do one big celebration for the two of us since they're only 2 weeks away.
This year's celebration was a super fun one! And long overdue I feel like! Our first birthday celebration as a married couple was last year mixed in with morning sickness and pregnancy, so we were looking forward to really having fun this time. We gathered some of our close friends and coworkers together at Loflin Yard in Memphis.
Loflin Yard is a gorgeous restaurant and indoor/outdoor event space here in Memphis. We were so excited to have our combined birthday party here this year! With all the outdoor picnic tables, covered areas, indoor tables and cornhole, it was perfect for our party!
The added elements to our party is what really made it special though. From the food to the decor, everything was absolutely perfect. Loflin Yard made the yummiest charcuterie board and drinks!
We decided to get this really fun balloon arch for photos from Pretty Fancy Events here in Memphis. It turned out exactly how we wanted it to! We picked our the colors for the balloons and the lawn for the backdrop. It was just stunning in person and perfect for photos!
All of our beautiful flowers were done by TCB Florals which y'all have seen before. We use TCB for most of our events, and the owner is the sweetest and such a great friend. TCB did not let us down, and all of the arrangements turned out so beautiful and unique!
Y'all know we had to have Smallcakes in Collierville make our birthday cupcakes. This is another vendor that y'all have seen us use often. They are always our go-to bakery for cakes, cupcakes, and other desserts. They did our wedding cakes, and they do all of our birthday party cakes. And people still rave about our wedding cake. It was delicious y'all!
We had an absolute blast at our combined birthday party. Ringing in 38 and 34 couldn't have been more special. Having our friends by our side to help us celebrate made it all that much more fun. After the year we all have had, being able to celebrate in such a big way was a huge blessing.
Have y'all had any birthday celebrations yet this year? Do you have any plans to have any birthday bashes? Have you been to Loflin Yard? Let me know!