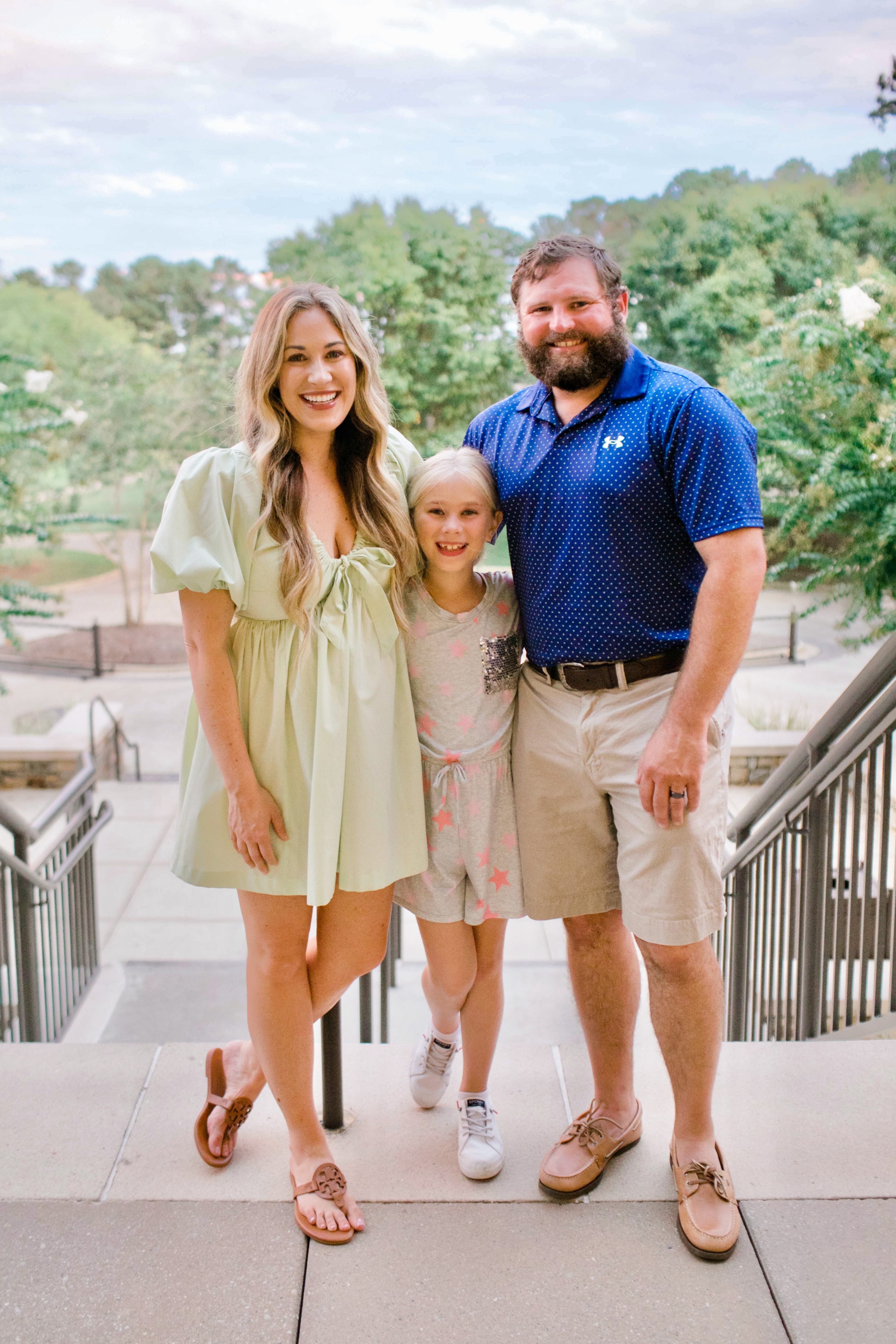 Shop the Look

Our Favorite Birmingham Resort
Renaissance Ross Bridge has been an absolute favorite of mine for years. We have been coming here for 5 years now, and each time we come, we still find something new and exciting to do! This Birmingham resort is located right in the Ross Bridge neighborhood in Birmingham, connected to the Robert Trent Jones Golf Trail. With all those rolling hills as a backdrop, the hotel is just gorgeous!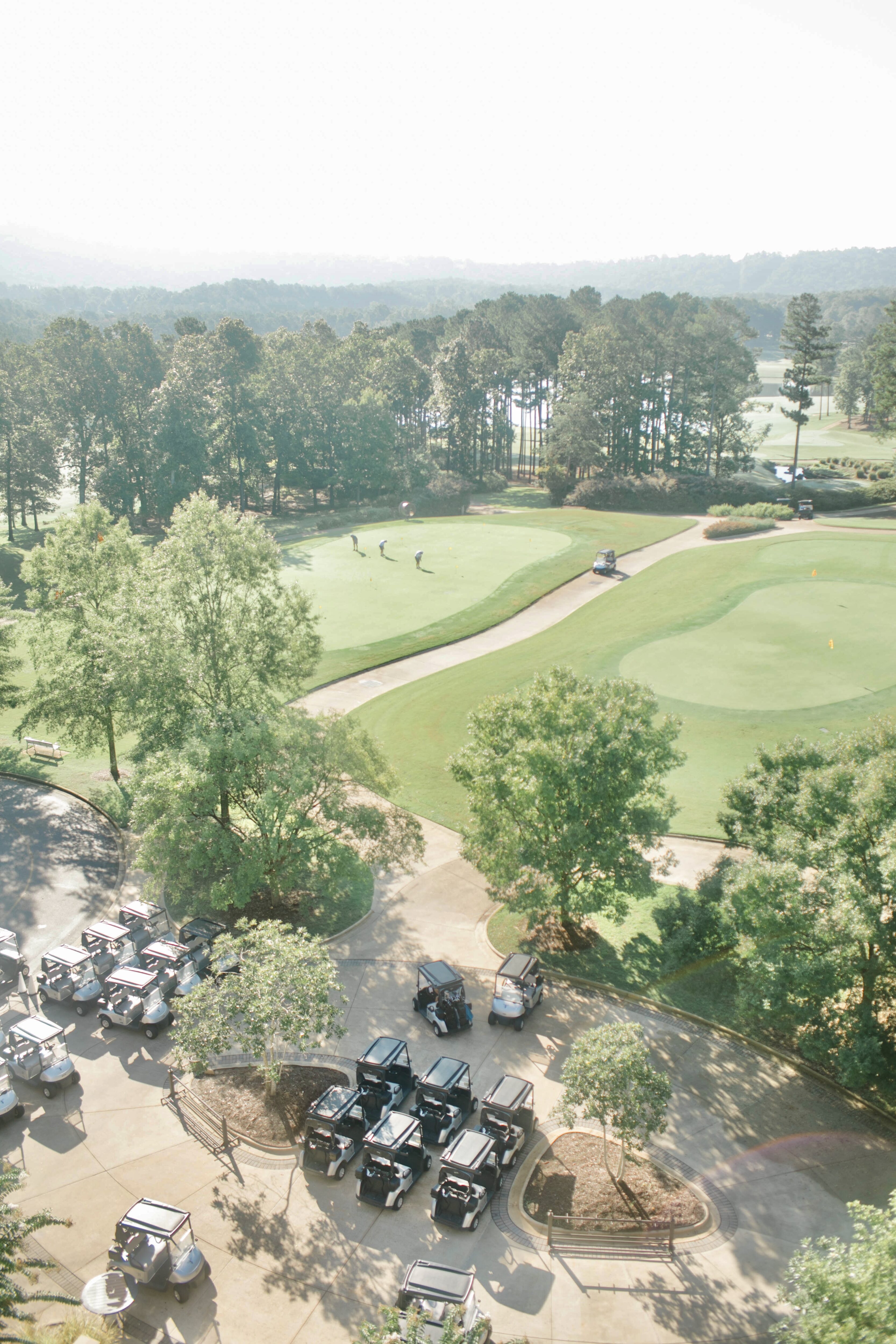 They just recently renovated the rooms, and they are working on renovating other parts of the hotel as well. They just added all new carpeting through the hotel and rooms to really brighten it up. The beds are new in the rooms. The kids had beautiful houndstooth headboards on their beds that I would love to have on Grayson's big boy bed at home one day. It is just so pretty!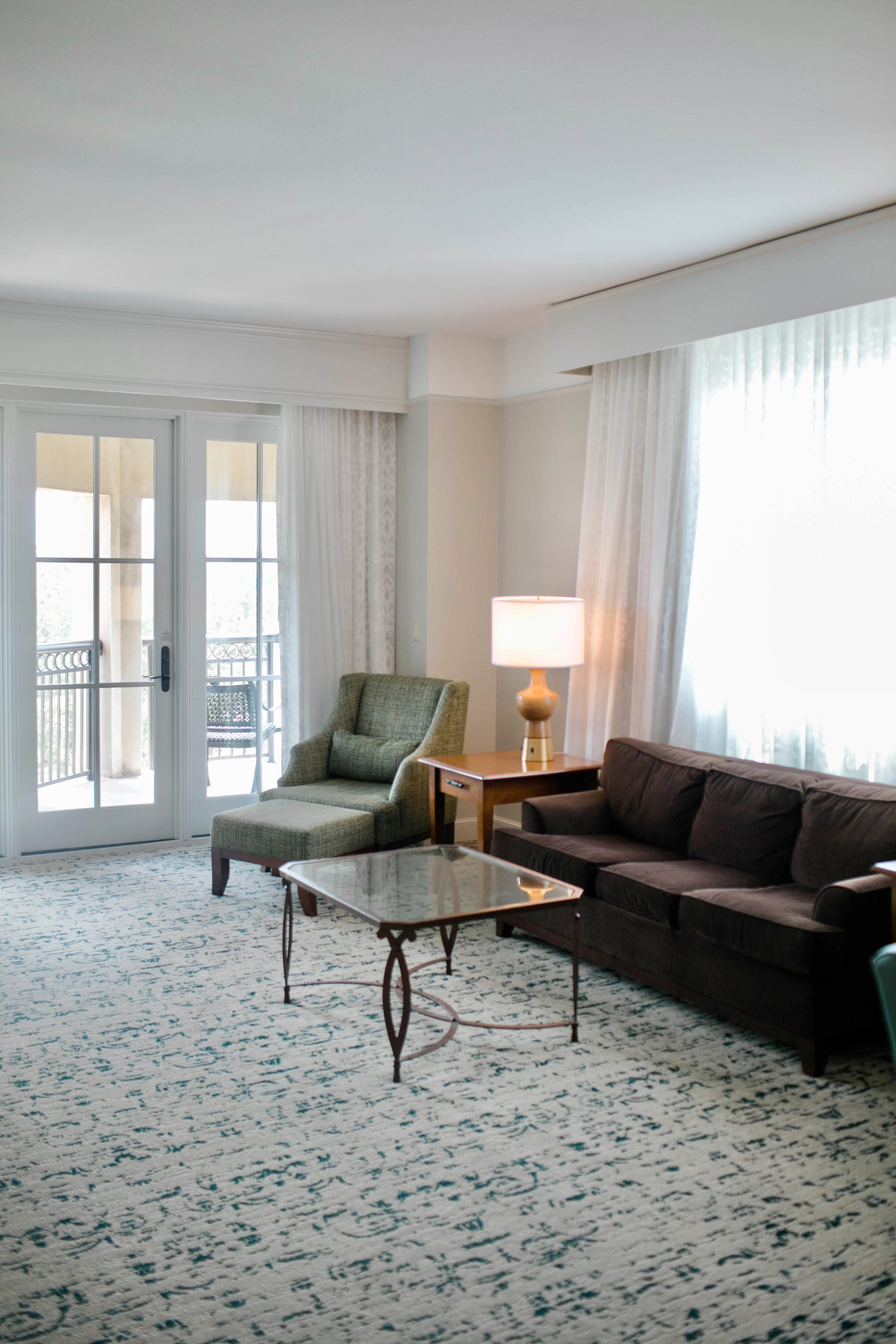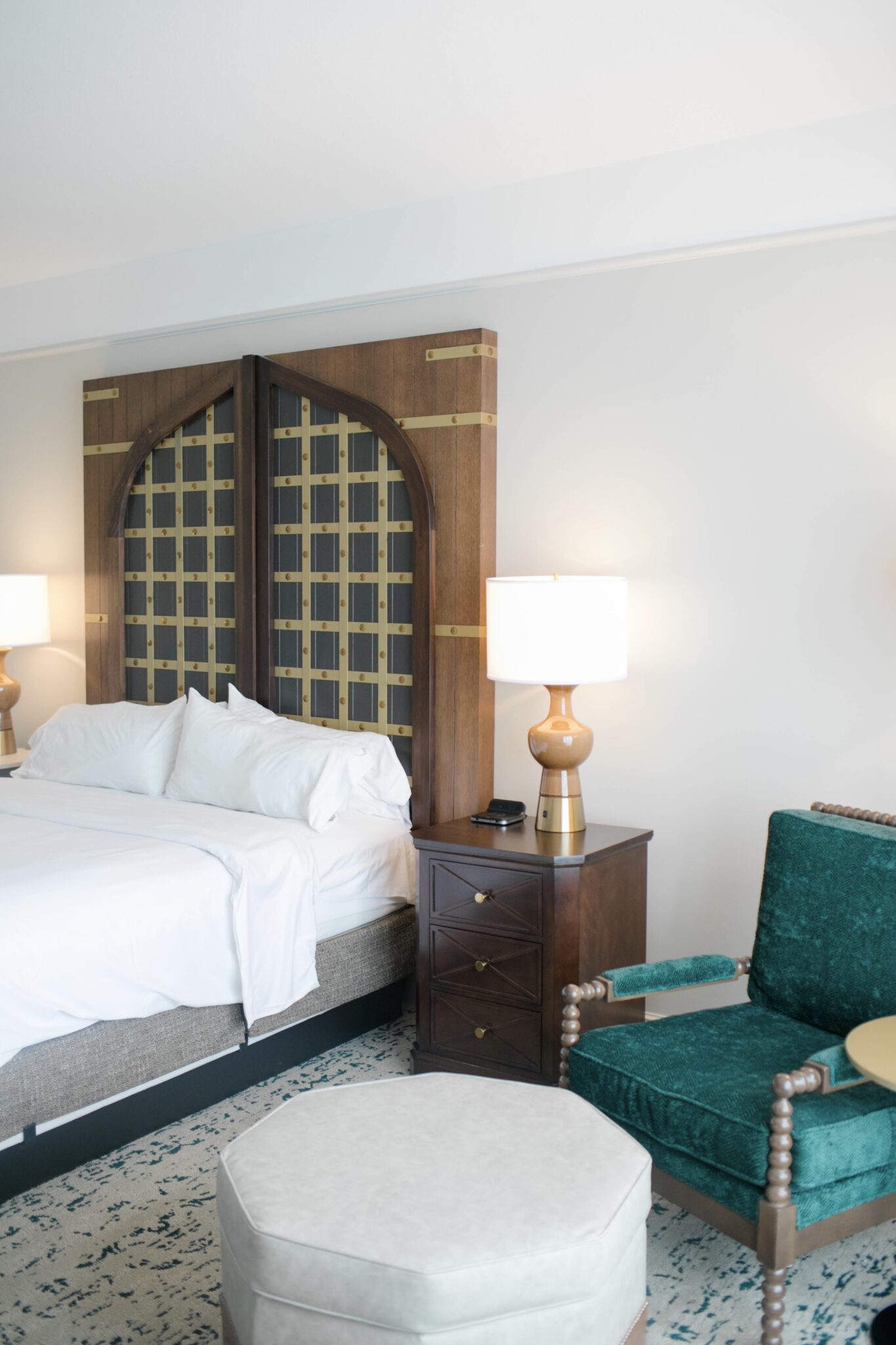 From the moment I get to the hotel, I am always drawn to the landscape. I love that the hotel fits perfectly into the rolling hills, and there is so much to do both indoors and outdoors. The moment is grand from the moment you walk in. Everything about the hotel is spacious from the lobby to the bedrooms and bathrooms. All of the restaurants have outdoor seating areas as well. The rooms even have balconies, with ours overlooking the golf course and the kids' overlooking the pool. There are ample opportunities to be able to get outside and enjoy the views and nature.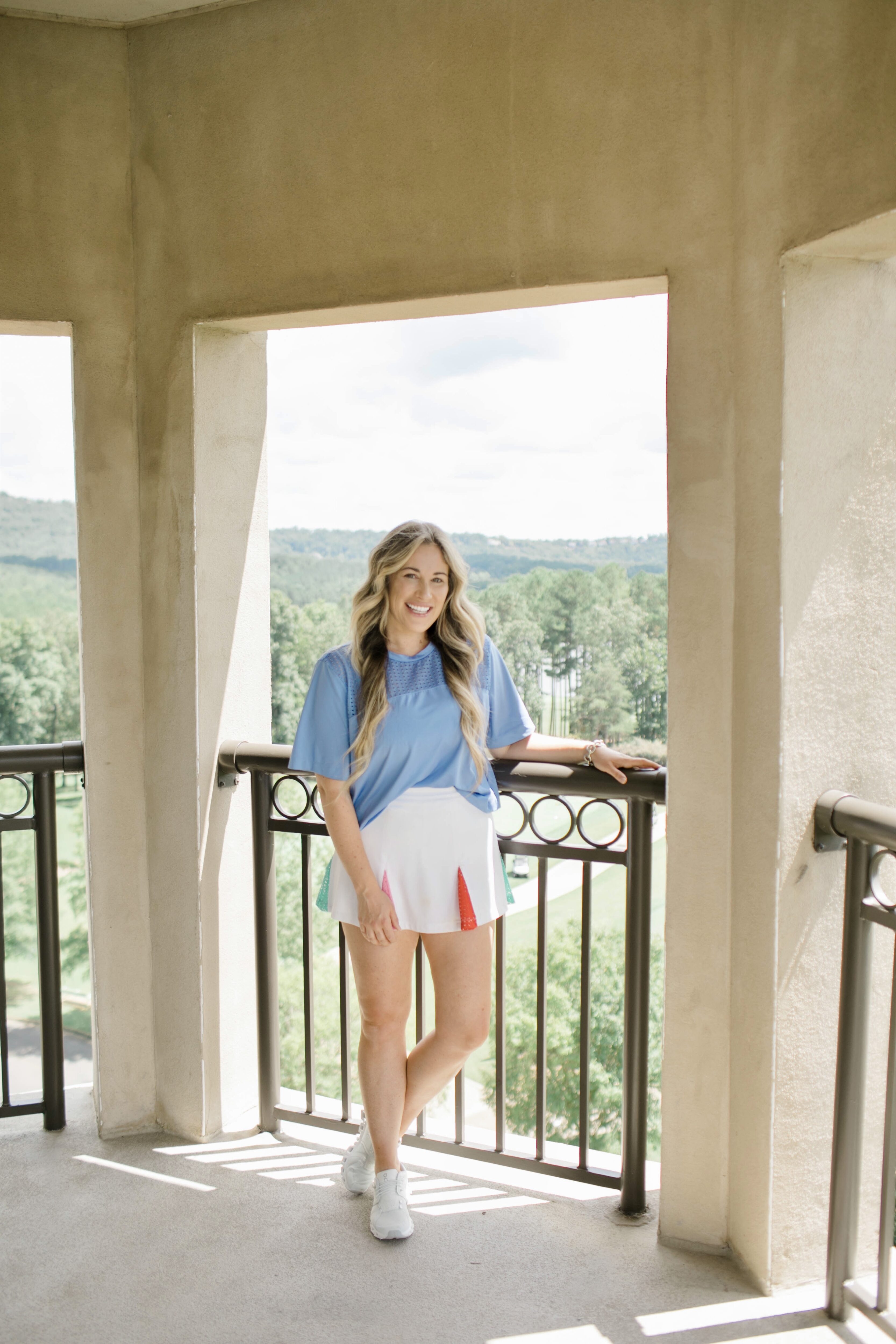 Aside from the gorgeous landscape and amazing staff, the family-friendly aspect is a huge reason why we love this Birmingham resort. They have both an indoor and an outdoor pool, and the kids absolutely love it! It has a small splash pad area, a shallow end, and a slide. They even have a hot tub. On weekends, you find them grilling burgers out by the pool and a musician playing the guitar and singing in a cabana by the pool.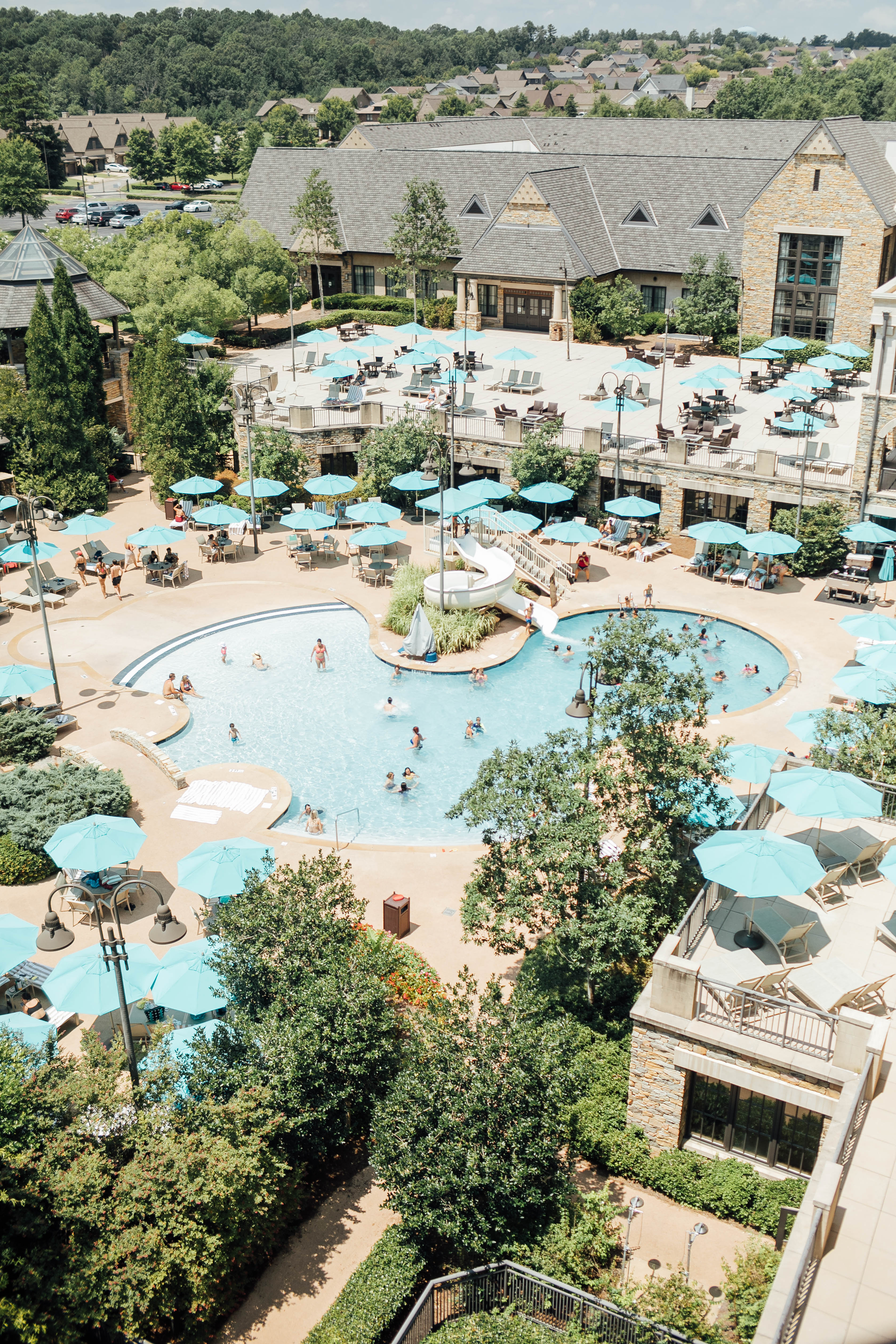 After you've had enough time in the pool, it's the perfect neighborhood to go to for a walk. The neighborhood has sidewalks and is super walkable and family-friendly too. There is a walking trail in the neighborhood. And there is even a nice playground that the kids absolutely loved! They also have several shops and a restaurant in the neighborhood. And don't forget the ice cream shop!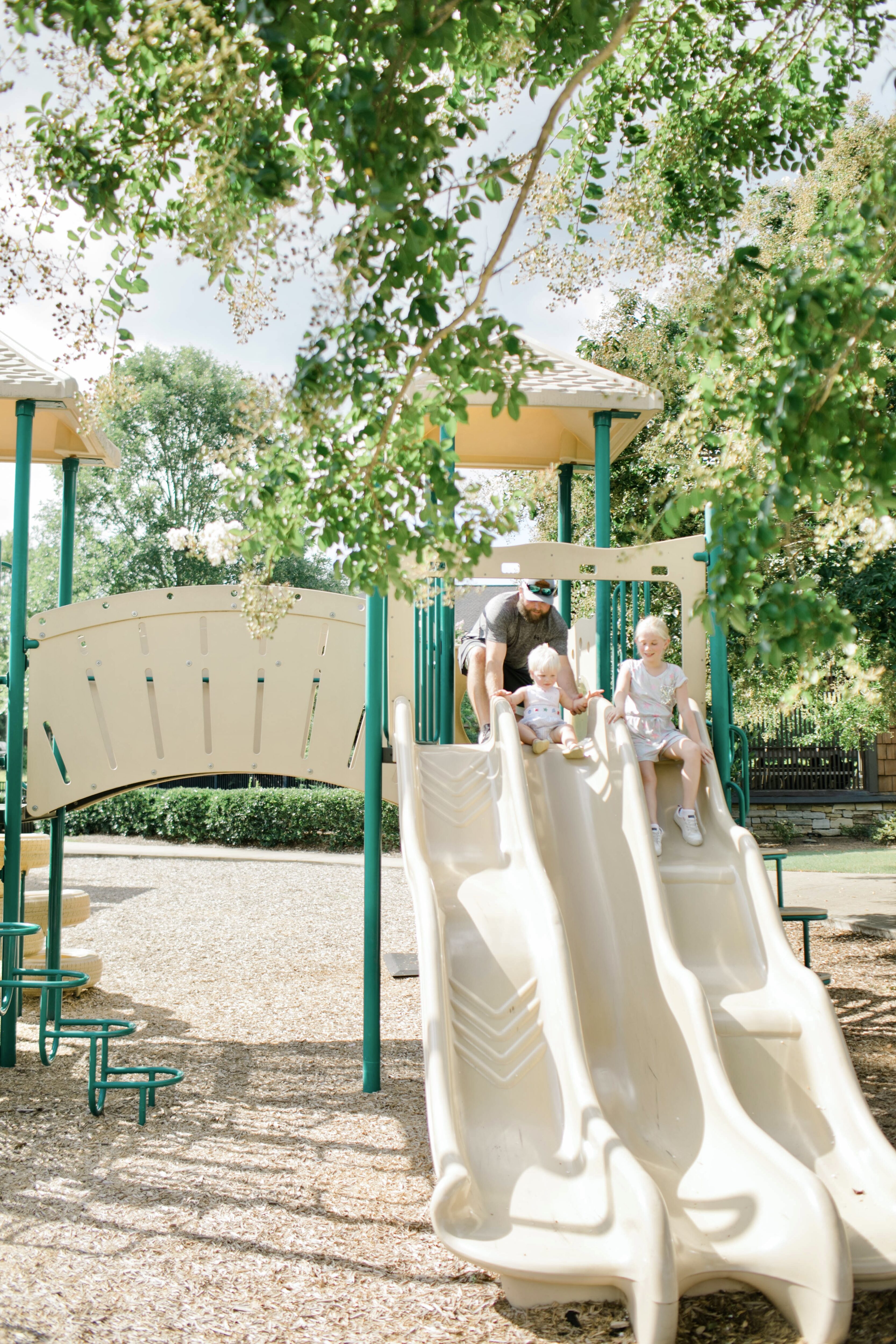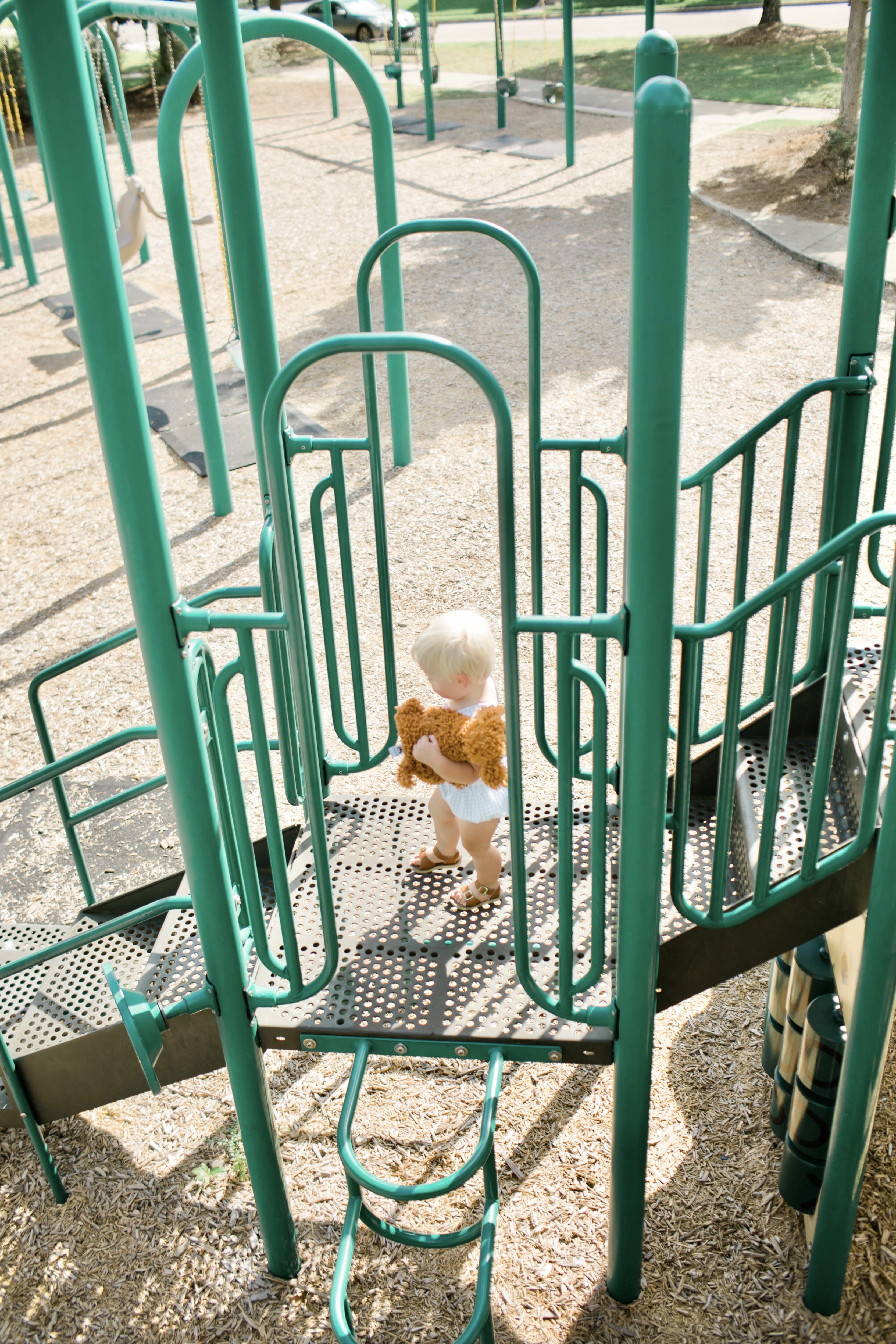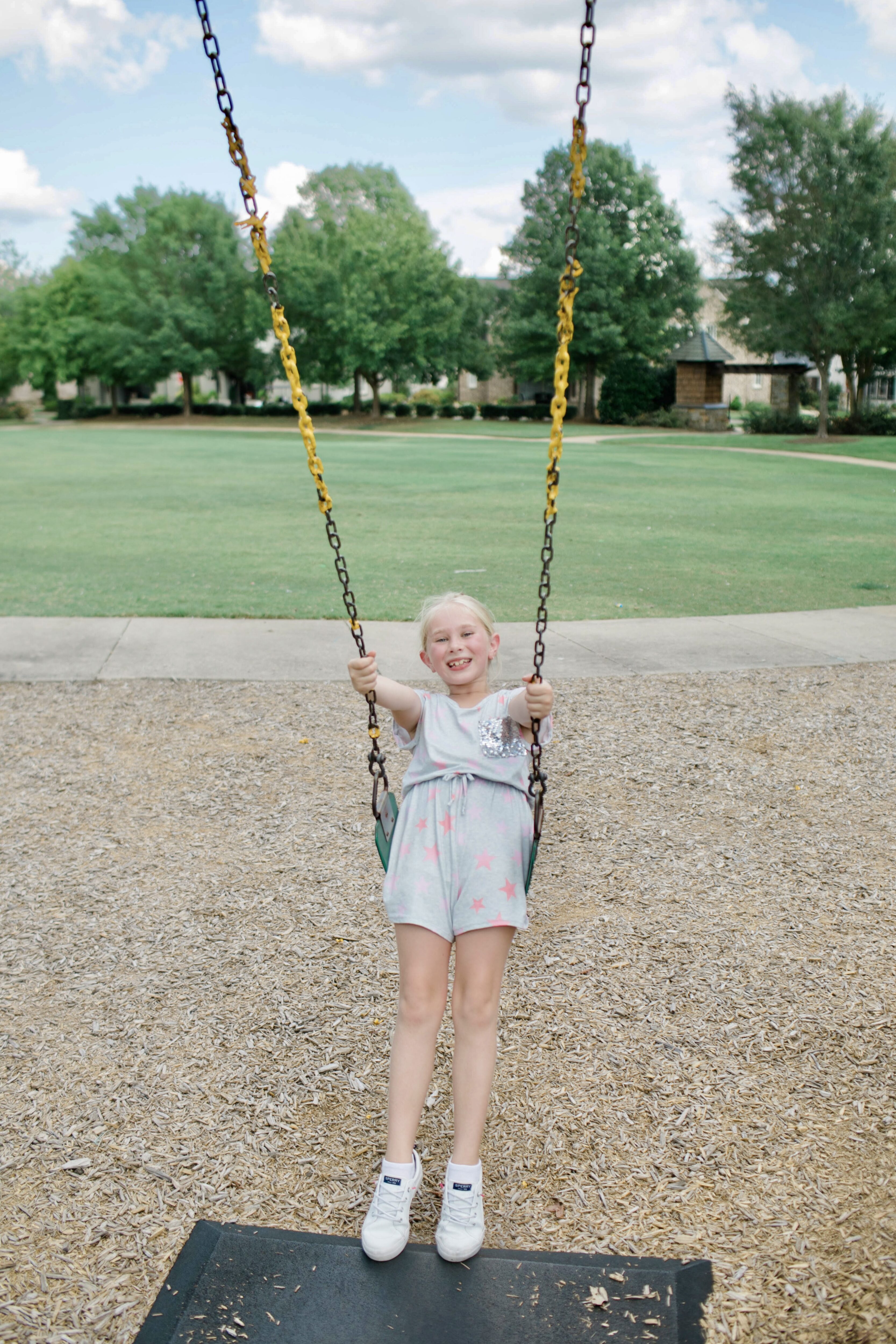 After everyone has worked up an appetite, there are 3 dining options in the hotel. Brock's has the most amazing breakfast buffet with an omelet station (a favorite of Matt's!) The Clubhouse is where we love to eat dinner. It is spacious and has a nice bar too. It overlooks the golf course, and it's right by the golf shop, so you know Matt always has to do a little shopping while waiting on dinner to arrive. Matt had his favorite there, a ribeye, and I had salmon. It was SO good!
They also have JT's, which was recently renovated with all new decor inside. This is a great moody spot to grab a drink and food, and you can even head outside to eat if you want. We sat outside most days just because it was so convenient with the baby, and he loved people-watching outdoors.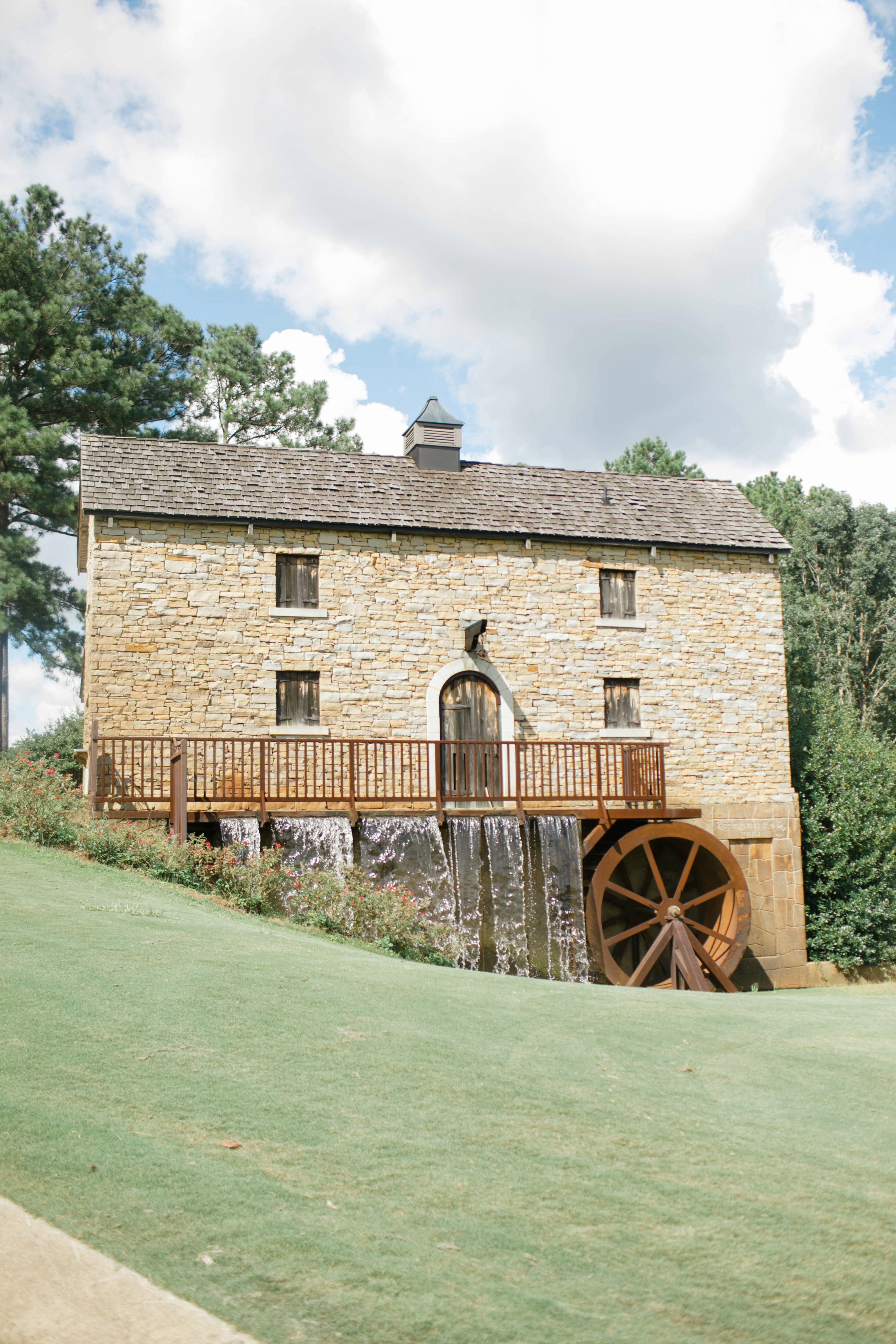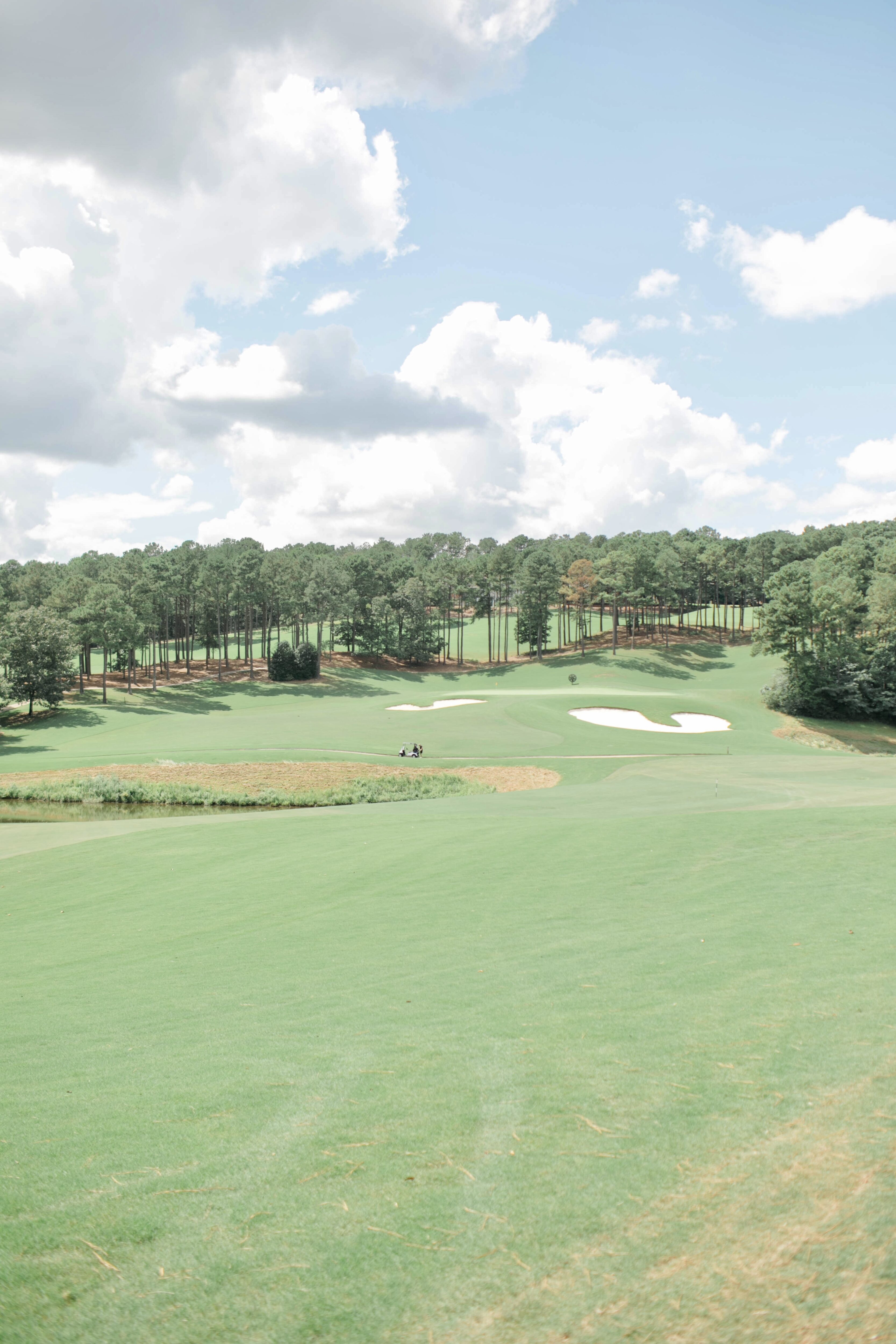 We even got a chance to play a little golf one afternoon, and the weather was just perfect. It was still hot, but that breeze was amazing! This truly is one of my favorite golf courses we have ever played on. If you're a golf fan, love the outdoors, or are looking for a new family vacation spot, you have absolutely got to try it. You will love it at Renaissance Ross Bridge. We come back every year, and you definitely don't want to miss Christmas at the castle! Have you been to Birmingham before?