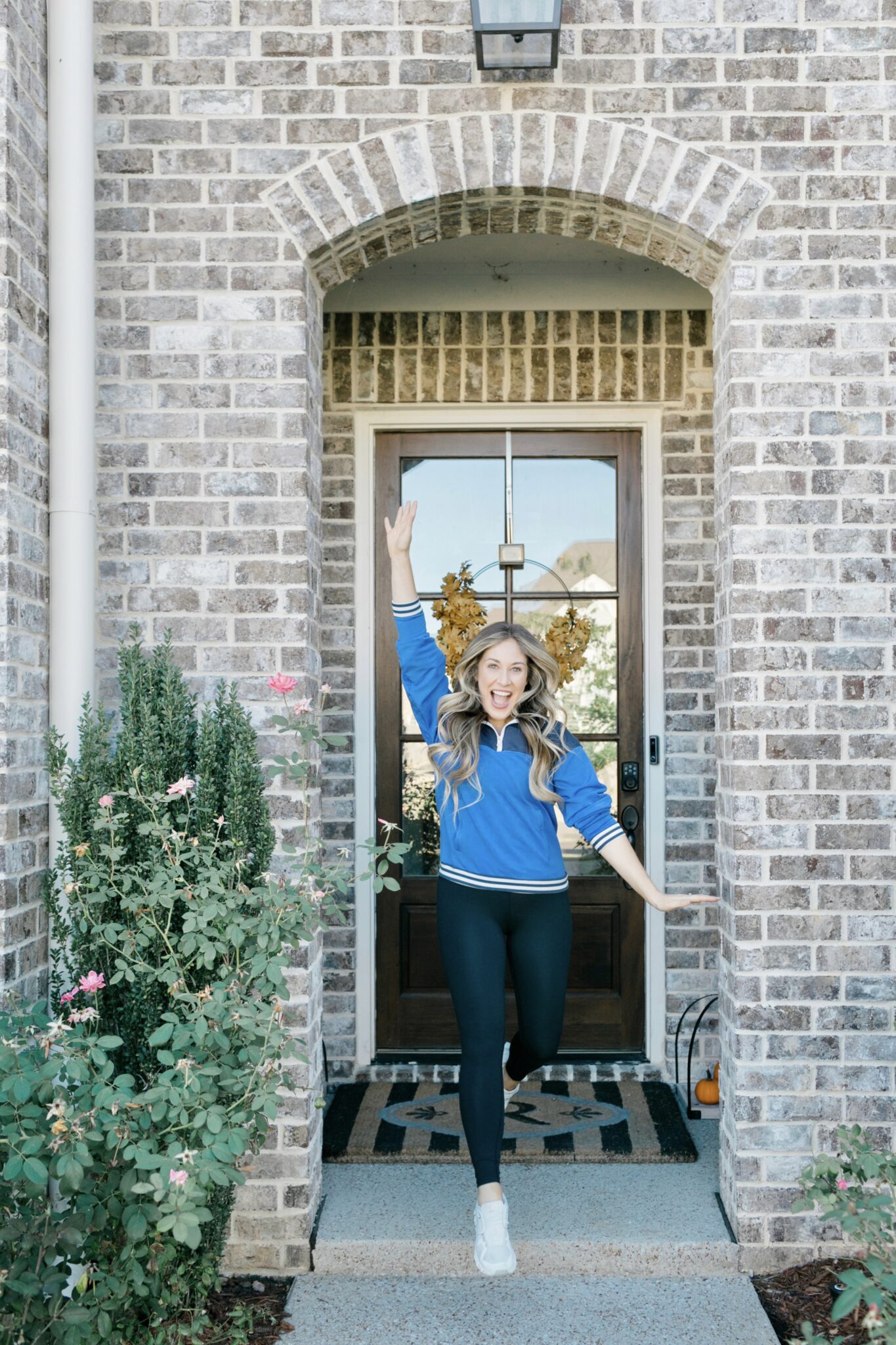 Shop the Look

Happy fall y'all; I just had to say it! And happy October! You know what that means! It is time for our annual health and fitness challenge, and October kicked off our Fall into Fitness October Challenge. I am teaming up this month with Heather from My Life Well Loved and Candace at Just Posted.
Fall into Fitness Challenge
We all know how crazy this time of year gets. Fall, football games, all the events, pumpkin patches, birthdays, Thanksgiving, and Christmas. The list goes on and on. Whether you have time to knock out an hour workout 7 days a week or whether you're finding no time and energy left at the end of the day, this month's challenge will work for everyone!
All we are encouraging you to do is 1 mile a day and drink 8 cups of water a day. That is it! For that 1 mile – bike it, run it, walk it, hike it, swim it – whatever you would like. Just get it in! We will do it together! Personally, for me, I like to start first thing in the morning before I have time to start knocking everyone off my daily to-do work list. But you do it when it works for you!
And grab that water bottle and start drinking! Nowadays, there are so many super cute and convenient water bottles that will make getting your water intake in easy! A few of my favorites are here, here, and here. And what's great is they are machine washable and reusable, so you can quickly and easily just fill it up with tap water. Win-win!
My best tip for getting your water in is to get one of these bottles and also to start your day with water. Before you drink your morning coffee, drink 1 cup of water first. Then, start on your coffee. That always helps me to start off on the right foot.
I started off the Fall into Fitness Challenge on October 1st on Saturday by running 1.5 miles, and it felt so good. How could it not in this amazing weather, right?! This time of year, the majority of my workouts will definitely be running, hiking, and cycling. We leave this week for Colorado Springs, and I cannot wait to get a couple of hiking trips in while we are there. That mixed with walks, bike rides, and swimming indoors at our hotel will be a great way to work out this month.
I've already mentioned how crazy busy it is this time of year, and I'm sure you all can relate. Never enough time! This month, my sweet friend Heather is selling her Busy Mom's Holiday Planner. It is a lifesaver! Mine is on my way to me in the mail right now, and I can't wait to get it in. I'll show y'all a sneak peek once I do!
Get the Busy Mom's Holiday Planner right now for only $13.99 with code LAURA. It's the perfect addition to your routine this fall season. This month I am going to focus on not taking on too much, and being mindful of the time I spend with the kids (there are SO many fall events, I don't want to overcommit and be run down.) I want to be present where my feet are. And make sure that I am making time for myself mentally, physically, and spiritually.
Make sure you follow me over on Instagram as I'll be checking in there weekly on Instagram Stories with workouts, motivation, reminders, recipes, and more. And if you have any requests on what you want to see more of, make sure you let me know over there too. Will you be joining us this month for Fall into Fitness? What's your favorite workout in the fall?