This post is by Babbleboxx, but all opinions are 100% my own. Thanks for helping me to support the brands I love.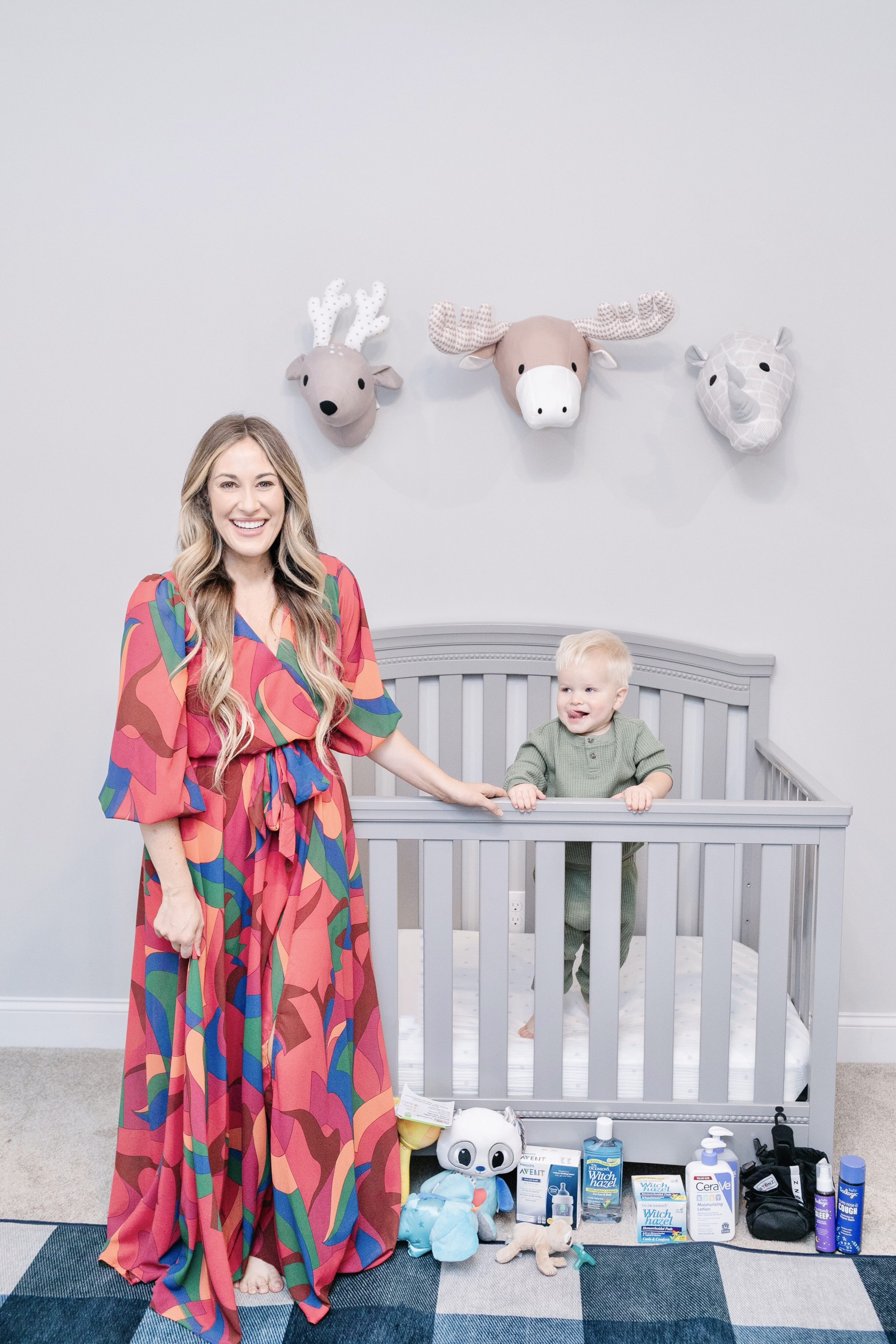 Y'all, I cannot believe my baby Grayson is going to be 2…in just 2 short months! How can my last little baby be turning into a toddler right before my eyes?! He may be getting bigger and starting to talk more day by day, but I want to share some of my favorite baby and mom products today. These are all must-have products for baby and mom that I have used and trusted with all 3 kids over the years.
6 Must-Have Products for Baby and Mom
1.) CeraVe Baby Wash & Shampoo and CeraVe Baby Moisturizing Lotion. Both products were developed by pediatric dermatologists. Both Leighton and Grayson had sensitive skin, and Grayson has eczema too. With his delicate skin, we are always looking for more gentle skincare products.
This baby wash and shampoo foams into a rich lather to cleanse the baby's skin and is designed to not disrupt the baby's thin, delicate skin barrier. It features a fragrance-free, soap-free, and tear-free formula with three essential ceramides that leave skin feeling soft and soothed.
Their baby moisturizing lotion with ceramides, hyaluronic acid, niacinamide, and vitamin E helps hydrate skin and is great for everyday use, including after bath time and before bedtime. This non-greasy, lightweight baby lotion spreads easily on the skin to deliver three essential ceramides to help maintain the delicate skin barrier as it develops. The fragrance-free and paraben-free formula delivers soothing and moisturizing benefits to the baby's delicate skin while providing long-lasting hydration throughout the day.
CeraVe is one of the only brands that Grayson's dermatologist has recommended, and we love and trust it. I even use their adult products and cleansers on my own skin. They are gentle enough for even the most sensitive skin!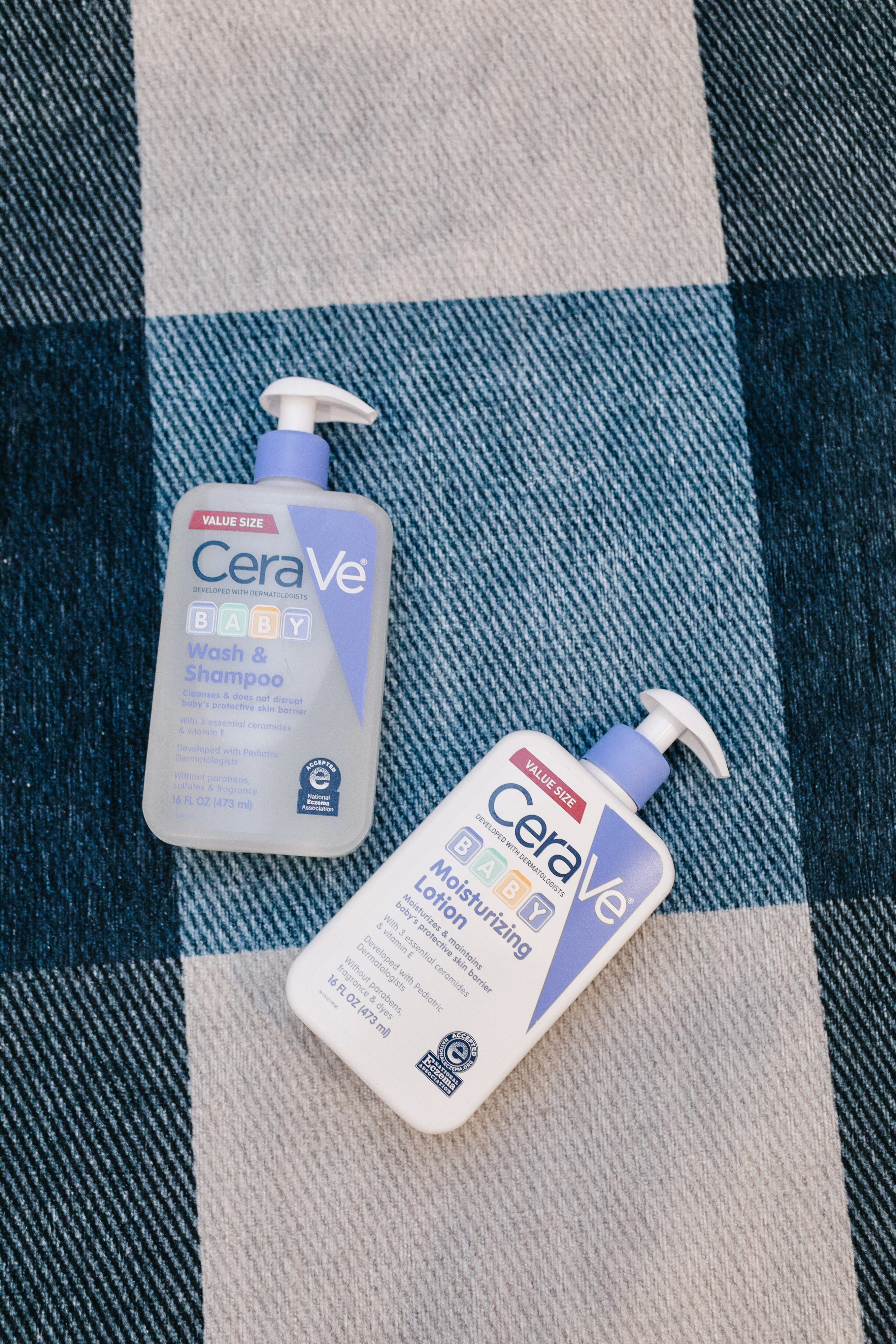 2.) Lamaze toys Puffaboo Elephant, Soothing Heart Panda, and Wacky Giraffe are some of the newest baby toys that Lamaze makes. We first heard of Lamaze toys back when Leighton was born, and I have been a huge fan ever since! Introduced in 1993 as the first of its kind early childhood development toys with contrasting patterns, crinkly fabrics, and engaging faces, Lamaze toys by TOMY makes such great developmental toys for babies of all ages.
They carry a variety of different toys made for different ages with different textures, fabrics, patterns, and sounds. They are perfect for the development of your baby. Grayson has outgrown the elephant and giraffe toy by now, but he still loves the little panda and loves to push his heart button and snuggle with him. And Amelia loved her favorite little giraffe for road trips when she was a baby. =)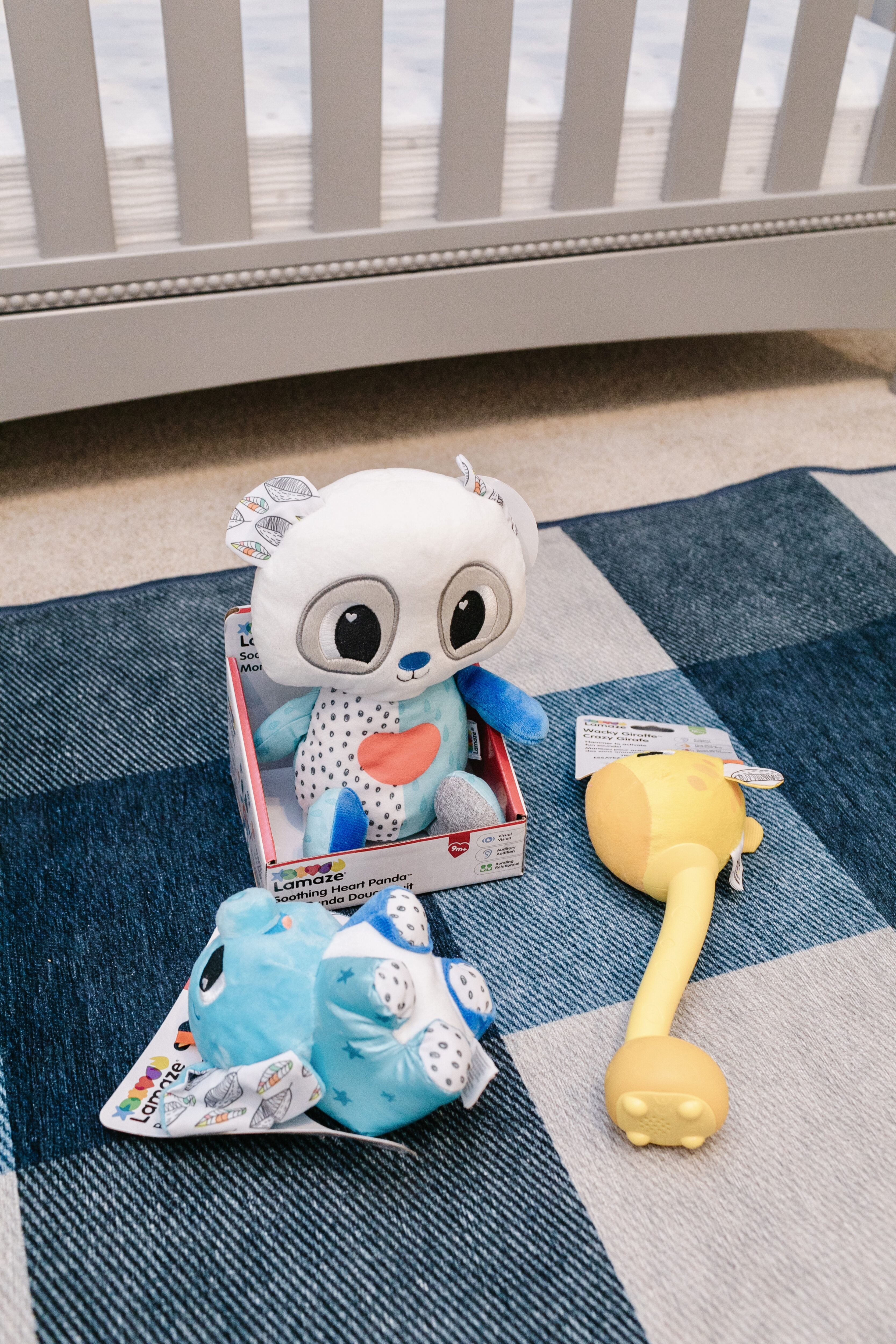 3.) Philips Avent Anti-colic bottle with AirFree vent and Philips Avent Soothie Snuggle. Philips is a brand that we love and trust in our house. The AirFree vent on the bottles is detachable so you can choose to use Philips Avent Anti-colic bottle with or without the AirFree vent. I personally love that the wide neck and fewer parts allow for easy and thorough cleaning and assembly. Cleaning baby bottles can be a full-time job!
Grayson loved his pacifier for the first 6 months. We have a smoothie, and he absolutely loved it. I'm still not sure if he loved the stuffed animal lovey or the paci more, but it was perfect to weigh down the pacifier and help keep it in his mouth, while also making it easy to find the paci in the dark. He gave up his paci at 6 months, but he still is a big fan of the little snuggle animal that comes with it. = )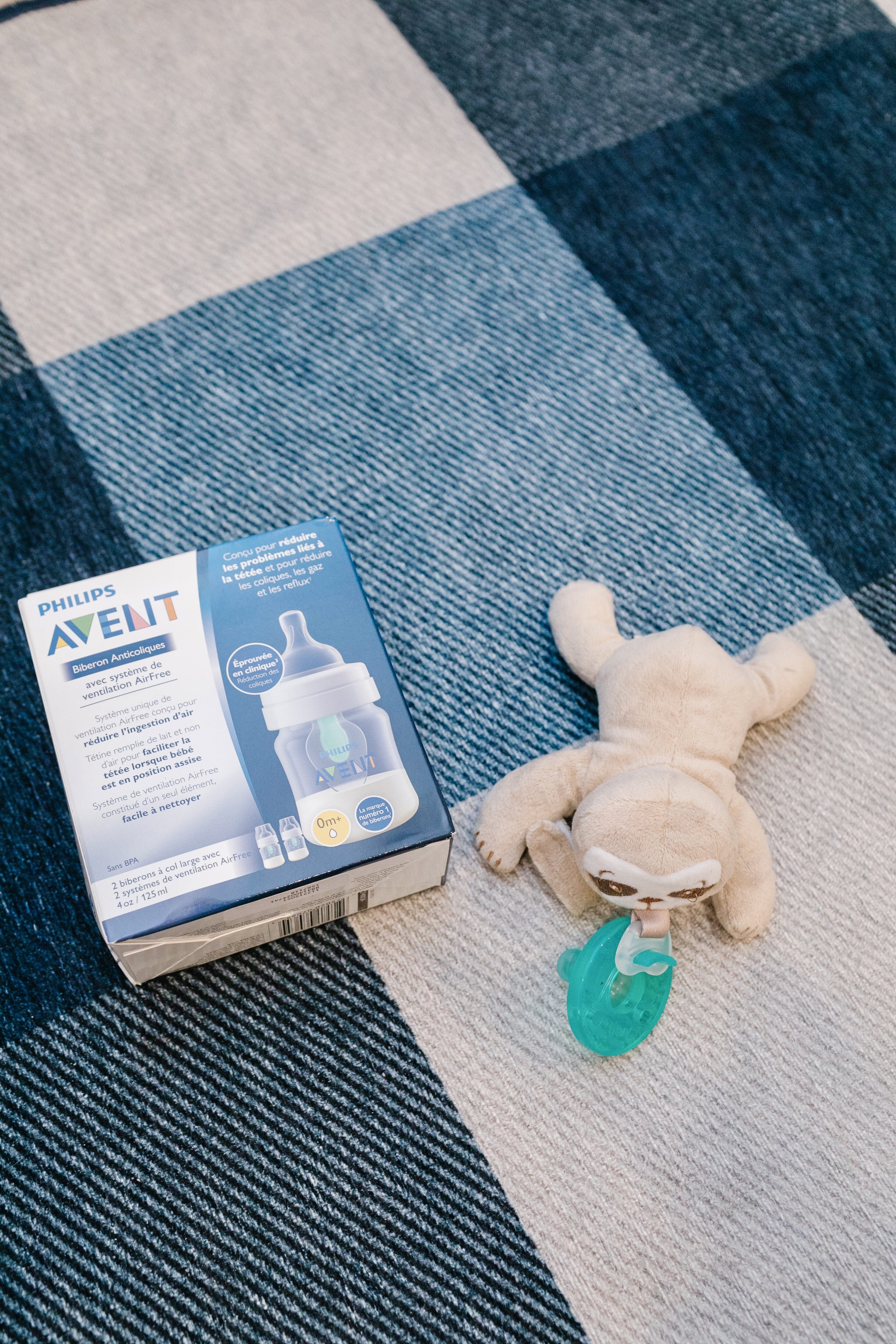 4.) Stonz toddler booties will be perfect with fall and winter here! Stonz is guided by their brand promises to make playtime outside easy for
parents and children 0-6 years with apparel, footwear, and accessories that are: kid certified, made for developing feet, and vegan and non-toxic, all with a 365-day warranty.
Stonz carries booties, shoes, mitts, rain boots, and more. These little toddler booties will help to keep little toes warm year-round with this all-vegan shoe. These fleece-lined winter booties are perfect for toddlers and young kids that need durable non-slip shoes for all weather conditions. They are perfect for when we finally get those ice and snow days to come winter!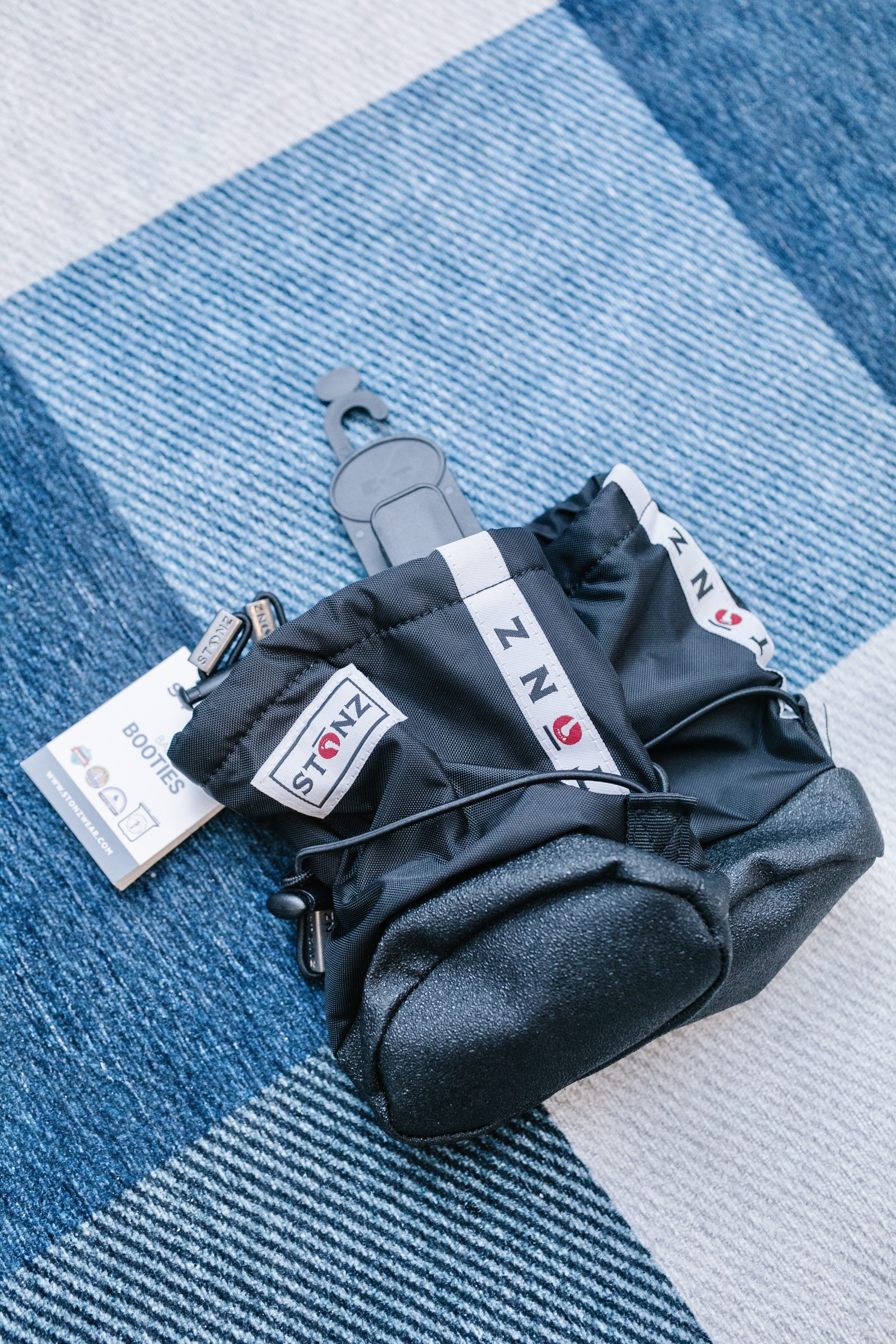 5.) T.N. Dickinson's Witch Hazel Hemorrhoidal Pads with Aloe and T.N. Dickinson's Witch Hazel 100% Natural Astringent were an absolute must with Leighton and Grayson! T.N. Dickinson's is the brand families have trusted for gentle and effective first aid and skincare for over 150 years. To this day, T.N. Dickinson's has stayed true to its commitment to natural clinical care by producing only 100% natural, clinical grade USP* witch hazel.
They are an absolute must for postpartum care for moms. They are also dermatologist tested with no artificial fragrances or dyes. The products are all super delicate. And they actually work. If you are a new mom or know a friend who is expecting, trust me, this would be the perfect gift to include in her gift basket.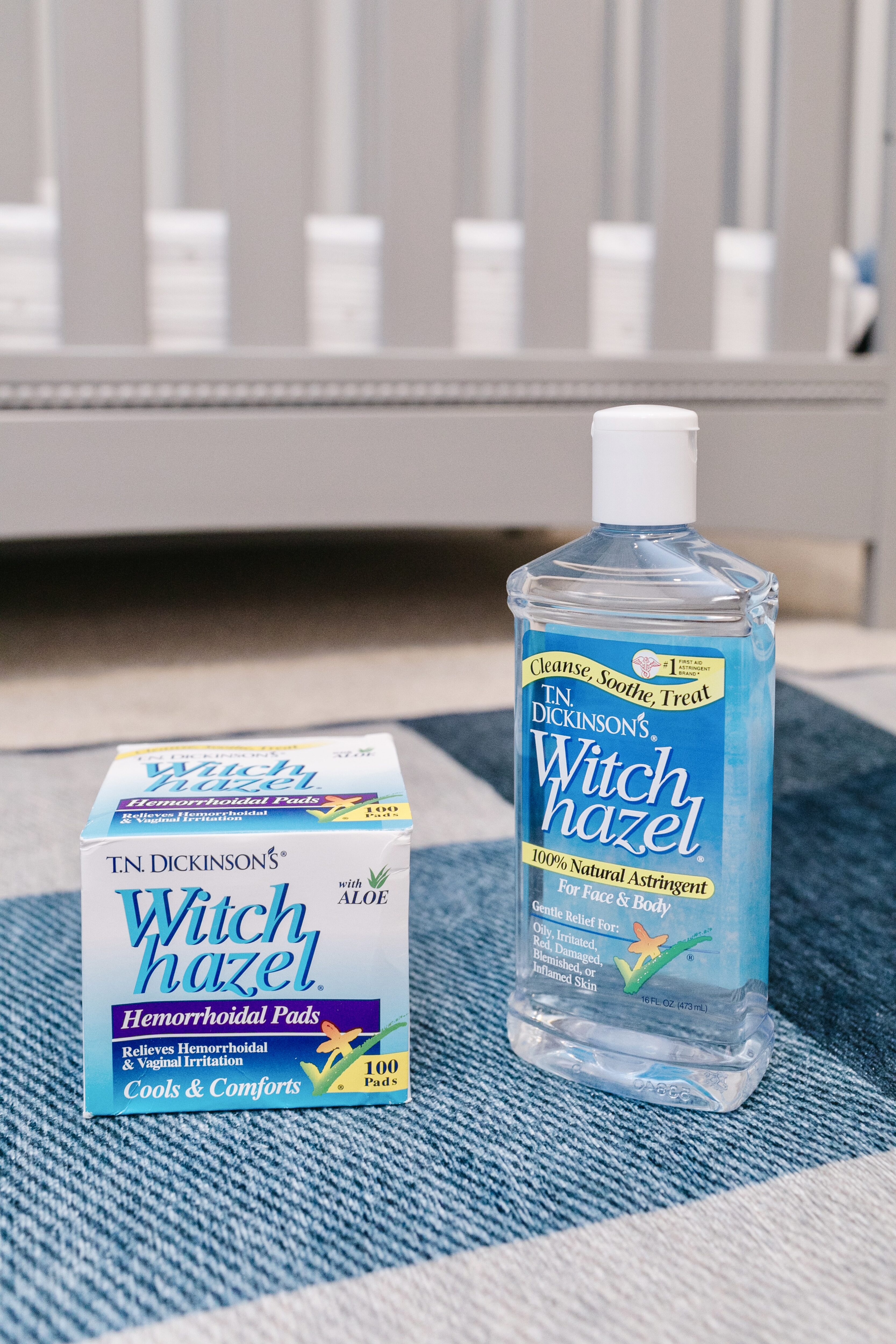 6.) Oilogic Stuffy Nose & Cough Essential Oil Vapor Bath and Oilogic Slumber & Sleep Linen Mist are so perfect for babies and little ones, especially this time of year. With the colder temps coming, we have already had to pull out our vapor bath. It uses the natural power of Essential oils to open airways and calm coughing. Oilogic Slumber & Sleep Linen Mist uses natural aromatherapy to calm and relax the baby before bed.
Oilogic Baby takes the stress out of stressful situations with a baby with solution-based wellness products. They use plant-based ingredients that you can feel good about using on your child. Their products are free from petroleum, phthalates, parabens, sulfates, gluten, DEA, dyes, mineral oil, artificial colors, and synthetic fragrance. They are also pediatrician & dermatologist tested, cruelty-free & vegan, made in the USA, and founded and owned and powered by two moms who wanted more for their
little ones.
Whether you are expecting, you just had your first baby or your 3rd baby or you have a friend or family member expecting, make sure you check out some of these must-have products for baby and mom. We always remember to shower mom with baby products and gifts, but don't forget to include a few things for mom herself too. These would be the perfect baby shower gift. What were your must-have products for baby and mom?