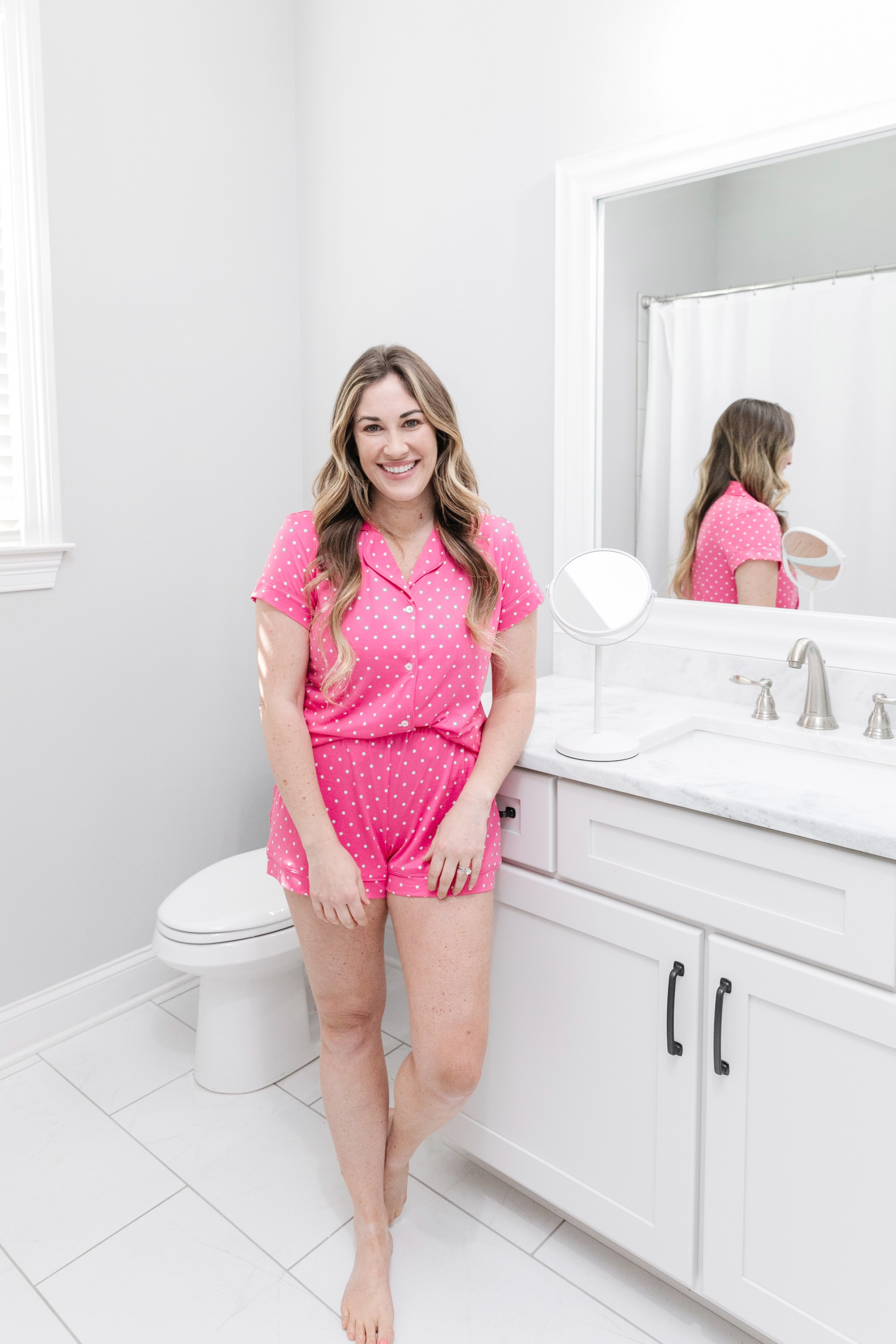 Shop the Post

It's almost time for the spring season, so it's time for a new spring routine of self-care. After all the business of the holiday season and the dry, cold winter months, spring is a time of renewal and re-focus on yourself. It's always a good time to take care of ourselves, but I'm sharing my favorite tips below to focus on self-care.
Tips for Self-Care in the Spring
1.) Apply sunscreen and moisturizer first thing in the morning. Even if it's not sunny outside, always start by protecting and taking care of your skin.
2.) Get outside and get some fresh air and sunshine. Not only is it a mood booster, but it is good to get some vitamin D each day. This will also help with getting good sleep at night. And the fresh air and greenery outdoors is good for the soul!
3.) Eat your lunch outdoors. It's another great mood booster to be outdoors. And a change of scenery always does us good!
4.) Declutter your house. Now that we have organized and deep cleaned, now is a good time to tackle decluttering. Go through those drawers that pile up with junk, your kid's toys and clothing, and all those extra books and papers that start to add up.
5.) Buy a plant indoors or start a garden. Buying a plant to keep indoors is a mood booster, it can decrease stress and increase productivity, and it also adds some pretty color indoors. Starting a garden has the same benefits, and it's a great way to grow your own flowers, vegetables, or herbs right at home.
6.) Take a yoga or pilates class. These classes are so good for breathing and meditation, and they are also good for your health.
7.) Read a new book. Sometimes it's hard to take the time to start a new book. This is your reminder to start reading a new book right now.
8.) Take a quiet break throughout the day. Take a little time each day to do what you love. Read a book, pray, rest, visit with a friend. Just do something for yourself that isn't for work or for anyone else.
9.) Take a relaxing bath. Take one not just for its purpose, but to take a long bath to relax. Put on a face mask, do a foot scrub, listen to music, or even read your book.
10.) Learn to say no sometimes. Being a chronic over-committer is just as bad as always saying no. If you are spread too thin, it's a good time to say no. If something isn't fulfilling you or your family, it may be a good time to say no. You have to do what is best for you and your family.
How have you practiced self-care today?