I hope everyone had a wonderful Easter!!  I hope you were all able to celebrate the death, burial and resurrection of the Lord with friends and family (and do a little Easter egg decorating and hiding too!)  We had a great time with family, and we even got a little sunshine Sunday afternoon and were able to take the Yorkies for a nice walk.  I'll post pictures of that tomorrow.  If you didn't see the post earlier,
don't forget to enter in my 1000 Follower giveaway for a total of $700 in gift cards
here!!
  Also today is the last day to enter to win a $20 Target gift card and an 8 x 10 Brittany Fuson print of your choice by entering
here
.  And you have until Friday to enter the
$10 Starbucks gift card giveaway
.  Keep reading to see who won the 3 giveaways from last week.  And please, please, please
Vote for Me
 to become Wallis' first US Ambassador.  I appreciate it so much!
J. Crew Factory Maxi Dress.  $52.15 with code MOREPLEASE.
J. Crew Factory Denim Jacket.  $55.65 with code MOREPLEASE.
Oasap Kissing Dog Belt.  $10.
Franco Sarto Sandals via Marshalls.  $69 here, but only $39.99 at Marshalls and I had a $25 gift card!
C7 Boutique Earrings.  $8.  Last seen here.
C7 Boutique Mustache Ring.  $8.
Evie J Bow Necklace.  $21.99.
Nixon Timeteller Acetate Watch.  $150.  Last seen here.
Apple of My Eye Tortoise Bracelet.  $6.99
J. Crew Blue Bracelet.  Old.
J. Crew Enamel Bracelet.  Old, but similar one here for $25.  Last seen here.
Is this not the cutest belt?  I found it at Oasap, and had to get it.  They look more like Scotties, but they still look similar enough to yorkies I think.  Who doesn't want dogs on their belt – haha.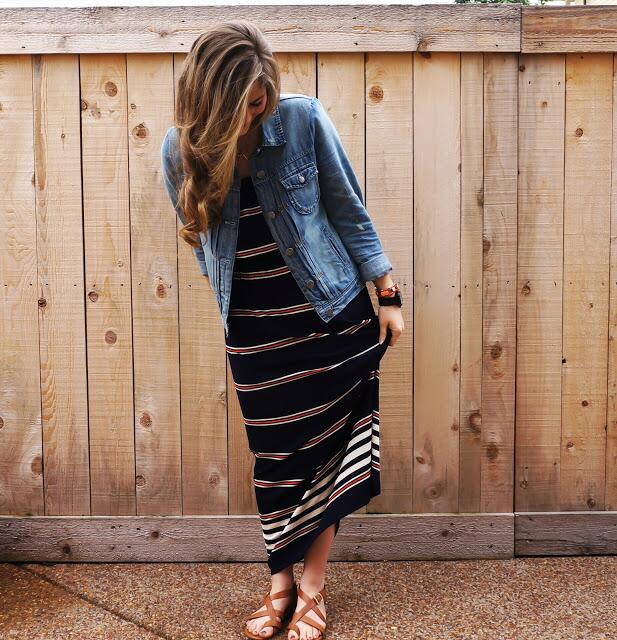 On Saturday Shane and I decided to have a little date, so I finally pulled out some of my J.Crew Factory pieces I had been wanting to wear.  Sometimes their factory stuff is a little hit or miss, but lately I think it has really gotten better.  Sometimes I just wish I could try it on in stores though, but no J. Crew Factory here.  When we got to Gulf Shores each year though, I always devote at least a day or two to the outlet mall, and Shane got this jacket for me there last year for my birthday.  On Saturday Shane and I had stayed in all day – he was working on his taxes for his business and I was doing school and blog work on the computer, so we were going stir crazy later that afternoon.  We were debating on where to go downtown when Shane's mom asked if we wanted to go eat with her.  She lives right down the road and suggested the Blue Monkey, so we all ended up going there.  Right after we got there, I pointed out to Shane that we had done the Alphabet Date and didn't even realize it since the Blue Monkey begins with "B."  I actually asked Shane about the alphabet date last weekend and he said he would like to try to go completely through the alphabet with restaurants or other date ideas in the Memphis area, so this should be fun.  I had been the Midtown location of the Blue Monkey before, but this was my first time at the downtown location.  Maybe the locations are really different or maybe my memory from 10 years ago isn't that good, but I thought it would be much more of a casual bar food place than it was.  I was pleasantly surprised, and they had a really good sized menu too.  I ordered the filet and was so tender.  I got steamed vegetables and a side salad with it.  The vegetables were really good, not too crisp or tender.  I ordered the shrimp cocktail for an appetizer, and I really liked it, but Shane didn't.  He had the hot wing rolls and loved them.  I tried one too, and wow, they were awesome!  It tasted like a cross between exactly what the name implies – a buffalo chicken wing and an eggroll.  You should definitely try them if you're in the area.  They also get a thumbs up because they carry Woodchuck Amber.  = )  Shane said I had to leave my cell phone in the car, so no pictures of the food, sorry.  Bad blogger (or bad blogger husband, just kidding.)  Now, I'll be thinking of ideas for our "C" Alphabet Date.  Any suggestions??  We love trying new restaurants and doing anything fun outdoors.
Now for the good part – the giveaway winners!
The winner of the Brady Bands giveaway is Courtney with Line Up and Wait! Congratulations, and please email me for details!!
The winner of the Evie J Bow Necklace is Marcia with Year 29!  Congratulations, and please email me for details!!
The winner of the $200 Piperlime gift card is Sheree from the Hartungs!  Congratulations, and Amanda will contact you for your prize!!