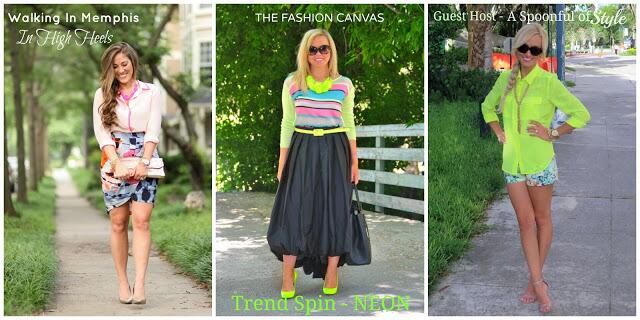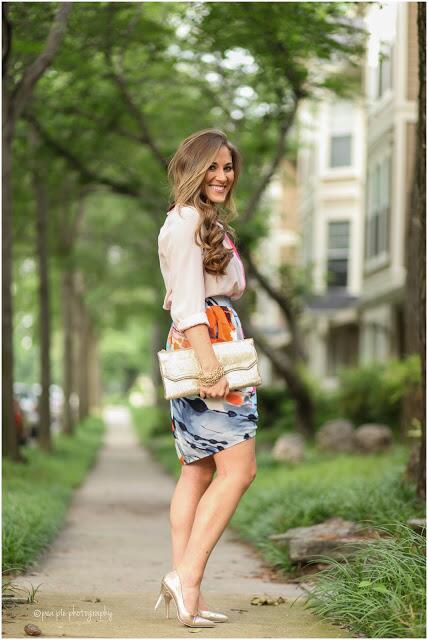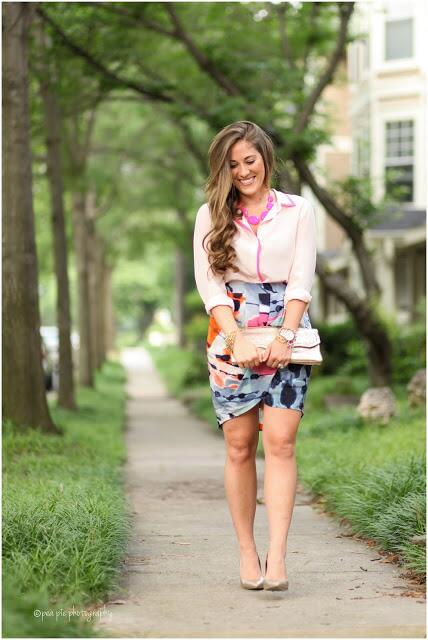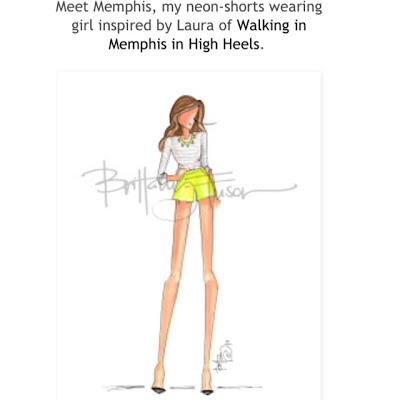 I woke up Saturday morning to a tweet and this picture from one of my amazing talented friends
Brittany Fuson
.  She drew this sketch of me from my Ombre & Stripes post from a few weeks ago.  I was literally blown away.  Not only is she incredibly talented, she is so genuinely sweet.  I was shocked that she would do a sketch of me, and it really means so much to me.  You can see the print
here
on her website appropriately named Memphis.  = )  Thank you Brittany; it really did make my day!
The top I'm wearing today is one of my favorite tops from J. Crew (besides my blue and white striped popover.)  I know I wear it a lot, but I've been trying to see how many different ways I can style it.  I've worn it with denim, dressy shorts and now with this skirt that I scored for $40 at the BCBG outlet in Vegas.  I don't think I'll ever one of those girls who doesn't wear the same thing twice…or even 10 times.  I love shopping with coupons, on eBay, Poshmark, consignment stores,
the Hunt
, etc., and not trying to get the most out of my wardrobe is just not something I can do, especially since I'm in grad school.  I'm sure you've heard of the others, but you may not have heard of
the Hunt
 yet.  It is definitely worth checking out!  It is fast, free and easy to sign up.  You can upload a picture yourself, or connect your Instagram or Pinterest account, click on the picture, and then let
the Hunt
do all the work for you.   They will find the exact item that you had been searching for, a similar item, an item that can be styled with the item you slect or the look for less!  Then they will send you an email when they find it.  You can also set a maximun price in
the Hunt
, so you can find less expensive alternatives.   I personally love the "Look for Less" option since I'm also looking to find fashionable items on a budget.  Don't get me wrong, every once in a while I will splurge a little for a purse (that I will carry almost every single day for a year, was bought on eBay, and then is resold on eBay with the profit being used to buy a new purse,) some sunglasses or maybe a coat.  But for the most part, I love finding a deal, and I try to make sure I don't buy something just because it's a deal either.  I'm trying really hard to build a well-rounded closet with classics and staples while also throwing in some fun, trendy pieces too.  Since I work at a very conservative corporate office environment, my biggest challenge so far has been trying not to get stuck only buying pieces that can be worn to work and also out.  I love double duty clothing pieces, but catch myself passing up shorter, fun, casual things sometimes just to stretch my dollar.  I love buying these than can transition from work to the weekend, but I don't want to get trapped thinking that everything I buy has to be worn both ways.  This is probably why you see me in the J. Crew Blythe blouse in about 10 different colors.  What have been some of your biggest wardrobe challenges?
Moving on, it's Tuesday again!  Thanks for stopping by the second Trend Spin Linkup with
The Fashion Canvas
and myself!  Today's trend is neon.   Show us how you wear it – a neon pair of pumps, a neclace, a clutch, denim.   It doesn't matter what clothing item it is or where it's from; we'd love to see it.  Last week we had over 50 submissions for our mint themed linkup!  Thank you all so much for your support!  It was a really tough decision, but here are our two favorite mint looks from last week's linkup.
Featured Bloggers in Mint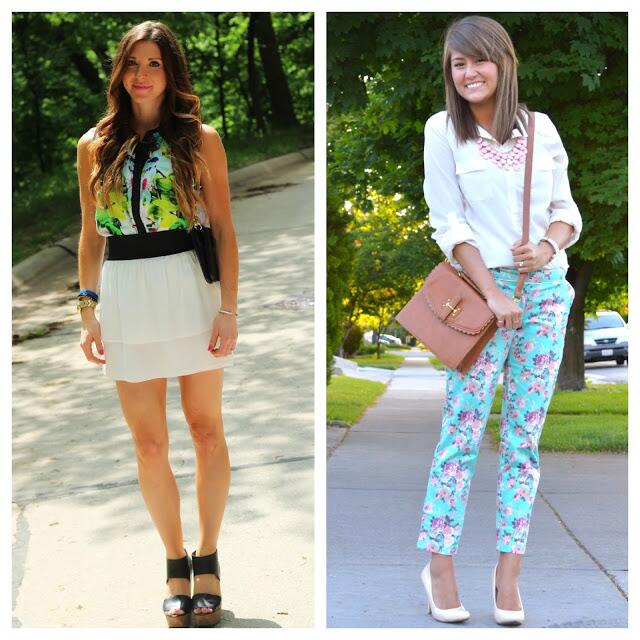 Next Tuesday's trend will be floral!
Non-Boggers:  All non-bloggers will be able to submit photos to
Trendspinlinkup@gmail.com
.  We will then select one photo each to be our featured reader of the week on the day of the linkup!
Bloggers:  All bloggers will be able to submit their post links via the inlinkz widget below every Tuesday at 12:00am with their take on our trend of the week.  This will allow bloggers to show off their personal style, find new followers and meet some great fashionistas!  You will also have the chance to be featured on our blogs the following Tuesday!  So grab the button and link up.  = )  For all bloggers we simply ask that you please follow your 2 hosts and your cohost of the week –
Walking in Memphis in High Heels
, 
The Fashion Canvas
and
A Spoonful of Style
(the first 3 links in the linkup) and provide a link to the Trend Spin Linkup in your post or add the button below to your blog.  Don't forget to stop by the
The Fashion Canvas
and
A Spoonful of Style
to see how they wore their trend today.  Then spread the word.  Thanks, and see you next week in floral!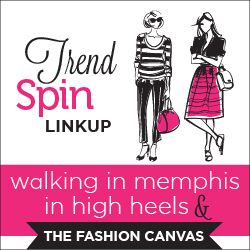 Featured Readers in Mint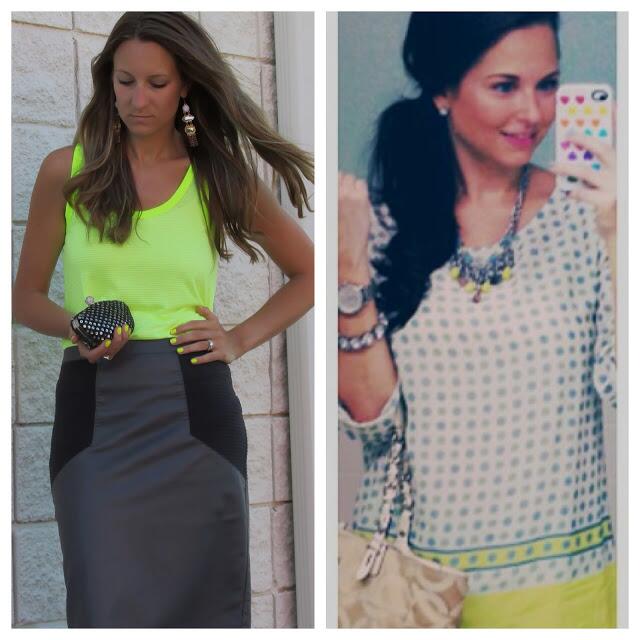 Maggie // Sara