Here it is the beginning of August, and I am still holding onto summer with a death grip.  We normally can start swimming in March, but this year, we weren't able to swim in Memphis until about June.  That is unheard of around here, and it has me longing for summer to last much, much longer.  I haven't made a trip to the lake yet to ski or ride the waverunner.  I guess I bet get busy planning a trip!  I am planning on swimming this Saturday before I turn back to a stark white for the winter.  I'm compiled some of my favorite mix and match bikinis, coverups and a great bag that can easily be used as a beach bag or follow you into fall as a purse.
I've mentioned before that I only have 1 bikini that matches identically.  Shane used to pick on me for not having a matching bikini, and I finally broke down and bought that 1 a couple of years ago.  Men – they just don't understand.  I mainly only buy cup size bikini tops, and my favorite brand of those is
Sunsets
. 
Seafolly
is my other favorite brand of bikini tops.  They come in number sizes, but they have amazing support and no padding.  For my bottoms, I buy a lot of them from 
ASOS
.  They have some of the best selection of fun prints, but they are also very affordable.  All of the bottoms pictured above are from
ASOS
.  Which ones are you favorite?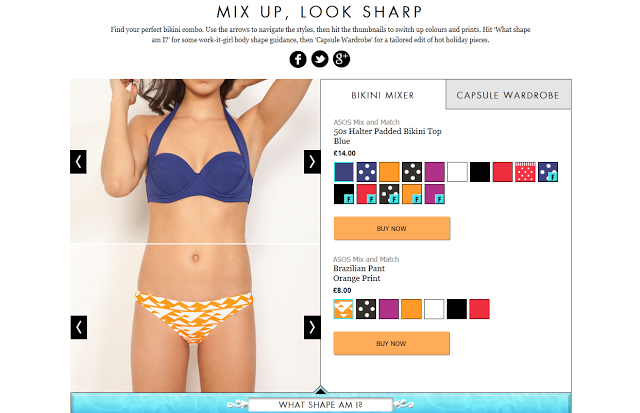 I own 4 different bikini tops – 1 white triangle top, 1 black triangle top, 1 watercolor print bandeau halter and 1 pink bandeau halter.  I also own about 20 different bottoms that I have bought over the last 5 years.  They all match at least one of the tops, so it actually ends up giving me even more options.  Paired with a different top, each bikini ends up looking completely different.  To help you mix and match your bikinis, I wanted to share this cool new tool that
ASOS
has called the
Bikini Mixer
. Using the
Bikini Mixer
, you can find your perfect style of bikini and mix and match it with different tops and bottoms.  This tool is perfect for someone like me who likes to mix and mix all of their bikini bottoms.  Not only is print mixing fun when it comes to your clothing, it is also great to apply when you're shopping for bikinis also.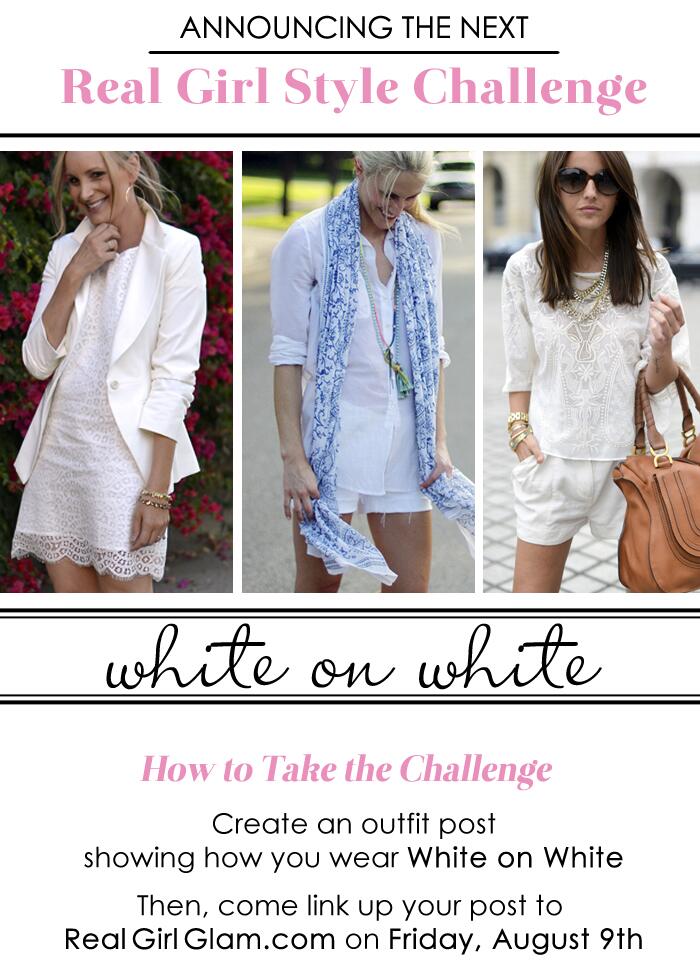 Speaking of summer, what is more appropriate for summer than an all white outfit?!  It is time for a
Real Girl Style Challenge… White on White!  Amber from Real Girl Glam, Tara from Penniless Socialite and I want to see how you wear the color of the summer!  It's fresh, crisp, and enhances a great tan.  And if wearing a little bit of white is good, then white on white is definitely better!!  An all white outfit will have you looking stylish whether you're heading to a formal affair or just having brunch on the weekend. But no matter how you style it, come share your White on White outfit post over on Real Girl Glam on Friday August 9th. Will you be linking up for White on White?  Where do you like to buy your bikinis from?  Are you still hanging onto summer, or are you ready for fall?  Do you like to mix and match your bikinis?  What are your plans for the weekend?