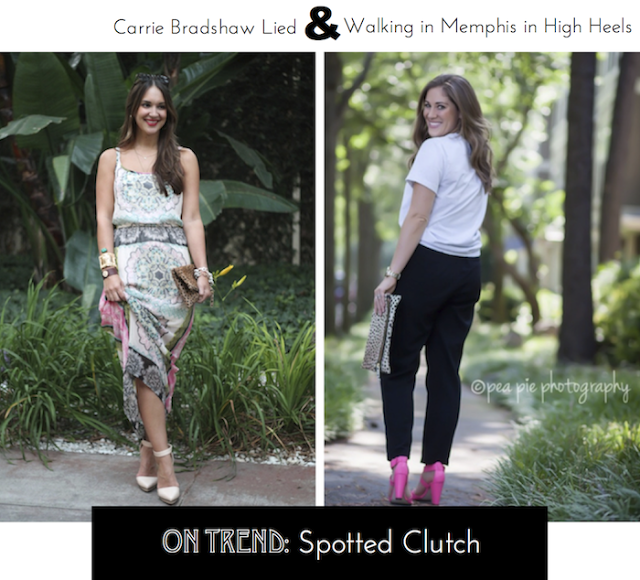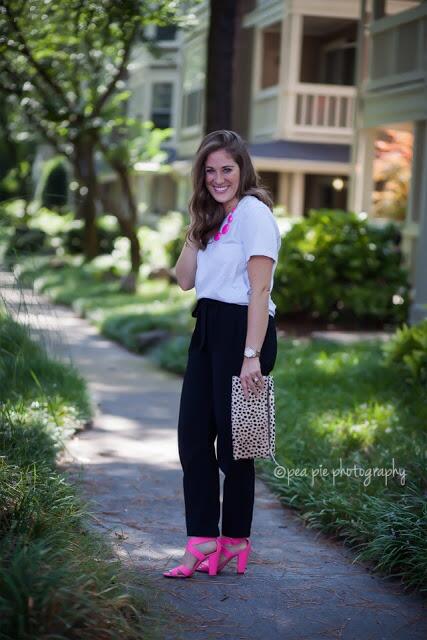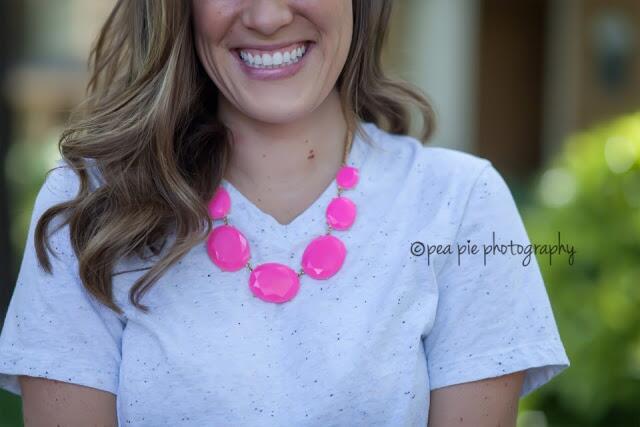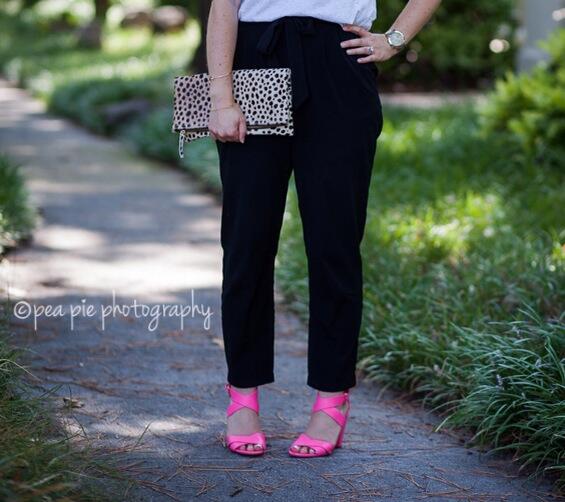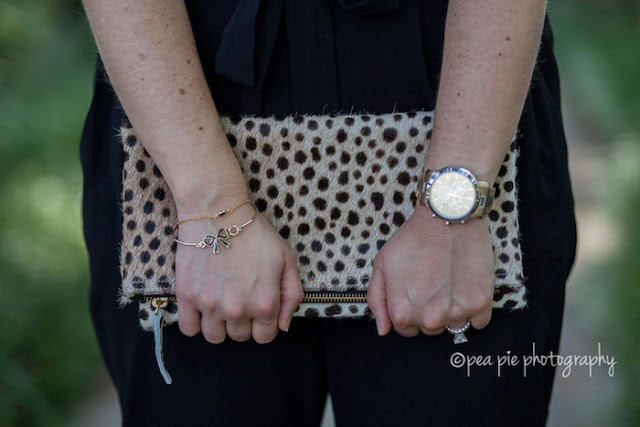 Old Navy Tee (save) // Forever 21 Pants (save) // J Crew Sandals // Mimic Design Clutch // Evie J Necklace (on sale!) c/o //The Watch Company Citizens Watch c/o // Bows to Toes Bow Bangle c/o // Mintgem Bracelet c/o
Aside from meeting lots of new people, I've mentioned before that one of the best things about blogging is making myself try new things and getting out of my comfort zone.  Before blogging I didn't have any leopard, lace, polka dots, and the list could go on and on!!  I have learned to try things that I normally didn't wear, even if they aren't that crazy (such as the 3 things listed previously.)  Today is another one of those days.  This menswear inspired pair of pants from Forever 21 is a style I normally wouldn't wear, and honestly after looking at today's pictures, I see why I haven't worn them before.  This is not the first outfit I have looked at later and thought that it looked much better in my head.  It happens, but at least I tried it.  I think these pants would look great on a tall, lean girl, but on me, not so much.  Live and learn.  At least I'm wearing an awesome pair of sandals and clutch though.  = )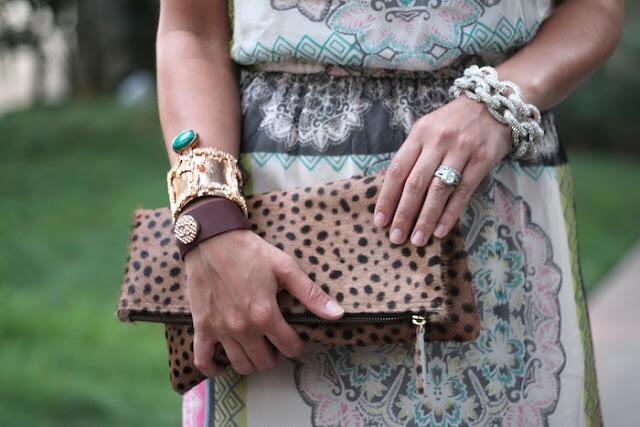 Today I am teaming up with the beautiful Kathleen from
Carrie Bradshaw Lied
, and we are styling our fabulous leopard clutches!  I have been reading Kathleen's blog since I started blogging, and it is one of my favorites.  She has such a girly beautiful style, but she is also good at stepping outside of the box also.  Today she styled her leopard clutch with a beautiful maxi dress and nude ankle pumps.  Kathleen wore some beautiful chunky statement bracelets, and I wore two delicate bracelets.  I chose to wear my leopard clutch with more menswear inspired pieces – pants and a tee – but then throw in my girly hot pink sandals!  It is hard to tell in the pictures, but the tee has pink, yellow and black flecks in the fabric.  Make sure you stop by
Kathleens' blog
to see how she styled her leopard clutch!
You have already seen me wear this clutch twice, and you will probably be seeing it a lot more as animal print is such a nice neutral.  My clutch is from Mimic Design, and we are teaming up today to giveaway a $50 store credit to their Etsy shop, Mimic Design, and a personalized necklace in your choice of gold, rose gold or silver from them!  To enter, just use the rafflecopter widget at the bottom of the post, but keep reading first to see a couple great bloggers whose style you will love.  = )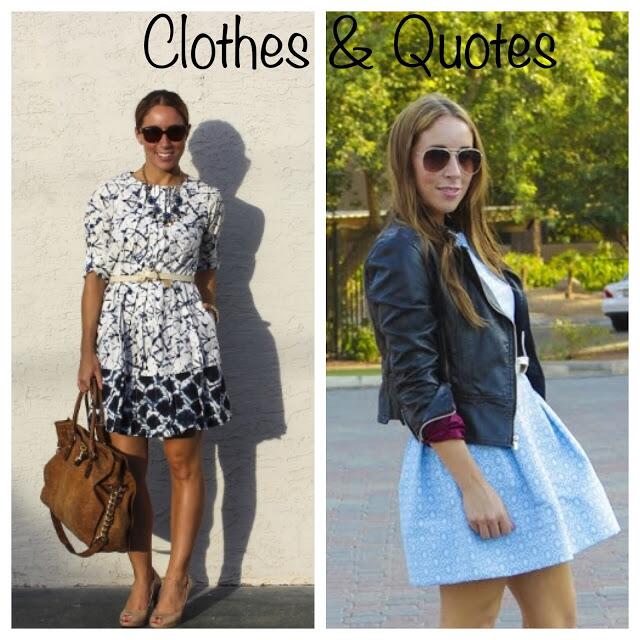 Today I want to introduce you to a couple of my sponsors this month.  You can already tell that Shannon from Clothes & Quotes has amazing style.  You know I love fuller skirts or dresses, and both of these outfits are perfectly feminine with a touch of edge.  Shannon's two passions in life have always been fashion and writing and starting a blog gave her a chance to indulge in both.  She naturally has a very casual sense of style but never turns down a chance to get dressed up.  Make sure you stop by Clothes & Quotes and say hello to Shannon!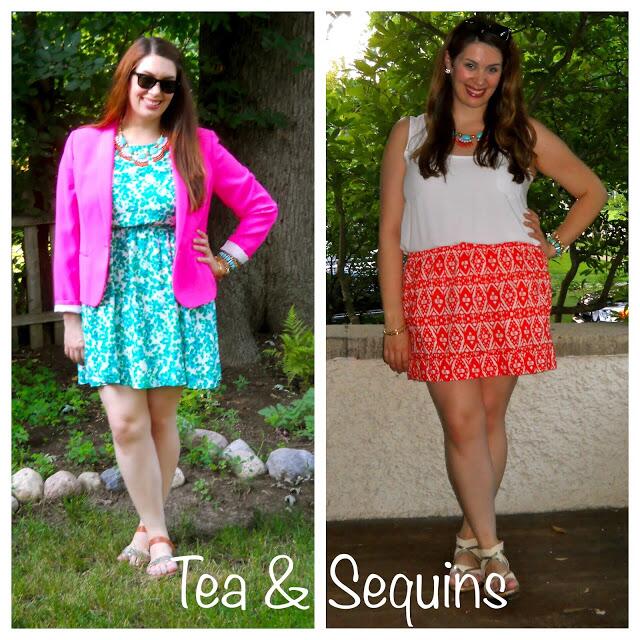 If you've been reading my blog for a while, you have probably seen Kaitlin from
Tea & Sequins
around here.  She is such a sweetheart, and I love that she can easily wear a bright colored, printed outfit (my favorite kind!)  She always look so put together, but her outfits are still fun.  Kaitlin originally started blogging as a creative outlet while she was doing grad school clinicals.  Since blogging, she has really learned what works best for her body type, and she looks great in my opinion.  Make sure you stop by and say hello to Kaitlin from
Tea & Sequins
!
Do you ever have an outfit fail where it looked much better in your head?  If you won the giveaway, what would you get from
Mimic Design
?  Did you stop by and say hello to
Kathleen
,
Shannon
and
Kaitlin
?