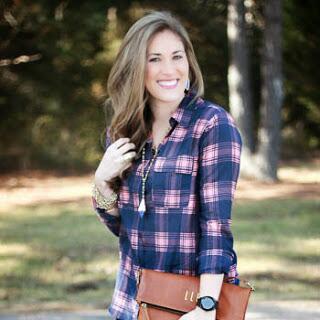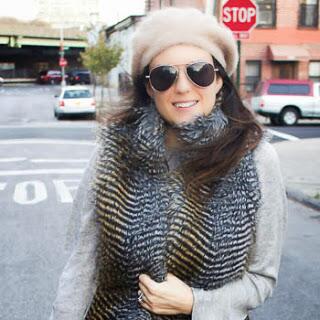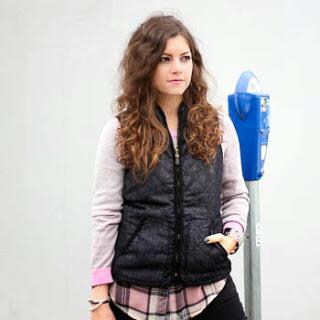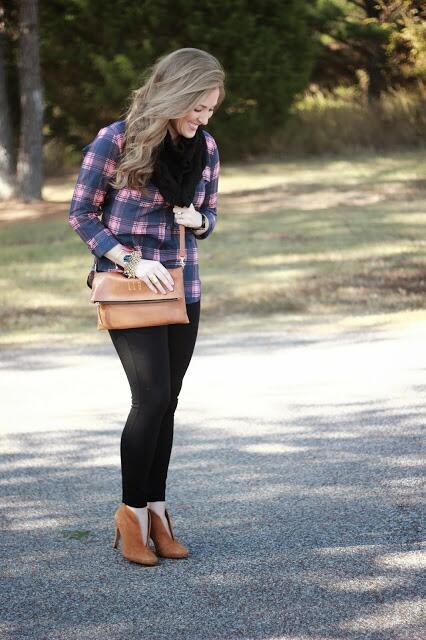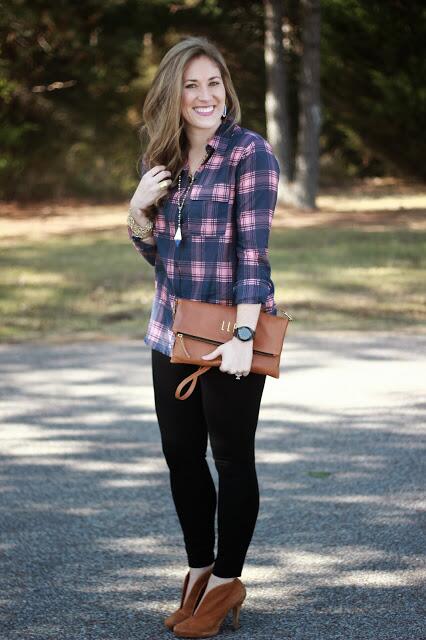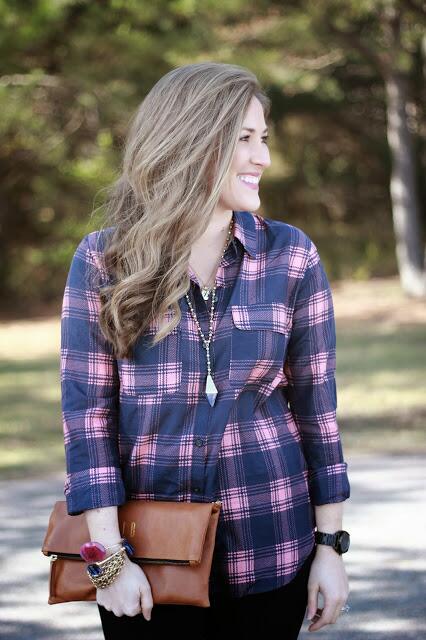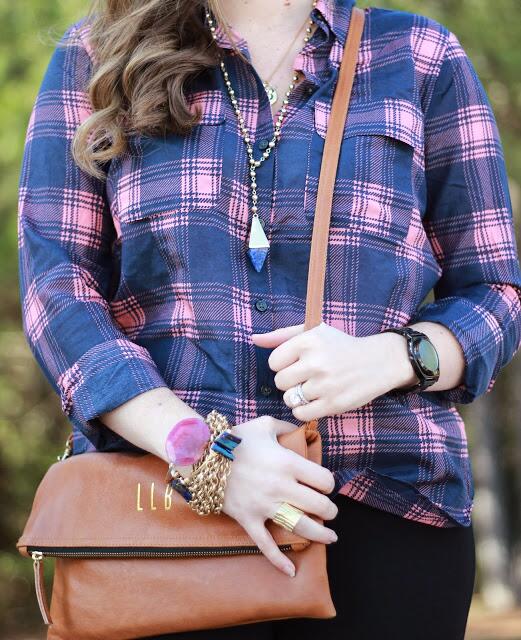 Today I'm teaming up with Alyssa from
Runway Chef
, Grace from
Fashion Edible
and Luci from
Luci's Morsels
to show you our take a great Black Friday outfit.  I love everyone's cool, casual looks with vests, and it's made me decide that I am aboslutely buying a vest next weekend.  I obviously didn't get the memo.  = )  After lots and lots of turkey and dressing (I have lots of inlaws!), the first clothing item I reach for is my
J.Crew pixie pants
.  They zip up the back, have an elastic waist and are thicker than normal leggings.  They are perfect to run around in and shop 'til I drop!  The next thing I like to wear as part of my Black Friday outfit, is a comfortable top, but one that is still nice and makes me look put together.  Top it off with booties, a scarf for the cold weather and a crossbody bag that you can quickly and easily get your wallet in and out of.  Then you can focus on what you really go out to do that morning (or is it midnight or 10pm the day of Thanksgiving now??), which is go shopping!  I've always waited until Black Friday to shop, and I usually go with my mom and sister about 9:00 or 10:00 that morning.  Sleep then shop.  = )
I topped my Black Friday outfit off with some beautiful statement jewelry, but I still wanted to keep it casual.  I am in love with these new blue and pink On a Wire bangles, and they matched my new
Gap plaid blouse
perfectly that I got for $20, score!  And to complete my look, I wore my new Gorjana Griffin ring that I got from
Chicpeek
.  Chicpeek has a great selection of designer jewelry, and they offer their members 1 item per month for only $30, though the items retail for much more than that!  This gorgeous ring was $120, but at
Chicpeek
it was only $30.  Make sure you check out the site get $10 off your first purchase with the code boswell10.  This code is good through 11/30/13, and I promise you will not be disappointed with their amazing selection!  What does your Black Friday outfit look like?  What stores do you plan to hit up?
Become the fourth member of #4x4style!
Join our close-knit, fun, and supportive group. We think we're great and we hope you do too! You'll get increased traffic and exposure when you join, in addition to the fun and interesting posts we do each month.  Submit your blog through December 15th (decision will be made December 20th).
REQUIREMENTS
1. We ask that you be a fashion blogger who
occasionally
posts recipes. It can be once a month or once a week. We are toying around with the idea of a 4×4 Food Series and would like the prospective blogger to be open to recipe posting.
2. Must be on all social media sites, including Twitter, Instagram, Facebook and Pinterest.
3. Must be able to commit at least one post per month towards the 4×4 Series. This is kind of obvious, but we do want to make it clear. And a friendly reminder: We're thinking of expanding to twice a month with a food post.
4. Must follow all three of us (FashionEdible, Runway Chef and Luci's Morsels) on Pinterest, Instagram, and Twitter (Facebook a plus!)
-@LucisMorsels (
Instagram
,
Twitter
,
Pinterest
,
Facebook
)
WHAT DO YOU NEED TO INCLUDE IN YOUR BLOG SUBMISSION?
1. Name and Location (state)
2. Blog Name and URL
3. Social Media Info (handles, etc)
4. Top Three Blog Posts – include at least one fashion post and one food post
And that's it! Pretty simple and straightforward requirements. We are so excited for these next few months and for seeing your submissions. If you have any questions at all, please don't hesitate to email us
4x4stylegroup@gmail.com
!