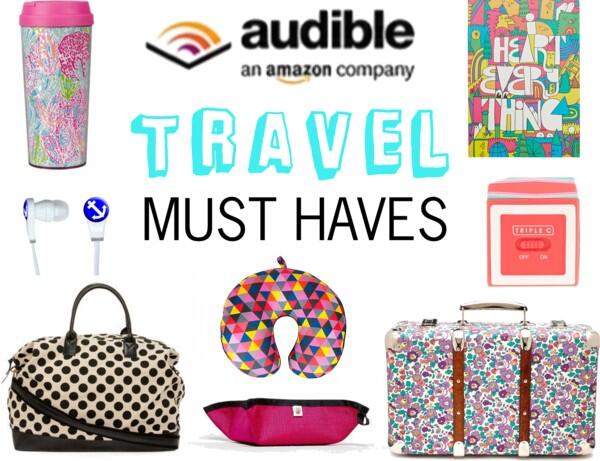 We just got back from the beach this past Saturday, and had such a great time. It was an 8 hour drive, and I've learned over the years that there a few necessities that everyone needs when traveling. We took our 2 yorkies with us, so
this collapsible water bowl
is a must-have next time as we kept having to use one of our cups during the trip. I also love writing down thoughts, restaurant ideas or any other thing that pops into my head while riding in a vehicle 8 hours, so
this adorable journal
is perfect for that. I definitely can't leave the house without a
travel mug
filled with water and orange or lemon slices. And what better bag to put it in than
this adorable polka dot one
?!
And probably the most important part of traveling, especially with an 8 hour car ride, is the entertainment! 8 hours is pretty much my limit on driving in a vehicle. After that, I prefer to fly. I really love reading books and have always thought that traveling is the perfect time for me to catch up on my reading, but the older I get, the more carsick I get every time while traveling. Thankfully Shane recommended we try audiobooks a couple years ago. He has been wanting to find more time to read also, but can't seem to make himself sit down and actually read a book. He wears headphones while working though, so it is the perfect time for him to listen to
Amazon audiobooks
. It is also perfect for us to both listen to while traveling. That way I have a headache free trip and can still get get a good book in. It's also perfect while flying, while going for a run, working out or even while lying out on the beach or at a pool.
Audible
is an Amazon audiobook service with over 150,000 titles. In addition to having a great variety of books, Audible features instant downloads and free listening samples to make selecting and purchasing audiobooks even easier. You can even listen to it on any device such as your iPhone. I also really look forward to using Audible once Leighton is here. I think she will really enjoy listening to books and hearing the story come alive while hearing them told aloud. Make sure you check out Amazon Audible and let me know what you think. My recommendation would be the
Emily Giffin books
. I own every one of them! Also make sure you check out the
Audible promo codes
here to try Audible free for 30 days, download a free audiobook or even receive your first 3 months membership for only $7.49 a month!  What are your must-haves when traveling?