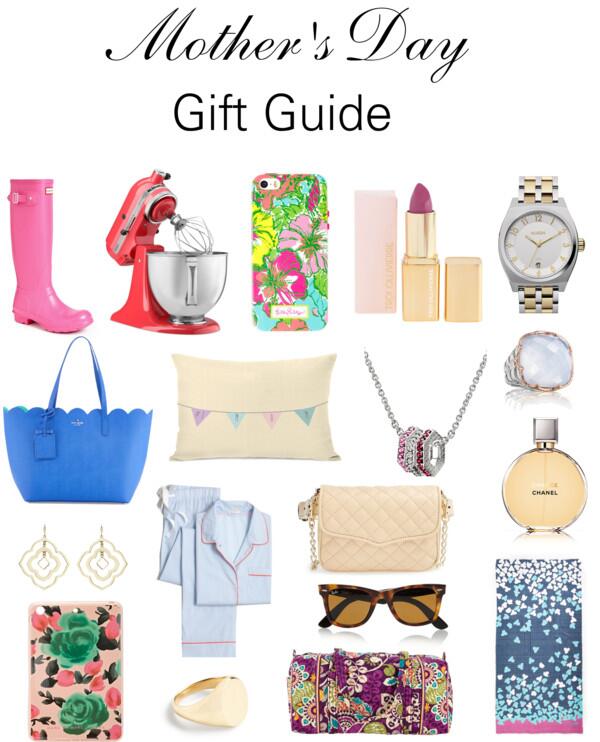 Hunter Rain Boots
//
KitchenAid Mixer
//
Lilly Pulitzer iPhone Case
//
Troi Ollivierre Lipstick
//
Nixon Watch
//
Kate Spade Bag
//
One Bella Casa Mom Banner Pillow
//
B Couture Birthstone Necklace
//
Tacori Ring
//
Chanel Chance Parfum
 //
Kendra Scott Earrings
//
J.Crew Factory Pajama Set
//
Rebecca Minkoff Bag
//
RayBan Sunglasses
//
Marc Jacobs iPad Mini Case
//
J.Crew Pinky Ring
//
Vera Bradley Travel Bag
//
Diane von Furstenberg Scarf
Mother's Day is coming up, and it will be my first time being a mom!  I am so excited to get to spend such a special day with Shane and Leighton this year.  After a guy friend asked me for some Mother's Day gift ideas yesterday, I thought it would be the perfect time to share some of those ideas with you.  Some of my favorite traditional ideas that I would love to receive (and think my mom would too are listed above.)  And for the men shopping who want something a little more unique, I listed some of my other favorites below.  = )
A maid to come clean one day.   Shane did this for me while I was pregnant, and I have to say it was SO nice!  It is definitely worth it in my opinion!

A zoo membership for the family (or something similar like the Children's Museum.)  I just bought one for Shane's birthday, and he loved it.  It is great to get out of the house and do something together as a family.

We have Botanic Gardens Live at the Garden Concert Series here in Memphis.  If your city has something similar, a season pass for something like that might be nice to go to.  They are at night, and we are looking forward to taking Leighton.  We will just pack some food in a cooler and take a blanket.  It will also be the perfect opportunity to babywear.  = )

A weekend getaway for just the two of you. Make sure to go out and have some nice dinners.

A massage.

Full salon package with a blowout, mani and pedi.

I also subscribe to a couple mail subscription boxes that I really love, and women love getting stuff in the mail. = )  I recommend

Mommy Mailbox

and

16 Minute Club

.  If your wife is pregnant and you're looking for a gift for a mom-to-be, I've heard

Supplet

is a great pregnancy subscription box too.