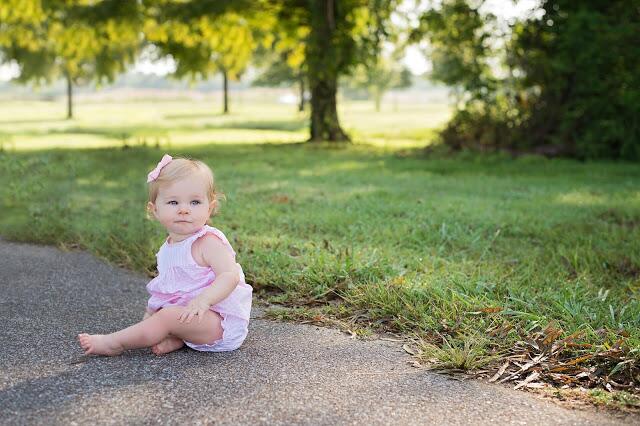 Outfit 1:  Vintage Feltman Brothers Romper // The G Boyss Blanket c/o
Outfit 2:  The Happy Heart Dress // Pottery Barn Kids Chair
Outfit 3:  Carters Tutu (old) // Lucy Darling Stickers
Outfit 4:  Janie & Jack Dress // Target Bow // Sea Wees Sandals c/o
Outfit 5:  Chicco Romper // Modern Burlap Blanket c/o
Outfit 6:  Vineyard Vines Dress & Bloomers c/o
What is Leighton up to this month?  I think some of the biggest changes have happened over the last 2 months.  She cruises everywhere.  She pulls up on everything and walks around everything holding on with one hand and switching from hand to hand to hold herself up.  She is getting more independent and will entertain herself a little here and there.  She still loves the outdoors.  We went on another bike ride with her in the trailer this week, and she still loves it!  Stroller rides are still a favorite of hers too.  She loves to ride in and on things – her cozy coupe, her Mercedes, her giraffe, her rocking bear and her rocking horse.  She also loves swings and slides.  She just loves to go!!  She still loves being in the water and spent a few hours in the pool almost everyday last week at the beach.  She still takes 4oz 4 times a day every 4 hours in addition to solids for breakfast, lunch, dinner and 2 snacks.  She eats literally everything and loves eating off a plate now with her hands.  She recently tried cheese, green peas, whitefish, roasted potatoes, green beans, kiwi and a grilled cheese sandwich.  I still normally cook most of her food, but if we go out to eat, she will normally just eat something off the menu.  It definitely makes it convenient and takes the stress and work out of feeding her.
It is crazy how fast and well she has progressed with baby led weaning.  I remember when she would still gag a little occasionally at 6 and 7 months, and now she doesn't have any problems eating anything.  She gums, chews and swallows like a champ.  We tried to just let her take the lead, and she definitely knows what she wants.  She loves to eat and will quickly let you know when she is hungry.
She still takes 2 2-hour naps and sleeps 12 hours at night.  Her routine is bed at 8:00pm and wake up at 8:00am.  Nap from 10:00-12:00 and 3:00-5:00.  She has a bottle at 8:00am and breakfast at 9:00.  Bottle at 12:00pm and lunch at 1:00pm.  Snack at 2:00pm.  Bottle at 5:00pm and snack at 6:00pm.  Dinner at 7:00pm.  Bath at 7:30 or 7:45pm.  Bottle and then bed.  She is definitely a schedule kind of baby, and it works for us too.  What is your baby up to this month?