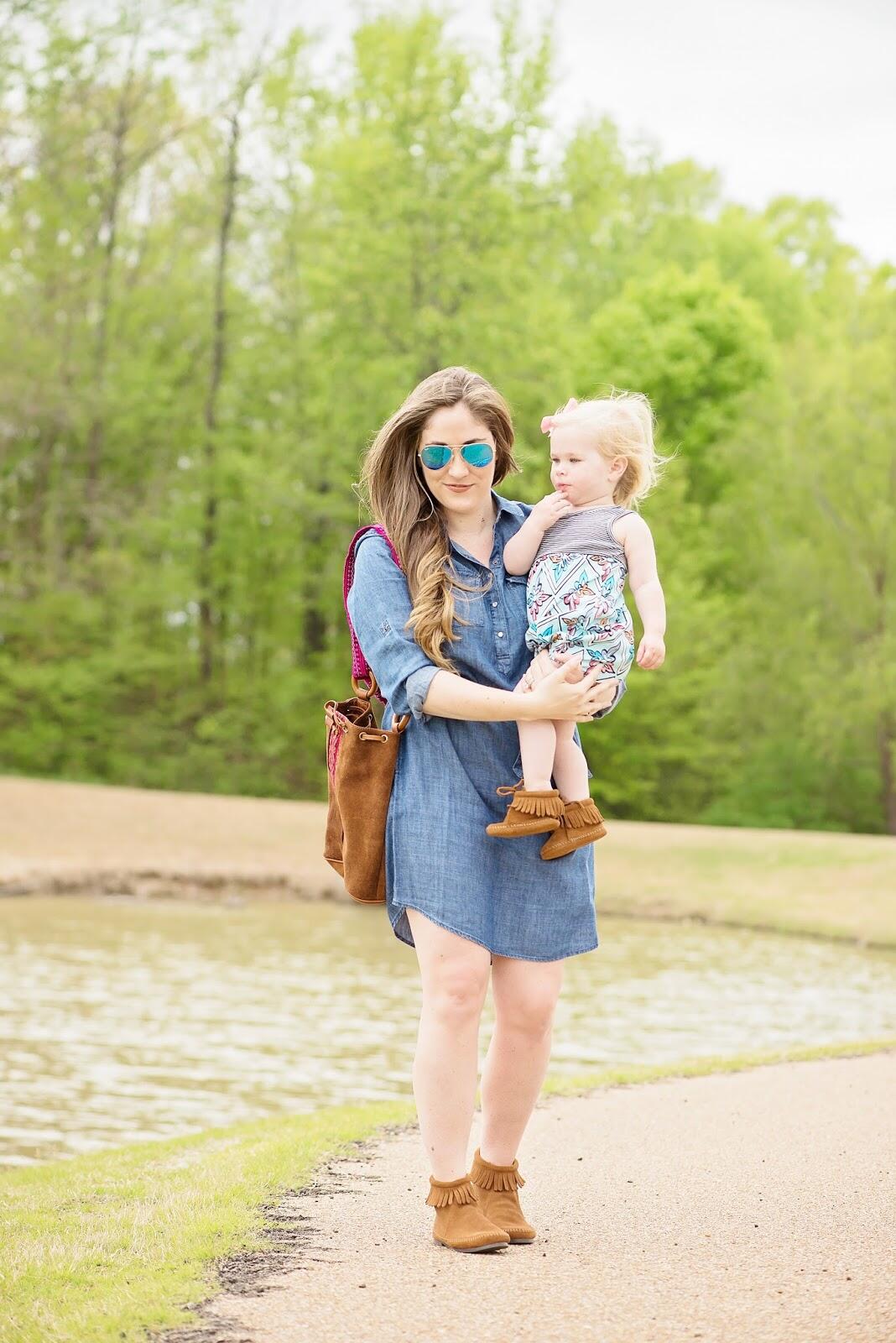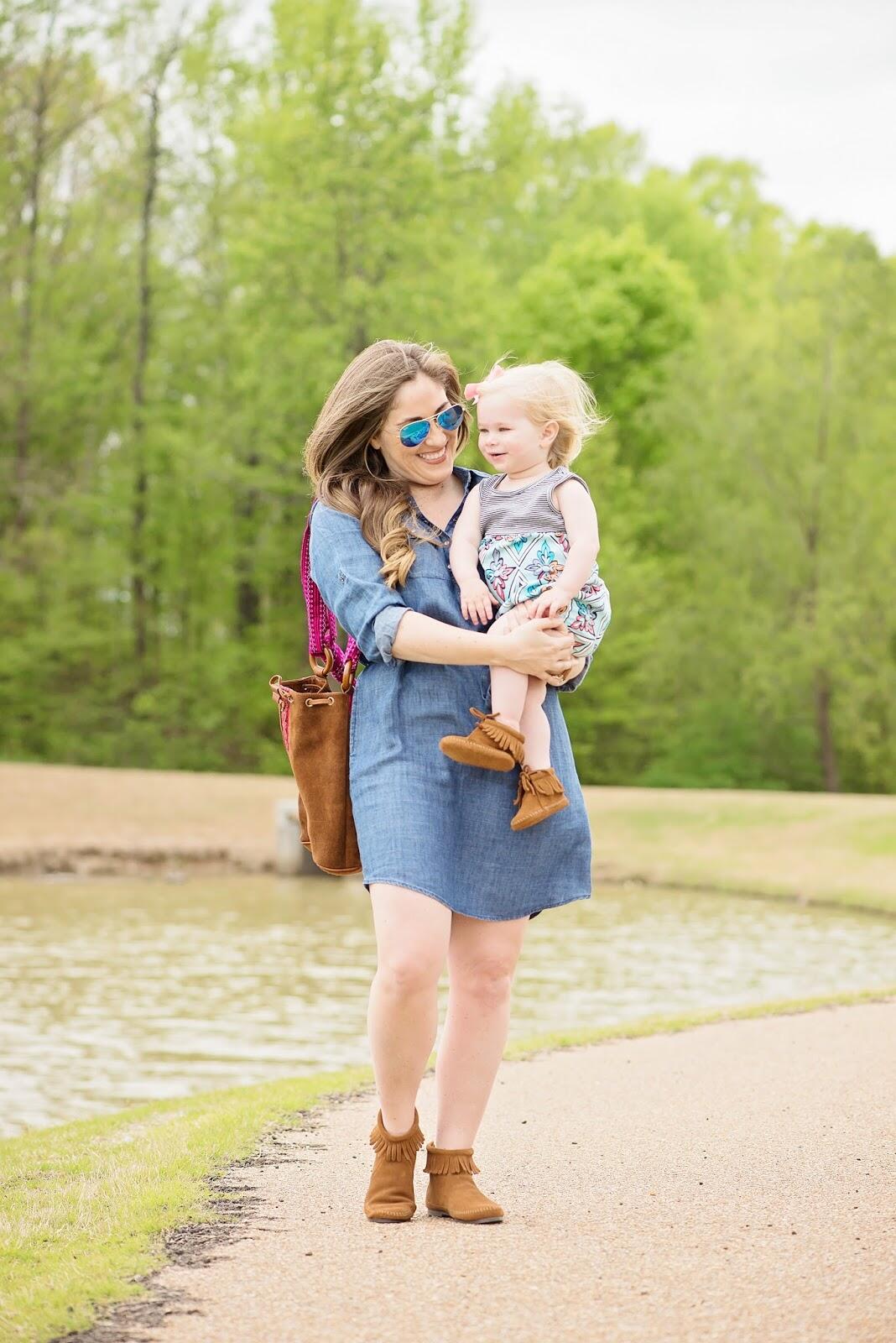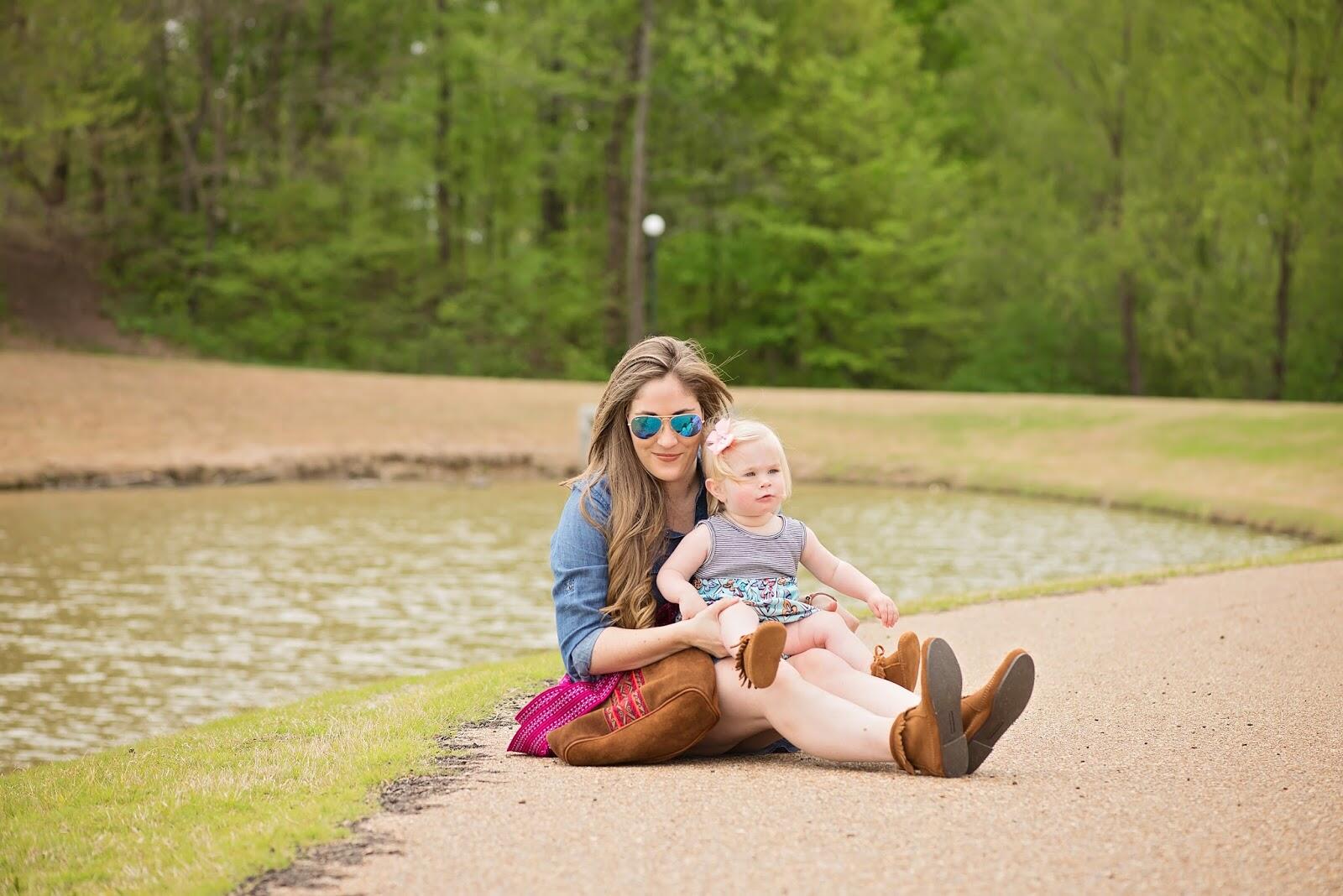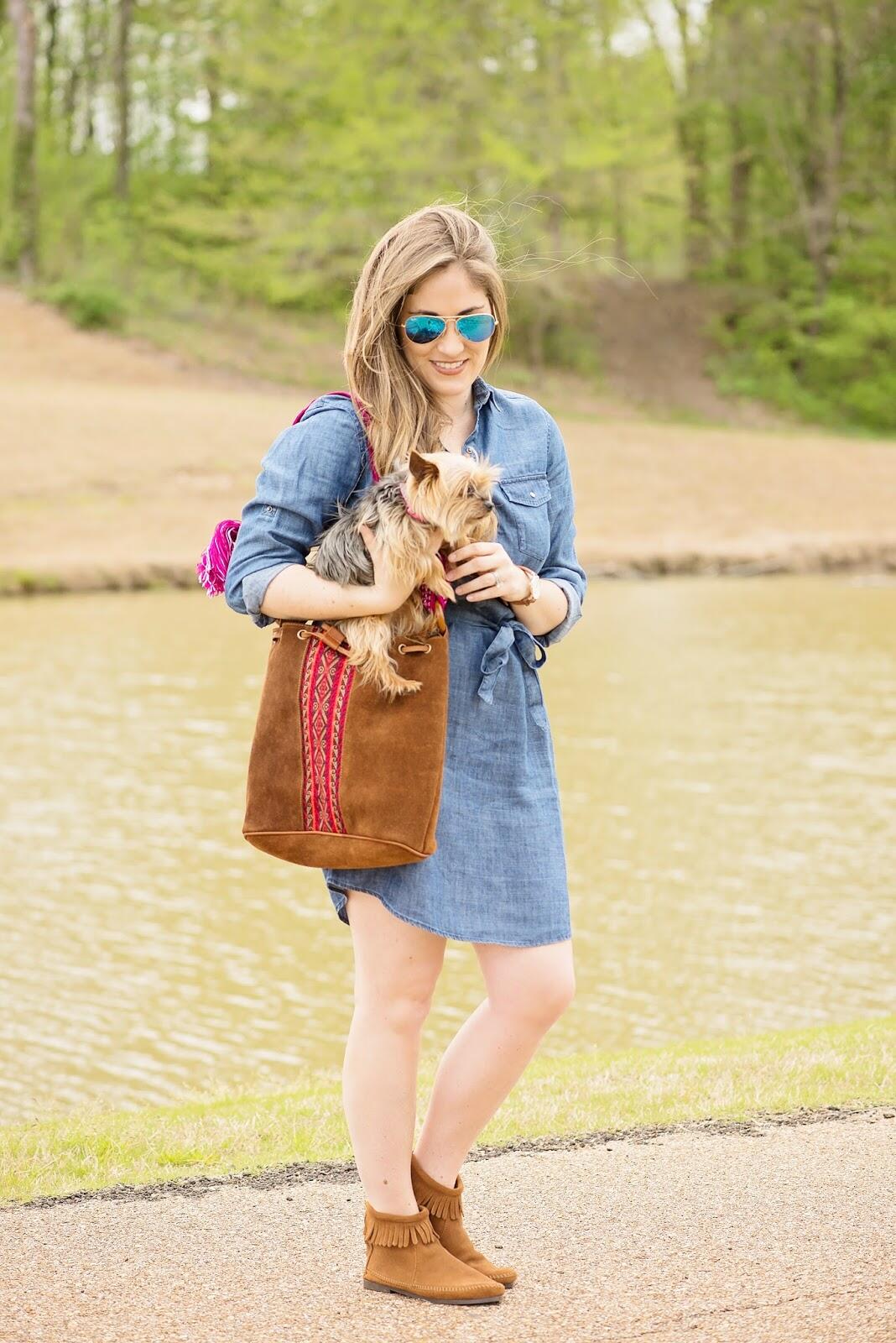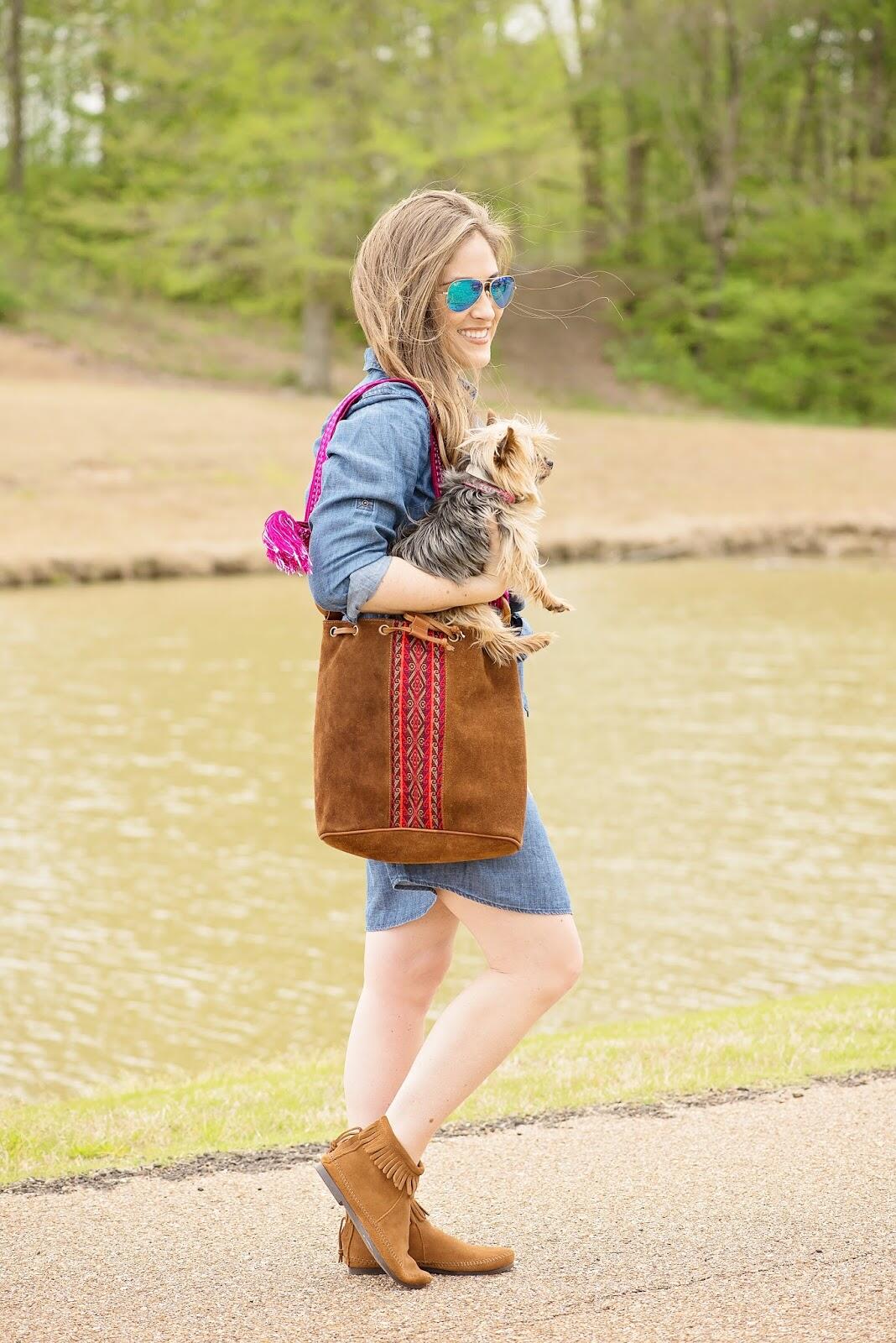 Oh my goodness y'all, matching mama and mini shoes from
Minnetonka
. I'm dying. I have loved moccs for as long as I can remember. But there is something about having a baby that makes you just fall in love with
baby moccs
all over again. For a mom, they are some of the most comfortable and easiest shoes to slip on your toddler. I always thought Leighton would wear all these adorable sandals and shoes just like me, and then you realize that the best shoes are the ones that aren't complicated. They're definitely not short on style either. These
adorable moccs
are perfect now, but I think they will be equally as adorable this fall and winter with leggings and vests or dresses. And as comfortable as the baby moccs are, I seriously felt like I was wearing house slippers. Adorable fashion forward house slippers. Seriously, these
Minnetonka Boots
are so comfortable you won't want to take them off. I am already envisioning some adorable matching outfits for us to wear them with this fall. = ) P.S. Keep reading for a $100 Minnetonka giveaway.
Since Leighton and I have a bit of a boho vibe going on today, I thought this pretty and functional
Pip's March bag
would look great with our outfits. It matches the Minnetonka shoes perfectly, and I love the bucket/hobo shape. Perfect for throwing in all the endless amount of things I collect throughout the day – Leighton's sippy, her wipes, that little rock she hands me, that piece of food she tried to pick up off the ground and eat, and then that bow she got tired of. If you haven't heard of
Pip's Marche
yet, they're a pretty cool company. They travel around the world to find some of the most unique items from local artisans in those countries. You are guaranteed to find a unique item when you shop with them. This bag is from their Ecuador collection and was handmade with Ecuadorian suede and leather and local patterns.
I'm going to be honest here. I had never heard of
Tea Collection
until a couple months ago. I apparently was hiding under a rock. Well, now I have heard of them, and I am pretty obsessed. I am also looking for shops that make fun, colorful and unique kids clothing that stands out. I want something she can wear to run around in at daycare, but then still wear out for a mama daughter date that night and look cute. Don't get me wrong, I love tees and leggings as much as any mom, but I just love seeing her in cute little rompers and dresses. This
Tea Collection romper
is just that perfect outfit. It's soft so I know she's comfortable in it all day. And I just love the print mixing. It goes perfectly with her little moccs. Leighton and I had a fun park day together last weekend, and this was what we ended up wearing. She may or may not have peed through her diaper right after this picture was taken. #momlife
I'm so excited to also be giving away $100 to Minnetonka to one lucky reader today! What is your favorite pair of shoes for you or your mini from
Minnetonka
?
Don't forget to check out Megan, Carly and Sandy to see how they styled their Pip's March bags and Minnetonka shoes! Also, did you notice we changed the name of our style series?! We also created a
Facebook page here
where you can find lots of fashion inspiration for both mom and toddler. Make sure you check it out!