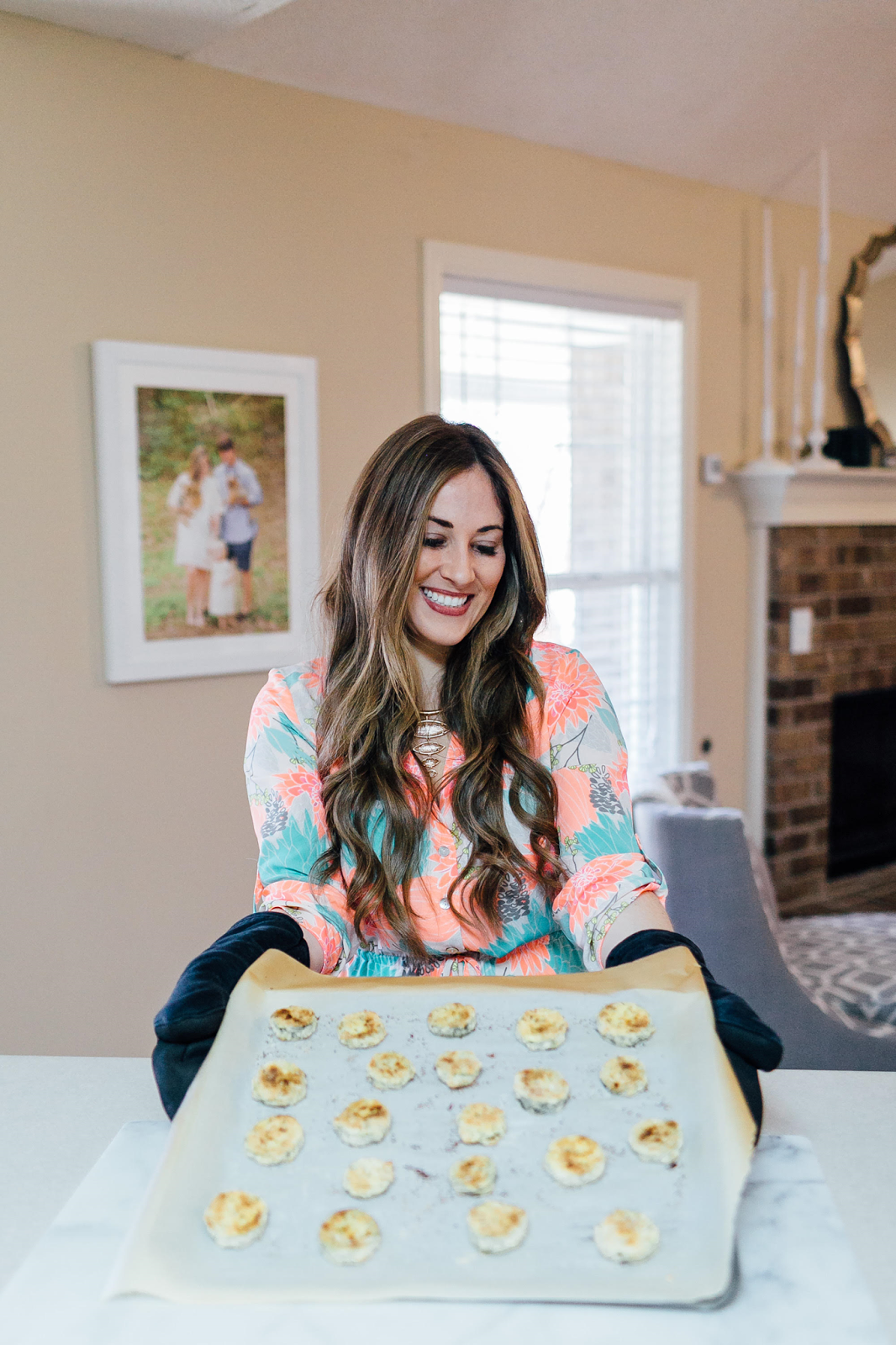 Dress
c/o //
Necklace
c/o //
Ring
c/o
Hey friends! Day 9 of the paleo challenge! One of the questions I've got asked the most so far is what are you eating? I need some help figuring out what to eat, and I need it to be fast, easy and not include too many ingredients! I'm working on a post to share my favorite paleo meals soon, but for today, I wanted to share my 5 favorite paleo snacks. We all know how easy it is to reach for veggies or nuts or boiled eggs for snacks (those are my go-to's), but I wanted to share some different options you may not think of. .
1.) Cauliflower Popcorn. The saltiness and crunch makes you ALMOST feel like you're eating popcorn. And if even if it doesn't, it will at least give you the feeling that you're munching on something you're not supposed to and curb your appetite for something salty and crunchy. Put your oven on 350 degrees and bake these on a cookie sheet or pan for 30 minutes until browned. Sprinkle with salt and minced onion if you have it. I've heard it's great with chives too
2.) Avocado Deviled Eggs. I love deviled eggs, but these were actually better in my opinion! Boil and cut eggs in half. Mix the yolk with avocado and add a little salt and pepper for taste. You can also mix in tomatoes, onions, lemon juice, lime juice, garlic salt and cilantro if you want. I was running low on groceries at my house, so we just stuck with the basic version, and they were amazing!
3.) Grapes Dipped in Almond Butter. Okay, so you don't technically cook this one unless you count heating up the almond butter, but still…it is worth mentioning because it's so good. I've long been a fan of almond butter on apples, but one day I was out of all fruit in my house except grapes, so I thought well, why not?! Oh my goodness, I think it might actually be better on grapes. And they're so quick and easy to just pop in your mouth. If you haven't given almond butter a try yet, do it! I actually prefer it over peanut butter any day, and I used to be a huge peanut butter fan before trying almond butter!
4.) Zucchini Chips. Out of everything my mom and I cooked this day, the zucchini chips were hands down our favorite. I was just so surprised by how good they were, yet how easy they were to cook! Slice 1 large zucchini and preheat oven to 450 degrees. Line a baking sheet with parchment paper and then mix together 1 cup of almond flour, 1 teaspoon of salt, 1 teaspoon of garlic powder, 1 teaspoon of thyme and 1/4 a teaspoon of pepper. Beat 1 egg in a bowl, and then dip in your zucchini slices. Then coat them in the dry mix. Bake for 6 minutes per side. Then enjoy and think "I seriously can't believe these are paleo!"
5.) Baked peaches. This one is so easy, but so good. Even Leighton loved it. Cut a peach in half and bake in the oven at 350 degrees for about 10 minute or until soft. Sprinkle with cinnamon, or you could even drizzle with honey.
Have you tried any of these recipes? Which of these is your favorite? What are your favorite paleo snacks recipes to cook?