This post is sponsored by Sears MasterCard, but all opinions are 100% my own.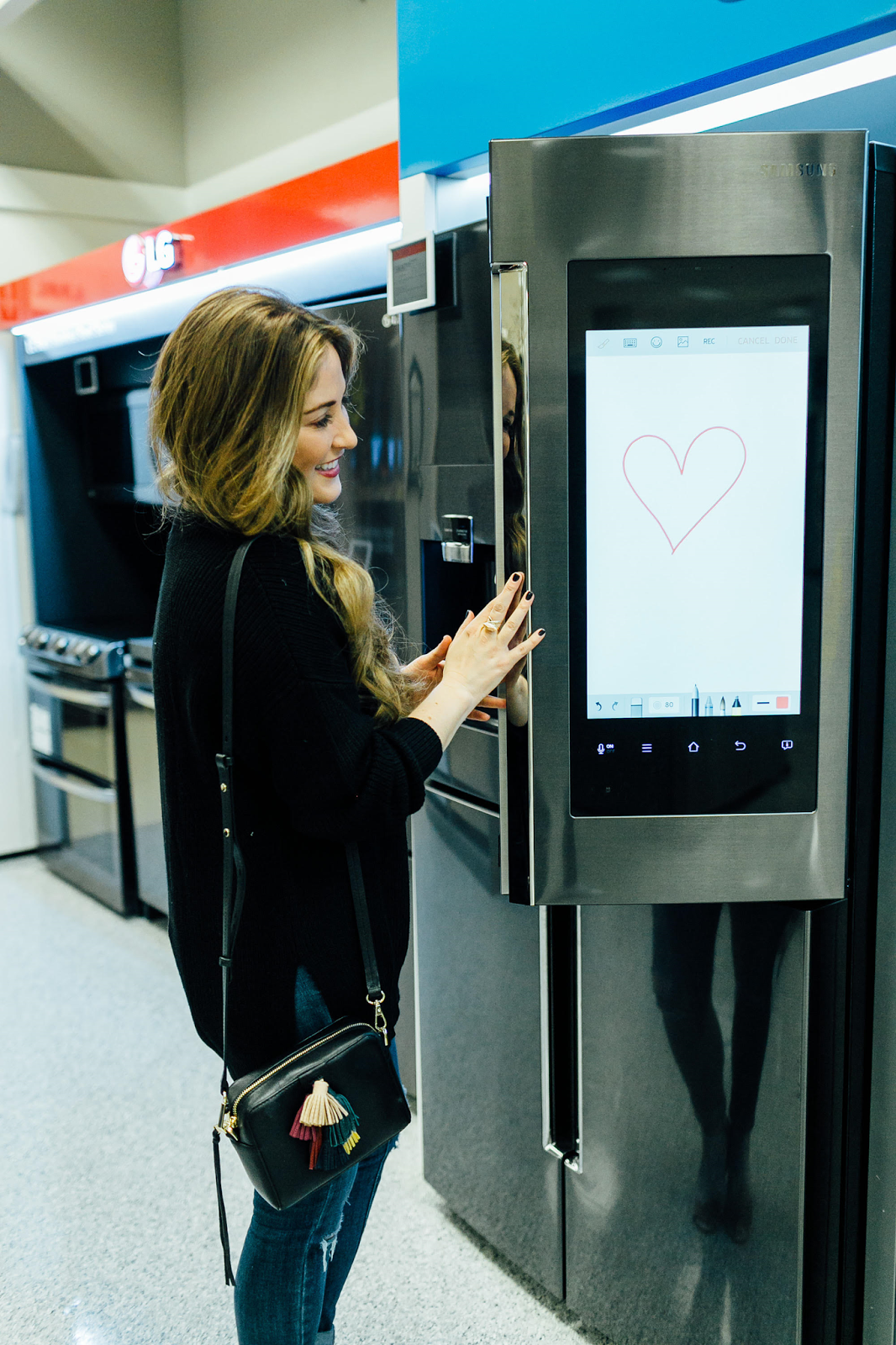 As you all know, I am working on redecorating my home.  I recently finished up my living room, master bedroom and my office (coming to the blog soon), and now I am working on the dining room and kitchen.  I think the kitchen will make the biggest difference once updated, but it will also be the most expensive to renovate!  I saved the best for last I guess.  = )  This past weekend I took a trip to Sears to start looking at all the large items I was thinking about purchasing like a new refrigerator, washer and dryer, dishwasher, microwave and stove.  Most all of these in my house are white (or off-white!), and it's time for a facelift!  Since I've been working on saving up for these large purchases, I thought I would share my top 5 ways on how to save money on these purchases with you all today.  They have definitely been a huge help with me saving up to renovate! 
1.)  Make a budget.  This is definitely rule number one!  To save money, you need to set certain dollar amounts or percentages of your paycheck that be used for certain things.  And then stay within these budgets.  This will help you to see how much extra money you can spare each month to save up for large purchases.  Just for reference, my budget categories are: food, clothing, savings, housing, transportation, utilities, health, charity, insurance, recreation, personal and bills. 
2.)  Know where your money is going.  If you don't know what you're spending your money on, you won't know where you can cut back to save more.  I personally prefer spending on credit because I can easily view and track all my purchases online.  This way, I can easily see into which categories in my budget all my purchases are falling. 
3.)  Take advantage of automatic deposit into savings.  Most companies nowadays can do direct deposit into multiple checking and savings accounts.  At my company, I can elect for a certain dollar amount or percentage of my paycheck to be deposited into checking or savings.  If you can swing it, I recommend putting at least 20% of your paycheck into savings each month, but if you're trying to make a large purchase, you may want to increase that for as many months as you can. 
4.)  Make a list of all the large items you want to purchase and their prices.  Knowing exactly what you need and how much it all cost will help you set your goal and reach it.  It will also help you from going crazy when you walk into the store and literally want to buy everything! 
5.)  Pick a credit card that rewards you for your spending.  When you're going to make big purchases, I 100% recommend buying it on credit so you can get rewards points.  My bank won't reward me for these purchases, but my credit card will.  I have the Sears Mastercard from Citibank, and I especially like using it for large purchases or emergencies.  The Sears Mastercard is now enhanced with Shop Your Way points that allows you to earn points on all the purchases you make every day, even when you're not shopping at Sears.  You can earn 5% back in points on eligible purchases made at gas stations.  3% back in points on eligible purchases at grocery stores and restaurants.  2% back in points on eligible purchases made at Sears and Kmart.  And 1% back in points on all other eligible purchases. 
Shop Your Way points can be redeemed on purchases ranging from everyday household consumables to larger items such as kitchen appliances sold by Sears and Kmart in store or online and on ShopYourWay.com.  And one of the best things about the Sears MasterCard with Shop Your Way is that these rewards points can also be used in combination with in-store promotions at Sears and Kmart, so you're piling on the savings even more!  Have you applied for the Sears Mastercard yet?  How do you save money for large purchases?  What big purchases are on your list right now?