Thanks to American Tourister for sponsoring today's post.  All opinions are 100% my own.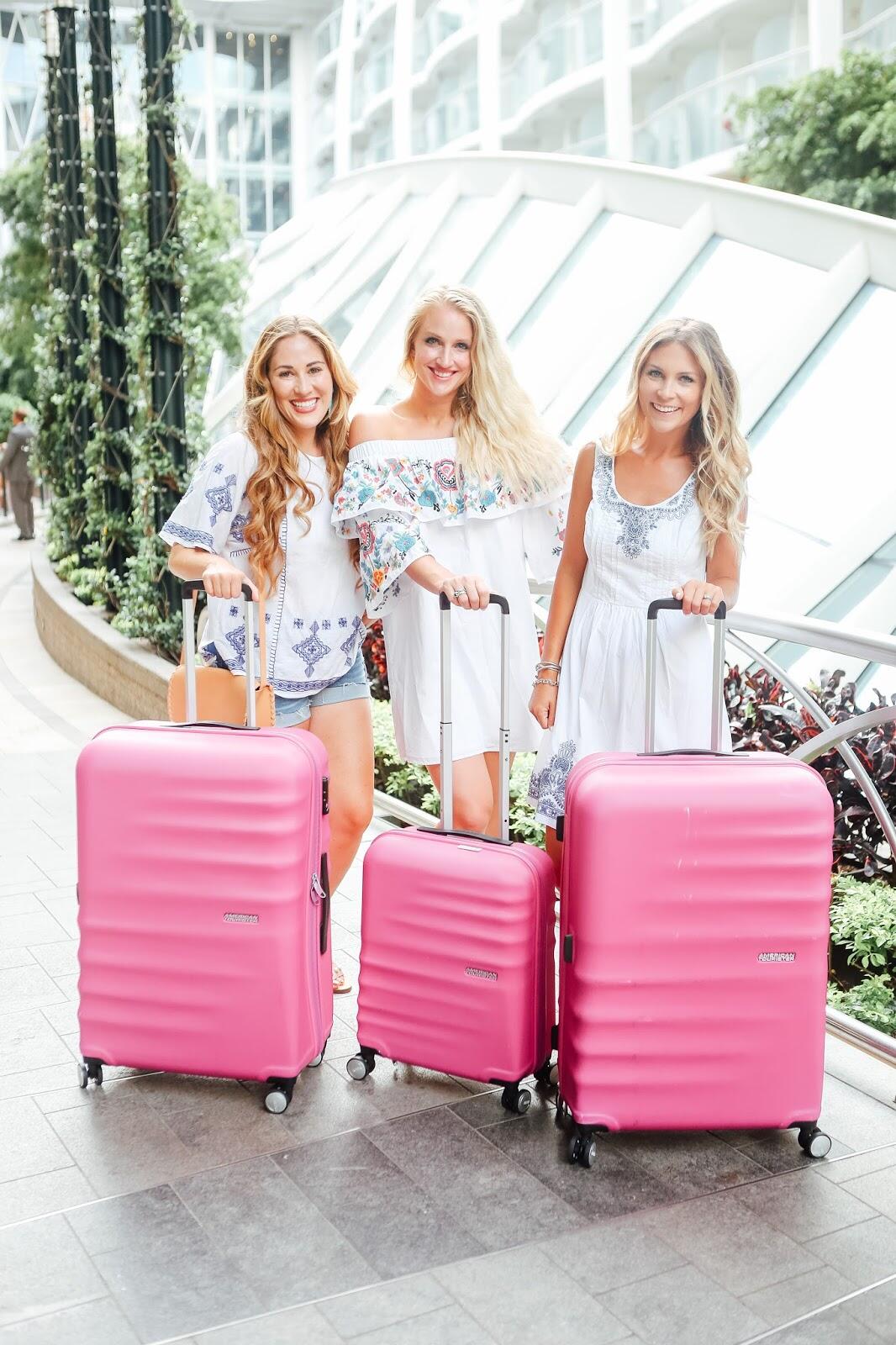 JavaScript is currently disabled in this browser. Reactivate it to view this content.
How has it already been over 2 weeks since mine and Shane's cruise?!  Time flies when you're having fun, right?!  = )  Having been on 8 cruises and another 3 international trips, I thought it would be the perfect time to share some of the ultimate checklist and what you need for an international trip.  Though it will vary a bit depending on where you're traveling to internationally and whether you're going on a cruise or flying there, but most of these items in the packing checklist will definitely come in handy!
2.  A battery pack for your phone.  If you're anything like me, you kill your battery in no time!
3.  A passport cover.  I used to think these were just for decoration.  Now I completely understand them.  After freaking out countless times thinking I had lost my passport because the navy blue passport blends in with my black purse, I decided to get a pretty pink cover.  Now I can quickly pull it out of my purse every time.
4.  A patch or other medication for motion sickness.  You can buy Dramamine over the counter (I use it every time I fly) or you can even go see your doctor to get a prescription for a patch.  I highly recommend them for traveling whether you're flying or cruising somewhere.
5.  Rolled clothing.  I used to 100% be a folded clothing supporter, and now I've been brought over to the dark side after many years of being skeptical.  Seriously, you can fit SO much more in your suitcase when you roll your clothing!  And I promise they even wrinkle less!
6.  A neck pillow.  They are perfect for flying, whether long or short distances.  No more cricks in your neck.
7.  A kindle.  An international trip is the perfect time to catch up on some reading on those long flights or days you're at sea.
8.  Headphones.  It makes the flight go by so much faster, I promise.
9.  A camera.  Preferably one that is small so you can fit it in your purse to capture all those memories!
10.  A backpack.  This is my favorite type of bag to carry in airports and while out exploring while traveling.  Hands free and it is harder to lose something out of your bag when it's secured inside a backpack.
11.  A jewelry organizer.  Trust me.  There are some necklaces I still can't get untangled to this day.  It is so worth it for traveling.
12.  Comfortable shoes.  This is an absolute must.  For the airport, for playing tourist.  You don't want to be the one having to go back to the room or the ship because you have blisters on your feet.
13.  Some cash.  I wouldn't carry a ton of cash, but do make sure you carry some.  I made the mistake of forgetting to carry some cash in St. Kitts, and no one took cards.  Not the taxi driver, not the restaurants, no one.  Just make sure to keep it in a safe spot.
14.  A scarf.  Those airplanes can sometimes get cool, so it's great to have a scarf to wrap up in on the flight, the ship or even at night when you're strolling around on vacation.
15.  Sunglasses.  Don't leave home without them.  I usually pack at least a couple pairs including one that isn't very expensive in case I break or lose them.
16.  A hat.  Especially if you're going somewhere tropical.  It will probably be HOT.  Protect your face and stay cool.
17.  Adapters.  Depending on where you're traveling to, you may need an adapter to use your electronic devices.  Do your research ahead of time and make sure you are prepared.  I couldn't make I without my flatiron, just saying.  = )
18.  Call all your financial institutions for your cards and also your cell phone carrier and let them know where you will be.  If they have an international plan set up there, your cell phone company will let you know.  If not, you need to be prepared and know the cost so you can decide if it's worth it to use your phone while traveling internationally or not.  And you will want to make sure you can use your cards.  If you haven't informed them that you will be out of the country, you may have a hard time using your cards.