This post is sponsored by Hefty, but all opinions are 100% my own.  Thank you for helping me support the brands I love.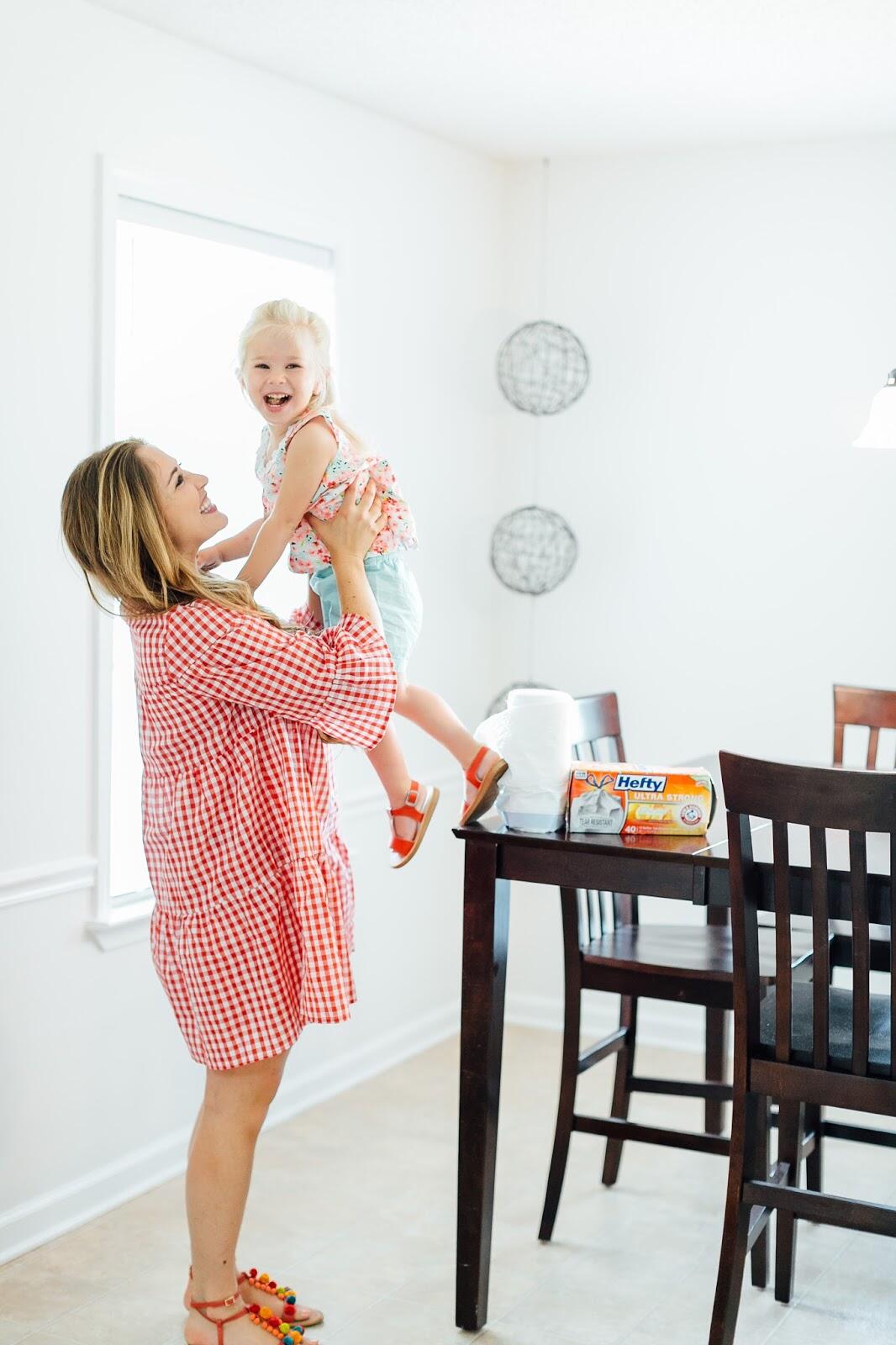 Children sometimes remember the things you say, but they always remember the things you do.  Like being strong.  I'm so excited to be partnering up with
Hefty® Ultra Strong™
 today to share 5 ways to raise strong women.  It is SO important to teach out children to make smart and strong decisions and to also be a model for that strength for them.  I'm so proud of the strong little girl that Leighton is becoming, and I want to make sure to always encourage that in her.
1.  Encourage them to express their feelings and their opinions.  I want Leighton to speak out when she feels hurt or when she feels that she is right.  I think encouraging them to speak their mind is just as important as knowing when they should stop and listen.  That doesn't mean I am not going to teach her to be polite.  I still believe that if you don't have something nice to say, you shouldn't say anything at all.  But there are definitely 2 sides to that!  Being a strong woman to me doesn't mean someone who is super opinionated and lets their opinion be known every minute of the day, even when it's not nice or constructive.
2.  Be a good listener.  To be a strong woman, I think you really have to be a good listener.  You have to support and lift up the people around you.  And for them to be good listeners, WE have to help teach them that.  When I'm home with Leighton at nights, I put my phone away (except to snap the occasional picture or video of her.)  I want her to know that our time together is important to me.
3.  Spend quality time together doing good for others.  Though we love going for walks, cooking together or just playing in the yard, I think it's important to spend time together doing something good for other people.  Shane and I were just talking last night about St. Jude and LeBonheur, and we want to get Leighton involved in helping to donate some toys and our time there.  It is up to us to teach our children that we should put others first.
4.  Praise them.  Just as much as they need to be told when are wrong, they need to be praised when they do something good or right.  I think more people look for self-worth when they don't grow up in a home where they receive praise.  I think it's important to encourage Leighton and let her know how proud of her I am.
5.  Practice what you preach by being a good role model.  I never talk negatively about myself or my body, especially when Leighton is around.  They will pick up on everything we say, and we want them to be strong, independent and confident in who they are.
Hefty® Ultra Strong™ trash bags
 are now even stronger than ever, and they want to celebrate strong moms who raise strong children.  Have you seen
the new commercials
featuring John Cenna, WWE superstar, and his mom?  I love these commercials, and I honestly love the campaign about strong women.  I love the message that
Hefty®
 is sending.  I think there is nothing more important than loving our children and raising them to be strong.
Hefty® Ultra Strong™ trash bags
 have an Arm & Hammer patented odor neutralizer, are tear and puncture-resistant and are less expensive than their competitor's bags.  They also come with a 100% satisfaction guarantee or your money back.  We have been using these bags for years, and not only do they smell amazing, they are some of the strongest bags I've ever used.  I love how they also stretch to fit whatever you're trying to put in them, but they are strong enough not to tear.  Just like 
Hefty®
, women are stronger than you would ever know.  Here's to strong women.  May we know them, may we be them, may we raise them."  – Unknown.  Have you seen the new
John Cenna commercial
?  What are your best tips for raising strong children?
This is a sponsored post written by me on behalf of Hefty® Ultra Strong™ trash bags.