This shopping with a toddler post is sponsored by Maxi Cosi, but all opinions are 100% my own. Thanks for helping me to support the brands I love.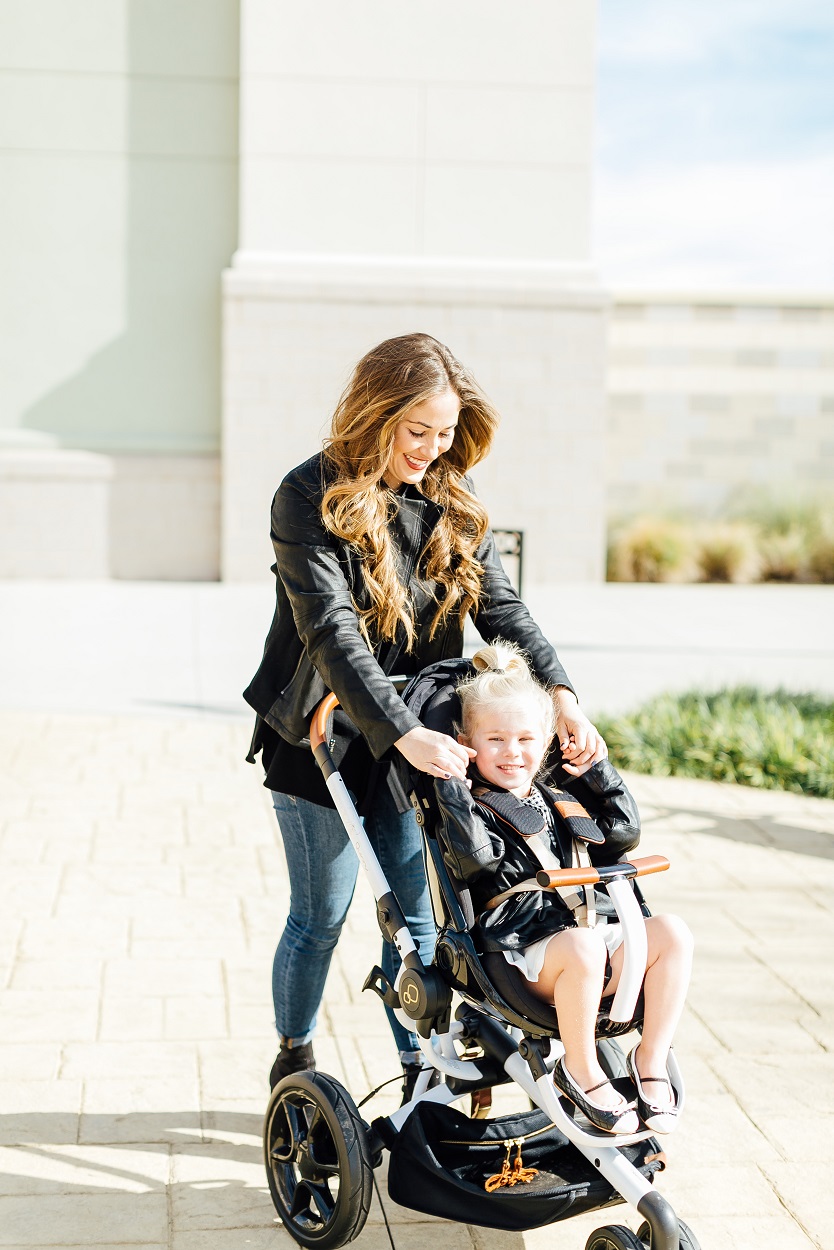 Yep, I did it.  I took Leighton shopping on Black Friday.  We have actually done this 4 years in a row now, the first time being when she was only a month old.  It has kind of become our tradition.  Each year certain things about shopping with a toddler get easier, and then others just get harder.  That's the thing about motherhood though.  As soon as you think you might possibly have some of it figured out, it changes. So, I thought I'd share with you the 5 tips I've learned for shopping with a toddler in tow. = )
1.)  Always pack snacks.  Even if the mall has a food court or 500 restaurants on site.  Pack some snacks.  Trust me.  Shopping while hangry isn't fun for anyone, especially a toddler.
2.)  Make sure you stop by a store or restaurant that your toddler loves too.  Nobody and I repeat nobody likes to shop when they get nothing out of it.  It is already hard enough to hold a toddler's attention.  But when you are going to stores that don't interest them one bit, they're not going to be happy.  Stop by Great American Cookie, Build a Bear or even Toys "R" Us, but make sure the trip isn't just for you.
3.)  Go shopping with a toddler first thing in the morning.  Let them eat breakfast and then go.  This is usually their happiest time of the day.  If you wait too long, they will be worn out and will be ready for nap time.  And after dealing with a fussy toddler, you might be ready for nap time too.  = )
4.)  Pack a couple toys and pull them out when you really need them.  I usually try to pack something different that Leighton doesn't play with often.  Something that isn't too messy, doesn't require too much work and you won't be upset if it gets dropped or lost in the store 57 times.  We like silly putty or baby dolls.
5.)  Pack the stroller!  I don't care if Leighton is 3, we still use the stroller on all our shopping trips.  If not, it will take us 3 hours just to get in and out of 1 store, and nobody has time for that haha!  Leighton still loves her stroller, and it is SO convenient to have when traveling and shopping!
We have had the Rachel Zoe x Quinny Mood Special Edition Stroller for 2 years now, and it is hands down my favorite all around stroller!  I wish we would have known about it when Leighton was first born.  It rides so smooth, is plush and soft, sleek with it's leather details, has a large basket, has an adjustable height handle, and the seat can face either direction and also recline back.  This stroller easily grows with your child.
We also have the Rachel Zoe x Maxi Cosi Pria 85 Convertible Car Seat.  The car seat has the same great details that the stroller has.  It is so soft and plush.  It has a built in cupholder.  And it is safe for your little one and will fit your child up to 85 lbs.  I am so excited to be teaming up with Maxi Cosi and Quinny to give away either the car seat or the stroller to one lucky reader!  To enter, just use the widget below and good luck!  Which would you want to win?  What are your best tips when shopping with a toddler?