This family friendly hotel post is sponsored by Tru by Hilton, but all opinions are 100% my own. Thanks for helping me to support the brands I love.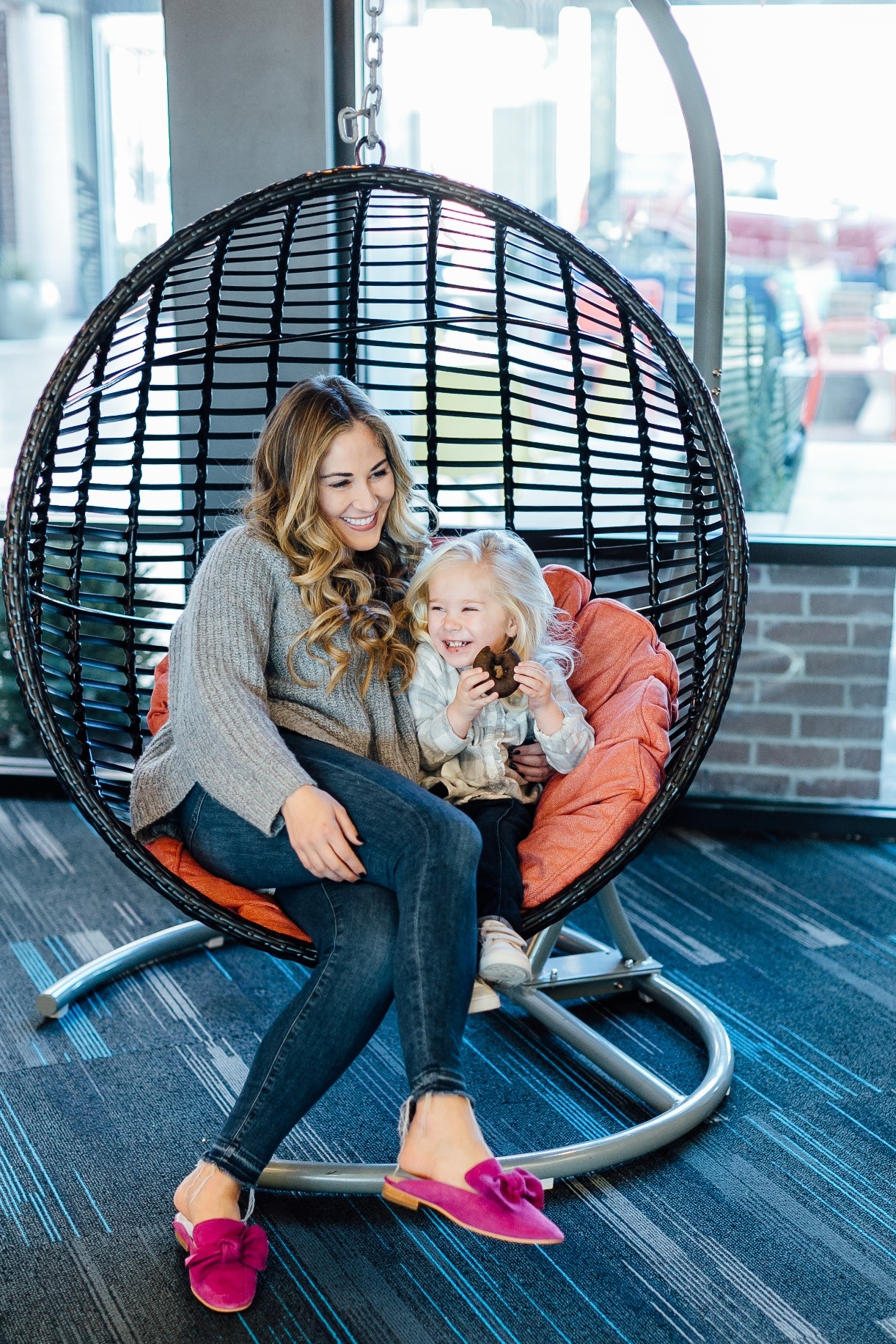 A few weeks ago, my mom, Leighton and I had a fun little weekend getaway in a fantastic family friendly hotel. We took a 3 hour drive to Murfreesboro, TN to check out the new Tru by Hilton hotel. I haven't been to Murfreesboro in years, and Leighton has never been. It's only a few hours from home, and it's so close to Nashville which has so many great shops and restaurants nearby! Ever since then, Leighton has been asking when we're going to go stay at a hotel again. I'm not even kidding y'all!! We stayed for 2 nights, and we had 2 double queen rooms both nights. The first thing I noticed about this family friendly hotel was just how kid friendly and community oriented it was. It is just as perfect for families with kids, friends or even a couple's getaway!
I love how modern Tru by Hilton hotel was. From the patio to the lobby to the rooms, there was lots of bright natural light and lots of bright fun colors throughout this family friendly hotel. It captures your attention, and there were SO many great spaces to congregate with friends or family. The outdoor patio had a nice firepit with couches, chairs and umbrellas. The lobby had swingasans, chairs, stools and couches. And they also had plenty of tvs, snacks you could purchase (in addition to the huge breakfast that was included each morning), board games, a pool and a pool table. Basically every direction you looked in, there was something to catch your attention!
Leighton absolutely loved the breakfast! There was a donut bar that came with SO many topping to put on your donuts like sprinkles, honey and even jelly. There were boiled eggs (which Leighton loves!), cereal, oatmeal and toppings like almonds, fruit and brown sugar that were so yummy on the oatmeal. There were bagels and cream cheese and lots of different drinks like juices, milk water and even watermelon water. They also have coffee and hot chocolate 24 hours a day.
With so much to do in the lobby, it was hard to ever want to leave this family friendly hotel. But we found just as many great things in other parts of the hotel too. There was a very nice gym which I visited in the morning and even a laundry room. There were computers and tablets so you could stay connected while away. And the rooms! They were so practical and modern Our rooms were adjoining, and they were the perfect size to let Leighton run around in. I loved that they had so many great space saving things in the room like the clothing racks in the room for clothing, coats and bags instead of a separate closet (so you can actually see everything at first glance) and space under the beds for suitcases. They also had soap and lotion dispensers in the bathroom which was nice so I didn't have to pack mine. They also brought Leighton a pack-n-play to sleep in, and she slept great in the hotel while we were there.
With Tru by Hilton hotel, it really is the extra little things that make them so special. They literally thought of everything when they built this family friendly hoteI. There wasn't a single thing when I left that I said I wish they had this or I wish they would have done this. And all the staff was SO friendly and helpful the entire stay. If you're looking for a unique hotel stay that is perfect for families, a girls' stay or a couple's night, then check out where Tru by Hilton hotels will be growing near you this year!