This post is sponsored by Babbleboxx, but all opinions are 100% my own. Thanks for helping me to support the brands I love.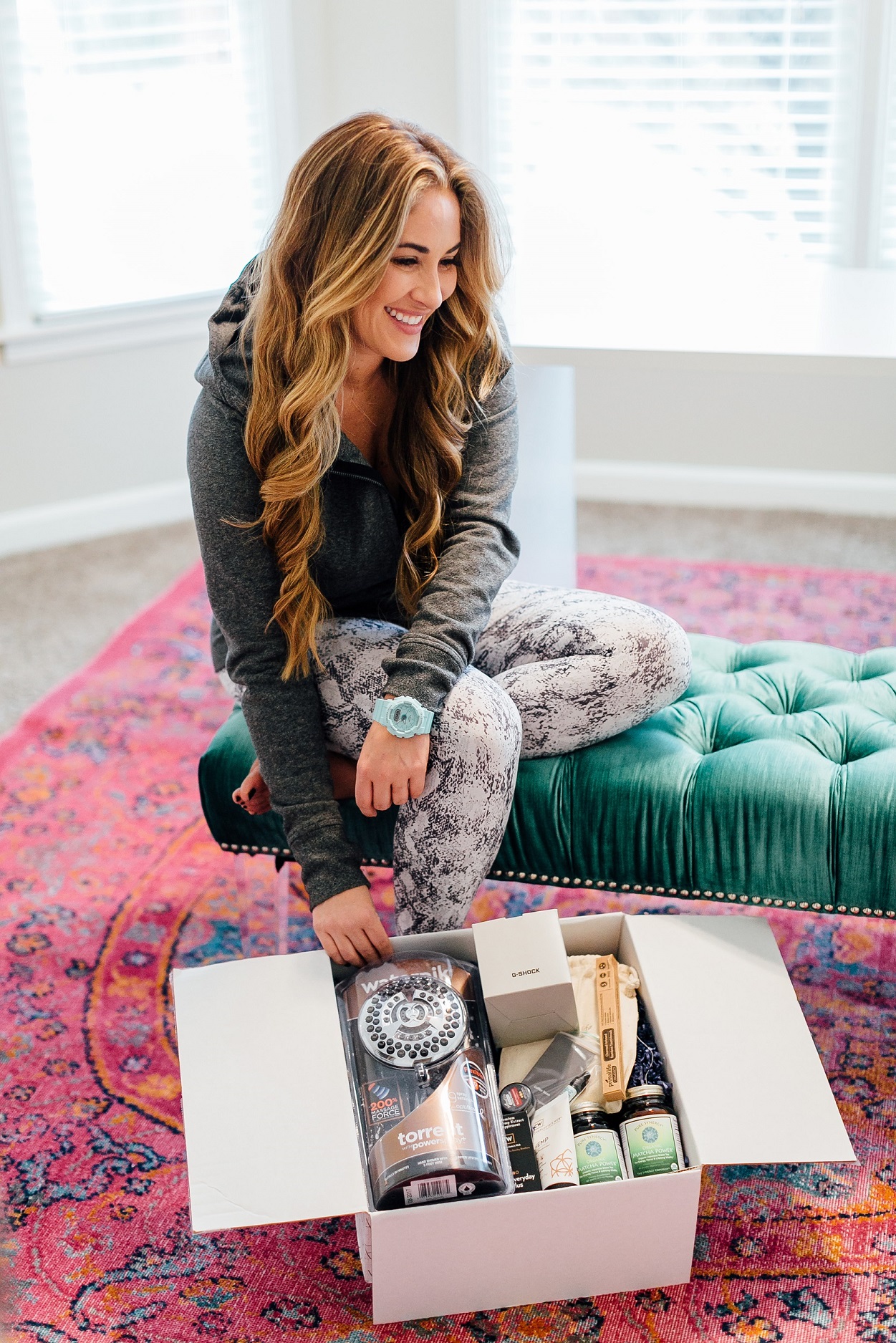 You might remember me talking about my first Babbleboxx last summer here.  I am SO excited to be teaming up with Babbleboxx again today to share some of my favorite products from their Lean Clean Green 2018 box.  I was most excited about this box because the theme and products included were right up my alley!
The products included were Waterpik Power Pulse Shower Massage, CW Hemp Extract Oil, G-SHOCK S Series Step Tracker Watch, Organic Matcha Power and Primal Life Organics All Natural Peppermint Toothpowder and Charcoal Ion Toothbrush.  All of these products I had used before or had been wanting to try, and not a single one of them disappointed!
First up was the Waterpik Power Pulse Shower Massage.  We just recently moved, so it was the perfect time to try out a new showerhead.  I am OBSESSED with this showerhead yall!  I love that it mounts, but you can also use the handheld.  It has a variety of 9 different spray settings, and it delivers over twice the massage force of other shower heads.  I've been using it for about a month now, and it couldn't have come at a better time.  It has a 4.5″ diameter and is perfect luxury shower head.  You can check out all the Waterpik Shower Heads here.
The G-SHOCK S Series Step Tracker Watch is a favorite of mine out of this Babbleboxx.  I actually already had one of these watches in white, so I was excited to add another color to my collection.  I love that the G-SHOCK S Series watch is not only fashionable, but it also functions as a step tracker.  I first started wearing a step tracking watch a couple years ago, and rarely go a day without it.  I love that this one looks great with my workout gear, but it looks just as cute and fashionable even if you're not going for a run.  And it comes in so many fun colors too.
Organic Matcha Power is the rarest and most beneficial form of Japanese green tea.  It lifts and sustains your energy, concentration and productivity.  It supports healthy metabolism and body weight and assists healthy memory and cognitive function.  I am not a big fan of the way green tea tastes, so I loved taking the capsules.  The Synergy Company sells many different extracts, superfoods and vitamins so you can't definitely find anything for which you're looking.
I've been using the Primal Life Organics All Natural Peppermint Toothpowder and Charcoal Ion Toothbrush since the day I got them!  Charcoal has been such a big trend over the last couple years, so I was excited to try the charcoal ion toothbrush.  Both the toothbrush and toothpowder are packed with negative ions that bind with dirt, toxins, plaque and are antimicrobial, anti-fungal and anti-viral.  The activated charcoal infused bristles of our new Charcoal Ion Brush absorbs the acids left behind by your favorite beverages, naturally whitening your teeth and getting rid of those deeply embedded stains.  If you haven't tried out this toothpowder and toothbrush, you have got to try them!  I can really see a difference already, and it doesn't make my teeth feel sensitive.  Use code PLOBOXX217 for 20% off your entire purchase at Primal Life Organics.
CW Hemp Extract Oil was a product I had never tried before.  This hemp extract supplement oil is a mint chocolate flavor.  It is cruelty free and preservative free.  You can take it orally or also add it to your favorite drinks or foods.  I also tried and love their balm and their cream which comes in a nourishing botanical blend that smells SO good.  Make sure you use code BABBOX6ONFDBYE4697 for 10% off your entire purchase at CW.
This was definitely my favorite Babblebox so far!  I loved all the products and use the shower head and watch almost daily.  And I loved testing out new produts like the matcha powder, hemp oil, toothpowder and toothbrush.  Have you tried any of these products yet?  Which ones sound like something you would love to try for a healthier 2018?