This is a sponsored conversation written by me on behalf of L'Oréal® Paris Elvive.  The opinions and text are all mine.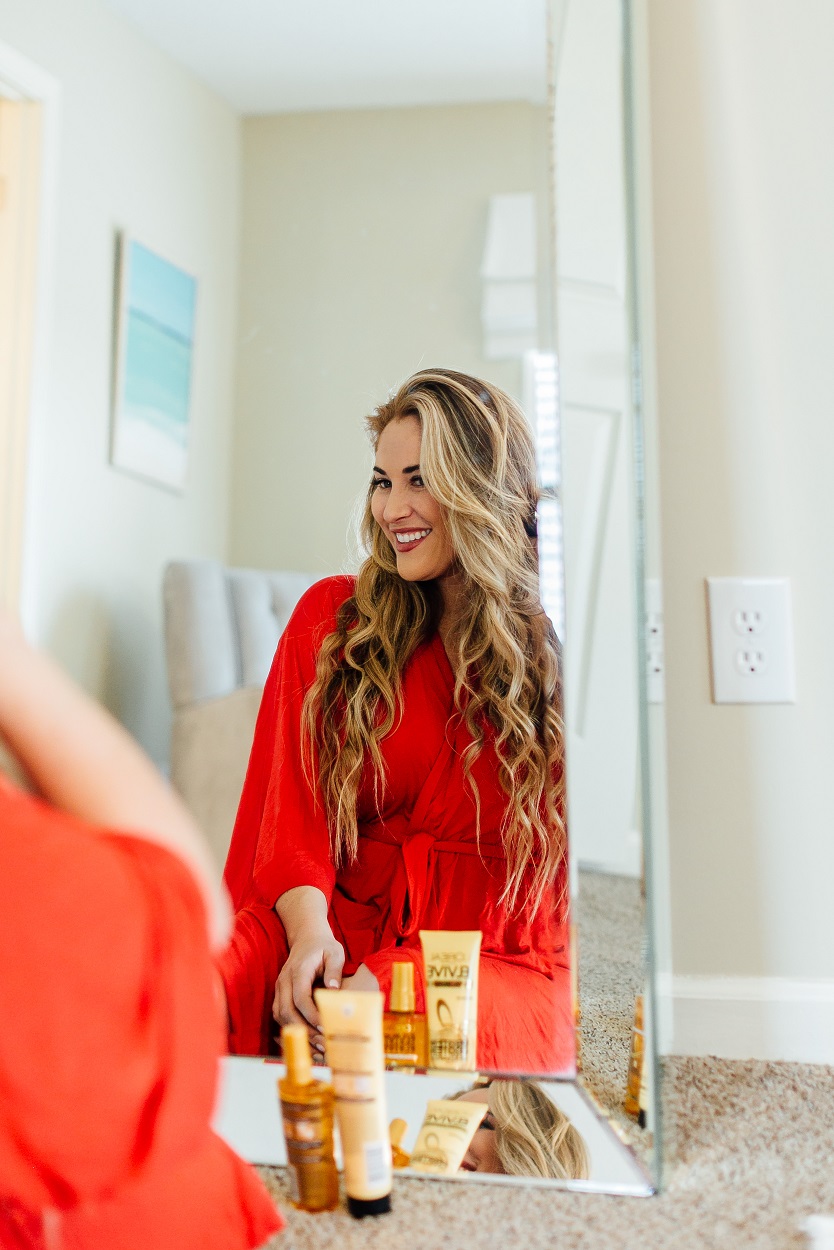 I've mentioned how much I love my new hair color, but it's taken a bit of an adjustment to get used to how much drier (and damaged) the color can make my hair over time. Lately I've found myself looking for products that really add protein and strength back in my hair and moisturize and repair dry damaged hair.  I recently took the L'Oréal Paris Elvive hair quiz to see how damaged my hair really was.  I am between a level 2 and 3 which means that coloring my hair and using heat tools regularly are causing dryness, split ends and breakage over time.  The good news though is that L'Oréal Paris has so many great products to help combat damaged hair and get your locks feeling and looking soft, shiny and full of life again.
L'OREAL PARIS PRODUCTS TO HELP DAMAGED HAIR
The L'Oréal Paris Elvive hair quiz recommended some great products for me that I had never tried before. I ended up purchasing the L'Oréal Paris Elvive Extraordinary Oil Treatment and the L'Oréal Paris Elvive Total Repair 5 Protein Recharge at Walgreens.  I immediately tried the Protein Recharge that night.  It is a leave-in hair treatment for damaged hair that instantly recharges your hair and fights the 5 signs of damage, leaving your hair with 97 percent less breakage with results in just one use.  Our hair is made of protein, but daily brushing and heat tools can cause dryness and damage.  The Protein Recharge nourishes hair to help increase strength, flexibility and protect against every day damage.  It made my hair feel so soft and even stronger after just one use.  I applied it to all of my hair, but especially at the ends and the roots around my face where they are more damaged from heat tools. It can even protect your hair from up to 450 degrees of heat.
Afterwards, I combed through my hair and then applied the Elvive Extraordinary Oil Treatment. This oil serum is another leave in hair treatment that hydrates and nourishes to transform lifeless hair to soft and lustrous hair.  It is infused with sunflower oils, is non-greasy, super lightweight, and not only makes hair soft and shiny, it smells amazing too!  I applied the hair oil all over my hair as a finishing polish, especially applying liberally to the ends of my hair.  This oil will make your hair 10 times more nourished in just 1 drop and leave you with instant shine and hair that is silky to the touch.
I had been hearing such great things about sunflower oil when used on your damaged hair, so I was especially excited to try this product. Sunflower oil really helps to penetrate your hair and scalp leaving your hair and scalp moisturized, shinier, fuller and healthier.  I used to shy away from using oils or leave in products in my hair thinking they would make it so oily, but now I can see that my hair needs these oils and proteins replenished, and it will actually make my hair look and feel better.  If you're worried about it making your hair feel oily, try it on your ends first, but if you color your hair or use heat tools on it, odds are that you can use the moisture back in your hair like I could.
After only one use I could already see and feel a big difference. Depending on your level of damaged hair, L'Oréal Paris also makes a Total Repair 5 Damage Erasing Balm and Color Vibrancy Repair and Protect Balm that you can try.  Do you have damaged hair?  Make sure you take the L'Oréal Paris Elvive hair test and let me know which level hair you have and find out which products are best for your hair type.  Then head to Walgreens to stock up on L'Oréal Paris Elvive hair products for damaged hair.