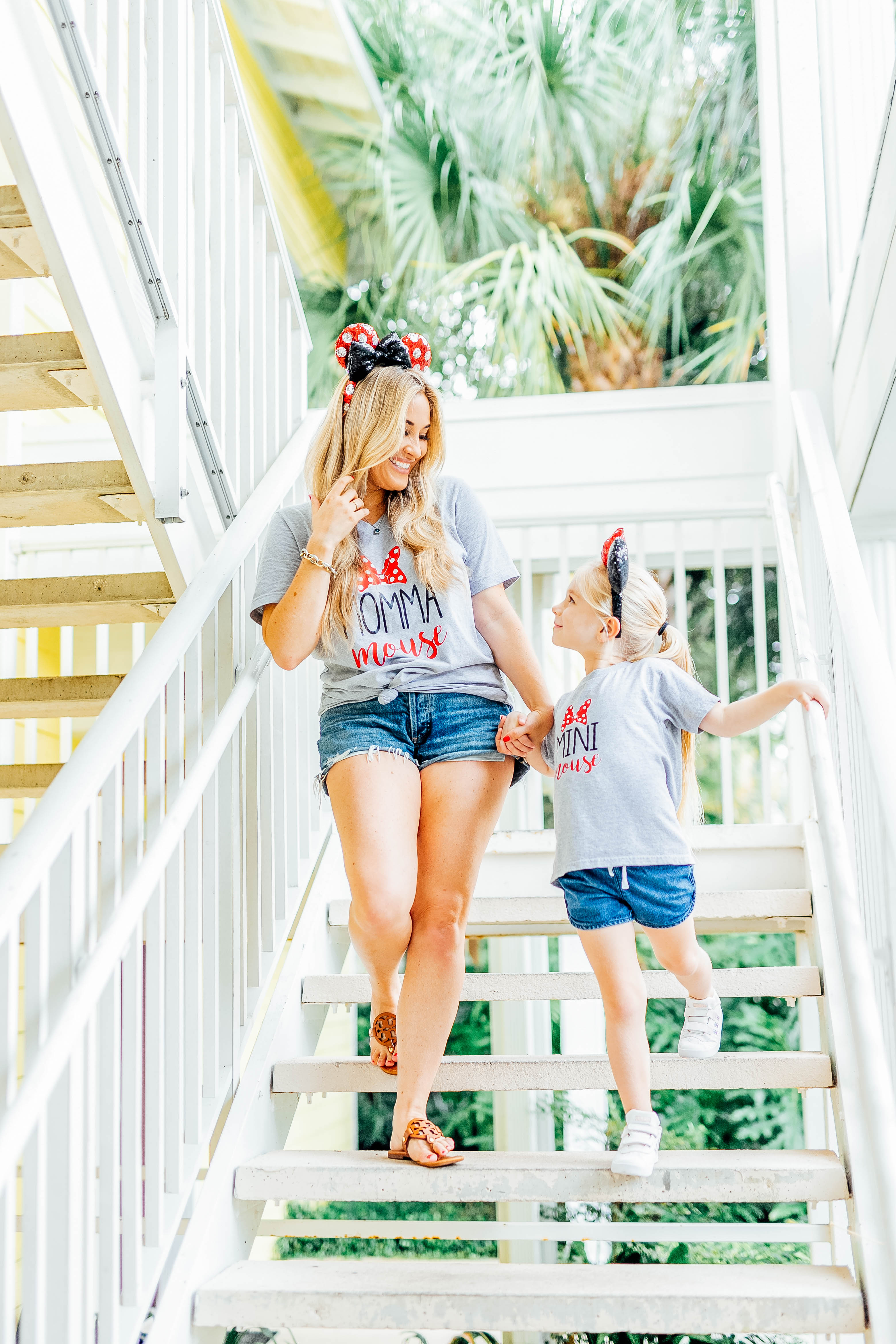 SHOP OUR DISNEY WORLD LOOKS:

Recently Leighton, my dad and I headed to Walt Disney World! You might remember in my last post about doing Disney World with a toddler, I mentioned some tips that I found super helpful while I was there. Last time we went to Disney World, I didn't quite as much research or planned. This time around I knew I had to be better prepared!
After 2 consecutive years of going to Disney World, I think we are definitely getting the hang of doing Disney! So…today I want to share my best 10 tips for planning a trip to Disney World with kids. These are the things that I found the most helpful while we were there this time around!
10 Tips for your Disney World Vacation with Kids:
Rent a Stroller from the Parks
Leighton was 4 (almost 5), but last year she was only 3. We packed our stroller last year, and it was a HUGE pain! Instead of having to close it, load it up and then take it back off each shuttle, it can often be easier to just get one when you're at the park. Not to mention that the shuttles don't even have storage space for strollers. Since there isn't much storage space, it can make for an awfully tight ride out to your car or back to your hotel! And when you first get to the park, it is so crowded to get on and off the tram, it was easier for us to not have a stroller with us. If you're child is young enough, I would even recommend baby wearing!
Buy your Park Tickets Online
At least 30 days in advance, buy your tickets online and register them with your Disney account. At the 30-day mark, you can also make your fastpass reservations! I also highly recommend purchasing the magic bands if you are staying off-property. They will make your life so much easier when getting around the park and on Disney's property! And it's so fast to just scan them an hop on all the rides you have fast passes for and load your images they take of you at the park to your account.
Make a Plan
Decide in advance what parks you want to visit and which rides you want to ride. Be sure to check out Disney's website and the Disney Parks Mom Panel to find out what rides your kids can go on and get some other, amazing tips for hitting the parks. Check out how tall they have to be too. Once you know what parks and rides you're doing, pick out the 3 busiest rides and sign up for your fastpasses for those 3. This will ensure that you won't have to wait in a super long line for something super popular. Then plan your day around those 3 rides and fill in a couple rides in between each fastness time.
They are super family-friendly at Bahama Bay! There is free on-site parking, 24-hour front desk service, and four swimming pools (with a splash pad!) Leighton LOVED the pool and splash pad! We usually only do one day at Disney at her age, so it's great to have something else that is free for her to do right at our own condo.
The rooms at Bahama Bay are super spacious for families, and you have a full kitchen so you can cook in the room and save on food instead of going out to dinner at pricey touristy restaurants each day. However, Bahama Bay does also have their own on-site dining which is really convenient! They also have a golf cart on site and can shuttle you to their restaurant if you don't have transportation.
We had 3 bedrooms for the 3 of us which was so nice! I couldn't believe how big the living area was, and there was a balcony off of the living room and the master bedroom. It had 2 full bathrooms also. It was so nice for Leighton to have her own bathroom (hello almost 5 year old who loves to play and brush her hair in the tub for an hour!)
The condo also had feee movies you could check out while there. That was perfect each night. Leighton would pick out her favorite dvd to watch each night. It was night going to Disney but also having a relaxing vacation in Orlando in addition to the parks. It was also only a 20 minute uber drive to Magic Kingdom. The ride was inexpensive and so much nicer than shoving into a shuttle with 20 other people! Staying in a condo with your family while doing Disney definitely has its perks!
Eat Breakfast Before you Head to the Disney World Park
If you stay in a condo, get up early and eat there. It will save you SO much time and money! Disney World can be expensive and if you're looking to save money, food is it! This is definitely an area where you can save time and money. And you don't want to waste any time at the park waiting in line to order food and eat if you don't have to!
Pack Drinks and Snacks in a Cooler
Walking around in the hot sun, standing in long lines and riding rides is way more exhausting than you'd think! I definitely suggest packing a small cooler with snacks and drinks for you and your kiddos! This is great to keep everyone hydrated and happy so you can avoid dealing with any toddler (or adult) meltdowns while you're in the happiest place on earth 😉
Let them Play and/or Build in some Downtime
Even though Disney World may seem like a kid's paradise, when you think about it, how much time do your kids really get to burn off some energy throughout the day? There are going to be times when they are going to get the wiggles and luckily, Disney has a lot of great areas where kids can run around and burn off some of that excess energy! When you can, let them play a little!
Also, be sure to plan a day or two at the condo pool so your kids (and you) can just relax after the busy-ness of the park days! And then you can wind down sitting out on the balcony or popping popcorn and watching a movie together. This was one of our favorite relaxing parts of the trip!
Go on your Disney World Vacation during the Off-Season
Kids in Florida go back to school around the middle of August and other kids around the country typically go back around the beginning of September. Plan accordingly so you won't have huge crowds! We were there around the middle of September, and we didn't have to deal with a ton of people or insanely long lines either! And if you pick earlier or late enough in the year, it won't be nearly as hot either! Plus condo rates are much better!
Pack for your Disney World Vacation Wisely
There's a saying that goes something like "if you don't like the weather in Florida, wait a few minutes…it'll change". This is so true! In Florida you can get chilly mornings where you'll need a jacket that then turn into afternoons where you need to jump in the pool because it's so hot. Not to mention all the rain that Florida gets. Don't forget your rain poncho! Pack accordingly and try to be prepared for anything!
Use Rider Swap
If you are traveling with kiddos that may be too small for some rides that you may still want to hit, Disney has this amazing thing called rider swap. Basically, one adult waits in the general line and rides first while the other adult waits with the kids. Then, the second adult gets to just speed through in the fastpass line when it's their turn to ride. This way, there's no huge wait and everyone gets to ride!
What about you? What tips would you give to someone heading to Walt Disney World with kids? What did you enjoy most about Disney World? Let me know in a comment below!