This Alexa review was sponsored by Amazon as part of an Influencer Activation for Influence Central and all opinions expressed in my post are my own.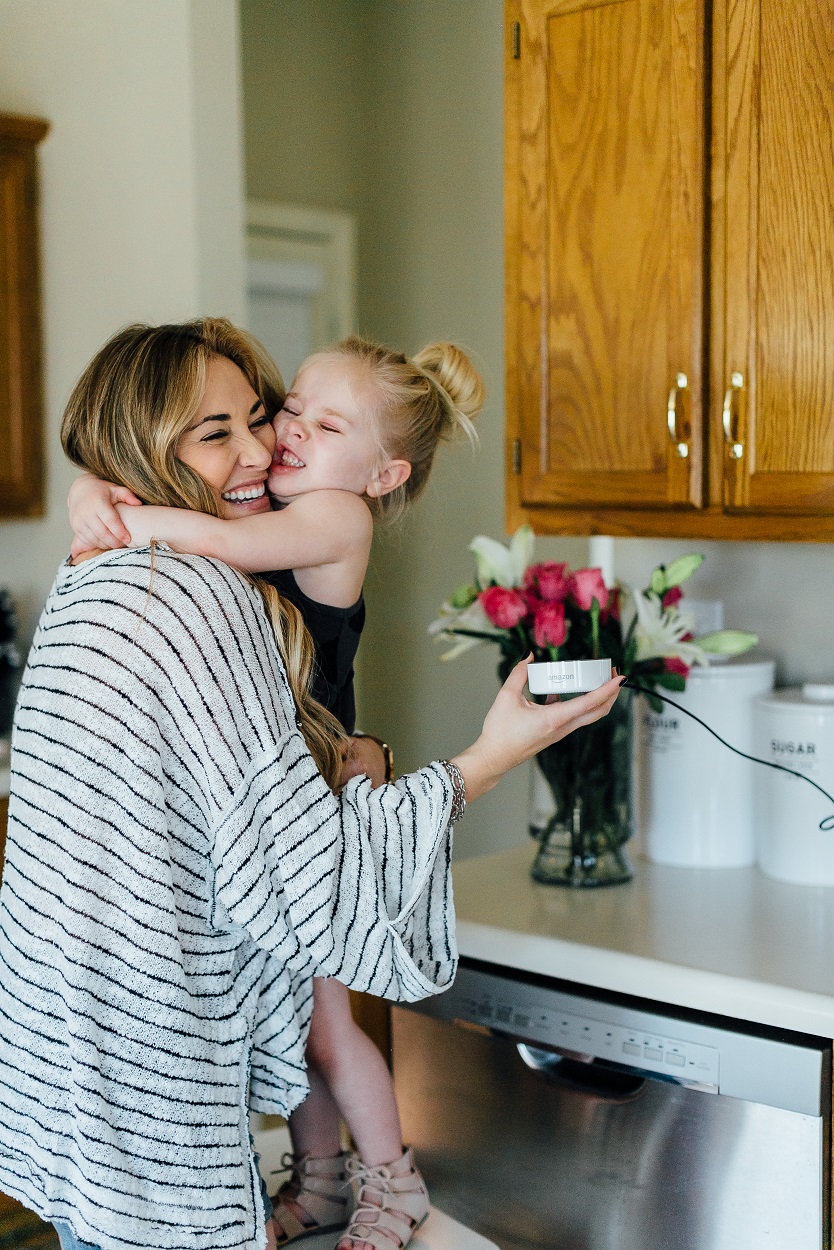 Who else has an Amazon Echo or Alexa product and loves it?!  Yeah, I thought so.  I was first introduced to them by my sister and her husband last year and thought the Amazon Echo was so cool, so of course I bought a few of them.  = )  I have 1 Amazon Echo and 2 Amazon Echo Dots, and I absolutely love them!  There are SO many things you can do with them like check the weather, play music, make calls, send and receive messages, get news updates and even order more products from Amazon like when you're low on laundry detergent.  It's one powerful little device!
MY ALEXA REVIEW: GREAT FOR KIDS & PARENTS
Did you know that Amazon Echo products aren't just for the adults though??  They're actually for the entire family (including your minis!)  Many people already use Alexa Skill Blueprints every day to make their lives a little easier.  From trivia games to questions of the day, quotes of the day, matching games and even chores lists, you can use Amazon Echo to create fun for the entire family or even help your child learn.
But now with Alexa Skill Blueprints, you can make your own skills and truly personalize Alexa for your entire home and family.  In just minutes you can create your own skills.  You can even use Alexa Skill Blueprints to surprise a birthday boy or girl with a party quiz customized just for them.  You can also create Alexa Skill Blueprints with a voice-only chore chart or have Alexa remember the stuff you don't have time to like your Wi-Fi password and spare key locations.
Leighton and I had fun creating skills with a chore chart.  It actually made it more fun for her, and I got her to help around the house.  Win, win!  You can even create fun custom games or creates questions for your mini to answer, so they can learn and have fun all at the same time!  It was a fun experience for us to do it together, and Leighton loved being involved around the house and with the "Princess Alexa" as she calls our Amazon Echo.  = )
Just download the Alexa app to get started.  You can also find the Alexa Skill Blueprints Getting Started Guide here.  When you buy an Echo device, enclosed are instructions for downloading the Alexa app.  There you can view the full catalog of skills including Jeopardy!, Question of the Day, Headspace and more.  Visit the skills section of the app each week to see what's new with Alexa as they are constantly adding more skills to help and make your experience with Amazon Echo even more fun!  Do you have an Amazon Echo?
Hope you guys enjoyed this Alexa review! Let me know if you have any questions!