This dry winter skin tips post is sponsored by Mirum, but all opinions are 100% my own. Thanks for helping me to support the brands I love.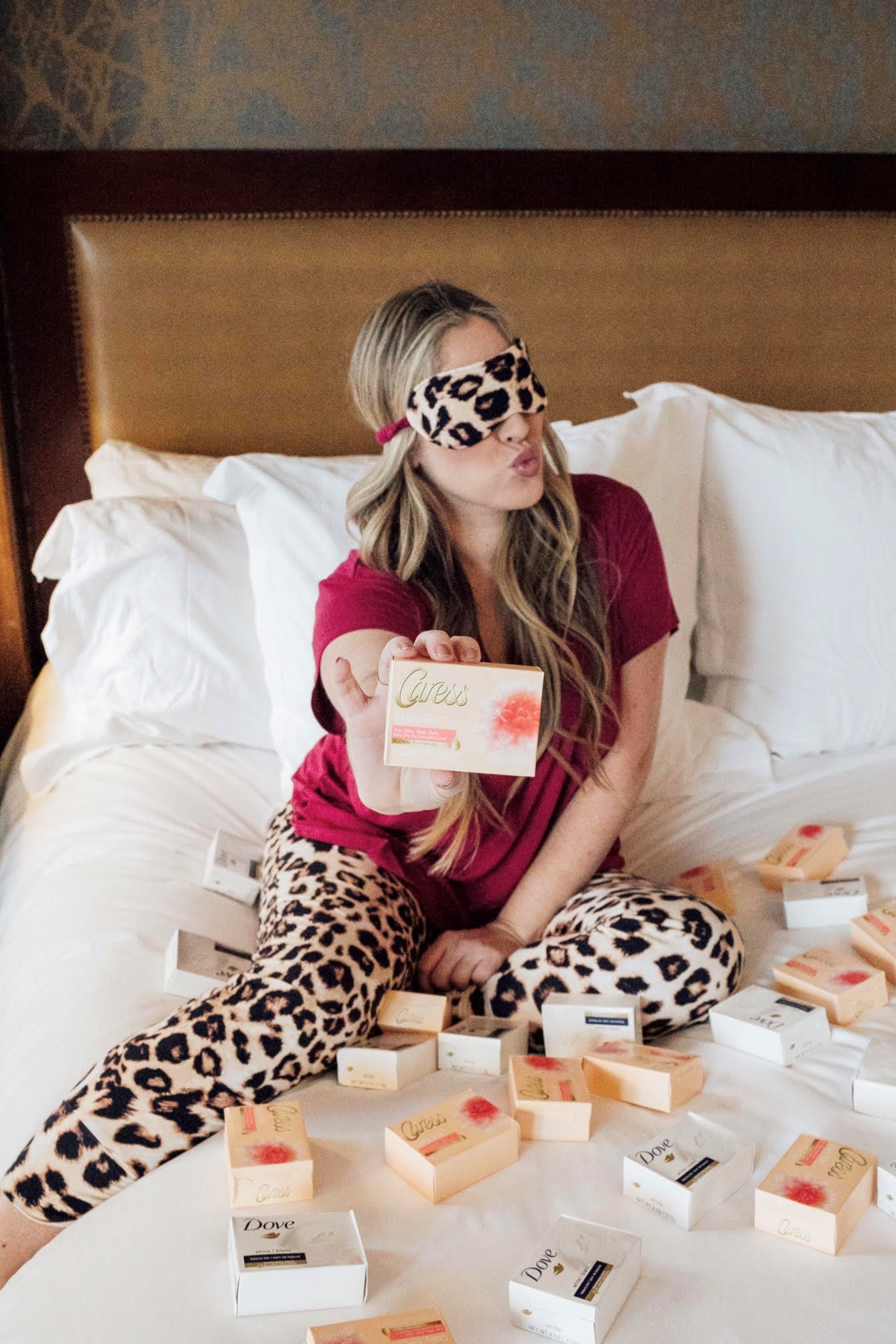 First of all, I love winter!  But it doesn't always love me, or at least it doesn't love my skin!  I just got back from snow skiing over the weekend, and the cold weather, low humidity and wind did a number on my skin!  I would slather up with lotion and almost immediately my skin would soak it right up and go right back to being dry again!  So…I stocked up on some of my favorite products from Sam's Club – Dove Beauty Bar, Dove Go Fresh Revive Body Wash and Caress Silkening Beauty Bar to help improve my dry winter skin.
5 EASY TIPS TO HELP APPEASE YOUR DRY WINTER SKIN
1.)  Get rid of the harsh cleansers.  Sometimes you think to clean better, you need something that really scrubs and cleans right??  Wrong.  Cleansers and soaps that are too harsh will actually dry out your skin and can irritate it too.  That's why I use Beauty Bars, not soap.  Dove Beauty Bar or Caress Silkening Beauty Bar aren't soaps.  They actually clean gently and add moisture back into your skin.
2.)  Moisturize while you're showering.  When your skin is warm and your pores are open, you body can absorb moisture even better.  That's why I use Dove Go Fresh Revive Body Wash.  It cleans and moisturizes and adds plenty of moisture back into my skin instead of cleaning and stripping it all from my skin.  Bonus, I also love to use it as shaving cream.
3.)  Apply a moisturizer after you shower.  Look for a good oil based one.  And remember, you might need a thicker one than what you prefer to use in the summer.  Apply 1-2 times a day.
4.)  Apply sunscreen daily.  Even when it's not summer time.  Harmful rays can still damage your skin any time of the year.  Especially if you're out in the snow, the glare can cause the sun to really beat down on you damaging skin and also drying it out.
5.)  Use a humidifier in your house.  This is a must.  All that heat you're blasting in your home right now will dry out your skin, but a humidifier will help add moisture back into the air which will help your skin.
These Dove and Caress moisturizing products from Sam's Club help me stay clean, moisturized and confident during the winter months.  And did you know that you can even use Sam's Club Scan and Go service or Club Pickup?  I used it when Leighton and I went shopping together, and it was so convenient!  And not to mention, Leighton loved scanning all the products for me and then swiping my credit card (it made her feel like a big helper!)
What about you? What do you do to soothe your dry winter skin? Let me know in a comment below!!
Loving these tips to combat dry winter skin? Click here now for more beauty essentials!!