This cookout post is sponsored by Tyson Foods, Inc. All comments and opinions are my own.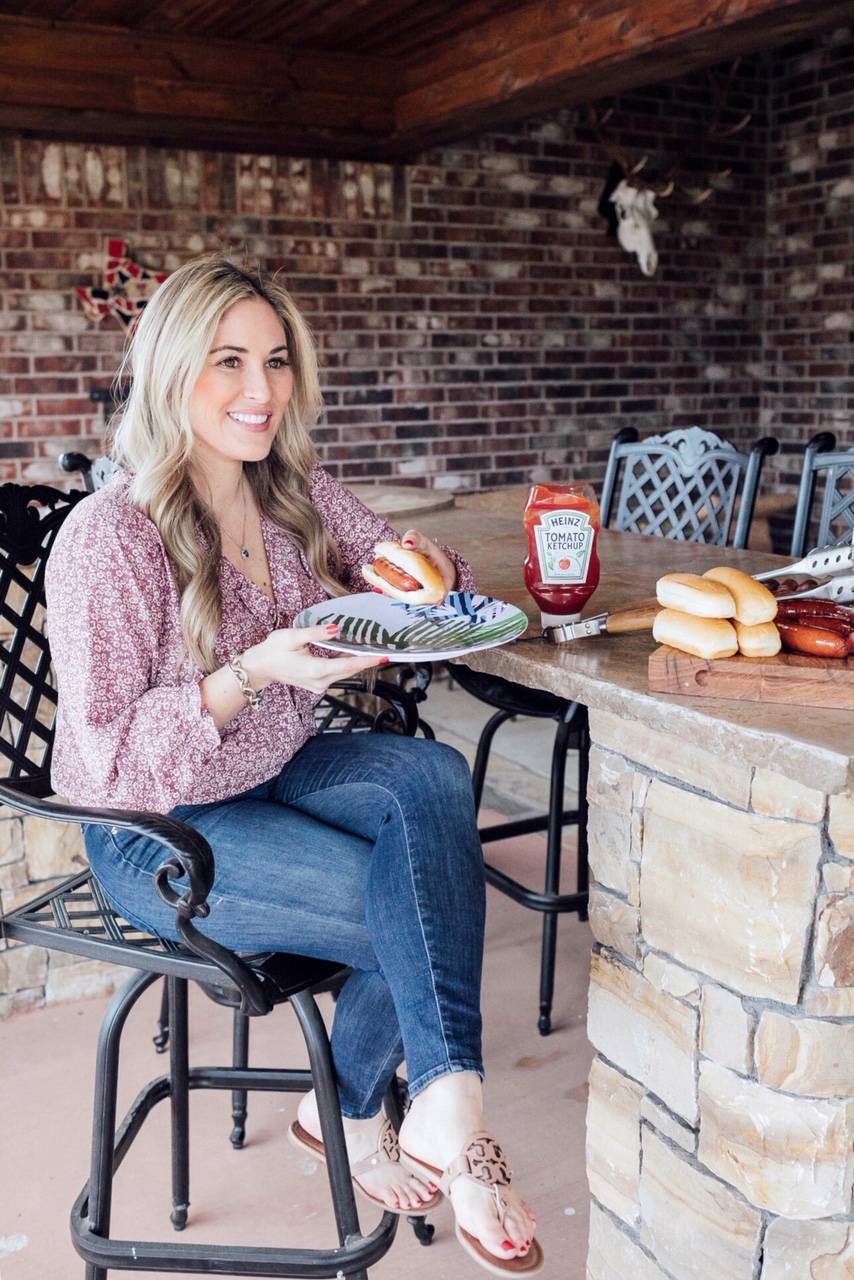 Warmer temps are here, school is about to be out, and holiday weekends are creeping up on us. You know what that means:
It's Cookout Season!
I just love this time of year! Having friends over, grilling out and eating and letting the kids run around in the yard and have fun in the pretty sunshine. If you're anything like me, you will be cooking out all spring and summer long, so I'm sharing 5 tips to throw the perfect cookout.
1.) Plan Ahead.
Know how many people are coming and make sure you have room for everyone. You'll want to have plenty of tables and chairs and enough food for everyone. You can borrow or rent chairs or tables if you need extras. Or buy a picnic table to seat even more people like we did.
2.) Buy in Bulk.
A 24 pack of hot dogs and 4 smoked sausages. Even your side items, condiments and drinks can be bought in bulk. With lots of people coming over, club sizes are so much more convenient when buying food for a cookout. I stocked up on Ball Park® Beef Franks[ and Hillshire Farm® Smoked Sausage from Sam's Club for a spring cookout, and it just made it so much easier (and budget friendly!) by buying in bulk. The most stressful thing at cookout (besides burning the food!) is to not have enough food for everyone.
3.) Have a Playlist for the Event.
You're cooking out, so of course you have got to have some good tunes playing outside for everyone to enjoy! Having a playlist already created will just give you more time to focus on entertaining, grilling the food, talking with friends and playing with the kids. Trust me, that is already enough multitasking…and the entire point of a cookout is to enjoy friends' company, eat and relax so plan ahead as much as you.
4.) Don't Forget the Extras.
Things like disposable cups, plates and silverware, napkins, condiments, side items and appetizers can end up being just as important as the main course if they're forgotten. Once again, buy more than you need. If you don't use it all now…great…you'll have extras for your next cookout you're having soon!
5.) Have Entertainment like Yard Games or even an Inflatable Water Slide.
That way the kids will have just as much fun as the adults. They'll be entertained, and you'll be happy that you get to have some "adult time." Even a kiddie pool, darts or corn hole would be perfect.
With the warm weather here, I had grilling on my mind and just had to stock up on outdoor grilling essentials at Sam's Club. From Ball Park Beef Franks[ and Hillshire Farm Smoked Sausage to aluminum foil to even a picnic table, Sam's Club had everything I needed to get grilling. Whether you have a big family or just love to entertain, Sam's Club is the perfect place to stock up on warm weather essentials for a great price. And from 5/8/19-6/2/19, Ball Park Beef Franks will be on instant savings at Sam's Club.
What about you? Do you love grilling all spring and summer? What are your best tips for cooking out? Are you a Sam's Club shopper? Let me know in a comment below!