This high tech fan post is sponsored by Hunter, by all opinions are 100% my own. Thanks for helping me to support the brands I love.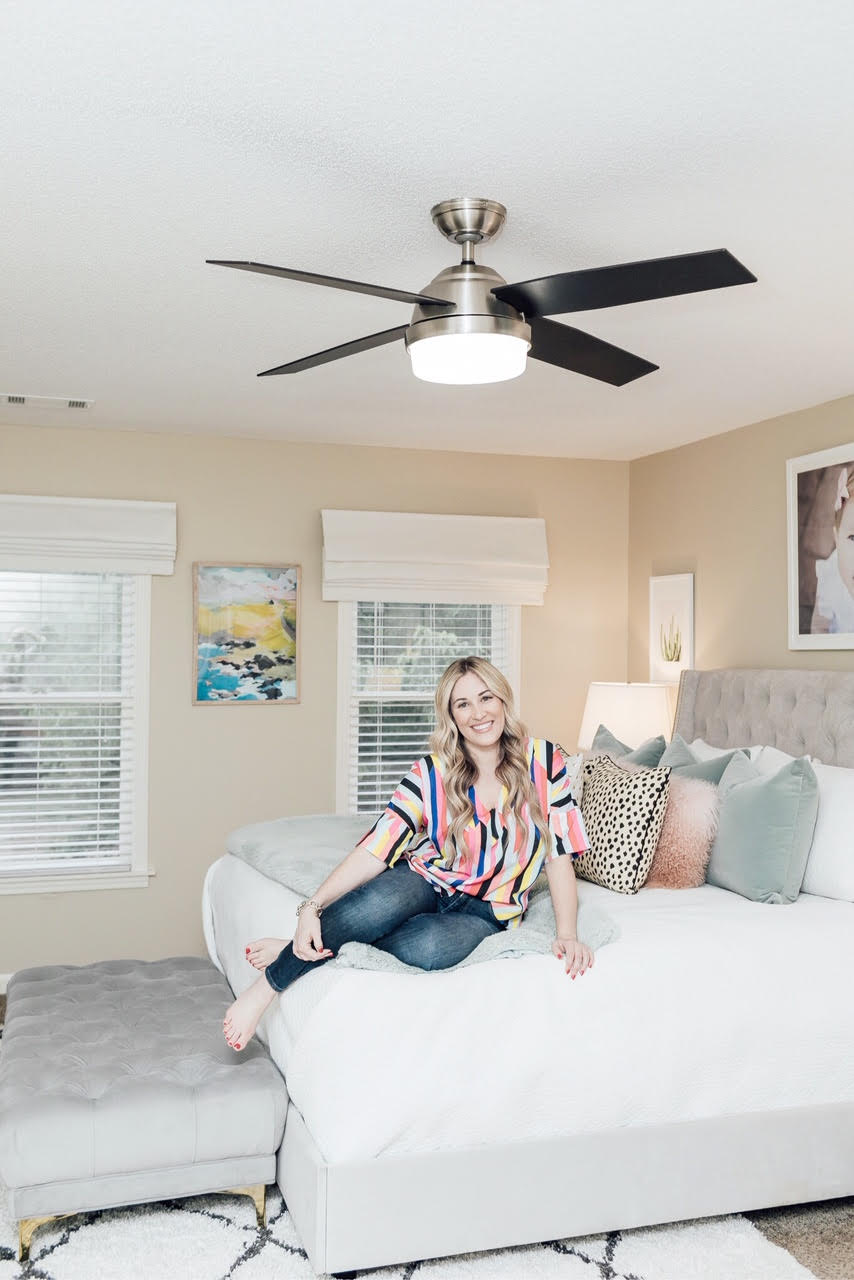 I've been updating my home over the last year, and you might remember this post here where I swapped out my builder grade fan and added this pretty high tech fan from Hunter! Since then I have been looking for more ways to update my home – not only aesthetically, but by adding more high tech features too.
When I first heard about the Tunable White LED Dempsey Fan, I knew it was perfect for me and our home. When I first moved, one of the first things I did was swap out all my bulbs for bright white bulbs to brighten up each room (and not to mention it looks SO much better for pictures.) But…not everyone is fan of bright white lights, and sometimes you want something a little bit dimmer. That is where this high tech fan comes in!
The Tunable White LED Dempsey Fan is a high tech fan that comes with an LED light that you can adjust to 3 different temperatures – warm white (3,000K), cool white (4,000K) and daylight (5,000K.) All it takes is a push of a button, and you're ready for anything from a dinner party with friends to a movie night in at home.
This ceiling high tech fan comes with a remote that allows you to adjust the lighting temperature and the fan speed. The fan is in brushed nicked and has chocolate oak grain blades on it. It is such a gorgeous ceiling fan, and I just love that the light temperature is adjustable!
These pictures were taken when it was getting dark outside, and my room is pretty dark to begin with, but as you can see, the lighting in the room looks amazing! I love that it only takes a touch of a button to instantly change the lighting or the mood. If you've been working on adding more high tech features to your home to save on time, you will definitely want to check out this Tunable White LED Dempsey Fan.
Have you tried out any Hunter ceiling high tech fans? What high tech features have you added to your home? Let me know in a comment below!