This paleo avocado deviled eggs post is sponsored by Great Day Farms, but all opinions are 100% my own. thanks for helping me to support the brands I love.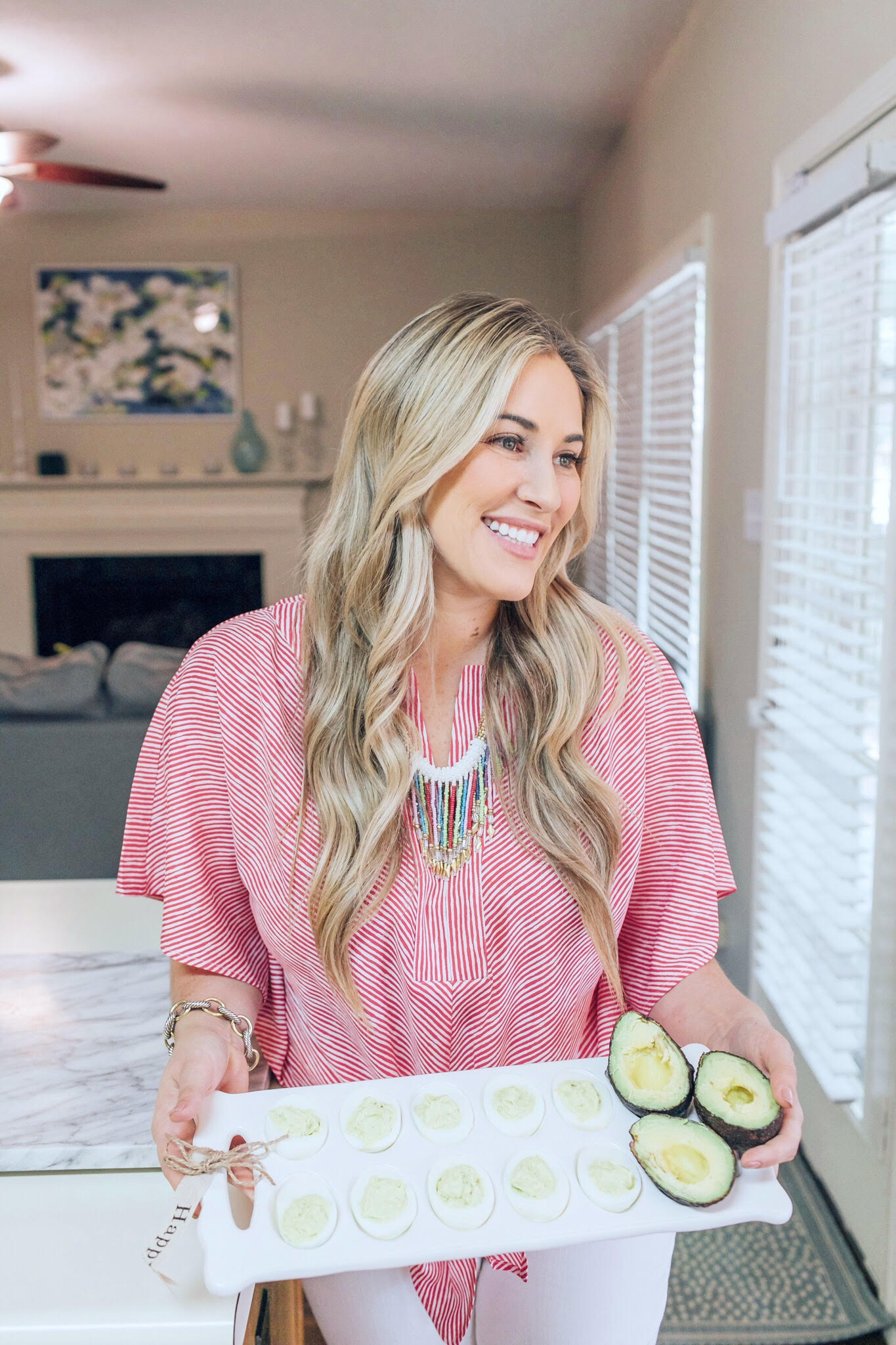 This weekend is Mother's Day, and I'm having a whole house load of family over to celebrate. = ) Since there will be a lot of us I wanted to try to keep it simple, so we are grilling out burgers. But then I was trying to think of side items – EASY to make side items! And that's when paleo avocado deviled eggs popped into my head!
I only have enough seating for 16 people at dining tables (which is probably not enough!), so I wanted all food items to be things that people could hold or carry around to eat while socializing. And I think paleo avocado deviled eggs is the perfect side item along with corn on the cob and salad cups.
Y'all know I LOVE the Sam's Club membership I've had for a couple years now, and I was excited to find that they carry Almark Cage-Free Hard-Boiled Eggs at my local Sam's Club. I had never tried them before, so I recently picked them up to see what I thought.
If I haven't told y'all before, Leighton LOVES boiled eggs, so I always keep a few boiled eggs cooked and on hand for a snack for her. I already had a few that were boiled, and then I opened up the package of Almark Hard-Boiled eggs and gave some to Leighton to eat. I tried them too, and I honestly could not even tell you which was which. They tasted THAT GOOD!
And the best part?? They are SO convenient!! It is so nice to have a quick snack on hand for Leighton or for a family get together this spring (as there will for sure be plenty of cookouts in our future this spring and summer!)
Convenient and good, sign me up! These eggs come in a pack of 24, and that might seem like a lot but with 2 people that eat boiled eggs as snacks almost everyday, we will have those eaten in less than a week! Keep reading to check out my Avocado Deviled Eggs recipe.
Paleo Avocado Deviled Eggs Recipe
Ingredients Needed for your Deviled Eggs
6 Almark Cage-Free Hard-Boiled Eggs
1 Avocado
Salt & Pepper to Taste
Optional: Cilantro & Mayonaise (Leave the Mayonaise out to make them paleo)
Recipe
Cut 6 Almark Cage-Free Hard-Boiled Eggs in half.
Take out the yolk and mix with 1/2 an avocado in a bowl. Mash them together with a fork.
Mix in optional mayonnaise and cilantro to taste if you want.
Sprinkle with salt and pepper and enjoy.
That's it! I told you this avocado deviled eggs recipe was easy… especially when you already have the eggs boiled and ready to go like Almark Cage-Free Hard-Boiled Eggs.
What about you? What is your go-to side dish for get togethers? Have you tried avocado deviled eggs? Let me know in a comment below!