This post is sponsored by Joules, but all opinions are 100% my own. Thanks for helping me to support the brands I love.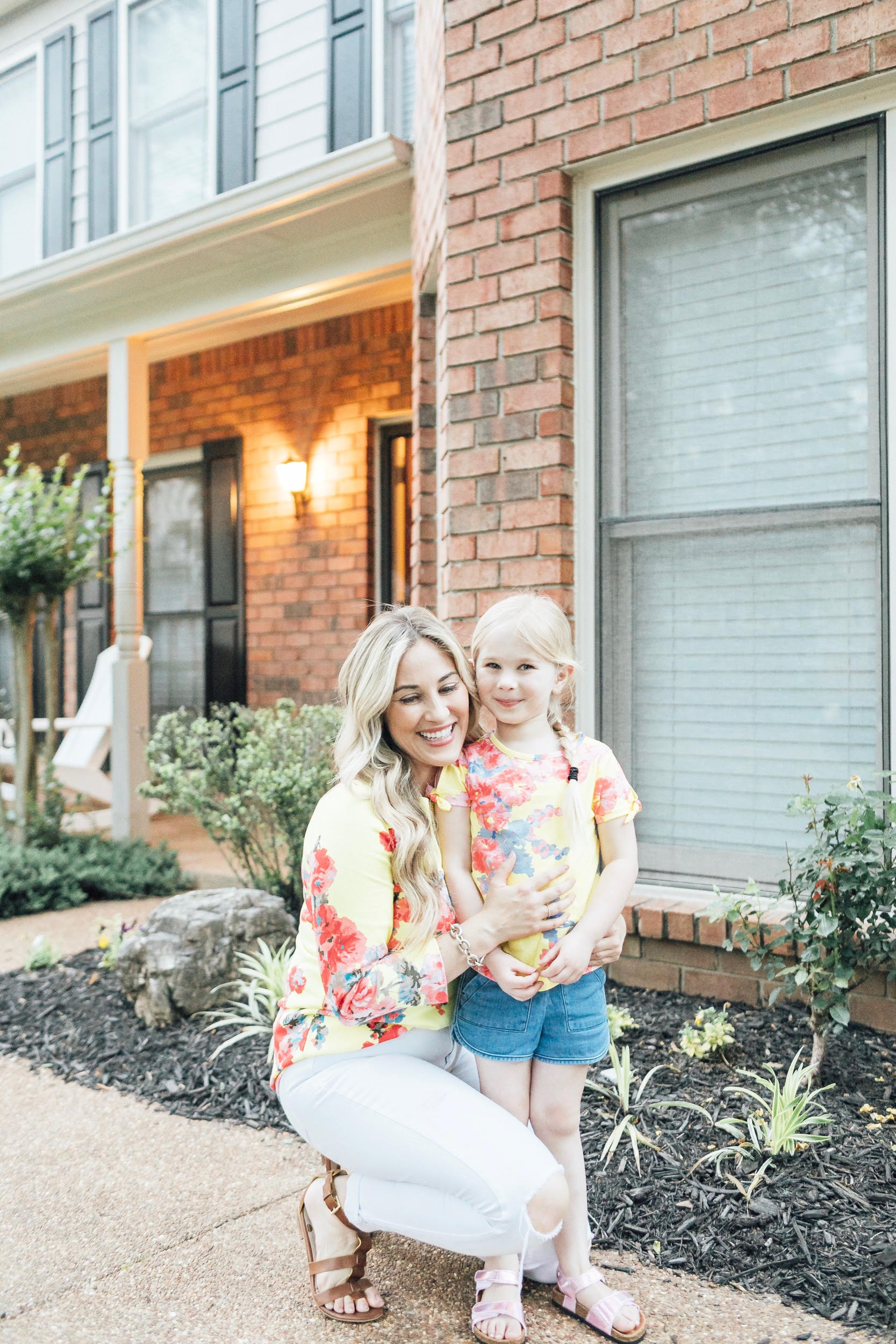 SHOP OUR MOTHERS DAY LOOKS:

It's Mothers Day weekend! It's supposed to rain here on Friday and Saturday but we are keeping our fingers crossed for sunny weather on Sunday so we can get outdoors, have some fun and sport some bright spring pieces from Joules (keep reading for a 20% off code on our outfits!)
I know some moms like some time to themselves on Mother's Day, and I get that, but I love taking every opportunity I have to spend with Leighton. They just grow up too fast! It's bittersweet; we love watching them grow and learn, but we also don't want time to pass in the blink of an eye! My favorite moment watching Leighton grow has been over the past year. She comes home with more and more questions each day, and it just amazes me and makes me smile. She asked me how houses are built so quick, how God knows everything and how our stomachs work. I just love how she is so interested in learning and so inquisitive. = )
Whether you're spending Mothers Day weekend with your children, your entire family or taking a break, I wanted to share a few ideas of things to do on Mothers Day weekend with your child. These are some great family traditions you can start now!
1.) Plant some Flowers Together.
Leighton has been loving to help in the yard lately as she has gotten older, and her new obsession is to unreel the water hose and water the flowers in the flower bed. And it has been perfect timing because we just recently transplanted some new flowers in the flowerbed and in pots and the sun has been taking it's toll on them! I love watching Leighton learn to do something new, and I love seeing how much she loves being outdoors. Pro tip: Don't wear white like I did. I planned to do more "supervising" than planting and watering, but sometimes plans change. = )
2.) Cook Something Special Together.
Your favorite dessert, your toddler's favorite treat?? Let them help you and make it special. We are hopefully going to be able to squeeze in making some of mine (and Leighton's!) favorite cookies this weekend, M&M. They will love spending the time with you, learning how to cook something new and then getting to eat it!
3.) Go to the Park or Go for a Walk Together.
We plan on doing both of these this weekend, but I'm going to try to make it a little more special. I know Mother's Day is supposed to be about the moms, but if it wasn't for Leighton, I wouldn't even be celebrating. She has been needing bicycle at our house for a while, so we are planning on going to let her pick out one tomorrow and then ride at at the park or in the neighborhood this weekend.
4.) Go on a Picnic Together.
Those desserts or snacks you made together?? Pack them up and head outdoors to eat in my favorite spot, in nature. It's always good to mix things up with toddlers, and they will think it is special that they get to eat outside this weekend. = )
5.) Go Somewhere You Haven't Been Together in a While
… like the Botanic Gardens, the movies, the zoo or even the discovery museum. I want to make this a special weekend for Leighton because she's special to me. I plan to cram in all of these things this weekend. I may be a little over-eager, but since I will be out of town the following week for a work meeting, I can't help but want to do it all. = )
Wherever you go or whatever you do for Mother's Day, will you be coordinating like Leighton and I? I am always instantly sold when I spot coordinating outfits for me and Leighton like these from Joules. She will be 5 at the end of this year, so there is no telling how many more years she will want to match her mom. = )
I have loved this pretty floral print from Joules since the moment I spotted it, and they have SEVERAL pieces that come in it! I love that they have matching outfits for moms and kids. It makes the day even more special when you're twinning with your mini I think! For a special treat this Mother's Day, use code MOM19 for 20% off any purchase from Joules.
You know what they say – those who like flowers pick them, but those who love flowers water them and watch them grow. That's what I hope to do with Leighton each day. I want to spend time with her, teach her and learn from her too. = )
What about you? What will you be doing this Mothers Day weekend? Let me know in a comment below and don't forget to check out our other Joules posts here and here.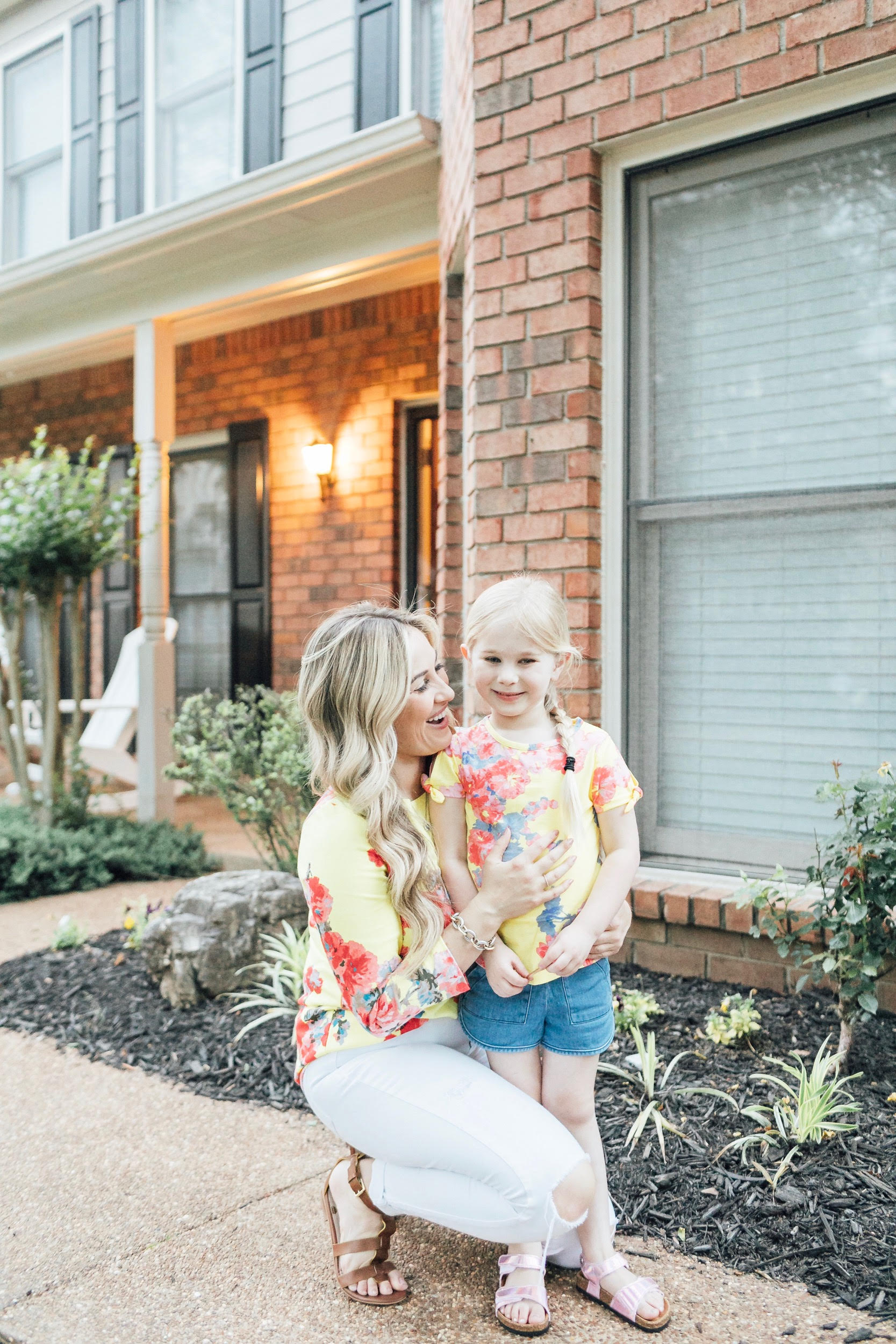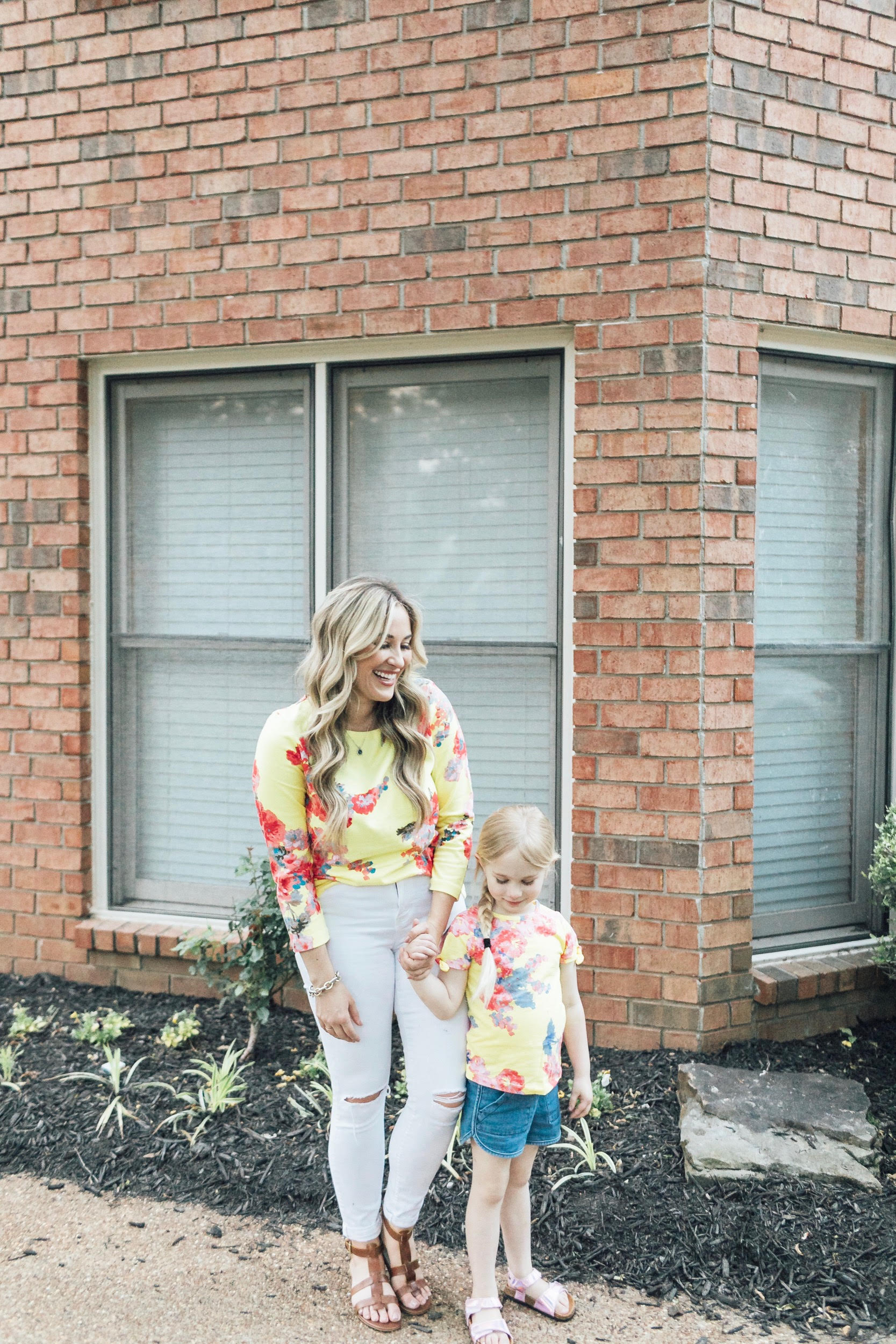 SHOP OUR MOTHERS DAY LOOKS: