This review of the FitTrack Scale App is sponsored by FitTrack, but all opinions are 100% my own.  Thanks for helping me to support the brands I love.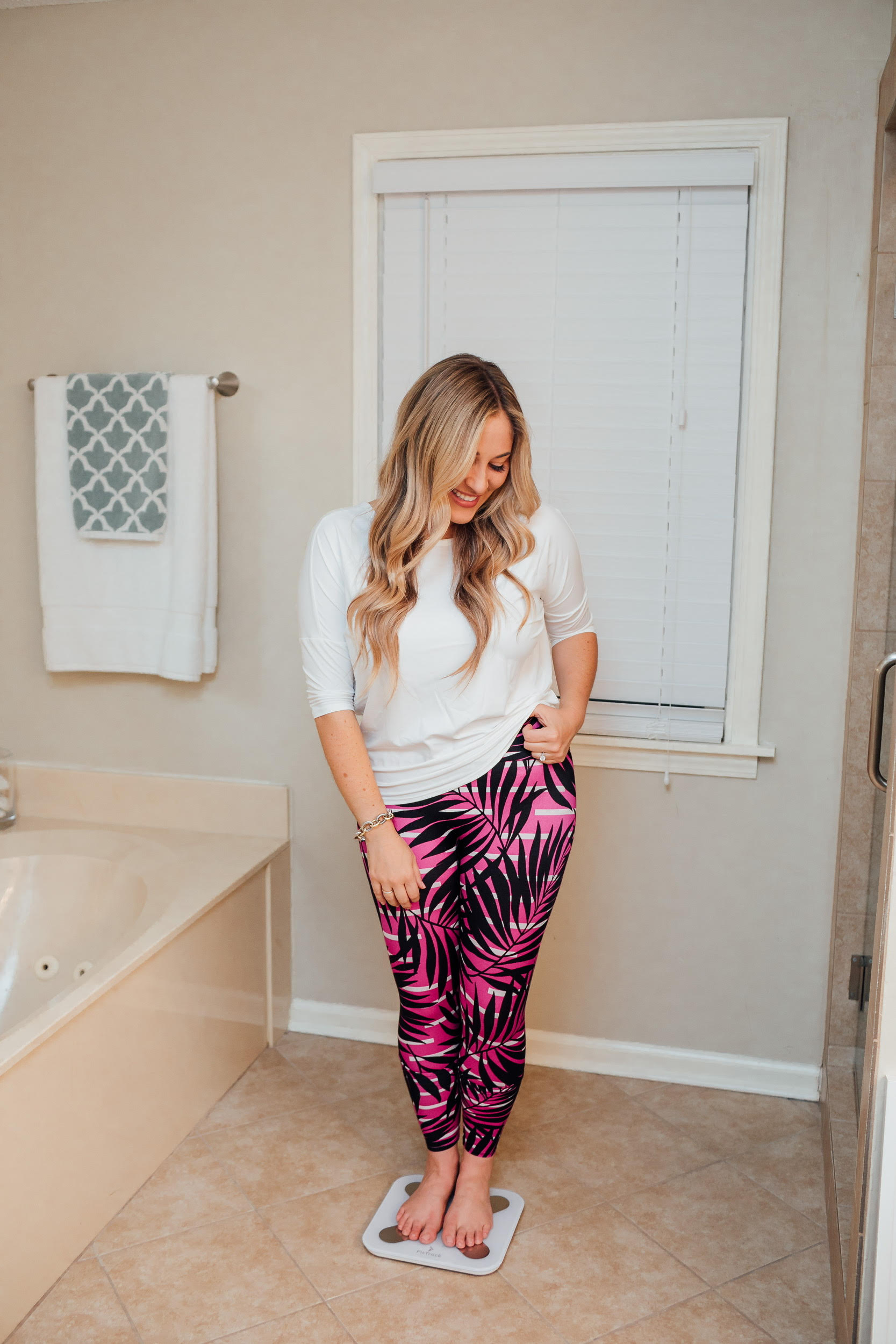 Somehow my scale got misplaced in the shuffle of mine and Leighton's move last year, and it's amazing how much you realize you miss something once it is gone! I know everyone is different, but I am one of those people who likes to weigh at least once every one or two days. I feel like it helps to keep me in check, especially during lazy summers where ice cream seems to be the perfect snack most days. = )
Did you know that scales are so much more than just a device that tells us our weight these days? The FitTrack Dara is a lightweight, sleek looking scale that measures weight, body fat percentage, BMI, hydration levels, muscle and bone mass. It also tracks your health progress and helps you to reach the goals that you set.
The FitTrack Dara uses Bluetooth to easily sync your data with the FitTrack app. This app syncs with Apple Health, Google fit and even more so you can use it with your current health apps to view your weight, progress and much more! I love being able to get all of my information in just one place without having to go to the doctor for my physical once a year or buying a much more expensive medical grade scale. This scale is incredibly precise too, within 300 grams.
This scale is helping me keep track of my body each day while also setting goals and tracking my progress. You can even manage your daily calorie budget within the FitTrack app. One of my favorite features is that this scale recognizes 8 different users. The entire family can keep track of their information, progress and goals separately without having to purchase multiple scales.
The FitTrack Dara Smart Body BMI Scale is only $84.95, ships fast and free and comes with a 30 day risk free trial. And you can use code WIMIHH20 to get 20% off your purchase, making it less than $68! It is sleek and modern and looks great in my bathroom without being clunky or taking up too much room. It's also aesthetically pleasing so there is no need to hide it behind the door, in a corner or in a closet. After all, the point in having this scale is too use it, and out of sight out of mind!
If you've been on the hunt for a new scale, you will definitely want to check out the FitTrack Dara Smart Body BMI Scale.
Work smarter, not harder and keep track of your goals, progress and healthy information all in one place! Do you have a smart scale? Have you tried out the FitTrack Dara?
P.S. Don't forget to use code WIMIHH20 to get 20% off your purchase at FitTrack!