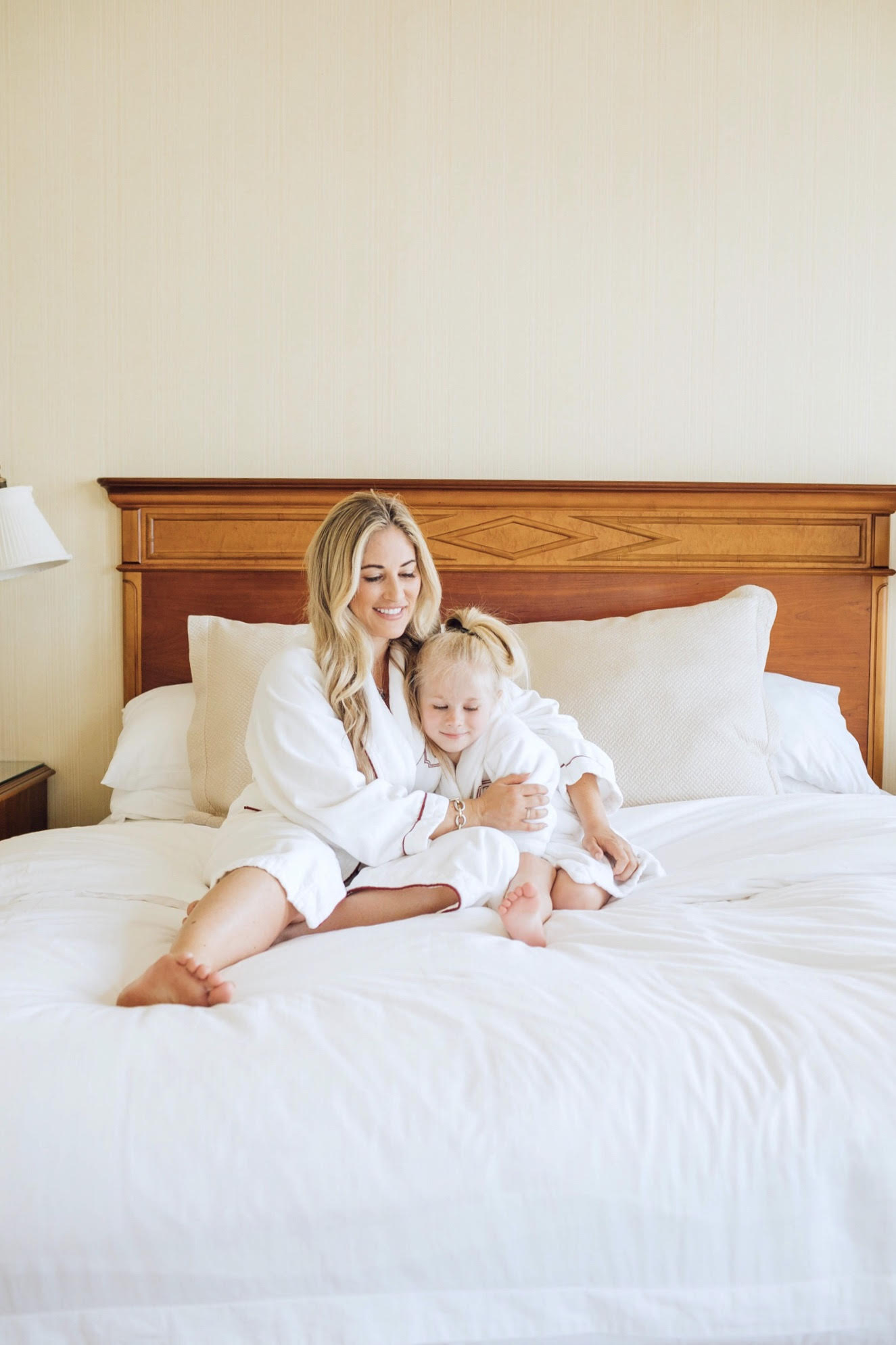 SHOP MY LITTLE ROCK AK LOOKS:

A couple weeks ago the whole family made our way to Little Rock, Arkansas. My family, Matt's family and my sister's family all decided to take a fun little family road trip with the kiddos. We've all been to Little Rock several times over the years, but this was our first time with all the kids. After spending the entire weekend there, I think we pretty well know some of the best kid friendly spots in the city, and I'm sharing them below.
Fun Things to Do in Little Rock AK for the Entire Family:
The Capital Hotel is where we stayed in Little Rock with Matt's family, my family and my sister's family. They were super accommodating to us and the kids! They were able to find us a really comfortable room that was perfect for all of us! They set us up with an adjoining suite that had plenty of room for everyone, and we had the kids just right there with us.
And something that made this hotel really stand out and made our stay really special was the milk and cookies they had specially delivered to our room for the kids! They delivered that for the kids, and pecans for the adults. It made everyone's night, and the kids honestly just loved running around the room and playing each day. It was SO nice having such a spacious suite that was so perfect for large families!
In the lobby they had cokes and lemonade, and Leighton LOVED the lemonade! They had the cutest little bar and a wonderful restaurant. We had room service for breakfast on Saturday, and the food was so good and convenient. They even delivered a fridge to our room for us and were so helpful all weekend long. Sometimes it can be so hard traveling with lots of little ones, but Capital Hotel made it SO easy!
This place is super cool and such an awesome place for kids! It's Arkansas's premier science museum, is ranked 6th overall in the nation for best science museums, and for good reason! There are tons of really fun and unique exhibits and events including the fun interactive tornado one and the weather channel exhibit. And Leighton is obsessed with all the kids play areas. They even have a great little kids play area too for the younger ones. It is such a neat place to spend the day getting sucked into the hands-on side of science!
Arkansas has 52 state parks and Pinnacle Mountain is one of those! There are over 15 miles of trails, the Arkansas Arboretum and plenty to do for everyone in the family! If you're looking for a great place to hike, this is it. There are trails with varying levels of difficulty, so it's perfect no matter what your child's age is!
The Big Dam Bridge is the longest pedestrian and bicycle bridge in North America. The bridge connects approximately 40 miles of scenic riverside trails. There are also lots of really fun little parks where you can take the kiddos and also dog parks for all the pup-lovers out there!
You really can't go wrong with a zoo, but the Little Rock zoo is definitely a must-see while you're here! Home to loads of really interesting and unique animals, both wild and more domesticated, you're sure to see something you like!
The kids LOVED this water park! There are so many different attractions for old and young alike! Leighton really loved trying to make it across the Lily Pad Crawl! And the little kiddie area was actually one of her favorites (along with the lazy river.). They even had a couple slides she was big enough to ride!
We have a Flying Fish in Memphis too, and it's been a favorite of mine since it opened! It is casual and laid back, but the seafood is SO good! You line up and order at the front, choose a seat and then enjoy. They have a good kids menu, and the kids loved looking at all the fish on the wall. = )
This park is hands down in the top 5 kids parks I've been to. For its size, it has so much to offer! There are tunnels carved into the hills, slides, ladders, rocks to climb, a splash pad and a playground. We have taken Leighton twice, and she could definitely spend all day there!
Catch a baseball game. I haven't taken to a baseball game in a while, but this is on our list to do next time. Baseball games are always so great for the kids because they can eat all they want, watch the game and even run around, play and be as loud as they want (aka they can be kids!)
This is another great restaurant in Little Rock that is so kid friendly! The decor definitely stands out (lots of purple!) They have a soda fountain, some great milkshakes and desserts, burgers, and they even have coloring pages on their website you can print out to color. They are great at keeping the kids entertained while enjoying dinner.
What about you? What are your favorite fun things to do in Little Rock with your family? Let me know in a comment below!