This post is sponsored by The Container Store, but all opinions are 100% my own. Thanks for helping me to support the brands I love.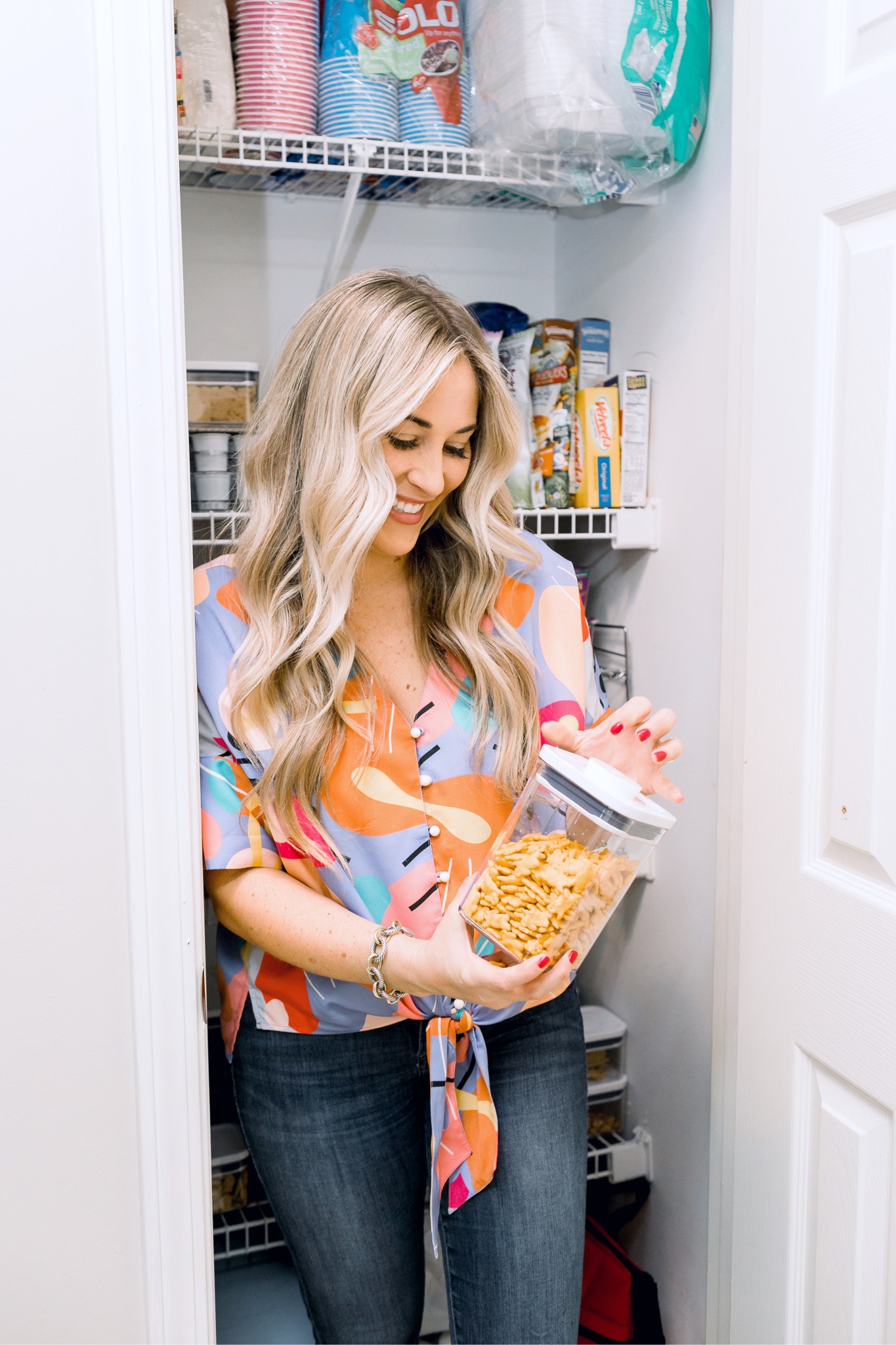 SHOP MY KITCHEN ORGANIZATION FAVORITES FROM THE CONTAINER STORE:

Y'all have heard me talk about The Container Store before and how much I LOVE their products! On my Instagram a few weeks ago, I shared a little sneak peek at my kitchen pantry after I had organized it with products from The Container Store. Y'all loved what you saw! After I got such a great reaction over there, I couldn't wait to share the entire reveal with y'all!
How to Organize your Kitchen with The Container Store"
I had been wanting to get my pantry organized for a long time now (I have a very small pantry!) Now that Leighton is growing more, and she is more independent, she is big enough now to be able to help herself to snacks out of the pantry and inevitably, that basically leaves everything a mess. Can anyone else relate? And just for the record, I am a very organized person. But…when you're left with a shortage of time and time, sometimes you end up with a space that just isn't organized!
When I learned that The Container Store was opening a new location this week (September 14, and it's first in the Memphis area!) in Germantown, TN, I was thrilled! Now I'll have all of my organization needs super close to home! This is great because kind of like my closet, I didn't know where to start! (Check out the first 4 photos below for before pictures!)
I knew I needed some kitchen organization help (I have a very small pantry), so I have been wanting to get some great pantry storage solutions for a while. And The Container Store has lots of different options for making pantry organization a breeze! In my pantry, I used this set of mixed-size canisters along with this 2-tier, stainless steel lazy susan.
The set of mixed-size canisters was great for a few reasons. First, the mixed sizes allowed for storage of lots of different things. From cookies, to nuts and pretzels they held everything! I love that they are air-tight so they keep everything fresh for a long time! And they are easy enough for Leighton to get the lids on and off in a breeze. And she can easily see everything right there to see exactly what food options she has!
Before, there were so many snacks stacked up that she was overlooking a lot of them and then they would go bad. She would walk into the pantry, and like a lot of kids, she would stand there and stare and say there was nothing to eat. But there was ton stuffed into that small space! Now it's all organized so she can see everything in these containers all at once glance!
Next, I got 6 of these open-front bins. These things are life savers too! They are SO great for stacking things in them like small snack sized bags filled with fruit snacks, goldfish, etc. I even have one that has crackers in it and one to store all of my coffee condiments, ziplock bags and aluminum foil. Everything is organized all in one place, and you can easily stack them like I did to make even more space! And not to mention, they look great!
The 2-tier lazy susan was also a great addition for keeping all of my spices super organized and all together in one place. They are displayed in a way that allows me to quickly see what I have! I don't keep it on display though; it stays in a cabinet. But, it would look just as great on display on the counter. I can now easily spin to see everything I have. Before, they were lined up in 3 rows in the pantry, and I could never find everything I needed. Now I can see them all in just a few seconds!
I got a couple more small items for the pantry that I think make a big impact too – this can holder and this coffee pod holder. I don't keep a lot of canned goods in the pantry (I buy more fresh produce), but when I do, I want to be able to see them all at once, and I couldn't previously. As a bonus, this can holder works great as a 3 level shelf to really create even more storage space! I use it for so much more than just cans. = )
Matt and I are big coffee drinkers, and he just has to have lots of coffee pods. I wanted a better way to store them than having them just sit in the box in the pantry to be knocked on the floor on accident occasionally. And this coffee pod holder was perfect for just that! It has 2 rows to put them in, and it holds 28 of them at once!
The Container Store has everything you need to maximize space including custom closets, storage and organization products for the kitchen, playroom, closet, garage and more! So you can easily organize every room in the house! I got a couple more things that I am working on a post for soon – drawer organization for my room (Matt will appreciate this once we move in together!) and this under the bed storage basket. I can't wait to show an update in that space soon too! And tackle Leighton's room soon!
Now that Leighton is getting bigger and Matt and I will be moving in together next year, it's going to be super important for me to keep things organized to make all of our lives a little easier every day. The Container Store has loads of options to make that possible!
What about you? Still wondering how to organize your kitchen? What space do you need organization help with the most? Have you shopped at The Container Store yet? Let me know in a comment below!