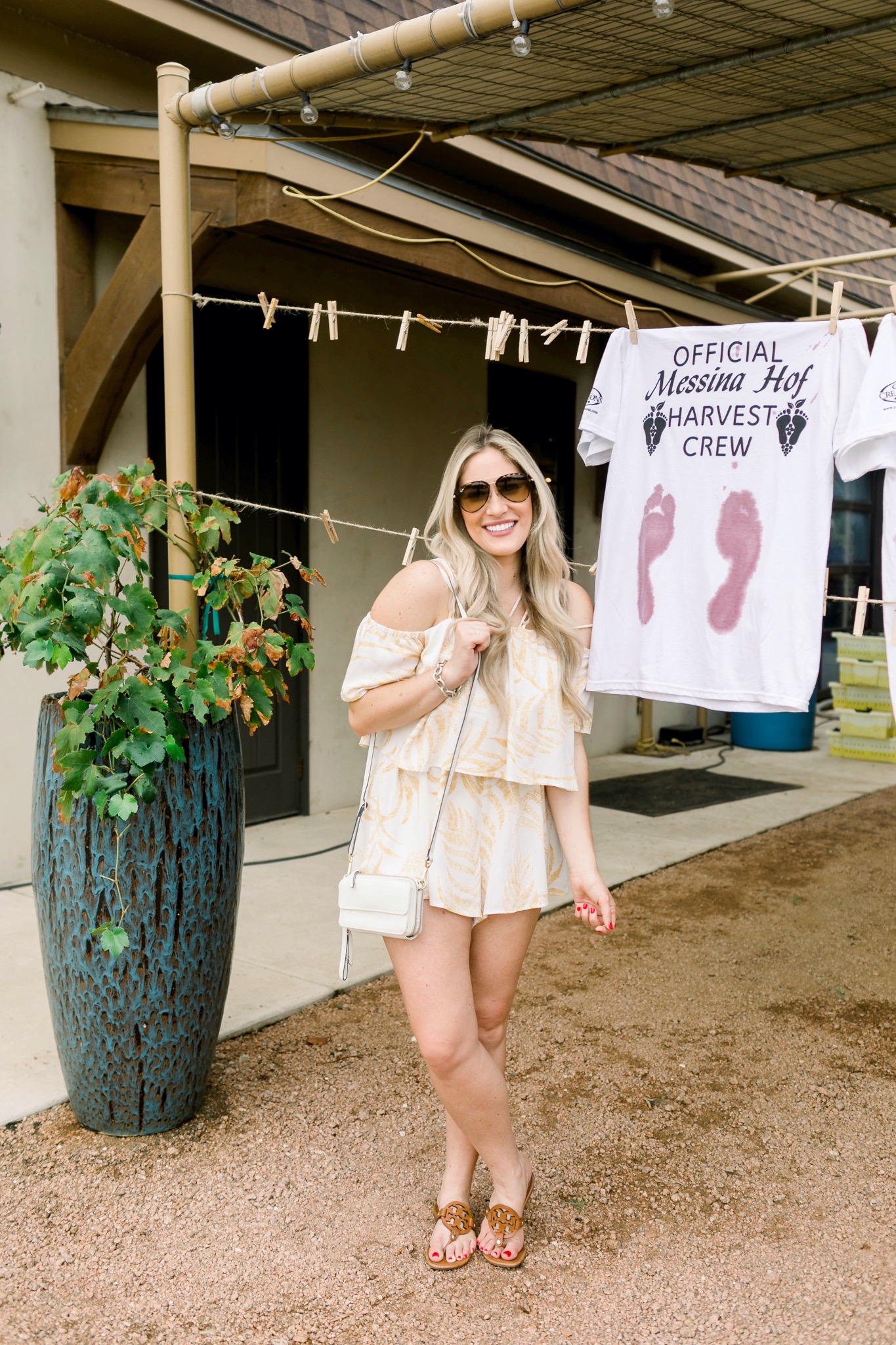 What to Pack – Pack something comfortable…and something you can get messy! Depending on whether you're doing a wine tasting or a grape stomp…let's face it, you might get a little dirty. Either way, I always prefer to wear a lightweight cute and comfortable romper or dress with sandals or booties (depending on the season.) Most wineries have gorgeous vineyards and views and you May even want to do a little walking around outside. So…pack for comfort while still looking cute!
What to Do – Do a Wine Tasting & Grape Stomp at Messina Hof and Pedernales Cellars – While we were there, they were having their harvest festival. And these 2 wineries are 2 of my favorite in town, so we just had to visit! They had all sorts of fun activities in addition to their usual wine tastings (which we did and LOVED!) We got to participate in a grape stomp where we literally got in a big old barrel of grapes and we "I Love Lucy"-ed it and stomped those grapes into grape juice haha!
We loved getting to see the ins and outs of the wine-making process during our tour. We also did a wine tasting with friends and had the best time! We love stopping by Messina Hof's Grapevine, TX and Fredericksburg, TX locations each year, and next year we plan to add their original location, Bryan, TX on the list too.
Messina Hof's almond wine is my favorite (and it pairs with chocolate so well, yum!). If you love wine, you just have to stop by! They have an indoor and an outdoor area, a fire pit and even these adorable little suites out back that you can rent and have a nice glass of wine on the front porch.
Where to Stay – A Suite at Messina Hof – I absolutely LOVED our little cabin/suite here. It had a fridge stocked with goodies already, the sweetest little living room area, and our favorite part was the little front and back patios for enjoying coffee or a glass of wine everyday!
Where to Have a Drink – Have a Drink at Luckenbach – You just have to add this onto your list while you're nearby! This place is huge. They have an indoor bar, outdoor areas where you can watch live bands and even a shop inside to snag some fun souvenirs. And it's great for fun little photo ops (like the kissing booth they have there!) = )
Where to Shop – Shop the Square in Fredericksburg, TX – From James Avery to tasting rooms to some of the cutest little boutiques, this is one of my favorite squares. There is something for everyone from kids to women to men to even home decor…and did I mention tasting rooms? = )
Where to Eat Brunch – Grab Brunch at Sunset Grill – You just have to have their breakfast margaritas. They have orange juice in them and are SO good! I didn't get one, but Matt did, and I instantly regretted it and kept drinking his! They also have amazing omelets!
Where to Eat Dinner in Fredericksburg
Go to Dinner & Dance at Crossroads – This steakhouse is one of my favorites in town. Every single cut of meat I have had there is amazing, as is the seafood, the veggies and even the dessert! And when you get done eating, make sure you head on out to the dance floor!
Have you been to Fredericksburg TX yet? Do you love wine tasting? What do you wear for a weekend at a winery? Let me know in a comment below!